Callie is not from Fantendo. However, this article may include related fan ideas.

These external sources may have official, more accurate information:

This article is free to edit. Please follow the article standards and respect good-faith contributions.
Callie
アオリ Aori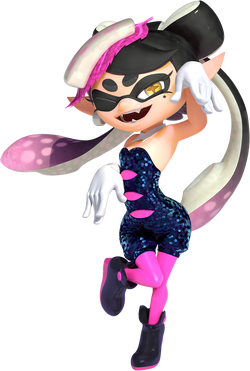 Callie, doing her signature sign-off pose.
GENERAL INFO

NICKNAME(S)

Agent 1

GENDER

♀

Female
SPECIES
Inkling
CURRENT STATUS
Alive
AGE
Late teens
BIRTHPLACE
Inkopolis (current)
Calamari Region (childhood)
ALIGNMENT
Good
MISCELLANEOUS INFO

CANON APPEARANCES

Splatoon
Splatoon 2

VOICE ACTOR(S)
Callie is a character from Splatoon. Together with her cousin Marie, the two form a pop idol duo known as the Squid Sisters. Callie is more upbeat compared to Marie.
She and Marie also appears to be the granddaughters of Cap'n Cuttlefish, as well as recruits for Cuttlefish's new Squidbeak Splatoon against the Octarians. Callie's alias is Agent 1.
She had also been kidnapped and "brain-remixed" by DJ Octavio during the events of Splatoon 2. Marie had recruited another young Inkling in order to rescue her.
Appearance
Callie appears to be a tall Inkling with a more edgy and confident face. Callie's tentacle hair is black with little tints of pink at the tentacle tips. These tentacles are tied in a large bow and form two dangling ponytails that end at her legs, implying these tentacles are abnormally long. Callie also has a large bang that points towards her left. Callie has large, angular eyes with gold irises and goldenrod pupils, shaped like a four-pointed star. Her eye markings end in two small, eyelash-esque points, and her eyebrows are oval-shaped. Callie appears to have a mole on her left cheek. Compared to regular Inklings, Callie's ears are longer, more narrow and upturned. These ears are adorned with shiny, light silver earrings.
Callie wears a sleeveless black outfit with a reflective texture, as if it were covered in sequins. This outfit also ends in baggy shorts, and has three pink markings that resemble the cuts seen on grilled squid. With this outfit, Callie also wears pink tights, large white gloves and a neck accessory akin to a shirt collar. Callie also wears black leather shoes with pink soles and a pink, ring-shaped button on the outer side of the shoe's ankle section. Callie's hat, which she wears on the right side of her head, looks like a white, sponge-like square with a pink leaf under it. The hat appears in reference to a squid dish known as Ikayaki.
During Splatfests, Callie's normally pink accessories become the color of the team she's representing.
As a child, Callie wore more traditional Japanese clothing. Her tentacles were also somewhat messy and much shorter. Her early outfit appears to be a red violet Yukata kimono with a white squid pattern on the sleeves and a flower pattern on the bottom, wrapped with a black obi sash. She also wore black zōri sandals with it, which had purple thongs. Callie also wore an accessory similar to the hat she currently has: a magenta, leaf-like object on her left tentacle.
One Splatfest artwork featuring a child Callie had her in a different kimono, being red and green with a jellyfih pattern, and her leaf accessory being green with a red tint. Her sandals were also beige-yellow.
As Agent 1, Callie wears a pink beanie with a yellow star on the rim, as well as a pair of sunglasses, as well as what appears to be a pink shirt. Her casual outfit from version 3.0.0 of Splatoon 2 is identical in appearance, except she doesn't wear sunglasses anymore.
When Callie got brainwashed during the events of Splatoon 2, she wears, aside from a pair of Hypnoshades, a very small tank top with puffy sleeves and three markings on the bust, similar to those of her usual outfit, but tilted vertically, as well as very short shorts that leave bits of pink underwear exposed. The combination of these two pieces of clothing also leave Callie's entire midriff exposed, which also shows a pink octopus-shaped marking on her left hip, akin to a tattoo. She also wears dark purple reflective legging and black shoes. The white square of her usual headpiece got replaced by something akin to a slice of octopus tentacle, and her silver earrings are replaced by golden, octopus-shaped ones. This outfit is discarded in favor of her usual Squid Sisters outfit after she lost the Hypnoshades and regained her memory.
Personality
Callie is usually very excitable, and is usually seen with a grin on her face. She's fond of puns and uses them from time to time, which may annoy her cousin Marie a little. Often times, she's optimistic and caring, and occasionally thanks her Splatfest teams for doing their best, whether her team won or lost. Callie always seems to have something nice or innocent to say, contrary to Marie's more sarcastic approach.
Callie usually gravitates towards exciting activities such as driving or camping. However, Callie appears to have a fear for heights, isn't excited about skateboarding, cannot drive, and can barely ride a bicycle. She also loves to eat and often talks about food. Callie appears to be easily distracted by cute or striking things, and thus many of her stage comments appear irrelevant to the battle.
Callie's preferred weapon type is the Roller, and may likely use a Hero Roller as Agent 1.
Game Appearances
| | |
| --- | --- |
| Speed | Acceleration |
| Handling | Traction |
| Weight | Size |
Callie makes her Mario Kart debut as a playable character in Jake's Super Mario Kart. She appears alongside Marie as a representative of the Splatoon series.
Callie appears as a playable character in The Hunger Games: Smash Edition!. Her other form, Agent 1, is also playable and Callie with Hypnoshades can be acquired through DLC.
Callie appears as a playable character in Mario+Splatoon: Kingdom Splat. She uses the Splat Roller as her weapon.
Callie appears in Nintendo & Fantendo Play: Dodgeball! as part of the Red Faction, the team consisting of Nintendo characters.
amiibo
| | | |
| --- | --- | --- |
| | An amiibo figure of Callie exists! For more info about this amiibo, see this page. | |
Trivia
Together with Marie's name, Callie's name forms "Calamari", which is some type of squid dish, and also is the Italian word for "squid".
Gallery
Splatfest Artwork
Concept Artwork
Names in Other Languages
Language
Name
Meaning
Japanese
アオリ
Aori
From Aori-ika (Japanese for Bigfin reef squid)
Spanish
Mar
Spanish for sea. With Marie's name (Tina), it forms Martina.
French
Ayo
Together with Marie's name (Oly), it forms a pun on aioli.
German
Aioli
From aioli, a type of sauce.
Italian
Stella
From stella (star). With Marie's name (Marina), it forms stella marina (starfish).
Navigation Templates
Playable Characters
Assist Characters
Obstacles
Other Characters
Amul · Ann Takamaki · Argorok · Arsene · Axe Knight · Big Urchin · Blizzy · Black Kyurem · Blazing Bat · Blue Pikmin · Bob-omb · Boo · Boolossus · Boom Stomper · BowWow · Bravoman · Budew · Bumper the Badger · Bumpety Bomb · Burnya · Buruccho · Buzz-Buzz · Caeda · Carbuncle · Caterpie · Chao · Cutiefly · Dingpot · Dipple Drop · Don-chan · Dragoneel · Drippy · Drumstick the Rooster · Dusty · Elle Mel Marta · Ellie the Elephant · Enguarde the Swordfish · Expresso the Ostrich · Fierce Deity · F.L.U.D.D. · Fomantis · Fryguy · Genie · Gil · Gohma · Goomba · Gordo · Greenie · Grrrol · Happy Mask Salesman · Hoofer · Hoppip · Item Shopkeeper · Javelin Knight · Jenya · Judge · Junior Clown Car · Kab-omb · Kamek · Karate Joe · King · King Dodongo · Kissy · K.K. Slider · Klaptrap · Koopa Paratroopa · Krunch · Litwick · Lloyd · Mace Knight · Majora · Manhandla · Mappy · Masked Dedede · Maya Fey · Mechakoopa · Mecha Kuri · Megaleg · Mii · Missile · Morgana · Mr. Stevenson · Needlenose · Neo Metal Sonic · Ninji · Nitpicker · Nudger · Parry the Parallel Bird · Peashooter · Perry · Piddles · Pidgit · Pirate Goom · Poochy · Pooka · President Koopa · Professor E. Gadd · Proto Piranha · Black Puffle · Purple Pikmin · Rabbid Luigi · Rabbid Yoshi · Rambi the Rhino · Ram Bunkshus · Rattly the Rattlesnake · Red · Red Baron · Red Pikmin · Reshiram · Ribbon · Rock Pikmin · Runner · Ryuji Sakamoto · Sandy · Smasher · Rusty Slugger · Servbot · Sima Zhao · Snapjaw · Squawks the Parrot · Squitter the Spider · Super Sonic · Swanna · Tarosuke · Tatsu · Telly Vision · Thwomp · Timmy Nook · Tiptup · Toadsworth · Tommy Nook · Trident Knight · Tron Bonne · Trucy Wright · Tsukimaru · T.T. · Valkyrie · Virus · Waddle Dee · Wario-Man · White Pikmin · Wind Fish · Winged Pikmin · Winky the Frog · Wonder Momo · Xii · Yarr · Yellow Pikmin · Ziggy
Collectibles
| | Trophies | Stickers |
| --- | --- | --- |
| | Boolossus · Boo Mario · Bowser · Blue Bowser · Bowser Jr. · Megaleg · Larry Koopa · Morton Koopa Jr. · Wendy O. Koopa · Iggy Koopa · Captain Toad · Cat Peach · Chain Chomp · Cloud Mario · Fire Mario · F.L.U.D.D. · Koopa Clown Car · Mega Mushroom · Mario · Penguin Mario · Peach · Propeller Mario · Rock Mario · Toad · Toadette · Waluigi | Birdo · Boo Buddies · Blooper · E. Gadd · Fuzzy · Metal Form · Whomp |
| | | Candy Kong · Lord Fredrik |
| | | 9-Volt · Fauster |
| | | Ball and Chain · Deku Leaf · Majora's Mask · Mipha |
| | | Abra · Drifloon · Spinarak |
| | | Katrina · Mr. Resetti |
| | | Adam Malkovich · Arachnus |
| | | Nightmare · Noddy · Prank |
| | | Mr. Chicken |
| | | Back Shield · Centurion · Eggplant Wizard |
| | Disco Kid · Doc Louis · Donkey Kong · Giga Mac · Glass Joe · King Hippo · Little Mac · Von Kaiser | |
| | Blue Falcon · Captain Falcon · Pico · Rick Wheeler · Wild Goose | |
| | | Louie |
| | | L'cirufe |
| | | Franklin Badge · Negative Man |
| | Apollo Justice · Franziska von Karma · Miles Edgeworth · Larry Butz · Judge · Phoenix Wright | |
| | | General Kodiak |
| | Dr. Wright · Hammer Slam Bowser | Devil · Dr. Wright · F-Type · Rusty Slugger · Zethia |
Wiki Pages
Main Page · Arcade Mode · IRUO. Connection · Music · Palutena's Guidance · Playable Characters · Resources · Stages · Stickers · Story Mode · Trophies
Community content is available under
CC-BY-SA
unless otherwise noted.