Main Page
Fighters · Supports · Bosses · DLC · Genesis · Species · Gallery
Zinfestation · Incubus Eyes · Story Expansions · Setting · Competitive · Cuisine
Playable Characters
These are all of the playable characters present in COLD❄BLOOD, each accompanied by a brief biography, a moveset, some alternate costumes, and some other miscellaneous info. Click on a character to be taken to their respective profile, and click the snowflake off to the side to return to the top.
Because of limits on FANDOM, not every moveset is on this page. For DLC characters, check out this page.
Default Characters
There are twenty-four default characters overall.
Silver
Name
Silver Orion Zin
Mass
6'04" at 122 lbs
Birthday
April 15th, age 29
Gender
Neutral (he/him)
Sexuality
Unclear
Alignment
True Neutral
Home
Stenographer Garden, New Naxaz City
Occupation
Alcohol store owner
Weapon
Mind Weaver
Powers
Darkness, mental manipulation

Silver is a member of the alien-like Zin family, previously destined to rule the Zaxiverse with an iron fist and now living a strange life on the streets of Satellite 15. Having grown rather bloodthirsty over his childhood, he attempted to challenge his grandfather for the throne, but would quickly lose to him and get himself knocked into orbit, facing a head-first impact with the satellite. He went into an unconscious state for a few weeks and become very amnesiac, which he hadn't recovered from yet by the time the C.O.T.S. organization found him and relocated him aboard Satellite 15. Upon waking up, he was immediately made into the lord's mercenary and would be forced to support the government into tracking down his psychotic sister... but he would soon ditch them and begin rebelling after getting his hands on alcohol, heroin, and a desire to be free. He's now stranded in a stonewell that he got carved out with the help of his future boyfriend Pierce, having decorated its insides with posters sponsoring numerous 70's/80's/90's rock bands. Silver's attempting to re-discover just exactly who he is, figure out what his mentally-bent sister's been up to and is planning to do, and what he can do on the satellite to ensure he'll live a fantastic future with his family and live the life he wants to live. He's also contemplating whether or not helping the satellite's people will be worth it or not, sometimes wondering if he should instead take the paths of the people the heroes despise. Since he is a Herald, he happens to be the only one of his kind and thus does not exist in any parallel universes or dimensions.

Because of the amnesia he received from his harsh physical collision with Satellite 15, Silver's personality happens to be rather scattered and unpredictable at times, but he's known for his calm demeanor and peaceful activities like stargazing, reading, dressing up, experimenting, and playing the grand piano. Rather frequently, he'll be losing himself in his thoughts, attempting to piece together the past and rediscover who he really is. Silver's troubled greatly by his shattered memories and addictive personality, flirting frequently with the heroes and with the villains and wasting his life force away on alcohol and heroin to ease himself of his worries. He also is troubled by his numerous existential crises. That all said, he doesn't mind getting involved in mischievous deeds or daredevil stunts if his friends are involved. It's unlikely that you will ever encounter Silver in a violent state of mind- he doesn't like to use violence, not even against the satellite's villains, and is much more interested in following around evildoers and befriending them so he can get to know just who they are for himself. He's made numerous friends with heroes and villains alike and has friends in high places- though because of how publicized these relationships are, numerous people find him sketchy to be around and question whether or not anything they know can be trusted with him, especially given that he is notoriously easy to manipulate.

Silver does not consider himself to be affiliated with anybody, as he's not wholly devoted towards any cause, and he prefers to work with whatever friends he has at the moment. He makes his friends through numerous methods- saving their precious lives, helping them out with the smaller tasks, or even just through casual flirting. Being aware of his own incredible potential and not even coming close to learning the limits of his abilities, and also knowing that he's not a native of the satellite because nobody there recognizes him and he's been the star of numerous extra-terrestrial magazines, Silver knows that he's something out of the ordinary and is fascinated with trying to piece his memories together. He spends much of his time wandering about, attempting to befriend whoever he considers interesting and/or very knowledgeable so he can gather as much information as he can. Through these friends, he's also attempting to shape his morals and his lifestyle, which might help allow him to connect with his lost memories- but depending on what memories Silver retrieves, he could become a relentless overlord that's capable of wiping out the universe in a single wipe, or he could become a lovely little guardian angel for the satellite and all the people against Mallory and her eponymously named religion.

Silver wants to know how people around him work, he wants to know what motivates them, and he wants to know what he should be shooting for... and the answers vary, for now. The ways this superhuman can communicate and interact with others can potentially determine the fates of his friends, his enemies, and the world. It's worth noting that Silver isn't necessarily 100% male and is still trying to decide on who and what he is, especially given that he can't be arsed to remember most of everything.

Silver Zin can still suffer enormous pain, however, and his skin's so thin it can be cut up with even a butter knife to leave him noticeably impaired. If he uses an overwhelming amount of power, his genes will lock up, forcing him to survive a few hours as a traditional Zaxinian before he's able to use that power again.

---

Likes: Pierce Hazel, Ms. Replicate, Zellen, Valerie Heartgold, the taste of victory, spending time with close friends, seeing people grow and change (for better or worse), overcoming challenges and obstacles, studying the stars and constellations, listening to power ballads, cracking inside jokes with friends, reading sci-fi books, sleeping soundly, flirting, brushing his wild hair, bathing in hot tubs, getting his horns rubbed, swimming in shallow depths, discussing nightmares, putting evil down to rest, playing the piano, spiced duck soup, alcohol, heroin, crunching on Fuego Takis, spicy foods, demons and hellspawn, hanging around mischievous people, receiving lots and lots of attention
Dislikes: Mallory Zin, General Scotch, getting defeated in do-or-die battles, people trying to get him to make up his mind, being treated as above others, most types of vegetables, his crippling depression, not being able to use his powers at a whim, not knowing how all his powers work, k-pop, the stench of public restrooms, being way up high in the air, swimming in deep water, both body hair and facial hair, vampires, getting eavesdropped on when it comes to important things, duck soup when it is bland
Gameplay Details
Analysis
Silver is a lightweight character with a high hurtbox and floaty attributes, having good overall mobility on the ground and especially in the air, having a consistently strong arsenal of attacks in spite of already having great frame data. He's a dominating type of character that's always on the offense, chasing his foes down and beating them senseless with his versatile darkness-themed powers, juggling them or trapping them. Because of these attributes, he functions well as a pressure character, pressuring his foes to play safe and look for openings or he will easily exploit their weaknesses instead. With numerous projectiles on hand and the ability to reflect others' the way they came, Silver can be tricky to approach and excels at camping against the unskilled opposition. Finally, Silver is a perfect punisher, always having the tools necessary to crush the enemy down for their mistakes.
Silver does suffer from some blatantly obvious weaknesses, however. His light weight, floaty attributes, and tall body frame all combined make it challenging for him to touch the ground again once he's left it, with characters from the bait and punish archetype able to dominate the floor and be ready to punish him when he comes down. His below-average weight also makes him pathetically easy to knock around, forcing him to continually restart his approach again and again. His below average stamina forces him to make the most careful approaches, or he'll soon find his face down on the mat before he knows it. Characters that come in to hit him and leave instantly are also very annoying for him, preventing him from reacting in time especially if they're faster than him. Lastly, when Silver takes damage, this damage "bleeds" over time and eats at his fragile build.
Though Silver does have some glaring flaws, he is still an excellent character to dominate the stage with, and players that play carefully and watch out for their foes' parries will quickly come to master him.
Worth noting is that if Silver takes minor damage, he will let out little cries of "Awwwww!" and "Ahhhhh...", only grunting and hissing if he takes particularly heavy hits.
| | | |
| --- | --- | --- |
| Stamina 5/10 | Lightweight Class | Appetite 5/10 |
| Offense 7/10 | Defense 4/10 | Mobility 7/10 |
---
Moveset
Common Attacks
Silver's neutral moveset is almost wholly centered around emitting dark particle energy from his very fingertips, which he can may shape into stars, dust, rifts, or whirlpools. Most of these moves are good for trapping Silver's foes and rapidly damaging them to make them take an obscene amount of damage, though most won't live up to their full potential if the foe successfully moves out of his attacks. The higher the damage the foe's taken, the less likely these moves will connect, forcing players of Silver to try and take advantage of his moves' sweetspots. His heavy tilts are the exception to these attacks; his upward and downward heavy tilts have Silver release heart-shaped trials of energy over and around his body respectively, while his forward heavy tilt has him charge up a kiss-shaped mirror that rebounds attacks. At full charge, he can blast it off as a non-destructible projectile. His best damaging moves include his heavy forward tilt, up aerial, down aerial, and dash attack.
Special Moves
Neutral Special: Sweet-Death Breath
Silver will inhale a large volume of air, storing it all within his chest as his body begins to glow bright red. Steam will pour from Silver's nostrils as he grimaces for the whole time he's holding his breath, eventually beginning to take damage as his flames build inside of him. When the player releases, he will release a pink burst of flames that will stun enemies and leave them taking minor damage for the next few seconds, allowing Silver to come in to punish them. The longer Silver charges, the more damage he deals with this attack and the more distance it covers overall, though the damage maxes out by the time Silver begins to suffer recoil damage. Weakens with rapid use.
Forwards Special: Nerve Chopper
Silver will swing his Mind Weaver around swiftly, bringing three quick-traveling purple waves of energy forth from his weapon that travel across the screen, dishing out high damage if all three hits connect. These waves pass through the enemies' bodies to cut up their inner veins to make them bleed internally, causing them immense pain. They can be blasted horizontally or diagonally. Upon the first wave making contact with the enemy, they will be thrown backwards, so ideally the enemy needs to be struck with this move early on in a match. If this move gets used too rapidly, Silver will begin taking recoil damage and the waves will become gradually smaller and smaller.
Recovery Special: Torture Motor
This is a unique Recovery Special that relies on how much pain Silver has deliberately caused throughout the match with his specials and his heavy tilt attacks. The excitement of seeing his most twisted magic work properly against his enemies, combined with his inner lust for seeing mass destruction before his very eyes, will drive just how far Silver's special midair dash takes him. The more pain and suffering he's brought, the bigger the hurtbox on his midair dash is and the stronger it is. It will eventually become Skullcrusher, a highly powerful headslam attack that's almost guaranteed to shove any enemy into a wall if it connects. However, it's highly uncontrollable. This move is possible via his Mind Weaver giving him the momentum he needs to be pushed.
Crouch Special: Incubus Passion
Silver smirks as he pulls out his Mind Weaver, entering a standard counter stance. If any physical attack makes contact with his Mind Weaver, Silver will forcibly grab his enemy by the arm (or by the weapon if that's what they hit him with) and pull them in to deliver them a poison-laced kiss on the neck, pushing them away a bit afterwards. This poison will last for several seconds, and the strength of the poison will intensify the more times Silver winds up kissing them. If Silver misses, he will hiss angrily as he's left open for attack. Notably, this counterattack will not work against projectiles, forcing Silver to take the full blunt of the attack.
Hyper Moves
Neutral Hyper: Sudden-Death Breath
Silver will charge up his Sudden-Death Breath even faster, with black flames churning inside of his stomach when he's ready. Silver will then release an intense trail of flames from his throat, damaging enemies atop of making them fall right to sleep, allowing Silver to go in to punish them. If Silver does another Sudden-Death Breath immediately after the first one, it will have minimum range and it won't have as great of effects.
Forwards Hyper: Nerve Splitter
This souped-up variation of Nerve Chopper will travel even faster, with five waves traveling out all at once. They can do an astounding amount of damage if all of them connect together, enough to straight-up KO Pierce Hazel if he was struck at full health. Because of this move's power, there is a bit of a delay before Silver can actually use this attack, giving the enemy just a bit more time to prepare.
Recovery Hyper: Motorhead Drive
Identical to Torture Motor in execution, but the distance Silver travels will be more significant and Skullcrusher will always activate regardless of however much damage Silver has caused with his Specials/Hypers/heavy tilts. The key difference in this move's animation is that Silver will skewer himself through the air rather than travel straight, so enemies will know just how strong Silver appears to be.
Crouch Hyper: Leeching Incubus
The main difference between this move and Incubus Passion is that Silver's kiss has new properties- it will start off not really dealing much damage at all, but the effects will persist over the course of the match and the poison itself won't disintegrate. It can take up to a minute for the poison to finally become truly lethal, but if Silver uses Leeching Incubus again to them, the poison will be brought to the next stage.
ZONAL FEVER: Apocalyptica
Silver Zin will snicker as the whole battlefield is washed in pastel white, with enemies wrapped up in this almost mummy-like bondage and becoming somewhat slower. Silver will snicker as he heads into the foreground, charging up his Mind Weaver with crimson dust- the only color present in this void besides the ones present on Silver. Through a reticle, the player can choose where to blast the battlefield with crimson waves from Silver's weapon, which will cut through and strongly bleed out any targets they manage to hit- like a stronger Nerve Chopper. The player's fifth and last strike with the weapon is the strongest and biggest. The player has only 2 seconds to aim each blast before they're sent off automatically. When Silver's done, he will return to the battlefield and the colors will return to normal.
Animations
Entry Animation: Silver Zin appears from a black portal with X-shaped particles emitting from it, his limbs spreading to the noise of crackling noises as he brings out his Mind Weaver weapon. His face initially starts out darkened, showcasing glowing red eyes and golden teeth as he goes through the portal, but his face will show its true colors as he carries out his weapon of choice.
Idle #1: Silver hums out to the tune of Metallica's "Orion" as he straightens out his outfit to remove any wrinkles, his smooth skin shining brightly after he spends a few seconds rubbing his clothes up, grinning wide before resuming his battle stance.
Idle #2: Silver leans against a non-existing wall, holding a cup of Hell's Ramen and slowly consuming the noodles- not even blowing on it first. He will then throw the emptied glass cup behind himself. This happens if he's left idle for long enough, not moving.
Taunt #1: Silver smirks as he spins his Mind Weaver into the air, spinning 360 degrees before catching it gracefully, letting out a little cackle as he says in a teasing way, "I've been long overdue for some real pain..."
Taunt #2: Silver hangs out his long snake tongue, slapping his thigh and teasing his competition by slyly hissing out, "Why don't I show you what it means to be a freak?" before displaying his toothy smile.
Taunt #3: Silver folds his arms back, arching back his neck before letting out a loud, insulting series of evil-sounding cackles, as if to mock his competition. As he does this, you can see his whole body twitch with excitement.
Victory #1: Silver flicks his greasy hair around his head as he cackles mockingly towards the camera, posing after slashing his Mind Weaver twice and remarking "You'd make for a better snack than for a truly worthy rival!"
Victory #2: Silver does a forwards overhead slash with his Mind Weaver, proceeding to swing it around in a full circle, laughing like a little madman before quipping "Was that your best shot, little angel? Head off now."
Victory #3: Silver disapprovingly scorns the foe(s) by commenting "You're not ready for what lies at the great beyond", standing with his back facing them. He'll flip on a Nintendo DS if one doesn't leave the screen within 30 seconds.
---
Alternate Costumes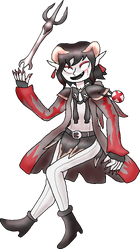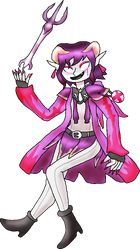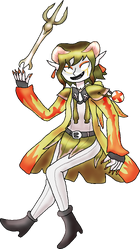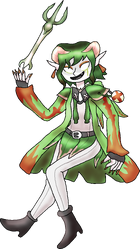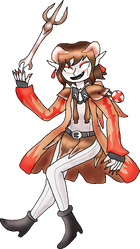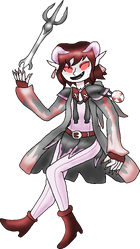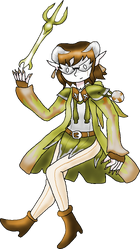 Valerie
Name
Valerie Swift Heartgold
Mass
5'10" at unknown lbs
Birthday
February 14th, age 33
Gender
Female
Sexuality
Pansexual
Alignment
Chaotic Good
Home
Valco Vortex, New Naxaz City
Occupation
Numerous
Weapon
Golden Ninja Stars
Powers
Acrobatics

Valerie Heartgold, or "Valentine" whenever on stage, is an incredibly rich businesswoman whose net worth equates to trillions in United States dollars, known well for her numerous occupations and successful career as a pop artist! Especially popular for her attractive looks and agreeable policies, Valerie's dominant presence in the public eye has led to her securing an important role in the Satellite 15 government; forget the law, she is the law, and she's exempt to all the rules she makes! Valerie owns the multi-purpose company known as "Valco", the leading producer of various important products on Satellite 15 that are important to its people- she directs the company to sell food, water, shelter, clothing, and "experimental products". Sometimes by night, Ms. Heartgold likes to poke around the streets to seek out and battle crime, taking on a different alias that she changes each time- sometimes thieving the rich just to eliminate all competition? Some of her other occupations include being a renowned baker, a LGBT-specializing therapist, a motorcyclist, a wrestling champ, and even some things we can't mention here, all titles she holds proudly. She doesn't just sit around, however- she's even a ninja at times, dazzling foes with her ninja stars and flashy body!

Valerie is one of many Kittuhumans found aboard Satellite 15, a complicated hybrid breed of standard human beings and the curious but intelligent Siamese cats. When not working on business, Valerie typically spends time with her lover Syi and practices her singing voice, trying to find a balance between "beautiful" and "aggressive". Valerie's well known for her charismatic and optimistic behavior, though has been noted by critics for her mischievous and overly curious attitude. She's quite the show-off, always expressing her talents and working hard to dominate competitions. At the same time, she's very cunning and tricky to overcome, thinking and acting fast on instinct. She wasn't born with all these talents, however; she was neglected by her mother and abused by her father at an early age, and eventually ditched their home at the age of 14 to pursue her dream goal: a career as a pop rock queen. She made money early on through (illegally) "bedding" adult women and men alike, faking her age frequently to accomplish this. While practicing with early one-hit wonder R&B bands, she used some of her excess cash to surgically remove her uterus and enhance her body overall. Many of her lyrics are written about neglect, abandonment, and envy, and especially after her abusive first husband (who hasn't been seen in a while...).

Valerie isn't without her weaknesses, however. Ruining her beauty or looks and possibly damaging her chances of receiving the money she wants will irritate her massively, bringing her on a destructive rampage and turning her into a psychotic person until she somehow calms down. She also has standard human weaknesses and has only above-average agility thanks to her cat DNA, but her great agility means she's hard to kill.

---

Likes: Syinara Wyne, intimate pleasure, her luxury, her fame, being viewed as a top-of-the-world figure, being held in high regard by many, being the heroine of the day, singing, acting and dancing, going live, being flirtatious, teasing others, taking hot showers, bathing, drinking tea, eating pizza, helping Syi feel better, disguising herself, visiting other realms, Silver Zin (mostly)
Dislikes: Being filthy, her hair getting ruined, people who have more than her, having things to dislike, writing down people on the "never visit" list, Silver Zin (occasionally), her former husband
Gameplay Details
Analysis
Valerie's a middleweight character with average height and some high jumps, somewhat weighted down by her high gravity and falling speed but made up for by her excellent mobility. Valerie likes to zone her foes out, releasing her arsenal of tools and projectiles their way and coming in for the kill on occasion to swipe with her long-ranged melee weapons. She can also be a functional zone breaker, however, being capable of rushing down towards her opposition and pressuring them to stay out of their way, getting in whatever hits she can and disrupting them with her high speed combos, dominating the match. With minimal ending lag on her attacks, Valerie can easily wall down slower foes and force them to rely on bait and switch tactics. At the drop of a hat, Valerie can suddenly switch between being an offense-based character and a defense-based one, or vice versa.
Though these are blessings to have for Valerie, she does come with some glaring flaws. Perhaps the most glaring is the fact that she lacks any true high-power attacks, forcing her to keep her foes trapped in long, consecutive combos if she wishes to do any meaningful damage to them. Her high gravity also presents a huge problem; should Valerie wind up falling below the stage, chances are she's done for as her recovery move is not very efficient for returning to the stage and her jumps have to be almost pixel-perfect. Her projectiles also have low priority and thus can be destroyed by almost any meaningfully strong, which can hamper the efficiency of her range if the player doesn't play their cards correctly. Lastly, Valerie is prone to being knocked around and being juggled, ironically making her a very easy character to land combos against.
Overall, Valerie's a versatile character with an extremely good combo racking game, just without proper finishing attacks and without an efficient recovery. She must stay above solid ground at all times to secure victory.
| | | |
| --- | --- | --- |
| Stamina 6/10 | Middleweight Class | Appetite 7/10 |
| Offense 3/10 | Defense 6/10 | Mobility 9/10 |
---
Moveset
Common Attacks
Valerie's moveset is based around advanced acrobatics and breakdancing moves, striking with her extendable claws and with acrobatic moves. Her moves come out at blinding speeds and consistently chain together against her enemies, with her able to hop around to keep them secured in her fury. These moves are rather weak, dealing low-moderate damage at most, but let her perform a variety of sacred combos and make her one of the game's easiest characters to learn. Valerie's tilts are very useful, as her kick-based light tilts are the quickest of her moves and let her trap foes in her grip quite easily, and her heavy tilts in particular let her make use of strong slash attacks that reach a very respectable distance. Her aerials also take little time to finish their animations, with her forward aerial letting her toss out some silver ninja stars and her neutral aerial having her spin around quickly with her claws.
Special Moves
Neutral Special: Golden Ninja Stars
Valerie will slickly and quickly pull out five golden ninja stars, capable of tossing them out in any one of eight directions. They deal minimum damage, but cover the whole length of the screen and potentially tack her foes into walls or surfaces if they've taken enough damage. If they strike the ground or collide with a wall, they can be picked up by her or other foes and be tossed around again. The wind-up time required to use this move again does not last long, but if she throws ninja stars again, all the ones she swung out earlier will disappear. These stars can either be thrown out one at a time or all at once, depending on if the button is tapped or pressed.
Forwards Special: Provocative Rush
Valerie will suddenly horizontally dash forwards, throwing her chest into the foe to knock them over- if the player reacts in time with the attack button, they can do a sideways sweep with her posterior to knock the foe even further, and timing it just right again will let her travel forward to perform a knee jab to the foe's crotch. If the player misses with the sideways sweep or crotch strike, they'll just bounce along the ground and eventually get back up. These moves carry great power if used together, and if the player successfully strikes her foe in the crotch, they'll be pinned down to the floor, allowing the player to follow up with any move they wish.
Recovery Special: Rocket Diva
Valerie will equip her anklets and rockets and spring upwards by a moderate distance, swinging out her microphone to drag out the line "Freeeeeeeeeeee~". If any foe is caught in her way, she can swing her microphone towards their faces to punt them out of her way. Unfortunately, the move does not carry much height with it, and she'll soon begin falling down. This move works best when Valerie's at full health, as her line will be dragged out further, but it'll start getting shorter and shorter as she weakens, with the "Free" line starting to sound sarcastic as she nears her death on the battlefield.
Crouch Special: Hallelujah Money
Valerie will spin around rapidly in a tornado-like fashion, laughing as she spreads around flaming cash to rain down upon her foes. These all deal little chunklets of damage to the foe and can deal quite a bit of most of them landed upon one foe. The foes will suffer temporarily from the burning status ailment and have their stamina "bleed" over time. The move does not have very solid range, and the cash disappears quickly, but it is somewhat similar to a parry except it actually damages the foe. A unique maneuver with this move is that while Valerie is vulnerable using the attack, she can spring upwards to split the burning cash with her hands, sending the cinders everywhere.
Hyper Moves
Neutral Hyper: Platinum Shurikens
The "Hyper" variation of Valerie's ninja stars will still have her pull out five of these babes at a time, but now they can bounce along the ground and roll along surfaces, and stick to foes upon contact. They will eventually blow up seconds later, dealing a good amount of damage to the foe- even more should all of the shurikens happen to land on the foe's body, exploding all at the same time. The explosions cannot be parried.
Forwards Hyper: Twister Rotator
This unique move lets Valerie use the rockets and anklets tucked against her body to charge up significant amounts of energy quickly before charging forward like a shredding ball of death, dealing rapid damage to any foes she hits and carrying them with her. When Valerie lands back on the floor, she'll launch the foes off away from her. If she bounds off of the stage boundaries with foes in hand, the foes will be KO'd first, instead of her.
Recovery Hyper: Acrobatics Extraordinaire
Valerie will spring high into the air, frontflipping or backflipping depending on the player's chosen direction and what direction Valerie was facing in upon making this move. If she lands on a foe, she'll kick right off of them to deal moderate damage before leaping just as high up into the air. She can bounce off of assisting characters and bosses, as well. The move doesn't stop until she lands back on the ground.
Crouch Hyper: Hallelujah Storm
This is very similar to Hallelujah Money, except having Valerie spread around a bigger cloud of flaming cash. For each bill that lands on the ground, it will create a very short-lasting fiery pillar, with even the cinder versions of the dollar bills also being capable of making their own little pillars. None of the pillars will deal much damage, but the bills are blasted off one at a time and can be challenging to evade.
ZONAL FEVER: Flashy Performance
As the background for the stage disappears and gets replaced with a theater, Valerie will magically warp there, appearing behind a desk with a microphone wearing a fancy business suit. As Valerie sings one of her pop hits, the other players have to scramble around to evade the fast-moving white crosshair appearing on the battlefield- when Valerie's player hits the attack button, Valerie will sing into the mic and deliver a chorus that hits all enemies in the crosshair with a string of solid notes that deal a lot of damage. She'll then twink and let off a high note that blasts them far away from her. Valerie returns to the battlefield after, bowing.
Animations
Entry Animation: Valerie descends from decidedly nowhere, kneeling teasingly on her knees and blowing some kisses before standing up and fanning herself, tossing the fan behind herself and cracking her knuckles.
Idle #1: Valerie meows and scratches behind her ears, mewling and playfully pawing forwards with her hands if any foes get close enough to her. She will eventually purr and roll around on the floor, cupping her torso before throwing herself back onto her feet.
Idle #2: Valerie sips feverishly from a Valerian Martini, shaking her bosom and hips around as she does such, turning her head to wink at the foe that's closest to her. She will then throw the empty glass behind herself as she lets out a long meow.
Taunt #1: Valerie vigorously shakes her hips left to right, filthily grinning as she makes a "come at me" gesture with her finger. If she does this three times in a row, she will tug at her necklace in an almost pleading way.
Taunt #2: Valerie rapidly spins around, blowing kisses before dramatically posing, winking while a sardine's stuck in her mouth. If she's doing poorly on health, she will be shown fiercely nibbling the sardine.
Taunt #3: Valerie will pull out her phone to check her stocks. If she's done a fierce amount of damage since the last time she pulled out her phone, Valerie's stocks will be high and she will heal some health. If she's doing poorly (average or below performance, she'll throw her phone!
Victory #1: Valerie swings herself down a golden pole, licking her lips as she hangs her upper body off of it, drowsily singing out "With a taste of your lips I'm on a ride~" as she sticks her tongue out.
Victory #2: Valerie spins around teasingly, shaking her full body from knees to torso as she winks aggressively at the opponent, singing out "What's wrong hon, did I break your heart a little too hard~?"
Victory #3: Valerie spins around, blowing kisses and holding the second-place opponent in her arms while they look dismayed. As she's doing this, she's also chewing on a sardine in her mouth, winking at the screen.
---
Alternate Costumes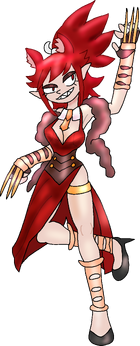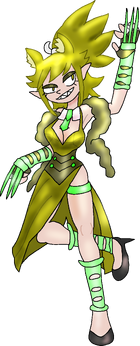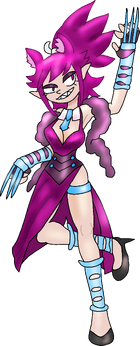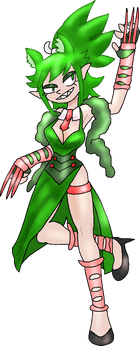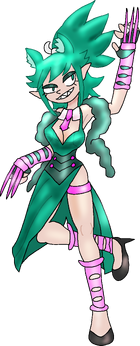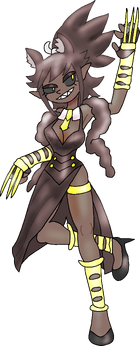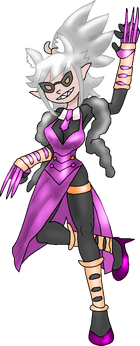 Scotch
Name
Scotch Cornbread Caramel
Mass
6'02" at 246 lbs
Birthday
November 15th, age 23
Gender
Male
Sexuality
Bisexual
Alignment
Neutral Good
Home
Vinegar Base (HQ), Satellite 15 Lobby Room #86 (home)
Occupation
Vinegar Troops general
Weapon
Numerous explosives
Powers
None particularly

General Butterscotch "Scotch" Cornbread Caramel's the Kýrios-trusted leader of the Satellite 15 defense squad, the Vinegar Troops, and is very well-respected for his resilience and ability to command the whole army entrusted to him by his deceased father. Besides training with his siblings to eventually take the mantle of army general in his later years, Scotch lived an average life until his mid-teens, when his parents and shelter got consumed in an arson incident, with Scotch and his siblings forced to evacuate without the accompaniment of their parents. With Smartie pursuing college and Snickers off to god-knows-where, Scotch would be forced to hold the whole army and the responsibilities that come with handling it on his shoulders, in spite of still being in his youth and being improperly trained. Young and inexperienced, he was picked upon by his fellow soldiers, with the laughing and finger pointing eventually molding him into a more resilient, harsh-toned man that can't tolerate anything but people doing their duty. Pessimistic, pissy and even somewhat bossy, Scotch lives a miserable lifetime just commanding his soldiers while trying to block out the haunting memories of his parents being burnt alive.

Scotch should never be confused for a power-hungry, war supportive man- he's actually much a pacifist that wishes to see universal peace and zero conflict, wanting to see the best everywhere around himself. As conflicts with neighboring satellites continue to occur, Scotch's unstable emotions grow worse and worse, and his personal struggles continue to get the better of his temper. Though it's challenging to befriend him since you need to balance between talking to him too much and too little, it's worth having his friendship- he will fiercely protect you and violently attack your attackers for as long as you try to aid him with his faults. To get through his sorrows, Scotch intakes a lot of alcohol and is on a lot of prescripted medicine in efforts to calm his easily hit nerves. He also has loving relationships with Oshelia and Minute, but the triangle is not polyamory and Scotch is struggling to figure out how he can spill he loves both of them simultaneously without worrying about pissing them off. When he's home, which is a weekends-only type of thing for him, he spends much of his time taking care of his dogs, which he leaves at the care of his sister.

Scotch specializes in explosives, having engineered a type of them with his father that doesn't blow up manmade structures but disintegrates organic matter only. It does this by releasing quick-acting flames that crisp through the organic matter and disintegrate when they don't find more to burn. His heavy bulk also means Scotch has a lot of physical strength, empowered by his own training, but he's also slow and easy to gang up on.

---

Likes: Strategizing and plotting with cooperative teammates, his family and his siblings, hanging out with Oshelia or Minute, spending money on things, using coupons to save money, eating hunks of meat, getting deep into calculus, studying wind speeds, stargazing, making the most insane house designs possible to satisfy his potential as a future architect
Dislikes: Mallory Zin, war, people who generally waste his time, people who click their tongues to annoy him, hearing weird noises in the middle of the night, people who knock on his door in the middle of the night, anxiety attacks, being unable to sleep, when Snickers gets in trouble, Silver Zin especially
Gameplay Details
Analysis
Scotch is a heavyweight character with a tall hurtbox as well as heavy attributes, having sluggish mobility overall and having some heavy ending lag on his attacks but having power and range as his greatest assets. As a fighter, Scotch's style surrounds around the concept of him dominating and controlling the battlefield for himself, keeping his foes at bay with long-range attacks to prevent them from exploiting his weaknesses, making it challenging for them to properly approach him unless they specialize in zone breaking. Scotch's arsenal is exceptionally powerful, forcing his foes to take tons of damage ridiculously quick whether or not he's using his weapons or his arms to bring them down. If his foes come too close, he can grab onto them and suplex them into the ground, letting him dish out tons of damage to them at once. Finally, he does not flinch from others' attacks, being resilient towards them.
However, Scotch does suffer from numerous weaknesses. It's worth noting he's one of the game's slowest characters, his pockets and clothes loaded with weaponry, which makes it easy to catch up to him. His weight also makes him rather easy to juggle in the air and chain numerous hits against. Agile characters can dodge his weapons if they correctly telegraph where they're going to land and go in for the kill to punish him, forcing Scotch to rely on bait and punish techniques. Rushdown and dominating characters particularly annoy him, as they can eliminate the utility of his weapons and force him to rely on his lower-range attacks. Because of his weight and weak jumps, it's also challenging for Scotch to use his aerials, as powerful and mighty as they are, making them situational at best.
Though Scotch's heavy weight and sluggish speed can really get in the way of his effectiveness, he retains having one of the best projectile games in the game and can't flinch to any attack, letting him get his punches in.
| | | |
| --- | --- | --- |
| Stamina 6/10 | Heavyweight Class | Appetite 10/10 |
| Offense 9/10 | Defense 6/10 | Mobility 2/10 |
---
Moveset
Common Attacks
Scotch's neutral attack set is mostly focused around his physical strength, with many of these moves having fairly long range and large hitboxes. His ground attacks mostly consist of military-styled punches and kicks, though his heavy tilts have him summon his dog Hero to take bites out of his enemies from a distance. In the air, he instead puts his weight to his feet, having some particularly strong cartwheels and backflips guaranteed to send even heavier foes flying. His down aerial has him thrust both of his feet down at once, giving him the strongest spike in the game. Many of these moves require him a second or so to complete, and just as much afterwards to let him recover and use the next attack. His ground attacks usually connect well together, but his aerial attacks do not and cannot chain into his ground attacks- only vice versa works. His best damaging moves include his heavy tilts, forward aerial, and down aerial.
Special Moves
Neutral Special: Bombardment
Pressing the special attack button will have Scotch pull a bomb out from his backpack, igniting it as he does. Tapping the button will let him carry up to six bombs. Each takes about six seconds to explode, with all those touching his foes exploding immediately in a moderate radius while dealing moderate damage. By pressing down on the special attack button, a reticle will appear on the battlefield, which the player can move to the left and right. Upon letting go, Scotch will throw all of his bombs towards that spot, heavily damaging any foes that get caught in the radius. However, if Scotch doesn't release them in time, he will damage himself.
Forwards Special: Firework Rush
Scotch will take a big firework out from his backpack, able to take up to five before immediately bounding them and lighting them, sending them off to chase down foes! If it's just one firework, it will chase foes for about ten seconds before giving up and going in a straight line, dealing minimal damage but having the best chance of landing. If it's all five, it will chase foes for about four seconds before giving up instead, but it will deal very heavy damage if it manages to land! If the player presses right while loading the fireworks, he will hop aboard them and force them to go straight horizontally, with Scotch having to hop off before contact is made!
Recovery Special: Dashing Uppercut
Scotch quickly equips a spiked glove and uppercuts the air, knocking his foes right up into the air with him and performing a series of punches to their vulnerable jaw. If he hits the jaw first, the move will be sweetspotted and the foe will be rocketed towards the skies, having taken massive damage from the impact. The uppercut covers a strong vertical distance, but moves him very little horizontally. If Scotch is on the ground, he will dash forwards a little before delivering the uppercut, which covers more vertical distance while also covering more horizontal distance. He can then perform aerials but nothing else as he plummets down, until he lands back on solid ground.
Crouch Special: Shepherd Summon
Scotch will quickly blow on his whistle, summoning a German shepherd to his side. By tapping the special attack button, he'll command the dog to stay by his side and viciously attack anyone who comes close, and by pressing it, he'll command the dog to instead sic his foe, obliterating other obstacles as he goes. Once the dog's taken some damage, it will fall unconscious and disappear from the battlefield, and cannot be summoned again for a long period of time. The shepherd's best utility is to eliminate hazards for Scotch and let him approach his foe, especially as the shepherd has a habit of knocking the foe his way.
Hyper Moves
Neutral Hyper: Explosive Array
Explosive Array is visually similar to Bombardment, except Scotch will pull out twelve bombs from his backpack and spread them around himself, with the chances of foes completely evading the attack being little to none even if they just take moderate damage. It's almost a guaranteed attack. Additionally, when the bombs hit the floor, they will form fiery pillars to strike airborne foes, really making this a pain in the ass to avoid.
Forwards Hyper: Firework Dragon
Scotch will make strap together a set of five fully-powered firework sets and send them off in the foes' directions, chasing them constantly before setting off in a straight line ten seconds later. If a foe comes in contact with the middle firework set, they will be stricken by three explosions and take massive damage, making it his most potentially powerful move. But just having them come in contact with one set will still deal great damage.
Recovery Hyper: Shooting Star
Instead of his unreliable Dashing Uppercut attack, Scotch will blast his guns underneath himself, gaining aerial momentum with them as he rises high into the air, leaving nothing but bullets below that rain down on foes and push them into the ground. He can freely move left and right as he rises into the air. When he runs out of bullets, he'll begin falling, but can again perform aerial attacks only until he reaches solid ground.
Crouch Hyper: Cerberus Summon
Scotch will blow on a crimson whistle this time, summoning a larger, more mythical-appearing shepherd to his side! The commands for the shepherd remain the same, but he chases down his foes far more feverishly, chomping away at them until he takes enough damage. His best utility is to strictly deal enough damage to the foes, severely harming them in the process. He's only as bulky as the original shepherd, so he won't last longer.
ZONAL FEVER: Disposable Heroes
Scotch will jump towards a rocky cliff in the background, landing on his two feet as he blows a huge whistle, summoning the Vinegar Troops to the battlefield. He will then blow on his whistle again as his men and women charge across the battlefield, trampling his foes and forcing them to elevate to high ground. They're not even safe there, as many soldiers will jump and try to beat down the player as they move. After all his soldiers have left the battlefield (which takes 10 seconds), Scotch will jump back.
Animations
Entry Animation: Scotch is driven onto the battlefield on the front of an army jeep, doing a front flip off of it and juggling his bombs around before having them all hurl into his backpack. He'll then grimace as he windmills his fists.
Idle #1: Scotch twirls around as he tips his cap and readjusts his belt, stretching his arms out as he looks between photos of Oshelia and Minute. He will then stuff the portraits into his backpack before resuming his battle stance, sighing and looking down.
Idle #2: Scotch will juggle some bombs and fireworks in his hands, humming as he does such before pointing at a random opponent visible on the battlefield. If there is no opponent, he points in no particular direction. He says "Hah!" upon pointing.
Taunt #1: Scotch will leap up into the air just a little bit, grunting "Yeah!" as if he hit something. A quick taunt that will very quickly grate at one's ears. The more times he hits, the more "Yeah!s" he says.
Taunt #2: Scotch chucks a bomb into the air, juggling it on his one palm as he stares rather soullessly at those ahead of him. If he's low on health, he will growl a bit and mutter things under his breath.
Taunt #3: Scotch crouches down, petting his dog Hero's head and rubbing around his ears. The longer you leave Scotch alone, Hero will begin leaping around him, yelping and wagging his tail.
Victory #1: General Scotch throws a bomb in the air, catches it, and gives a slight grin at the screen, folding his arms and jerking his head in one direction. He then says, "United we stand, tonight you fall."
Victory #2: General Scotch jumps up into the air, doing two front flips quickly before descending with a strong kick into the ground, firing his machine gun rapidly to his sides as his victory music plays.
Victory #3: General Scotch turns his back to the camera, tauntingly saying "Come back sometime when you really mean business", walking off into the sunset as his victory theme plays.
---
Alternate Costumes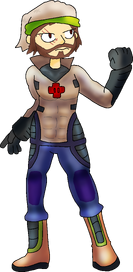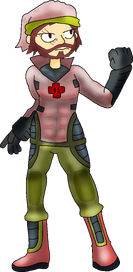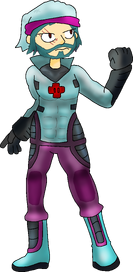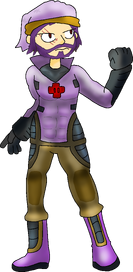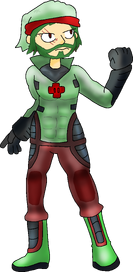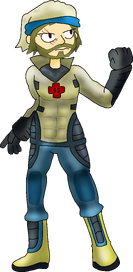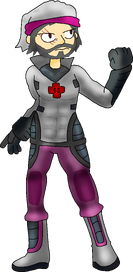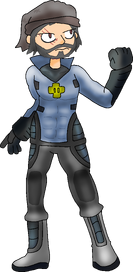 Syinara
Name
Syinara "Syi" Wyne
Mass
5'02" at 105 lbs
Birthday
October 26th, age 30
Gender
Female
Sexuality
Homosexual
Alignment
Lawful Good
Home
Valco Vortex, New Naxaz City (home), Mother Chamber of Sector 5 (secondary)
Occupation
Gardener
Weapon
Mother Nature
Powers
Nature

Syinara Wyne's the mother of organic life on Satellite 15, having taken the mantle as "Mother Nature" several years ago from her much older parent. Her extensive roots reach around the colony and thrust through the soils, regularly supporting and growing the satellite's flora, with her back facing a window looking out towards the sun so she may gradually support what would otherwise be a difficult body to maintain. Though this "scarecrow" is weekly tethered by choice to her overgrown chamber as part of the plant breeding program she and her kind are used for, she is mobile and capable of walking for the rest of it, watering other gardens and selling some of her best products at a market. For she controls nature itself aboard the satellite, it's reasonable to believe that it doubles as her weapon as well as friend-in-need, with her body capable of sprouting out whipping vines and transforming its wooden limbs into instruments of terror. Her strength can stretch incredibly far; she can transform her arms into whipping willow trees and root herself into the satellite to attack foes in rooms she's not even in.

Syinara usually behaves abrasively and tries to scare off younger people, being cranky and resentful to top off her sour behavior. This is so she may scare off people she believes will hurt her or mistreat her, as she's very frail when untethered and has never-ending memories of this one girl she loved for years that eventually cheated on her, leaving her down and broken. Syinara usually tries to squirm her way out of social gatherings and parties and usually tries to avoid eye contact with people that annoy her or make her uncomfortable. She prefers to have a limited circle of close friends that she can trust with all of her personal information and all of her introspective thoughts. If someone leaves her, lies to her, or straight-up betrays her, it will severely damper her opinion on the person and will cause her to lock them out of her life, unless she takes her deepest pity on them. However, when around people she's super close to, she will actively smile, be able to relax, and laugh once in a while. She's always a bit peppy on Sundays, because that's when she gets to spend the whole day with Valerie- her girlfriend. Syinara is an avid reader of the "Chicken Soup for the Soul" series.

As one might imagine, Syinara Wyne's got a very fragile body and suffers immensely from one weakness: fire. She dislikes fire so much, in fact, that she actively fears it and widens her eyes upon seeing a lighter or gas stovetop go off. Her body's also grows weaker and weaker when she's in battle, damaging itself to stretch its limbs out ridiculously far, and usually has long-lasting consequences on her body that can last for several days. That said, she won't stop attacking for as long as she's in danger or if one of her closer friends are.

---

Likes: Valerie Heartgold, kind people, healthy environments, having safe spaces, helping others relax, drinking alcohol, smoking cigarettes, being on the right side of things, helping nature grow, watching time fly by, studying the earth, ass, the idea of punching Mallory straight in the face, eating Fruit Chews and other sweet candies
Dislikes: Mallory, Hene, her hometown of Hynau, dirty places, outhouses, being referred to as weird, having her hair untidy, the scent of dust, passive aggressiveness, sarcastic tone, the mere thought of being kidnapped, seeing bad things happen to Valerie, trusting people she's hated before, seeing blind love
Gameplay Details
Analysis
Syinara's a heavyweight fighter with and high falling speed and the game's second-shortest height, having average mobility overall and having slightly below-average power output. To make up for her cons, Syinara's got very impressive range via her vines, which stretch a long distance and have many hitboxes, including a consistently powerful sweetspot. Syinara is best described as a "bait and punish" type of character, patiently waiting for the perfect opportunity to strike like a Venus fly trap, before striking as soon as there's a weakness she can immediately exploit. Her efficient range means it's challenging to stay out of her attacking zone, and outright intimidating around the occasional bottomless pit. Her strategy is to wear her foes down, capturing them and throwing them repeatedly into the ground or into a wall to damage them or whipping them away from her body. Her whip also destroys low-priority projectiles.
Our scarecrow friend's quite flawed in close combat, however. Though she boasts impressive range and strong sweetspots on her attacks, these don't mean anything particularly if the foe is too close to her, making it impossible to strike them with her whip and making her open to punishment. The vines' sweetspots are also tricky to land and don't provide excessive power output if they land, and thus don't properly compensate for how little damage the sourspots inflict onto her foes. Thanks to her fast falling speed, she suffers from a glaring vulnerability to chained attacks and can easily be juggled in the air, and can be knocked around a lot as well. Though her throws are very useful for quickly inflicting damage, they don't deal much besides her back throw, which itself cannot chain into other attacks because of how far it tosses her foe.
Syinara requires a lot of skill and patience to learn for foes to overcome her glaring flaws, but if they can manage to master her moveset, they can dominate competitions without an issue with every sweetspot they land.
| | | |
| --- | --- | --- |
| Stamina 7/10 | Heavyweight Class | Appetite 7/10 |
| Offense 4/10 | Defense 8/10 | Mobility 5/10 |
---
Moveset
Common Attacks
Syinara's basic moves without a doubt revolve mostly around her usage of vines, her main weapon in all instances of combat. Syinara's vines, needless to say, stretch a long distance and make this satisfying "whip crack" sound effect every time their sweetspots land, which are always found on the tips of her vines. Unless the player's got a clear grip on how to play as Syinara, they will be mostly landing her sourspots- if they can master her sweetspots, however, they might find themselves frequently dunking foes or slamming them against walls! Syinara's heavy tilts are really interesting, as they have her launch thick bramble vines from the ground or from her body, while her light tilts have her transform her arms into big oak tree fists. Her jab attack has her throw two of these punches using the same fists before sweeping her foes with a vine, while her upper aerial attack has her transform her head into a wooden propeller that spins. Her heavy tilts are her most powerful attacks, while her down throw has great utility.
Special Moves
Neutral Special: Spiky Shield
Syinara will transform her torso and arms together to form a massive thorny shield that takes damage for her for a few split seconds, being an emergency attack that damages foes that happen to come in contact with the shield. If the shield strikes foes, the player can retaliate with any attack of their choosing- it usually knocks the foe away enough to let the player throw out a perfect sweetspot attack with their vines. The shield only lasts for an instant, however, so poorly timing it will still let the player get punished by their enemies. The shield's perfect for baiting and punishing and serves as an anti-approach option.
Forwards Special: Horizon Snare
Syinara will whip across the horizon with her longest vine. This is her most unique vine attack, as while it may deal enormous damage at the tip, its ultimate use is for grabbing foes with the base of the vine, dragging them towards her body and letting her play with them by pummeling them and throwing them around recklessly. The vine can only travel straight forwards, however. In the air, Syinara can still grab the foe, but will halt midair so she can make a 3-second choice on where she wants to dunk the foe down at. The more rapidly this move is used, the shorter the vine will be, so it's recommended to not overuse it.
Recovery Special: Photosynthesis
Absorbing sunlight from above, Syinara will gracefully soar through the skies while eating up the energy like photosynthesis, following the trail up before she helplessly descends. This move does not give her much distance at first, admittedly, but the more damage she's taken, the more energy her weakened body will absorb from the sun's rays. When she's below 30% of her Stamina, foes that step in the ray of light will take damage and slowly descend under the sun's rays until the move's over.
Crouch Special: Willow Dunk
Syinara will summon the head of a weeping willow from her right fist, all its branches crunching up together to formulate a massive fist. Syinara will drag the arm back as the player has to mash the attacking button to use it- after a few seconds, Syinara will fling this massive fist forward if she's mashed hard enough, otherwise she'll stumble to the ground and be vulnerable to attacks. The huge fist deals massive damage if it connects, but carries an enormous amount of ending lag that will punish her if the fist misses. For reference, the fist is roughly double her own height, making it tricky to dodge if Syi's got the foe cornered.
Hyper Moves
Neutral Hyper: Earth Harvest
While shielding herself with a much longer-lasting Spiky Shield, Syinara will absorb nutrients from the earth to restore 20% of her Stamina. The healing occurs very quickly, but will still be cut off if the player manages to get hit by an attack during this move's process. To compensate for her vulnerability, the shield Syinara makes is even bigger and covers her head, protecting her from all sides.
Forwards Hyper: Root Extension
This move reaches even further than Horizon Snare and is significantly more dangerous to deal with for a number of reasons. For one, it stretches across the ground slightly faster, with its surface lined with various thorns. For two, the sweetspot will home in towards the foe it's closest to if possible. For three, all foes touching the sour spot of the roots will keep taking damage until Syinara finally drags them over to her.
Recovery Hyper: Light Eater
This move's very similar to Photosynthesis, except Syinara glows up thrice as much light, which works wonders at later percents. If she has absorbed excess energy, she'll use it to gently glide back down onto the battlefield, making this one of the best recoveries in the whole game.
Crouch Hyper: Willow Windmill
Not only does this move occur faster than Willow Dunk, but Syinara windmills the fist too before springing it forward at an even more ridiculous size! It also has more impressive range and covers a good distance in front of Syinara, making it really challenging to avoid, but it doesn't cover as much ground as Root Extension. If it knocks foes into a wall, the attack will be guaranteed to wipe at least 60% of the foe's Stamina.
ZONAL FEVER: Queen Nature
Syinara will growl angrily, springing upwards to assume control of her flora throne, her eyes glowing pure white as she ensnares the battlefield in vines, breaking apart platforms and sweeping her foes around as lots of harmful paralyzing powder drops from above. As her foes scramble about, Syinara will spit out a thick green laser from her gaping mouth, covering her foes up in gross algae and moss upon contact and freezing them for her to hit when she returns to the battlefield. After the laser, she pops back to normal.
Animations
Entry Animation: Syinara will twirl into the battlefield, shaking her hips around before cracking her knuckles, which break before her eyes before automatically getting healed by aloe vera, swinging her hair around as she poses for battle.
Idle #1: Syinara taps her foot impatiently and brushes her hair back as she waits for something to happen, sighing impatiently as she does such. She may also check her wrist as if she's checking a wristwatch of sorts, and will sometimes say "Stop stalling."
Idle #2: Syinara dusts her hands off, frowning as she shakes her hair and points her hands to herself, trying to bring the foe to come over to her. She will then do a little spiral in place, tripping on the ground and blushing out of embarrassment.
Taunt #1: Syi dusts off her hands, grimacing at the competition before folding her arms in a disapproving manner. She'll then mutter "Pathetic... why do you even try against me?"
Taunt #2: Syinara wiggles her hips from side to side, shaking her posterior to humiliate her target. If the player leaves her alone long enough, her body will physically cringe.
Taunt #3: Syinara lays down on her side, rooting herself into the ground and relaxing. This move will very slowly heal her Stamina by 1% for every 3 seconds she spends like this.
Victory #1: Syinara laughs awkwardly as she spins around, posing by doing the finger guns before falling asleep against a pole, blowing dream bubbles from her lips as she sleeps, occasionally snapping awake.
Victory #2: Syinara says "That wasn't too bad... I think" as she laughs and hums to herself as she waits for something to happen, clicking her heels together, standing straight to reach her full height.
Victory #3: Syinara energetically pumps her fist into the air, grinning in victory as she looks down at her foes with her vines spread out from her body. If she won against Mallory, she'll do the middle finger with her fist.
---
Alternate Costumes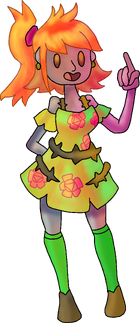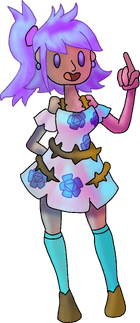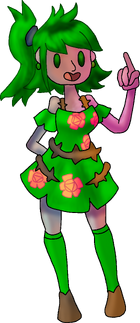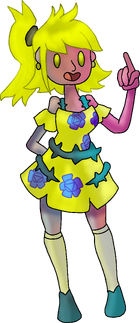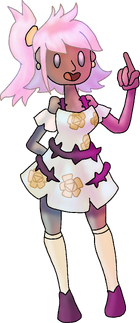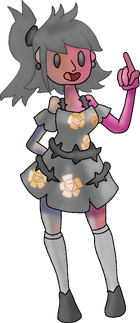 Pierce
Name
Pierce Hazel
Mass
5'11 at 88 lbs
Birthday
August 18th, age 27
Gender
Intersex/Male
Sexuality
Bisexual
Alignment
Chaotic Good
Home
Satellite 15 Lobby Room #13
Occupation
Tactician
Weapon
Psychic Palms
Powers
Psychokinesis

Pierce Hazel is an incredibly strange and unorthodox person with a very split personality, being little more than a loner that shuts himself off from the rest of the globe and clings only to those he's made friends with in the beginning. He is a pessimistic 27-year-old adult that thinks the worst to himself and the worst about everyone around him, unable to trust anybody to the fullest and having nobody he can relate to properly share his backstory with. His unstable genes and multiple personality orders, as well as his extremely low body weight, skeletal figure, and immense psionic energy, required him to be strapped to a wheelchair and a machine that can withhold his intense mind. He's so unpredictable- with severe autism, bipolar disorder, Asperger syndrome, and constant schizophrenia, he's not exactly a target you would like to be messing with. Without his medication, Pierce's mind seems to wander off on its own, and he doesn't have any control over his actions until he's back on his pills. It's not hopeless for him, however- he likes spending quality time with others and enjoys solving challenging puzzles, cleaning up what he can, and riding around in his wheelchair or listening to pop rock.

He keeps himself isolated because of his genetic instability, his reputation as an experiment gone horribly wrong alone having scared many away from him. He is one of two children birthed from Chimera Hazel, a genetic experiment that was stitched together from the genes of many already mentally defected individuals. Chimera's creation was completely illegal, having been birthed for the crew of mad scientists to study on psionic capabilities and how to use them for their own good. The goal was to make her breed with her own children so to produce a series of "perfected self-produced nuclear machines" as soldiers, but Chimera was so unstable that she died way too soon, and it was too expensive to reproduce her. He was eventually moved to a hospital for containment just at 3 months old, he already managed to wipe out all life there, so he was sent over to a school for all ages- a poor choice of one, for that matter. He would be abused by everyone there of almost any age, and the moderation of the school was too poor for him to really receive the help he needed. He made friends with Nomila Rouse and Clair Voyell there, his two best friends and ultimate crushes.

Since he left the daycare, he worked briefly as the owner of an adult convenience store before working as a guardian for Valerie. Eventually, while surfacing the Zax-Net he came to hear about "The Boy Who Cannot Wake", and decided he'd meet him if he woke up. Not only did they meet, they're currently boyfriends and taking great care of each other.

Pierce is the lyricist, vocalist, co-producer and music engineer for the abrasive, groovy metal band named "Black Haze".

---

Likes: His adorable and well-groomed Maine Coon kitten named "Nala", his hobby as a tactician, listening to pop rock, the Gothic aesthetic, people calling him the names he desires, chowing down on pasta and wheats, playing lyricist and vocalist roles for Black Haze, taking cat naps, being able to escape his wheelchair and act independently of it
Dislikes: All of his various weaknesses (including what cripples him, his autism, etc.), Ms. Replicate and the attention she receives from Silver, remembering the godawful past he's had, acknowledging he's an inbred child, any and all dogs because of trauma he's had with them, being forced to stay in his wheelchair, having to suffer from insomnia (his poor bloodshot eyes)
Gameplay Details
Analysis
Pierce's a one-of-a-kind type of character, being an extreme lightweight with an average hurtbox and some ridiculously high jumps, all complicated further by his loftiness and high-tier speed. However, he has the lowest Stamina of anybody in COLD❄BLOOD, and can only take a few moderately powerful attacks before collapsing for good. To compensate, Pierce Hazel's wheelchair is armed with numerous weapons that make instantaneous melee attacks possible, and he has a dynamic that allows him to assume varying palettes that drastically change his attributes to suit various scenarios. Holding down the parry button and pressing in any one of seven directions will let Pierce assume a "sin" that will grant him two advantages and one disadvantage for ten seconds before it "breaks" for the rest of his stock. Outside of these gimmicks, Pierce is an immensely strong glass cannon with some very irritating Specials that can scrape his foes against the walls and some really strong close-range tools.
Pierce's biggest flaw is his jaw-dropping Glass Joe defense; if the foe can finally approach him and beat the lights out of him with just one chain of moderately strong moves, he's down for the count. However, this is somewhat rounded out by the fact that it takes the longest for him to starve; he can live without food for an exceptionally long period of time. He also very much dislikes bait-and-punish characters as well as zone-breakers, as they can push through him and eliminate all of his health in just a few shots. That's where all his major cons end, however. One of the game's fastest characters thanks to the versatility of his wheelchair, you really do have to try and catch him first before you can get a few hits on him, and many of his attacks will safely cover him from all sides so to prevent any sneak attacks from happening on him. If you treat him too lightly, you might just be another meal for him to consume!
Overall, Pierce is a very fragile character that requires lots of patience and skill to master, but in the right hands, he can do anything and there's nothing you can do about it except try to bait him into a trap. Easier said than done.
Forms:
Red/Wrath:

+Attack & +Crits

,

-Resistance

Orange/Gluttony:

+Resistance & +Launch Power

,

-Crits

Yellow/Greed:

+Crits & +Speed

,

+Vulnerability

Green/Envy:

-Vulnerability & +Stylishness

,

-Launch Power

Blue/Sloth:

+Launch Power & +Resistance

,

-Speed

Purple/Vanity:

+Speed & +Attack

,

-Stylishness

Pink/Lust:

+Stylishness & -Vulnerability

,

-Attack
| | | |
| --- | --- | --- |
| Stamina 1/10 | Lightweight Class | Appetite 1/10 |
| Offense 7/10 | Defense 1/10 | Mobility 9/10 |
---
Moveset
Common Attacks
Pierce's basic moves are focused around the versatility of his wheelchair, while his special/hyper moves are handled all by himself. These moves come out very smoothly and quickly, being among the fastest moves in the game, though this is largely due to how utterly defenseless Pierce happens to be without that strength. This wheelchair is equipped with two very versatile extendable boxing gloves, which can reach a large distance and spring around his chair without getting stuck. Almost all of them, in fact, swing completely around in circles, preventing foes from touching the boy from behind. His tilts are different, though; rather than punches, the machine will launch numerous tennis balls when he uses his light tilts. His heavy tilts, on the other hand, instead have his chair blast off laser guns to try and hit foes from a far distance, though they do have a bit of cooldown. Besides his heavy tilts, his forward aerial (a forwards flipi followed with a downward dunk with both gloves) is his strongest neutral attack.
Special Moves
Neutral Special: Psionic Waves
Pierce will begin charging his mind up with immense brainpower, his forehead beginning to continually flash. Once it's flashing white, the player can press the special attack button to blast two frequently-intersecting waves of energy through the air, which are chained together like DNA strands! The player can release earlier to release thinner, weaker variations of the attack, but releasing it at full strength will damage all enemies in the way multiple times! To top it off, the enemies will behave somewhat dazed after the attack, their controls temporarily inversed. Unfortunately, the beam is fairly easy to telegraph and avoid, so it has to be timed right.
Forwards Special: Telekinetic Heave & Throw
Pierce has his eyes glow vibrantly as his body twitches, the sound of several crackling bones being heard as a reticle appears on the screen, searching for a foe as the player goes around. If they press the Special button at the right time, Pierce will trap the foe in a psychic prism! The player can then aim where they want Pierce to throw the enemy they just picked up- he can fling them towards a wall to severely damage them, into the wall so he can dunk them again, etc. Pierce can also pick up items and drag them over to himself as well as pick up the baseballs he's been leaving down on the ground, which he can spew all over the battlefield.
Recovery Special: Psychic Ascent
Using the power of telekinesis, Pierce will hoist himself and his wheelchair upwards, able to guide himself safely to solid ground. When his forehead begins to flash red, that's a warning that his telekinesis will very soon run dry, forcing him to fall down to the ground. Though Pierce has full control over where he can land and he can even attack foes while using his recovery, he can't be up for too long.
Crouch Special: Disable
Disable is a very odd move that's unique to Pierce in this game. Snapping his fingers, he'll either mutter "Not this time" or "No way" as a wave of psychotic energy appears next to him. If his foe happens to be standing there, Pierce will seal the last four moves they used for the rest of their stock. This is a very risky move, however, as Pierce will be fully vulnerable if he decides to do this, and he might be sacrificing his chance at victory!
Hyper Moves
Neutral Hyper: Psionic Storm
Very similar to Psionic Waves, except that the move charges much faster and his head never flashes, making it much harder to tell when his move is fully charged (it takes half as long). Upon firing this attack, Pierce will send several clouds of this energy directly forwards, being a barrage of high-power attacks that are very difficult to avoid overall. The foe has to keep their distance and try to find a way to jump around it- or just suffer.
Forwards Hyper: Intense Gravitation
Again, very similar to Telekinetic Heave & Throw, except Pierce will always pick up debris and his eyes will always glow purple. He will hurl all the debris into his foes at once as he inserts intense gravity into them, dropping them down to the floor after slamming them into it once. This will cause them to become much heavier for 20 seconds, allowing Pierce to hog them down with his numerous attacks.
Recovery Hyper: Hyper Flight
This has changed only slightly from Psychic Ascent, except Pierce can guide himself for much longer and he can even trigger his Special Moves while using this move this time around. Pierce's wheelchair will spin around whenever Pierce is attacked during this move, rebounding the foe as if the player parried as the player's able to choose where to go. Being in the air too long will again make the player start falling.
Crouch Hyper: PSI Overcharge
Pierce will growl as he begins overcharging his body with psionic energy, absorbing all his personalities to restore about 50% of his Stamina, but quartering his Hunger in the process. This move can quickly prove annoying as it can quickly restore Pierce's health back to normal if he keeps a consistent lead, but Pierce's defenses are so weak that this move shouldn't mean much to patient players- and he'll be leading himself to starvation, as well.
ZONAL FEVER: 7 Sins: Split Personality
Pierce will let out a piercing scream as he summons all seven personalities from his body, having them hold each other's hands as he raises them upwards high into the sky, in a circle with himself in the middle! As the personalities begin to spin faster and faster, Pierce will breathe out an intense multi-colored psionic laser that splits across a small area of the battlefield, damaging all foes in the way! All will then drop to the ground, becoming one entity again.
Animations
Entry Animation: Pierce is carried onto the battlefield by a few suspicious-looking doctors on a hospital stretcher, detaching him from the bed before quickly equipping him with life support, leaning forward weakly as he sucks on a cherry lollipop.
Idle #1: Pierce maniacally cackles in a fit of uncontrolled vanity before screeching in deep envy, followed almost immediately by him very briefly nodding off to sweep. He will then shake his head awake and look confused before returning to his battling pose.
Idle #2: Pierce will lean backwards a little bit, all the bones in his body crackling as he stretches his weak limbs out, letting out a yelp of pain when he bends his back at a 110-degree angle. He will then return his body back to its upright posture.
Taunt #1: Pierce revs up his wheelchair noisily, tongue hanging loosely from the edge of his mouth as he continues to rev it nice and loud. Perfect for annoying your enemies!
Taunt #2: Pierce will sing out a grunge-inspired series of wails. These can either sound silky and clean, or horrible and shitty. Either way, the wailing is purely cosmetic.
Taunt #3: Pierce nods off to sleep in his wheelchair, ignoring any threats made towards him as he leans against the arm of his seat. He'll only wake up when the player moves.
Victory #1: Pierce tilts his head a little to his left, folding his arms as he flatly says, "You're never going to get anywhere if you don't try". He then turns himself around, starting to walk off before helplessly giggling to himself, clapping his hands in mysterious glee.
Victory #2: Pierce rides around on his wheelchair, grinning eerily as he clearly grips tightly onto the sides of the chair. He's surrounded by a group of nurses and doctors that look over him as he says "Your loss against me is embarrassing, to put it frankly..."
Victory #3: Pierce wiggles his head around before suddenly jerking it upwards, grinning wide as he almost looks as if he's become nearly headless, his head wobbling and throbbing as if he's holding in some kind of built-in steam. His left eye then glows pink as his theme plays.
---
Alternate Costumes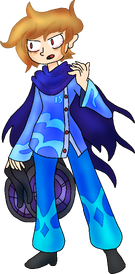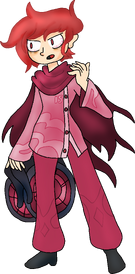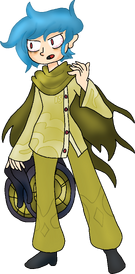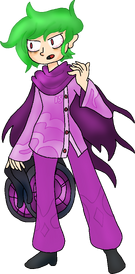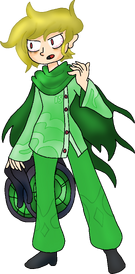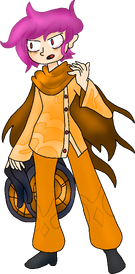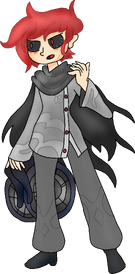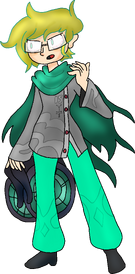 Devina
Name
Devina Kilmister
Black Eyes
Mass
5'04" at 159 lbs (D)
7'07" at 638 lbs (B)
Birthday
May 19th, age 37 (D)
Unknown data (B)
Gender
Female (D)
Male (B)
Sexuality
Homosexual (D)
Heterosexual (B)
Alignment
True Neutral (both)
Home
Channel X, Sector 1
Occupation
Supernatural hunter (D)
Supernatural murderer (B)
Weapon
Emergency Taser and Razor Knuckles (D)
Numerous (B)
Powers
None (D)
Supernatural (B)

Devina Kilmister's the granddaughter of a mad scientist that secretly and swiftly stole from the Zaxinians the instructions for extracting creatures from others' imaginations. This experiment would prove to be fatal for her grandfather, and many supernatural creatures eventually escaped the confinements of their laboratory cells to haunt the individuals of the satellite. Our abrasive, occasionally snarky heroine decided to take on the job as a supernatural hunter for the Satellite 15 government, attempting to clean her grandfather's slate by searching the darkest corners in the satellite for the free experiments. However, she was rather reluctant with taking on this job, because at the time she had been dealing with divorce papers and a very needy baby named Larry, and was already trying to power through her life as a singular parent. But knowing her grandfather would appreciate her courage, and believing that taking on such a risky job would make her son look up to her as a role model and as a hero, she obligated. She continued even after she lost her baby to the likes of the Echeno.

Though not a person to judge others based on what they like, she is very judgmental of others' behavior and has shown mother-like scoldings towards the likes of Black Eyes over his various mistakes, sometimes to a fault. Even so, Devina is still a sensitive individual that's very easy to frighten, as if her emergency taser fails on her, she will feel completely helpless against whatever she's facing and make a break for it. She prefers to lurk in the shadows of protective figures and feels insecure without a bodyguard. This makes her daily job absolutely hellish for her to take on, as she's forced to face her fears often and go against things she dislikes, especially her own scary steel nightmare of a friend when she's ticked him off a bit too hard. On top of all of this, she has to protect herself and her friends from trouble. She desires to be many things, and no matter how much stress she's under, she keeps plowing through even with all her handicaps.

The Exorcist, or "Black Eyes" as Devina prefers to nickname him, is a supernatural spirit residing in the body of an enormous clunky robot designed for expelling demons and evil spirits from dark places, said body having been constructed by Devina's grandfather but subsequently modified by Black Eyes himself. He's a cunning and mischievous spirit with some very disturbing thoughts and morals concealed at the back of his mind, never relenting to share them and always having a good time even as he mortifies others around him. He enjoys shocking others for the hell of it and displaying this sick, crude sense of humor that pisses off others or causes them to become outright terrified of him. He loves to torture and tell offensive jokes, never directly to hurt anybody but because that's his shtick and he feels like he's "gotta do it". Black Eyes is very intelligent and can worm whatever answers he wants to the questions he's asking from people, and will know exactly how to make them extra miserable if need be.

Black Eyes is a cold-hearted entity with a lack of remorse or respect for others, even including his "friend" Devina. He's a very selfish, self-centered being that wants whatever he demands and wants it now, and shows little interest in mortals that don't wish to oblige with him. However, because this intelligent spirit knows of Devina's crippling weaknesses, he chose to attach himself to this frail woman and label himself to her as a friend, helping her expel demons and evil spirits from dark places to try and keep this reputation with her. However, he's just a bad friend in general- he never helps her father the baby, he won't really leave her alone, and he makes a lot of moments between her and the authorities rather awkward. And even though Black Eyes has kept his promise to her in doing what he's been asked to do, he likes to make a lot of threatening comments about her, her child, and her family, and says he'll do terrible things if she doesn't follow his lead (he never follows up, though). Lacking any morals, Black Eyes does whatever he wants and feels shameless.

The two rarely see eye-to-eye fully, for Black Eyes is very inhumane and very morally imbalanced and thus contrasts greatly with Devina's mindset, while he thinks she's "too human" and can vastly benefit from seeing life from all sorts of angles, even if it means roughing her up as a victim. Their relationship is very complicated, and both are angry at each other for many reasons- Devina hates how he can't act like a civilized man and how he can't help her father the child, while he hates how much self-defense Devina lacks and becomes annoyed by her frequent, ineffective scolding. That said, they are found frequently at parties together messily drinking away or practicing music together, especially through the nights. Maybe their relationship will improve, they are in a band together after all.

Devina is the founding member, frontwoman, producer, and bassist for the abrasive, groovy metal band named "Black Haze". Black Eyes is the drummer and musicbox player for the band, as well.

---

Likes (Devina): Hunting down supernatural beings, making love to the supernatural women she finds chicken tenders and fries, positive or optimistic behavior, the daylight hours, listening to country music, storywriting, songwriting, her baby Larry (in the past), Black Eyes when he's behaving okay
Likes (Black Eyes): Devina Kilmister, torment and torture, hypothesizing potential kill methods, whaling (because why not), battling supernatural figures, partaking in a good fight, making use of his shock factor, cracking jokes, horrible bathroom jokes, eating in general, terrible .EXE online games
Dislikes (Devina): Herself, gross-out humor, unneeded pessimism, handling laundry, long waits, dark places, machinery, putting up with others' lies, feeling betrayed or disliked by figures she trusted, when the sheets on her bed magically unfold
Dislikes (Black Eyes): Devina's baby, having to follow law and order, the scent of any bathroom, being thought to actively like scat, when Devina doesn't enjoy his gross-out humor or his preference in heavy metal music, watching Devina partake in her mischievous deeds if he can't partake in them himself
Gameplay Details
Analysis
Devina's a somewhat-middleweight character with below-average height, having moderate gravity and falling speed. She may have very low damage output across her moveset, but her good defense more than makes up for it. Devina's "Razor Knuckles" don't deal much damage at all yet knock her foes too far away for her to follow up with combos, forcing her to take initiative and play a hit-and-run game against her enemies. If the player chooses to hold their attack button when performing their jab, dash attack, light tilts, heavy tilts, and aerials, they will summon Black Eyes to perform the same move instead, dealing much more damage but leaving Devina vulnerable until the move's executed. This is a strategy that works well since it's very hard for her enemies to pressure Devina when she's almost always going to push them back. Devina's Neutral Special, the "Emergency Taser", is a very useful tool since it will always damage and paralyze her enemies and allow Devina to get in a free extra hit of any type.
This pairing doesn't always work out in its own benefit, however. If Black Eyes' contributions don't count, Devina's moveset is thought to be the weakest overall in COLD❄BLOOD, given Devina's damage output is very low and it's practically impossible for her to chain attacks together. When she's trying to summon Black Eyes to get more power, she's putting herself in a vulnerable situation that can result in harsh punishment if she mistimes it. Her Specials, though good at what they're supposed to be used for, are not very versatile and do not cover up a lot of Devina's gaping flaws, meaning she has a lack of versatility across her moveset when she can't use her best friend. This forces Devina to play very defensively and make the best use of what she has. Fortunately, Black Eyes' Hyper moves are very rewarding to use and make up for the massive amount of damage Devina would miss out on dishing out otherwise.
The player needs to be incredibly patient if they wish to master this dastardly duo. Though there's a lot of things the player needs to keep in mind when using Devina, she's more than capable of holding her own in the right hands. What might be a slow battle may turn into a quick victory, if one plays their hand right.
| | | |
| --- | --- | --- |
| Stamina 8/10 | Middleweight Class | Appetite 7/10 |
| Offense 1/10 | Defense 4/10 | Mobility 8/10 |
---
Moveset
Common Attacks
Devina's basic moves focus around her Razor Knuckles, which she can perform casual uppercuts and jabs with like she was an in-training boxer. She can perform sweeps across the floor, slug her enemies, and swing her fists down. These moves rarely do much damage yet always knock her foe too far away for her to reliably combo into them, making them pressuring tools. However, the fact they have a lot of knockback means that they'll deal significantly more damage if the foe's punched into walls or into other surfaces. Black Eyes' attacks have significantly more reach and power when they're used instead, usually manifesting the form of a slimy black tentacle, a bloody sawblade, a grinding gear, a gory hammer, or some other miscellaneous weapon. These moves deal significant damage if they push the foe into a wall. Devina's most damaging moves include her Black Eyes variations of her heavy tilts and her forward aerial.
Special Moves
Neutral Special: Emergency Taser
Devina will crouch and lean down before blasting forth a charged intertwining red beam from her Emergency Taser. If it makes contact with the foe, they will take minimal damage and be temporarily stunned, allowing Devina to follow up with another stronger attack that's more guaranteed to land. The player can aim the blast to occur horizontally, diagonally, or vertically. She can even aim behind herself.
Forwards Special: Gun 'em Up
Devina will pull out a standard rifle, blasting a barrel of bullets forwards to knock at enemies from a distance and push them away. It deals a substantial amount of damage, but after firing a shot, Devina will then have to manually reload the gun, forcing her to be vulnerable during its animation. Devina can aim these shots at up to a 70 degree angle, preventing her from attacking foes right above her.
Recovery Special: Grappling Shot
Devina will blast her grappling hook into the air. If it grabs onto a ledge, Devina will secure herself onto it and pull herself up. It's rather self-explanatory. She can also use it to grab onto items and drag them over to herself if necessary. If she fails to clutch onto a high platform, she falls helplessly.
Crouch Special: Relaxation Needle
Devina will stick a relaxation-causing needle inside of her own arm or an ally's, bringing them immense relaxation and severely slowing down the damage and hunger meters for 10 seconds. This will give Devina extra time to heal, but once those seconds expire, all damage she's taken during the period will immediately catch up to her. Has a cooldown of up to 25 seconds.
Hyper Moves
Neutral Hyper: 1000 Swipes of Death
Black Eyes will appear to move slowly at first before suddenly popping up in front of the enemy, slashing them approximately a thousand times with a series of hand and tentacles slashes, brutally beating them and flinging them across the stage. Can be easily telegraphed, but it's still eight times stronger than any of Devina's heavy tilts that don't require his aid.
Forwards Hyper: Hallucination Doomsday
He will appear to make very slow movements towards an enemy, but in fact, he's running so fast with his arms out, damaging you before he even comes to you. When he finally makes it, he will strike your chest and then send you flying high into the sky. This one doesn't deal as much damage as 1000 Swipes of Death, but it's much tougher to avoid and might fling foes into the ceiling.
Recovery Hyper: Superbeast Strike
Black Eyes will cackle mischievously before gliding upwards at lightning speeds, opening up his head to reveal a series of glowy orange lights that petrify the foe before he slams into them skull-first, sending them flying. Devina will be riding his back, screaming as she's sent upwards with him. The two fall helplessly afterwards.
Crouch Hyper: Demonoid Phenomenon
Black Eyes will create enormous crimson puddles on the floor, bringing up a bunch of incubi and succubi that eat away at the foes' bodies when they're touching any surface, draining them of health and feeding it back to Devina. Does the least damage by far, but it protects Devina with two caring succubi while healing her simultaneously. A very effective stalling move that interrupts the fight.
ZONAL FEVER: Echenonic Pain
Devina will pronounce "Now, Black Eyes!" as the mechanical being laughs viciously, springing upwards before coming back down with the Echeno beast under his reins! The player can now control Black Eyes for twelve seconds, moving the Echeno back and forth to have him chew on the player's enemies and spit them out towards walls. If an enemy reaches 0% Stamina or Hunger, the Echeno will bloodily snap them in half and swallow the rest of them whole. Black Eyes will then teleport the beast away as it roars to indicate it's going to betray his reins, returning to Devina's side as a spirit.
Animations
Entry Animation: Devina skids her way onto the battlefield, equipped with her Emergency Taser and Razor Knuckles as Black Eyes' ghostly robotic suit follows right behind her, mechanically cackling behind her.
Idle #1: Devina punches her gloves together twice, momentarily pausing before doing it again at higher speed. Black Eyes will flash his eyes on and off like they were flashlights, gazing up and down the battlefield as he snickers, wagging his finger tauntingly at the foes.
Idle #2: Devina will pull out her bass guitar and play a series of notes from Cliff Burton's "Anesthesia--Pulling Teeth" instrumental, while Black Eyes grins fiercely at the foes, slimy black tentacles squirming from between his limbs and around himself and Devina.
Taunt #1: Devina will gesture for her enemies to come over, saying "C'mon now!" while Black Eyes lets out a glitchy series of cackles as his head twitches and spins around mechanically, his inner gears grinding.
Taunt #2: Devina cracks her knuckles, tongue out to the side a bit as Black Eyes lets out a very menacing, cold-sounding laughter, with spiders and bugs crawling out from and all over his body before retreating.
Taunt #3: Devina will sit down with her walkie-talkie, looking a bit bored as she communicates with H.Q. (dialogue incomprehensible) while Black Eyes displays a thought bubble of eating Devina's child.
Victory #1: Devina will communicate with the government, saying "Devina Kilmister here, returning to H.Q." through a walkie-talkie while Black Eyes chews on a disembodied limb from one of his foes from the earlier match.
Victory #2: Devina will blast her taser around twice before commenting "Supernatural horror exterminated." on her walkie-talkie, with Black Eyes performing two peace signs at the camera as he lets off an eerie grin.
Victory #3: Devina sits down in an office chair with chicken nuggets and french fries, chewing down on them as various succubi and zombie girls surround her, with Devina soon panicking as Black Eyes scratches his head.
---
Alternate Costumes
Crymsia
Name
Crymsia Rose
Mass
5'06" at 142 lbs
Birthday
November 8th, age 26
Gender
Female
Sexuality
Heterosexual
Alignment
Lawful Good
Home
Rose Shop, New Naxaz City (business)
Marble Palace, Sector 5 (home)
Occupation
Knight, sewer
Weapon
Rose Ripper
Powers
Nature

Even at just the average joe's height of 5'06", Crymsia Rose is an intimidating warrior that never holds back in combat, no matter whether she's challenging friend or foe. Crymsia's an independent individual, never clinging to others for help nor does she ever feel amorous enough to afford a relationship with anyone. Not believing the Satellite 15 government to be adequate enough at wiping out all its criminals, Crymsia lives two lives: one as a sewing gal managing a shop near the gateway of New Naxaz City, and another as a vigilante that undertakes law enforcement towards the criminals and baddies she finds following closing time for her shop. As a sewing girl, she's referred to as just "Crymsia Rose" and warmly greets others into her shop, faking this sweet and attractive personality against her own will so she can draw in customers and make money. She takes commissions throughout the day and works on sewing them up on the weekends, but will cancel others' commissions if they are too impatient or if she's lost her trust with them. Crymsia finds herself politely asking others to leave her shop if they have no interest in commissioning her or buying spare products.

At night, she's instead known as "The Nature Warrior", an alias of hers that she's trying to keep separate from her by-day persona. Forced to hold in her emotions throughout the weekdays, the Nature Warrior never relents when she's out by night, severely injuring criminals and holding them at "gunpoint" using her Rose Ripper. When she's put down all of the wrongdoers, she will place them under arrest and personally drag them off to prison after having rolled them up in her own super-tight silk. However, she's sometimes confused for a criminal herself thanks to her fierce appearance and occasionally suspicious behavior, making her wanted by other criminals. This means that the Nature Warrior must stealthily cross the streets and move along the walls when looking for crime scenes. People in need of her help can call her up past 7PM and before 1AM, which is when she's in her armor and ready for battle. On the weekends, the Nature Warrior will hang out at bars beneath New Naxaz City and chat it up with some old friends of hers', though she remains open to requests. She sleeps alone in a healing bath in her steamy brick home past 2AM or 3AM, down to a waterproof gown to remove the stress of her armor while catching up on her favorite programs.

It's unknown how she came to possess her abilities, nor does she wish to answer this- it's rumored she was given spider-related powers by a friend and that her friend Syinara's helped her become one with nature. Crymsia's not without her problems, though. Her cynical and sometimes overly serious personality have led her in trouble with the authorities and with others before, and her lack of trust or faith in anyone but herself has prevented her from making many friends. She is very susceptible to drinking, usually drowning herself in alcohol on the weekends, and is very vulnerable to fire. However, do fear her Rose Ripper- not only does it bring a rosy scent to anything it makes contact with, any wound it makes will hurt forever.

---

Likes: Swordfighting, sewing, making dresses, hanging out, being graceful and showing it off, being in a team, cooperating successfully with others, fistbumping, posing for family photos, sleeping in late, cold showers, jokingly teasing her friends, making new friends
Dislikes: Fire, spicy food, getting angry with others, having to attack her friends, people hitting on her, dates with almost-strangers, people who break her moral code
Gameplay Details
Analysis
Crymsia's a middleweight character with somewhat below-average height and average jumps, being a balanced character with her moderate gravity and falling speed as well as average damage output and speed, giving her almost zero weaknesses when it comes down to mobility. She's an all-rounder character thus, boasting reliable heavily-damaging moves and having no big weaknesses that can be really exploited. She can function well in both offensive and defensive play, but her best function is to be a zoning character using the average reach of her Rose Ripper and her momentum-crushing special attacks. Crymsia must keep her distance from the foe and focus on wearing them down from afar, and then go in for the kill when they've tripped into some of her webbings or when they're in a position where they cannot possibly counter a prepared Crymsia player.
Because of her "jack of all trades, master of none" status, Crymsia bears no significant strengths or weaknesses, making her a balanced character that isn't really too challenging to battle but not too easy to overcome, either. Crymsia's smaller strengths include the fact she has trapping tools that can bait her foes into getting stuck and that her moveset comes out consistently quickly, preventing her from having to deal with much startup or ending lag on her attacks. Her small weaknesses, however, include that she lacks a reliable projectile to attack far-off enemies and that her Rose Ripper doesn't have long range, preventing her from countering other weapon users quite as efficiently. But make the best use of her moveset, and Crymsia Rose can prove to be an annoying enemy to take down when she's in the right hands.
Overall, Crymsia's an all-rounded fighter with all the tools she needs to survive; she just needs to overcome her minor hurdles and take advantage of her limited strengths.
| | | |
| --- | --- | --- |
| Stamina 6/10 | Middleweight Class | Appetite 6/10 |
| Offense 6/10 | Defense 6/10 | Mobility 6/10 |
---
Moveset
Common Attacks
Crymsia has an arsenal of basic moves that fully utilize her signature weapon; the Rose Ripper. As one might imagine, Crymsia can swing this sword around in numerous directions and can stab it forwards into any of her enemies. These sword-slinging moves come out quickly and flow naturally, inspired by fencing techniques. Her jab attack, for example, is a non-damaging parry that cancels out the foe's attack before she retaliates with a Riposte (counterattack). Her tilts are unique; her light tilts are all Feints (fake attacks), while her heavy tilts are the true attacks and deal the most damage of any attack in her set. Her dash attack is a proper Lunge, just taking her slightly further than it normally takes a human to. Her aerials are straight sword swings, or in the case of her down aerial, a multiple-hitting stabbing attack.
Special Moves
Neutral Special: Punishment Blow
"Punishment Blow" has Crymsia hold up her Rose Ripper in front of herself, guarding her body from a hit. If the foe attacks Crymsia while she's in her 5-frame lasting defending phase, she will push them down, right down onto their knee joints for three seconds. If she defended on the first frame of the attack, the foe will be immobile for twice as long. The player can then charge the Punishment Blow to have her rear her sword back, with a full charge lasting five seconds. If the foe attacked Crymsia while Punishment Blow was on its first active frame, Crymsia will be capable of hitting them with the full blunt of her sword swing.
Forwards Special: Widow's Trap
Crymsia will quickly rip 20 feet of hidden silk from the roof of her mouth, quickly rolling it up and pocketing it. When the player's ready, she'll take out the silk ball and swing it forwards with her Rose Ripper. If it collides with a foe, it'll spread out and entangle them, limiting their mobility and allowing her to punish them for falling into the spidery trap. They can wiggle free on their own if they battle it out enough (usually taking three seconds), but if they've been caught midair, it will take them longer to break free, which might be a problem if they're fast-falling towards oblivion.
Recovery Special: 1080 Tornado
Crymsia will tightly grip onto her Rose Ripper and begin spinning upwards through the air, performing three complete swings before thrusting her blade out, followed by her helplessly dropping to the ground. If she's already on the ground, she won't rise up into the air, but she can move left and right horizontally while using this move to capture foes and make them take rapid damage, though it will leave her with considerable ending lag to deal with.
Crouch Special: Ingrain
Crymsia will root her nature-made body into the ground to begin slowly healing from the damage she's taken from over the match. She's very vulnerable while she's ingraining, so it's recommended to do it when she's very far away from any foes. The healing is slow but useful, recovering her average Stamina and slightly slowing down the Hunger issues she might be having at the moment. The player can remove themselves from the ground when ready.
Hyper Moves
Neutral Hyper: Heavy Punishment
Similar to "Punishment Blow", except Crymsia's counter has eight active frames instead of five and all active frames of animation that are connected with will always knock the foe to the floor for ten seconds. Crymsia can charge her Rose Ripper for eight seconds to thrust through the foe's body, dealing massive damage, but she still needs to have good timing with the counter or she will lose it unreasonably fast.
Forwards Hyper: Widow's Fangs
If the player manages to trap a foe using the Widow's Trap, Crymsia has a wholly different Forward Hyper she can take advantage of. If the player heads towards the trapped foe, she can bite into them like she were a widow of sorts to sap energy from their body, forcing the foe to be knocked backwards after the collision. This quickly recovers some of Crymsia's health while immediately damaging her opponent at the same time.
Recovery Hyper: Hero Tornado
Hero Tornado takes the player several places higher, allowing them to move left and right when compared to the original 1080 Tornado. The player will be spinning 2160 degrees as they head upwards with Crymsia, and the last of this attack deals immense damage if it connects with any foe.
Crouch Hyper: Super Ingrain
Super Ingrain is similar to Ingrain, except the healing happens twice as fast and completely slows down her Hunger problem for a short period of time. The player can remove themselves from the ground when ready. If a foe hits the player during the Super Ingrain, they will be removed from the healing process.
ZONAL FEVER: Extrasensory Critical
Extrasensory Critical is Crymsia's "ZONAL FEVER", and is one of the game's most brutal. When the player uses this move, a hologram of an attacking Crymsia appears, which the player can control with the control stick. When the player presses the attack button, Crymsia will rush towards that hologram and begin feverishly slashing at any enemies around her, slashing them up multiple times before throwing them into the ground, juggling them up into the air as she slashes at them four times. If a foe can't move to the left or right to escape her quickly enough, they'll fall down towards her and take a critical hit that will launch them high into the sky.
Animations
Entry Animation: Crymsia professionally enters the battlefield by walking onto it, twirling her Rose Ripper around in her hand before crouching a little, holding her blade at the ready.
Idle #1: Crymsia taunts her enemies by holding her Rose Ripper outwards, having light gleam across it before returning it to her hip, looking excited to take on her enemies.
Idle #2: Crymsia tightens her mask to her face, slashing horizontally outward, saying "Come here, right now!" Every time this animation plays, she will don her mask on or off.
Taunt #1: Crymsia mockingly laughs, posing elegantly with her weapon as she stares at her enemy with the dirtiest possible grin she can muster. Very irritating for enemies if she uses it right after scoring big.
Taunt #2: Crymsia whips around her Rose Ripper rapidly before having it culminate in a powerful-looking ground slash, taunting her competition by saying "You should be scared of me." in a mocking manner.
Taunt #3: Crymsia tightens her mask against her face, swinging her blade in the enemies' direction, saying "Get over here! Show me your moves!" If in her Drunk and Disorderly costume, she will instead tighten her grip on her blade.
Victory #1: Crymsia performs a grounded 1080 Tornado, spinning around three times before holding out her Rose Ripper in victory, grinning somewhat as she faces the screen and twirls her sword around her hand.
Victory #2: Crymsia does two Feint attacks before performing an attacking lunge, aggressively swinging out towards the camera while saying "You want more!?", the heroine landing fearlessly on her two feet.
Victory #3: Crymsia rushes onto the victory screen, donning her mask as she holds out her Rose Ripper, drifting towards the camera to perform a lunge, holding her blade at the ready as she asks "Where's your inner spirit!?"
---
Alternate Costumes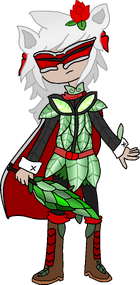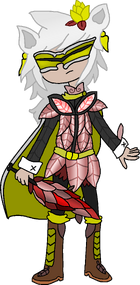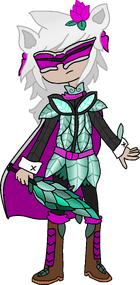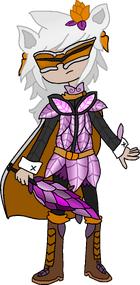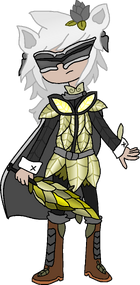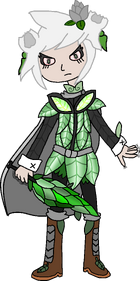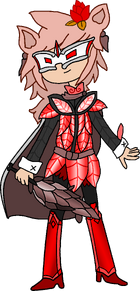 Zonas
Name
Zonas B. Trayd
Mass
5'04" at 152 lbs
Birthday
December 31st, age 23
Gender
Male
Sexuality
Heterosexual
Alignment
Lawful Neutral
Home
Death Mountain, Sector 1 (originally)
Old Naxaz City, northern NNC (now)
Occupation
Vigilante officer
Weapon
Insta-Freezers
Powers
Ice

Zonas B. Trayd is a vigilante officer-in-training who thrives in the busiest sections of the Old Naxaz City, taking on the responsibility of eliminating crime while avoiding the clutches of his wretched family members that hold a $100,000 bounty over his capture. In the eyes of his family, he's seen as a criminal and murderer that's betrayed his suspicious demon heritage, and thus they are making every effort they can to capture him dead or alive. Unlike his ancestors, Zonas does not tolerate any wrongdoings and is ashamed to have been born as a member of that family. Because of how long he's been resisting his capture and how remarkable his getaways have been, there's a strong award for whoever can capture this sly man. He works on the streets, disguised as an innocent bystander so to protect his identity, taking action when the time strikes and helping others in need. When the police come, that's the time where he flees, for he knows the remaining police officers are more experienced than he is and can subsequently take care of his malicious relatives. Zonas never means to bring trouble unless it's to the people he deserve it, and he's working on arresting his demonic heritage so that he can may live normally and peacefully. He's been helping people out since he ran away from home at the age of 14, wishing to avenge those they've wronged, though he's no expert at his job and still needs to go through a lot of training before he can become fully capable of handling things on his own.

Zonas holds pretty much little self-esteem and has a hard time letting go of the things he's done wrong, refusing to let go of them as these memories he feels cannot be simply "forgotten" and that they deserve to be known by the world. Therefore, he holds a massive ego against himself and almost appears to take pride in his own self-destructive personality, claiming that his existence being erased altogether wouldn't change a thing. However, he tries to not let this side of him get the better of him when he's with his friends, as he does love them and wants them to feel comfortable around him in spite of his suspicious demonic heritage. He's harmless and wouldn't even hurt a fly, unless you're some madman on the rampage killing or hurting people, in which case he'll be armed with his Insta-Freezers and going right after you. Zonas enjoys going out to parties so he may snacks on whatever he finds there and especially enjoys staying at others' houses for the night, keeping himself and his two girlfriends out on the move. Speaking of, he is in a polyamorous romantic relationship with a college girl named Sinicini and a humanoid supercomputer named Adexene, who both know how to comfort him and move him from house to house, sometimes between their own homes since at the moment they cannot all be together at the same time.

Zonas hides a fierce literal demon within his rather fragile-looking body, but don't let that stop you from thinking he's a genuinely friendly person. He wishes to work against evil demons than work with them, and is willing to help out anyone he can. But you might want to be careful if you're going to trust Zonas with your life- he has a terrible time distinguishing what might be obvious lies from the truth and it's easy as hell for him to get lost in areas he's unfamiliar with. To calm him, you're going to need free-form jazz, the only music he can stand.

---

Likes: Sinicini, Adexene, hot dogs, hamburgers, junk food, hugging, being happy, fixing his flaws, having a good time, being alone with his girlfriends, relaxing
Dislikes: Being nervous, getting flustered, feeling left out, angry people, any noise he's not familiar with, having to disguise himself, going online, turning on electronic devices, heating the stove, doormats, automobiles, drowning, sofas, radiators, being accused of being Josephine Anwhistle, tripping over, most genres of music, cold showers, upcoming dates, scheduled appointments, given angry vibes from his girlfriends, the sound of screaming, any loud explosive noise
Gameplay Details
Analysis
Zonas is a middleweight character yet among the game's shortest characters, having some above-average gravity and falling speed while having excellent agility, giving him a unique feel when it comes down to the controls. Zonas' Aikido techniques do not hold much range, but have very respectable power and always put his foes in a disadvantageous position that allows him to frequently land hits against them. His moves also have great frame data, coming out very quickly and giving him an even greater advantage when keeping his great speed in mind. Zonas' specials have a lot of purpose; his Rapid-Fire Freezer halts his foes' momentum and destroys their approaches with its high priority, his Freezing Lock conversely allows him to approach an enemy himself rather reliably, and Glacial Wall destroys the hazards in front of him and allows him to dominate the stage. He's considered to be a zone-breaker character, and fits well within the archetype.
Our zero-to-hero demon has some issues that need to be noted, however. Few of Zonas' moves, for starters, can deal much damage and requires him to rely on his combos to dish out the most against his enemies. Though his moves are once again respectfully powerful for their range, it doesn't change the fact that his neutral moveset doesn't cover much range, making it incredibly risky for him to challenge foes with greater range than him. He also has a miserably short grab, and his usual throws aren't good because they neither damage the foes much nor knock them away far enough for him to be 100% safe from possible follow-up attacks. In spite of his strong Neutral Special allowing him to disrupt approaches, aerial foes are generally safe from the impact of the weapon and can simply leap towards him to damage him, usually making him lose the neutral game to them if he's not careful enough.
Zonas is a very capable character that can fulfill a number of roles, having mix-up strategies and the ability to rushdown his enemies as well as bait and punish them, but his weaknesses can be abused by a number of characters from varying archetypes, making him versatile in his strengths and weaknesses.
| | | |
| --- | --- | --- |
| Stamina 6/10 | Middleweight Class | Appetite 6/10 |
| Offense 4/10 | Defense 5/10 | Mobility 8/10 |
---
Moveset
Common Attacks
Zonas' basic moves are wholly focused around the usage of Aikido techniques- as a vigilante officer in training, he knows these moves to help him persist against prisoners and thieves. These moves allow him to pin his foes into the ground, throw them about, and even catch them by the elbow joints to punish them. As Zonas is designed to be more of a ground-based fighter than someone you'd be fighting frequently in the air, most of Zonas' aerial moves are designed to work in tandem with his surface techniques, allowing him to easily chain his moves together and have a consistent assault he can use against the enemy. Most of his moves deal a decent amount of damage, with his pins (like his down throw, down tilts, and down aerial) dealing the most but having the most lag. His moveset is simple but effective, and it's not easy to predict what he's going to do next since most of his moves aren't too distinct.
Special Moves
Neutral Special: Rapid-Fire Freezer
Zonas pulls out one of his two Insta-Freezer weapons, shaking in his boots as he blasts off one blast a second from his weapon towards his opponent. Zonas can turn around when rapid-shooting to fire in the opposite direction, staying in place as he does so. Every shot that hits a foe will stun them very briefly, never enough to where Zonas can follow up to punish them as they will soon be able to move again. The trick with this move, however, is that each shot damages his foes just slightly upon connecting with them, and they'll halt the enemy's momentum entirely, disrupting their approaching strategy and possibly rendering them vulnerable to hazards. It will also shock them and interrupt their recovery, which they can't use again.
Forwards Special: Freezing Lock
Zonas will formulate two demonic horns from his head as he rushes towards the enemy with a bull-like charge. If he successfully connects the foe, he will hold them in place with his horns and choose whether he wants to throw them away from him (preferably into a wall) or knock them down into the floor so he can get a free combo chain set up against them. There's a few catches to this move: for starters, if Zonas doesn't catch his foe within two seconds, he will instead trip over and roll across the floor in a bruised state. If he doesn't throw his foe within a split second, his invincibility frames will end, and the foe can jab him to punish him for not moving quick enough.
Recovery Special: Chilling Rocket
Zonas will pull out both of his Insta-Freezer weapons, blasting them away from his body so he can be propelled in the direction he chooses. As he will be blasting freezing air away from his body, anyone that happens to be caught in the process will become frozen solid, causing them to tumble down and punishing them for attempting to punish his recovery. The longer the player holds down, the bigger the "ice cloud", and the further he zooms.
Crouch Special: Glacial Wall
Zonas does a backflip and holds his Insta-Freezer towards the ground, shaking his arm as his weapon charges up. When the player releases the button, glacial waves will eventually be blasted out from his guns, with the waves' size increasingly getting bigger in size depending on how long he was charging! The glacial waves will push opponents away from him and potentially off of the stage! At full charge, the Glacial Wall will leave behind afterimages, move very fast, and disrupt and erase projectiles entirely, allowing the player to clear the field for themselves. A full charge only takes a small matter of seconds, but the move is easily telegraphed.
Hyper Moves
Neutral Hyper: Demonic Blaster
Zonas' "Hyper" attacks are a strange case; instead of being icy attacks like his usual specials, these demonic attacks are lit! Zonas will open his demonic claws to blast out flamethrowers that will cover a long distance and leave them in a burned state, making them move very slowly until the flames clear off, allowing Zonas to come over to them and appropriately punish them.
Forwards Hyper: Hellfire Lock
This move is similar to "Freezing Lock", but it happens much quicker and Zonas will not let go of his captive for several seconds- once the player's got a secure grip on their foe, Zonas' demonic form will have him breathe fire to scorch his foe massively, dealing lots of damage. However, it's certainly not as reliable as his Demonic Blaster, which is much harder to punish, so use this at close range when possible.
Recovery Hyper: Blazing Rocket
Zonas will launch himself using his demonic claws, blasting out flamethrowers that allow him to launch even further through the skies! Any foes that come in contact with the harsh flames will take rapid damage and be caught up with his ascent, pulling them in Zonas' direction. The player can effectively punish the foe with whatever aerial they choose, as they won't be helpless after the animation.
Crouch Hyper: Firewall
Zonas will do a backflip like usual, but he'll open his demonic mouth to release a huge flaming wall that stretches all the way across the screen vertically and moves away from his body! Unless the foes perfect-parry the attack, it is practically unavoidable. It doesn't deal much damage if it connects, but it will be leaving the foes to take burning damage for the rest of their stock, slowing their movement slightly. Firewall effects don't stack up.
ZONAL FEVER: The Devil May Cry
Instead of simply transforming his limbs into numerous aspects of his inner demonic form, this ZONAL FEVER has him assume the whole form all at once! He will become berserk with rage, let out a loud howl, and then be able to attack his enemies while he's invincible! His attacks gain slightly more range with this move and he is capable of using all of his Hypers as opposed to his Specials at any point. After the 20-second duration of the move ends, the demon reverts back to his usual, cowardly human state.
Animations
Entry Animation: Zonas is driven onto the battlefield via a ferrari by Sincini and Adexene, who honk teasingly at him before driving off. Zonas stammers a bit before the match starts, holding his Insta-Freezers at the ready.
Idle #1: Zonas bends his knees as he shyly stammers, waving "hi" to his foes as his glasses start to slide out of place, putting them back on himself instantly as he realizes it seconds before it becomes "too late". Zonas then adjusts his glasses, rubbing his head in thought.
Idle #2: A dream bubble appears above Zonas' head as he dreams of himself snuggling with his two girls, blushing a little before violently shaking his head, flipping his Insta-Frezers high into the air as he catches them, muttering that he will show them just how strong he actually is.
Taunt #1: Zonas taps his foot impatiently, brandishing out his whip and slapping his thigh with it. His face transforms to look more demonic as he tries to bait his enemy over.
Taunt #2: Zonas crosses together his Freezers and grinds them together, managing to growl out "You best watch out, this Mr. Hyde inside of me's hungry..."
Taunt #3: Zonas nervously holds out his Freezers, stammering out "K-Keep on your guard, Zonas...", keeping his fingers right on the triggers (albeit shaking as he does such).
Victory #1: Zonas breathes heavily, out of breath as he wipes the sweat off his forehead, leaning against the wall, pushing up two thumbs up as he lets out a low (but rather meaningful) demonic cackle as Sinicini and Adexene hug him.
Victory #2: Zonas looks at his watch, tinkering with it intensely and getting a projection of Sinicini and Adexene to show up, who are seen cheerfully congratulating Zonas as he stares at the screen, grinning.
Victory #3: Zonas blasts the camera with his Insta-Freezer weapon while celebrating, which causes the feed to glitch out. Background noise plays after his victory theme, with static becoming the only music available. The following conversation then ensues:

Sinicini: Zonas, are you doing okay?
Zonas: Y-Yeah, that was just a rough fight, that's all.
Sinicini: Well, you should drop by home then, we'll be waiting to heal you!
Adexene: Safely confirming this information.
Zonas: T-Thank you two so much for your s-services.
---
Alternate Costumes








Oyster
Name
Oyster Moore
Mass
4'09" at 121 lbs
Birthday
September 21st, age 38
Gender
Female
Sexuality
Bisexual
Alignment
Neutral Good
Home
Moore Lounge, New Naxaz City
Occupation
Bartender
Weapon
Seashell Turret
Powers
Aquatic

Oyster Moore's the shorty bartender managing the Moore Lounge in the busy downtown district of New Naxaz City, usually working with her on-and-off assistant Snickers Caramel and her beloved maid Yemen Italy. The Moore Lounge is a wondrous place to relax, being a candle-lit wooden tavern with family portraits and personal memoirs adorned along the walls, with numerous semi-circular couches that reach around 275 degrees surrounding several well-furnished round tables in the room. Oyster keeps the place fresh and clean, using perfume to keep the air "clean" and preventing her comrades from being fatigued or distracted by snapping her fingers. As one might see, Oyster has an exquisite taste and has very strict ideas on how her lounge should be run, trying to run it seriously to the best of her ability. Oyster has trouble communicating with others because of how shy she is, stammering and wobbling whenever anyone walks up to her and attempting to take care of their orders as briskly as possible if her mates cannot. She treats her restaurant very seriously and will protect it to the best of her ability, though, and outright screams or yells at her teammates when they're messing up or at her costumers if they're threatening her.

In the modern day, Oyster Moore's business is on the brink of collapsing and failing, because attraction to her lounge is growing to be less and less because of her across-the-street rival, the Supertzar Tavern, which has achieved massive growth and success over the past few months. Snickers is trying to calm Oyster by assuring her the lounge is still succeeding and Yemen is trying to get new elements incorporated into the bar every once in a while, but Oyster's paranoid about failing the competition and expresses fear that she's going to lose everything tied to her name. Unlike the case with her rival, Oyster actually lives in her own lounge in a separate room, so her knees are continually wobbling and her headaches get worse and worse as time passes by as she tries to keep up. Oyster sometimes completely fires her whole working cast (besides Snickers and Yemen) and replaces them with new casts of crew members, which rarely works out and makes Oyster realize she's wasted a lot of time.

As the stakes grow higher, the overly paranoid Oyster is growing extra concerned for her business and has considered putting her own privacy in danger just to see success. She needs people to help her make business decisions, as her father died in a vehicular accident not too long ago.

---

Likes: Snickers Caramel, Yemen Italy, keeping her restaurant sanitized and clean, her place having a purpose for the heroes, drinking a lot of beer, watching Valerie perform at her place
Dislikes: Her business failing, her revenue suffering, being unable to supply her employees with checks and money, the Razorback Supertzar and her tavern, her paranoia taking over her life, her restaurant being mistreated or insulted, having to completely redo how things work, getting up and close with people she doesn't know
Gameplay Details
Analysis
Oyster happens to be the game's second-shortest and second-lightest boxer, having high floaty jumps and very low gravity, making her one of the game's strongest air fighters. However, this only applies to when she's left without her enormous protective shell, which conversely makes her the game's heaviest and tallest fighter. She's extremely defensive when within this shell, which reflects projectiles and can take an enormous beating from physical attacks before finally cracking open. Inside the shell, Oyster can freely heal and retaliate against enemy attacks through usage of her Seashell Turret, allowing her to protect her shell while she slowly heals. When Oyster's broken out of her shell, she can make use of her powerful frame data and beat her foes up with her surprisingly strong aerial chains and her numerous projectiles before she's able to get the room necessary to restore her shell back to full health.
Oyster has her weaknesses, though, regardless of whether she's in her shell or not. Though she will always auto-heal when she's in her shell, she's extremely sluggish and has limited offense, and her weight makes it impossible for her to jump for as long as she's in this defensive form. Oyster can enter and exit this shell at will to overcome this weakness, but she always requires a full second to take the shell on or off, leaving her vulnerable if incorrectly timed. Without her shell, Oyster's extremely frail and easy to push around, and is the most prone to being flung all the way across the stage, especially if she's up against the likes of Hector or Zodiez. Her projectiles don't have high priority and are easily demolished by other ones that come forth, even though they can be highly damaging if they do land, and most of her physical attacks don't deal much damage in exchange for being incredibly easy to chain together. She also has low Stamina and can't go long without food.
Overall, the player has to master Oyster being in and out of her shell and take advantage of what both forms have to offer, while keeping in mind their weaknesses and going in and out of them at the right times.
| | | |
| --- | --- | --- |
| Stamina 3/10 | Lightweight Class | Appetite 4/10 |
| Offense 3/10 | Defense 1/10 | Mobility 10/10 |
---
Moveset
Common Attacks
Oyster only has a full moveset when she's outside her shell, where she's capable of using her advanced karate skills to the test as well as her projectiles. She's got hook punches, mountain punches, open hand attacks, round kicks, feet sweeps, heel drops, etc. for usage in combat. She can also grab her foes and pull them close to her so she can proceed to beat the crap out of them and then throw them around. These moves are not very strong, but very easily chain into each other and occur quickly, giving Oyster a strong niche in the air as she already has high jumps and floaty attributes. In her shell, Oyster's much more limited and is only capable of moving left and right, thus she can't use any of her aerials. She can only lift her shell to use her special attacks (such as her projectiles). However, rapidly tapping the attack button inside the shell will make her heal.
Special Moves
Neutral Special: Saltwater Blast
Oyster will very quickly charge up hydrokinetic energy in her palms before blasting it forward in the form of a slow projectile. She says "Hydrouken!" as she does, basically making the move a parody of the signature "Hadouken" ability from the Street Fighter series. It deals rather respectable damage, and if the player inputs a downwards half-circle motion before using the attack, she'll fire a bigger green one that deals multiple hits of damage and knocks the foe back further. These both have their uses as ranging tools, but they'll cancel out when they hit any projectiles (also dissipating the projectiles they come in contact with).
Forwards Special: Seashell Gunfire
Oyster will aim her seashell turret forwards, locking onto a foe before blasting several seashells of varying shapes, colors, and sizes at them, causing them to take damage and have all their momentum halted. In order, she will be firing one-tooth simnias, coffee bean trivias, angulate wentletraps, pitted murexes, and american carrier snail shells, listed in order from smallest and least damaging to largest and most damaging. If the player holds down on the charge, she will skip firing the next shell in order and instead blast off the one immediately after that. She can fire out three seashells at once.
Recovery Special: Spinning Out
If Oyster's outside her shell, she will spin around like a ballerina and rise into the air, capable of having massive horizontal recovery distance but being hard to steer around from left to right. After rising upwards, she will eventually stop ascending and fall helplessly. Inside her shell, Oyster can swerve across the ground and move left and right, but for a very short time before becoming dizzy. It will prevent her from taking projectile damage and attack foes numerous times.
Crouch Special: Shellter / Self-Repair
If the player taps this move, Oyster will take her shell on or off, which takes a full second to function. If the player instead holds it, Oyster will begin working on fixing her shell. It takes her about eight seconds to completely restore her shell to maximum health. She can enter her shell again when it's at least at 50% health.
Hyper Moves
Neutral Hyper: Saltwater Missile
Though a similar move to Saltwater Blast, executed in both of the same methods, it travels much faster and carries the form of a missile, and Oyster instead shouts "Hydrokissile!". It explodes upon making contact with the enemy, temporarily slowing them down afterwards. The stronger half-circle input for this attack deals even more damage and pushes the foe back further, making them sluggish for even longer.
Forwards Hyper: Seashell Explosives
Oyster will again aim her turret forwards, but there's a catch to how this move works. She will blast three seashells onto the floor, which will soon detonate and release huge fiery pillars that reach to a massive vertical height! The bigger the seashells, the longer the horizontal range of these pillars will be, and the more distance they'll cover altogether. Useful for picking on foes in the air.
Recovery Hyper: Spinning Fortress
It's similar to Spinning Out, except Oyster will spin around even more and climb a much high vertical distance while being much easier to control. Any foes caught in her way will also take plenty of damage if they're locked into all hits of her numerous attacks. This applies to when she's in her shell as well, except she will be able to spin around even faster and move across the floor much more until she becomes dizzy.
Crouch Hyper: Speedy Repair
Identical to Self-Repair, except that it takes her two seconds to restore her shell to maximum health. Very useful for getting her shell back without risking her momentum in the course of the battle.
ZONAL FEVER: Scorching Cascade
Oyster will leave her shell (if she's in it still) and leap up towards the center of the stage, stretching out her arms and creating a huge scorching cascade of water below her body! Her eyes will be rapidly glowing a sky blue color as she does this, indicating her control over hydrokinesis. The player can guide her left and right, rapidly damaging any foes caught within the waterfall. After she's used up all of her H2O, she will drop back down onto the ground, ready for battle again.
Animations
Entry Animation: Oyster will make a splash, dropping down onto the stage from above in the form of water droplets before assembling herself to stand at her usual human height of 4'11".
Idle #1: Oyster will shyly fumble her fingers together, bending her knees to face each other, chattering her teeth audibly after a few seconds of the player waiting.
Idle #2: Oyster will nervously take a mug of beer out from nowhere, shakily drinking it down as her whole body vibrates with fear, her blood pumping almost audibly.
Taunt #1: Oyster shakily point her finger forward, breaking into a nervous sweat as she smiles in a poor attempt to be cocky, saying "Aha!" in the most frail voice she could ever possibly muster.
Taunt #2: Oyster's cheeks turn red as she tries to raise the middle finger, but with how heavy the stress on her seems to be, she finds it impossible to do so. She's trying with all her might, though! Cheer her on!
Taunt #3: Oyster spins around rapidly, swoons, then collapses on the floor all cross-eyed. We're not sure what the point of this taunt is, or if it's just something Oyster tried to do but got wrong.
Victory #1: Oyster will laugh nervously, sitting down alone on a high stool as she nervously glances away from the camera, her whole body vibrating and shaking, shivering the longer the player stays on the victory screen.
Victory #2: Oyster will grimace as she looks away from the screen in shame, looking as if she feels bad over her victory as she stares instead at her failing restaurant. She looks concerned but mentally lost, eventually dropping her beer mug.
Victory #3: Oyster mutters a low "Sorry..." as she blushes intensely from all the cameras and microphones rushing on the screen to face her, eventually running away from the paparazzi as reporters glance in her direction in confusion. The Zaxiverse version of Vicky Victorious can be seen scratching her head.
---
Alternate Costumes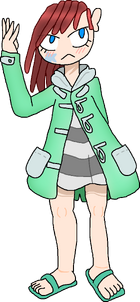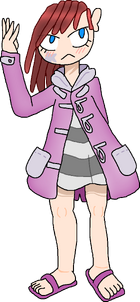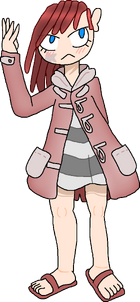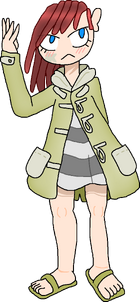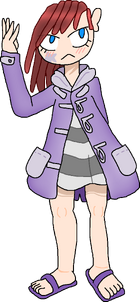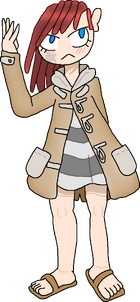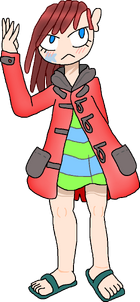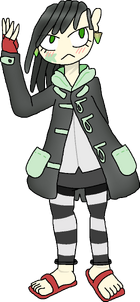 Minute
Name
Minute Hourglass
Mass
6'00" at 160 lbs
Birthday
August 26th, age 40
Gender
Male
Sexuality
Homosexual
Alignment
Lawful Neutral
Home
Unknown within Sector 3
Occupation
Unemployed
Weapon
The Rewinder
Powers
Time

"Minute Hourglass" is a peacekeeper that lives in Sector 3 aboard Satellite 15, being a self-determined and optimistic man that believes in the good future and always thinks there's an ounce of good waiting to be dug out of everyone around. He thinks that pessimism won't get anyone anywhere and doesn't like the negative landscape around himself, frequently formulating plans and campaigns to try and boost the positive spirit of the satellite. He's the type of person to boast about his accomplishments, always happy when he does things right and taking massive pride in everything he does. No matter how many people he frequently annoys, he loves to showcase himself to the world and doesn't care what others have to say to them, pushing them aside and bathing in the sunlight when he can. When he's not working on pushing optimism around the satellite, he's reversing time on his body so that he remains as young as possible, wishing to keep his healthy and fit form. He's continually getting into trouble- he has an addiction to sugar and has been found thieving it from stores. Not that it matters, he's a rebel and dislikes authority, so he cares little for the little thieving he's done over the past few years.

Minute's a good-natured man, always willing to help his friends and set things straight when he can, and takes pride whenever people give their thanks to him. He's almost always seen around other people, especially men, drinking and having a fun time. But Minute's got some stigma when it comes to jokes, especially those revolving around time and his name, but he most importantly does not tolerate jokes surrounding controversial matters (i.e. racism). Minute's always flashing his greatest grin when he's in battle, but behind his glamorous looks he has a seething hatred for those he has to go up against if they've wronged him or his friends before. He also takes the "optimism is good" aspect rather far; he really hates depressed people and has been frequently found putting them down because he thinks they're making the satellite a depressing place to live. He also has the misconception that if there was no pessimism, then everything would be okay; he doesn't think about the consequences there would be if everyone ignored the bad things happening around them. Minute's dislike for authority is strong; he thinks the government's trying to keep the satellite "pessimistic" by continually bringing forth bad news and rarely mentioning anything nice.

Our little "time traveler" rests somewhere in Sector 3. According to Minute, the "Rewinder" was a gift given to him from Kýrios in a bad future timeline, who then sent him back in time to fix the wrongdoings that led up to the mistakes. Minute has a misconception on what caused those mistakes, however, believing the everyday people's pessimism led up to that apocalyptic future.

---

Likes: Accomplishments, boasting, sugar, accomplishing his job as a peacekeeper, opening himself up to the world, helping his friends, men (especially hunks), showcasing himself and his body, the energetic feeling of time traveling, turning the atmosphere positive
Dislikes: Authority and the government, jokes/puns centering him and his name, getting into trouble, realizing his sugary addiction, seeing those that have wronged him or his friends before, homophobia and other bigoted slurs, the pessimistic behavior of the satellite
Gameplay Details
Analysis
With balanced attributes all around, Minute is best recognized as an all-rounder type of character, being a middleweight character with average height and average stats, giving him no big strengths but no big weaknesses, which counter-balance each other. Minute's attacks have decent strength and are appropriate for his average range and frame data, and usually can be chained into each other well. Though he may appear to be a mediocre character at first, the player can do the Smoothie Slurp to boost Minute's unique mechanic; the Sugar Meter. Every attack Minute performs when he has some Sugar will drain at the meter slightly, but they'll have greater range, speed, and power overall and make him more ruthless to face against in combat. He can also spend this meter to reverse the damage he's taken, control what he does with countered enemy attacks, and recover a safe distance. The Sugar Meter is a separate entity from the HyperDrive meter, meaning that he can use both in combination.
Minute does not have many major weaknesses because of his all-rounder character status, thus he's one of the safest characters to use and learn in the game. However, those that wish to go out and master Minute will have to learn to conserve both their Sugar and HyperDrive simultaneously and learn when to make the best use of either. Conserving the Sugar Meter especially is important, as Minute needs to have some Sugar in order to execute his Neutral, Forward, and Recovery Specials/Hypers. If the player runs out of sugar or doesn't have a sufficient amount, Minute's neutral game and ability to approach foes is drastically weakened, including making his frame data considerably worse.
Overall, Minute's a solid character if you can get the hang of his complex mechanics involving using and conserving the Sugar Meter, but if you cannot, he'll be a mediocre character at best and a middling weakling at worst.
| | | |
| --- | --- | --- |
| Stamina 6/10 | Middleweight Class | Appetite 4/10 |
| Offense 6/10 | Defense 5/10 | Mobility 6/10 |
---
Moveset
Common Attacks
Minute's standard moveset changes on how much sugar he has in his Sugar Meter. Most ground moves use 5% of the Sugar Meter, all aerial moves use 10%, and all heavy tilts use 20%. If the player has sugar to spare for these attacks, Minute's frame data becomes better and all the moves he uses have improved range and power. If they don't, Minute will instead use shorter, weaker variations of these attacks. Minute's moves are based around boxer hooks, punches, uppercuts, and swings, and when they're empowered by his Sugar Meter, they leave afterimages as they move much faster. Minute's heavy tilts are very different from the rest of his attacks, as his Rewinder will form "solid hologram" versions of punches to thrust his foes away.
Special Moves
Neutral Special: Damage Reversal
Minute will use 33% of his Sugar Meter to wind back time on his body by 10 seconds ("Time..."), allowing him to reverse the damage and healing he's taken in that time ("REVERSE!"). He can use the whole meter to rewind structural damage by as much as 30 seconds. This is very useful in short bursts, as it allows Minute to limit the danger his body is in, but it can prove to be negligible if he's healed more than been hurt in the past some seconds, and hurt him in the process.
Forwards Special: Foreshadow Counter
Minute will hold his Rewinder weapon forwards in front of him, forming a clock-shaped projector that covers the whole front of his body temporarily (33% of his Sugar Meter). If his foe hits him while he's in the counter frames, he'll push them back as his eyes will appear to glow a golden color ("Ready for..."). The player can then move around and jump and attack like normal, but when they let go of the Special button, he'll suddenly dash to the foe and deliver a big punch ("...A BAD TIME?")! The player can wait for their foe to get attacked by another enemy so they can chain two separate attacks against them, if they wish. If the player waits 8 seconds, the move is cancelled, which can be used to fake out the enemy. If Minute winds up in the air after delivering the punch, he can jump freely.
Recovery Special: Chronos Travel
Minute will form a wormhole midair using his Rewinder to make a rift. If he forms this rift, he will travel through it ("Long time...") and then pop out of another wormhole somewhere high in the air with a dashing punch ("...No see!"). He will then freefall helplessly. The player can judge how high up he goes from his current vertical position by holding down the special button, though this will eat at the Sugar Meter. He can consume 33% of his Sugar Meter to form a wormhole that instead sucks his enemies in, which he can use to trap them in time until the wormhole vanishes.
Crouch Special: Smoothie Slurp
Minute will roll out a smoothie from his pocket, slurping it down. It will require him two seconds to slurp one down, which will grant him 33% of his Sugar Meter. If he's interrupted during his slurp, he won't acquire any extra sugar, and he'll have to try drinking it all over again. It will take him six seconds total to have a full Sugar Meter, but if he drinks too fast (i.e. two whole drinks in a row), he will be temporarily paralyzed from brain freeze.
Hyper Moves
Neutral Hyper: Revenge Reversal
Works very similarly to Damage Reversal, except that all damage he's taken from the past 15 seconds will be soaked into the power of one attack. His next move, when combined with the damage he's taken extracted into power, may either deal moderate damage or massive damage depending on which move the player chooses to empower.
Forwards Hyper: Telekinicounter
Similar to Foreshadow Counter, except Minute will fling backwards after countering them. Their mobility will be brought down to a twentieth of its usual strength for about 8 seconds while Minute can ruthlessly attack them with whatever attacks he wishes, letting him punish them however he pleases.
Recovery Hyper: Chronos Blast
Chronos Blast has Minute travel through a wormhole using his Rewinder. However, when he pops out of a wormhole, he will appear as a blazing ball of fire that will damage any enemies in his way, and both the portal entry and exit will violently explode. If he chooses to trap an enemy in a wormhole, he will make them combust into flames.
Crouch Hyper: Expiration Attack
Minute will stop all time instantly, draining his entire Sugar Meter after yelling "YOUR TIME HAS EXPIRED!". Three grey rings will travel from his body, "aging" foes that get caught in their highly damaging wrath and pushing them far away from him. They can only be dodged by perfect parrying.
ZONAL FEVER: The End of Time
Minute will have his eyes glow a bright white, with him diving towards the background and stretching out his limbs, yelling out "IT'S SHOWTIME!" as the whole screen grays out, with clockwork and gears floating about around him. He will then contort and twist the space-time continuum, warping reality around his foes to cut through his foes and damage them, eventually blasting them off away from his place on the map. The move does much more damage the closer the foes are to his body, and doesn't deal any at all if they're too far away.
Animations
Entry Animation: Minute always races against time to arrive on the battlefield first, never caring whether he's Player 1, Player 2, some computer player, etc. He will bow gracefully as his Rewinder weapon coils around his body temporarily, standing up and facing the competition in an eager manner.
Idle #1: Minute will perform a breakdance, performing a series of rapid punches before mocking the Fortnite default dance animation before almost tripping over.
Idle #2: Minute will tap his foot impatiently, breaking the fourth wall by looking at the camera. He will occasionally look down on his watch, which will display a hologram depicting the current time.
Taunt #1: test
Taunt #2: test
Taunt #3: test
Victory #1: Minute warps his way onto the stage several times via Chronos Travel before skidding his way across the ground, saying "Did you have a rough time, mate?" as he skids to a halt.
Victory #2: Minute will step away from his rival, saying in a cocky voice "I hope you had the time of your life!" before moving off, occasionally stopping to slurp at his smoothie.
Victory #3: Minute laughs in a cocky manner before grinning at his foe, saying "You should invest time into your techniques" before folding his arms, continuing to perform this odd cackle of his.
---
Alternate Costumes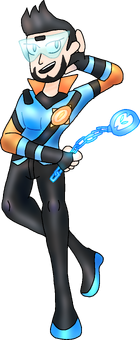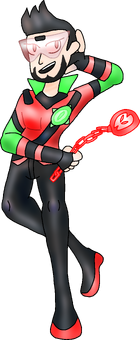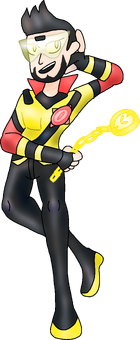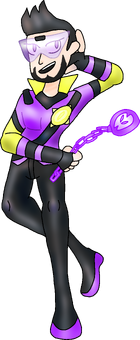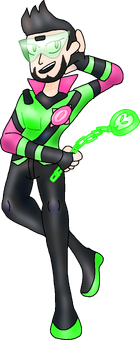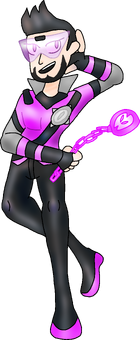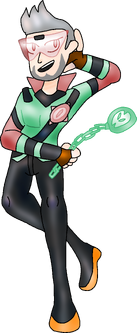 Whiskey
Name
Whiskey Lager
Mass
7'10" at 731 lbs
Birthday
September 15th, age 33
Gender
Female
Sexuality
Bisexual
Alignment
Lawful Good
Home
Champion's Ring, Sector 3
Occupation
Farmer / Wrestler
Weapon
Cactus Gloves
Powers
None

Whiskey Lager's the granddaughter of some immigrant that's emerged from the planet Earth that's some distance away, being a rowdy weapons expert whose family origins were in the unforgivably dry area of western Texas, her grandfather having achieved mass popularity for his excessive strength and his signature lethal ten-pack, which she borrows. Whiskey's optimistic, courageous, and willing to do whatever it takes to make things right, having skin so thick that she can take on any insult or pain and just shrug it off like it was nothing, doing whatever it takes to protect her friends in need. She's incredibly advanced with both physical and ranged combat, capable of tackling hundreds of men and women at once with her overtly-thick skin, able to take hundreds of rounds and scratches at once as she suplexes armies to the floor. Whiskey learnt these techniques to defend herself and her family from attackers until from a young age up until her grandfather died. Her grandfather decided to move out to Satellite 15 when he was offered the chance for free by the government when they noted his massive strength and how he and his future children can possibly take care of threats looming in the cosmos.

This woman works two jobs: one as an everyday farmer to raise crops for the satellite's population, and another as a professional wrestler, which are jobs she respectively handles during the morning and afternoon before she crashes on some stack of hay in her barn. She has gained a reputation for her fearsome strength, with even the likes of Mallory afraid of her as Whiskey can easily crack any bone in any person's body without a second thought, even if she's not actively trying to hurt them. On the battlefield, she's proven to be afraid of nothing and always go head-first into action without regret, only showing drips of fear if she's getting overwhelmed or cornered in a situation that she can't possibly afford to give up in. With so much positive energy and vibes running through her body, she can't stand seeing people depressed or miserable, so she tries to go out of her way to try and resolve their issues and take them around on her adventures. Though some have come to see her as an annoying chatterbox because of this, others appreciate her help and vow for her, especially when she's in her ridiculous super-tight pro wrestling outfit that shows off every single muscle on her body.

With such a strong mentality, she is immune to being controlled and can work independently even if others are trying to take control of her. A big flaw of hers, however, is that if she's ever truly let down or when she actually gets sad, she can drink heavily and lose full control over herself. This can make her real dangerous if she starts throwing punches or if she starts thrusting out her weapons, which makes her a violent force that's really challenging to stop once she gets going. With her occasionally reckless behavior, it can be tricky to keep an eye on her and make sure she's staying out of trouble, as well.

---

Likes: Pro-wrestling, being challenged, boasting with her strength, being optimistic, trying out new things, tackling on more than one enemy at a time, eating five full meals a day, getting three hours of vigorous exercise daily, encouraging others, teaching and training others, using her strength to her advantage on the bed
Dislikes: Seeing others sad and miserable, having to drink to try and get back on track, getting in trouble with the government
Gameplay Details
Analysis
Whiskey is a heavyweight boxer with above-average height, having moderate gravity and falling speed but surprisingly high agility. She is a character with a load of Stamina and one that's really hard to starve out, giving her an immense amount of bulk that's notoriously hard to break down. Whiskey's a trapper type of fighter, playing defensively and keeping away from her enemies until she can lure them into her range, pressuring the foe as she does. Unlike many other fighters in the game, she can strike other players even when she's facing away from them and can excel in multi-tasking, stringing together combos using her bait traps and skull-cracking moves. She has to capitalize on her mindgame potential and force her enemies into her traps- if she is consistently successful with this, she will be able to dish out heavy damage against them, especially if she can grab them over and over again. Her main weapon, the Cactus Gloves, give her an absurd amount of range.
Though boasting a tremendous load of strengths, Whiskey isn't without her weaknesses. As one of the game's heaviest characters, Whiskey's very vulnerable to getting caught in long chains of attacks, having a hard time escaping her foe's grasp on her own. Though she has tremendous agility and almost unrivaled strength, many of her attacks have multiple frames of ending lag following their execution, rendering her easy to punish. She also has very poor air-to-ground transitioning; she's susceptible to juggling and damage racking and her large hurtbox doesn't help matters whatsoever. Whiskey is not fond of characters with rushdown strategies or camping abilities, as they can limit her approach and her gloves don't have the priority necessary to ignore them. Lastly, her special moves are very situational and rarely have any use outside of their intended function, limiting her versatility.
Overall, Whiskey is an effective bait-and-punish type of fighter and benefits severely from her strong range, high speed and extreme power, but must be wary of her enormous flaws and try to work around them.
| | | |
| --- | --- | --- |
| Stamina 10/10 | Heavyweight Class | Appetite 2/10 |
| Offense 8/10 | Defense 6/10 | Mobility 8/10 |
---
Moveset
Common Attacks
Whiskey's normal moveset is built around her usage of the Cactus Gloves and her tremendous physical strength in general, with the majority of her basic attacks having huge hitboxes and covering plenty of distance while all requiring some cooldown time to get back up from. Though most of these moves are all about getting up close and personal, some moves like her dash attack instead have her blast off her glove like a missile, which is attached to some sticky substance that will drag it back to Whiskey's palm. Some of these moves will instead have her spin the glove around herself, which is the case of her downwards-facing tilts as well as her neutral aerial. However, one of Whiskey's best strengths lies in her throwing game. If she grabs onto a foe through lassoing them, she can forcibly throw them and follow up with another attack. She can perform the running powerslam (forwards), the exploder suplex (backwards), the drop suplex (upwards), and the leg trap chokeslam (downwards).
Special Moves
Neutral Special: Cactus Thwacker
Whiskey will drag out a lasso with a spiky cactus attached to it, spinning it fiercely in front of herself to wind herself up! During the charging animation, this move will double as a projectile destroyer and will usually disintegrate any projectiles that come in contact with it. Once she's done charging, her body will rapidly flash. When the player presses the special attack button again, she'll then forcibly detach the cactus from her rope, which will bounce on the ground up to four times before disappearing. If she thwacks the cactus with her rope, it will travel much further away from her. It's an efficient edgeguarding tool and a decent projectile attack, though it can be easily deflected with others' attacks.
Forwards Special: Whiskey Express
Whiskey will blow on a whistle a few times to mimic the oncoming signal of a train. If the player doesn't press the special attack button after that, she won't execute her attack, allowing this to work as a feint for her. If the player does, she will rush forwards, roughly across half the length of the Final Frontier, before delivering a series of twelve uppercuts that have her alternate between her left and right hands. After the twelfth uppercut, she'll kick them clean across the air if her foot makes direct contact with her belly. This series of uppercuts is best used for trapping and pressuring her enemies, and for correctly predicting where the foe will be moving in the air.
Recovery Special: Updraft Lasso
Whiskey shouts out a warm "yee-haw!" as she swings her lasso above her head, having it swing round and round as it brings her high into the skies. This move is simple, and will have Whiskey be able to guide herself to the left and right before the updraft underneath her stops, forcing her to fall back down helplessly. The player can prematurely end the move by having her swing the rope around her head- if it lands on a ledge, she'll grab onto it, or if she strikes an enemy, she'll whip them through the air.
Crouch Special: Boulder Suplex
Whiskey will reach into the ground, picking up the ground tile underneath herself and raising it above her head. The player can choose to suplex it forwards and have it bounce towards enemies in front of her while potentially dealing a powerful blow with her feet, suplex it backwards and kick enemies nearby, hurl it into the sky to shoot down airborne foes, or stomp it down with her feet to send debris to both sides of herself. Neither of these moves are exceptionally strong, but can provide the player with some space-covering options and threaten others' camping games by giving them less reliable room to stand on.
Hyper Moves
Neutral Hyper: Monster Saguaro
Similar to Cactus Thwacker, except Whiskey will have a much bigger cactus tied to her lasso. She will hold the huge spiny object behind herself, choose the trajectory to throw it in, then lurch it through the air. It will bounce off of walls and spike down any foes it comes across, dealing great damage upon contact with them. Though it can be parried, it moves quite fast until it disappears, so one has to be careful to avoid it.
Forwards Hyper: Spinebreaker Torpedo
Whiskey will once again blow on her whistle to mimic the oncoming signal of a train. Unlike other Hyper moves, doing a "feint" won't result in the HyperDrive bar being depleted, allowing the player to abuse the feint as much as they want until they execute the actual attack. When Whiskey's ready, she'll race towards to grab her enemy, dragging them across the floor to break their spine before flipping them upwards and into the ground, following up by whipping them across the ground.
Recovery Hyper: Adios, Amigo!
Functionally the same as Updraft Lasso, but per usual, the move has much more usefulness to it. In the case of "Adios, Amigo!", it brings Whiskey Lager much higher and gives her a much longer rope to play around with. After some seconds, or after the player performs a whip and misses hitting a ledge or enemy, she will begin plummeting to the ground yet again.
Crouch Hyper: Ms. Floorshaker
Ms. Floorshaker is an immensely powerful attack. Whiskey will take some steps back before jumping forwards with her elbow leaning out forwards. If any foes are found on the ground, they will take shock from her impact. The foe in front of her will then get hit with a raging powerful uppercut that will knock them into any foes nearby, dealing substantial damage and hurting these foes simultaneously.
ZONAL FEVER: Wild Saguaro
Whiskey will make a grabbing motion with both of her Cactus Gloves. If she successfully clamps onto an opponent or two, she will thrust them down onto a long mattress made from cacti, with the needles sticking through her opponents' backs as she's all dressed up in wrestler get-up. Bouncing off of some wrestling ropes, the shades-wearing cowgirl pounces atop her foes, pressing down upon them with her heavy body as she drags them violently across the bed of cacti. After the move, she'll launch the foes a good distance away from her, having made them take heavy damage.
Animations
Entry Animation: Whiskey walks onto the battlefield, pounding her fists together as she smirks and grins, equipping her Cactus Gloves and unloosening her lasso from her belt before being ready to fight.
Idle #1: Whiskey will grin, shooting her fist into the air for audience appeal as she swings her rope around with her other hand, some roses aesthetically falling around her before disappearing.
Idle #2: Whiskey swings her Cactus Gloves around, pounding them both towards the ground to intimidate the foe before she resumes her fighting stance, her lasso spinning rapidly on its side.
Taunt #1: test
Taunt #2: test
Taunt #3: test
Victory #1: Whiskey shouts out her "YEEHAW!" as she throws both her hands in the air, forming peace signs with both as she moonwalks away, suddenly being carried by a bunch of hunks onto a throne and subsequently being carried off screen, winking as she leaves.
Victory #2: Whiskey will throw a flurry of punches towards the screen, the camera centering around her 360 degrees before she lands the final blow, knocking a sandbag clean off its ropes. She will then pump her arms at the end, straightening out her gloves as she grins wide.
Victory #3: Whiskey will stand with her back facing towards the screen, straightening out her vest tie from behind before turning her head towards the screen, saying "Oughta get me down next time, pardner!" as she yet again pulls off another really big grin.
---
Alternate Costumes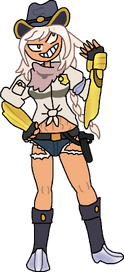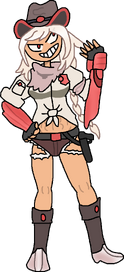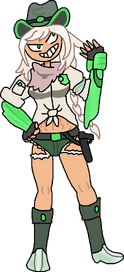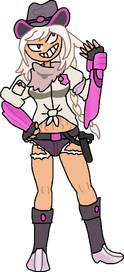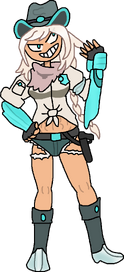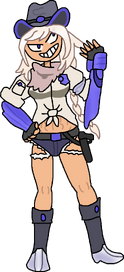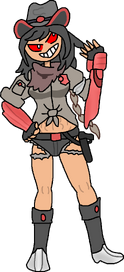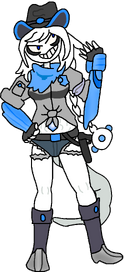 Azrail
Name
Azrail "Nightshade" Neos
Mass
5'09" at 199 lbs
Birthday
December 22nd, age 24
Gender
Male
Sexuality
Heterosexual
Alignment
Lawful Neutral(?)
Home
Nightshade, Inc. (Sector 5)
Occupation
Mechanic
Weapon
Numerous
Powers
None

Azrail Neos grew up in a poorly-performing orphanage, which eventually began selling their children on the streets, him included. He was eventually sold back to his father, whom would be very harsh and unforgiving towards his mistakes, in spite of his high intellect letting him pass school as a straight-A student and his growing respect for his abusive father. Azrail would be brandished with a strap for any mistakes and would be physically abused if he dared defy his father. Sometime before his father was arrested on accounts of abuse on the various girlfriends he's had over the years (and later became a bank owner), Azrail was auctioned off and sold in the darker alleyways of Sector 5 aboard the satellite, and would be sold again and again because of his growing resistance to his usage as an all-purpose slave. His numerous "parents" wouldn't let him make friends since they'd distract him, and wouldn't show him any affection in case he expected more than working around the clock. He eventually was able to go to college and earned a bachelor's degree in engineering, fixing engines and machines for others around him until he could afford an apartment. Eventually growing tired of his crippling loneliness, he began chasing girls and attempting to kidnap others for his own gain, obsessed with the interest of having friends or loved ones as he has never had love and might never will.

Azrail, or "Nightshade" as he's dubbed himself to separate himself from his past, is a somber and quiet man that likes to keep to himself, isolating himself from others around him and fleeing away from those that could potentially bother him. If someone happens to like him, he'll keep them around and communicate with them constantly so he never feels lonely. When his quirkiness makes them leave him though, he feels much confusion and frustration. He doesn't know how to really treat friends or family like actual people since his father's given him really poor social teachings. He's gotten better with time and is friends with people like Pierce and Vizole who understand his dilemma and listen wholeheartedly to him, but he tends to push these people away if he begins to demand too much attention. His notable trait is his honesty- he's not very good at being deceitful and makes almost everything about himself visible on the surface. When you get to know him well and thus understand his boundaries and background, he's a really nerdy inventor that's really invested in Western cartoons and understanding how human emotions actually work. He's also clumsy and occasionally a bit clueless, giving him some much-needed charisma to counter his past. He used to be something of a creep around women, but he's learned from his mistakes and is a supportive feminist these days.

Azrail is very respectful of the satellite's authorities and tries to obey them whenever possible. Sometimes if he's caught doing something he should be punished for, he'll immediately surrender and confess since he doesn't want to have a long sentence ever in his life. He tries to secure employment for engineering companies so he can make the money necessary for purchasing parts for his experiments. Overall, he's a lonely person without a complete heart- he respects society and attempts to live it, but is driven so hard by the part that's missing from his heart that he can't be respected or treated seriously by the community surrounding him.

---

Likes: Women, women's rights, feminism, receiving good marks, having a good reputation, making friends, feeling happy, knowing he's truthful, working on his inventions, being able to feel (the illusion of) love, talking out his feelings to Spade, anime (especially My Hero Academia)
Dislikes: Having to pay the consequences, others leaving his company, being called a "dirty incel", being caught doing something wrong, acknowledging he's doing dirty things, remembering his past, remembering his godawful "stepfather", being accused of abuse (innocent), the concept of punishment, being used as a slave, being made fun of by his "friends"
Gameplay Details
Analysis
Azrail's a heavyweight character that stands as among the game's tallest characters, subject to moderate gravity and falling speed but weighed down significantly by his very sluggish mobility. Azrail is a dynamic character that functions quite differently from the rest, relying on combating his opponents from a distance with his many machines and gadgets. His main weapon, the Battle Sentry, is the key element of his moveset, capable of performing light and heavy tilts alike at the player's command. His flies, summoned from his Recovery Special, compose Azrail's aerials. If he jumps in the air and attempts to perform any of his attacks, he will make a gesture with his hands that will instruct the mechanical flies on how to attack. With his stat-lowering Haze Generator and chargeable laser jab, Azrail can be very challenging to approach thanks to how well he can camp out against his foes and how much of the stage he can control at once. If the player masters how to use their weapons, they can spend points on upgrading any of his mechs.
That said, Azrail's moveset comes with some gaping flaws. All of his machines can be damaged and eventually destroyed; though they'll make harmful self-destruct explosions upon their defeat, clearing out any of Azrail's machines will allow the foe to come closer and closer. Azrail can only have three Battle Sentries out at once and can have a maximum of twelve robotic flies out (he sends out four at a time), and he has to wait 12 and 6 seconds respectively to throw out the next batch of their kind. He can only build up to twelve Battle Sentries and eighty robotic flies per stock, too; once he's out of his materials, he's rather helpless. To remedy this issue, Azrail can fortunately use his Neutral Special as not just a boomerang attack with his wrench, but he can also repair his machines and restore them back to full health. If the player's able to cause enough damage with their mechs, they can spend a third of the HyperDrive meter on re-earning materials to build these mechs with.
Azrail is a unique character that stands from the rest, relying on his machines almost entirely to put down his enemies, attempting to break them apart through his weaponry's sheer force. If all his machines are destroyed, and he doesn't have Stylish Points to spend on getting new materials, he's completely defenseless and vulnerable to a KO.
| | | |
| --- | --- | --- |
| Stamina 9/10 | Heavyweight Class | Appetite 1/10 |
| Offense 4/10 | Defense 7/10 | Mobility 1/10 |
---
Moveset
Common Attacks
Azrail has very little offensive presence when he's without his mechs, so his stars are his Battle Sentries and his Nightshade Flies. The Battle Sentries and Nightshade Flies are respectively summoned through his Crouch and Recovery Specials. The sentries have the ability to look around and search for targets by moving their cameras around automatically; the one that's closest to them is the one they'll be locking eyes on. If a sentry already has its eyes on one player, then another sentry will have its eyes on another foe. If the player inputs light tilts, the sentries will blast bullets in the foes' directions. Heavy tilts, on the other hand, have them blast huge magnum bullets that deal lots of damage. If Azrail leaps in the air and performs any aerials, his flies will follow his command and attack in the arc his hands are making instantaneously. The flies all attack at the same time, even when they're separated by the foes' attacks. Azrail's only actual physical attack is his jab; he will pull out a laser gun and blast it, dealing minor damage and forcing the foe away from his almost defenseless body.
Special Moves
Neutral Special: Wrencherang
Azrail's "Wrencherang" serves two purposes in his moveset. The first involves him throwing his wrench in an arc, having it head off like a boomerang before it returns to his hand. It deals light damage and can help prevent foes from touching his priceless mechs. Conversely, he can also throw this wrench at his mechs to damage them on purpose, catching foes by surprise with the explosive aftermath. However, its main usage comes from when Azrail is standing right next to a machine; he will get to work on repairing his mech. Within just three seconds, he will restore it to full health and give it temporary invincibility frames.
Forwards Special: Haze Generator
Azrail'll set down a cylindrical machine that will be continually generating haze. If foes come in contact with the haze, they'll suffer from drops in their offense, defense, and mobility and become vulnerable to sentry shots. The longer the enemy's in the haze, the more consequential their drops will become. The Haze Generator is intended to guard zones where the Battle Sentries would otherwise be very vulnerable and discourage enemy approaches. If a foe's blinded by the haze, this is the player's cue to have the sentries fire away at the foe until they're knocked out of the haze or otherwise manage to flee it.
Recovery Special: Lord of the Flies
If Azrail is on the ground, he will create a total of four "Nightshade Flies" and release them into the air. If the player holds down on the inner triggers and presses in any direction, the flies will move either towards him or away from him, and by holding down on the inner triggers, all the flies will unique together within a cloud. Through use of his aerials, Azrail can command the flies to attack with their "custom stingers". The flies do not make harmful explosions upon their defeat, and only twelve can be had out at one time. If in the air, Azrail will summon a huge robotic fly and have it hoist him upwards and potentially out of danger; he can then glide back down to safety.
Crouch Special: Battle Sentry
This move only functions on the ground. Azrail will use up to two seconds to construct a Battle Sentry; it will rotate its camera in search of foes and blast off bullets whenever the player attempts to use their tilts (light or heavy doesn't matter). Up to three of these can be had out at once, and they deal the most damage out of anything in his moveset even though they're not as speedy as the flies. Upon their destruction, they will impact any nearby foes with their intensely powerful explosions and knock them clean across the battlefield. If one lasts for 20 seconds and if Azrail repairs it at full health, he'll turn it into a Golden Sentry that blasts more accurately and deals more damage.
Hyper Moves
Neutral Hyper: Electrowrench
Similar to Wrencherang, besides the fact that Azrail electrocutes it in a jiffy before he tosses it off. If it hits any enemies, they will be caught in the wrench and take massive damage as they're sent back to Azrail. He will then perform a thrusting jab to launch the foe away from him. Alternatively, he can throw the electrocuted wrench at his machines to blow them up instantly. Lastly, he can stand in front of a mech to repair it in just one second, giving it twice as many invincibility frames.
Forwards Hyper: Nuclear Generator
Instead of haze, the Nuclear Generator will generate toxic nuclear gas. Azrail will put on a gas mask to defend himself from the consequences of the gas. The gas has a greater range than the haze and drops stats much more dramatically, and the Haze Generator releases off to both sides of itself rather than just one. They can only be reliably destroyed by projectiles or smashing it from above.
Recovery Hyper: Hammerbee Squad
Very similar to Lord of the Flies, Azrail will construct and summon eight "Hammerbees" that cannot be regenerated or restored. They will strike with the huge hammers built into their stingers, giving them impressive range, and they will directly lock in on their foes when being commanded to attack. Azrail's "recovery" aspect of this move has him grab onto a huge queen bee as he rises high.
Crouch Hyper: Emergency Dispenser
This is a very simple special; an Emergency Dispenser will rain down from the skies and land in front of Azrail. He can "repair" the dispenser to replenish his building supplies and be able to build things once more. Once it's used, it will disappear. Note that if it is destroyed, it will form a very wide explosion that will deal massive damage to the foes- this is indicated by the WARNING: HIGHLY COMBUSTIBLE sign on its front.
ZONAL FEVER: Nightmare Fuel
Azrail will laugh maniacally as he rises high in the air, returning with what appears to be an enormous black mechanical dragon, equipped with thousands of gears, bolts, and screws! The player can then glide around this dragon like it were a boss of sorts, with the head of the beast moving up and down so it can blast his foes with fiery lasers and swipe at them with its powerful talons. This fueled nightmare will not disappear within any frame of time; no. The players must instead attempt to break apart this mech without taking too much damage from this machine's power. It's considered a reward for putting up with Azrail's setbacks and not relying on dispensers or machine upgrades.
Animations
Entry Animation: Azrail will float down using a pair of hovering shoes, holding his wrench at the ready as he uses it to guard his frail body, shivering in his boots a little as he faces his competition.
Idle #1: Azrail will throw his wrench around in the air, nervously looking back and forth as if he anticipates something bad to happen. He appears to be frantically breathing out of fear right afterwards.
Idle #2: Azrail will sit down and hold his arms around his legs, shivering. He will not get up unless the player moves him. Occasionally during this idle pose, he will be uttering incomprehensible words to himself.
Taunt #1: test
Taunt #2: test
Taunt #3: test
Victory #1: Azrail will be shown wearing a laser visor, shown leaning down on his knee as he uses his wrench to repair what appears to be the Nightmare Fuel machine he uses in his ZONAL FEVER attack.
Victory #2: Azrail will pose with his wrench, leaning back against a wall as he smokes a cigarette, looking completely phased out of reality as he appears to be slipping somewhat against the wall.
Victory #3: Azrail walks off into the distance, leaving nothing but mass destruction behind as his mechs take care of everything for him. You can then see him sitting alone on an isolated hill.
---
Alternate Costumes







Shredder
Name
Nicholas "Shredder" Dennis
Mass
6'06" at 290 lbs
Birthday
May 24th, age 24
Gender
Male
Sexuality
Heterosexual
Alignment
Neutral Evil
Home
Satellite 15 Lobby Room #121
Occupation
Electrician, repairman, architect, bank manager, C.O.T.S. business agent
Weapon
High-Voltage Arms
Powers
Electricity

Nicholas Dennis, or "Shredder" as he prefers to go by, is an electrician aboard Satellite 15 that's been helping in repairing its infrastructure and ordering new chambers and sectors. The great-grandson of one of the satellite's original architects, he's responsible for all the maps and systematic details of the space station, and must keep everything he knows about it a complete secret so to protect its defenses from outsiders and greater evils. Publicly, almost nobody knows anything about Shredder except he's an experienced electrician and repairman with funky mechanical arms that can retract their spikes and replace them with robotic fingers. However, all he's doing is scrapping up all this cash so he can reluctantly continue his bloodline's work on funding an illegal private laboratory deep within the satellite, perfect for the equally illegal agency known as C.O.T.S. (Clone Operation Testing Squad)! In there, he's been installing security systems, programming the necessary defenses, and setting up a living space just in case, and was responsible for making the Electric Eye's robot body. He's also been helping in denying claims about the existence of this agency and proclaiming that the main satellite maps do not detect anything abnormal. He is, actually, double-crossing them for a man named Gonzalo, however.

Shredder behaves very casually in the public eye, always introducing himself as a "simple man" and that he lost his arms in a freak car accident when he was young. He works electrician/repairman jobs that people ask him to do, be it for their home or for the satellite itself, and charges plenty for his services. When he converses with other people, he fabricates his backstory, and it's always exactly the same: he was an abused only child and was orphaned at a young age, and that he works these jobs for people so he can feed his starving family. In actuality, the earned cash goes towards the C.O.T.S. cause as directed by his boss Miss Replicate. Sometimes, when there's not jobs he can find on the weekends or if he's not being called enough, he will force himself to cause blackouts aboard the satellite so he can find people to cheat money from for his "good-willed services". Beyond his services, he likes to motorbike along the streets he knows and picks up random girls so he can go out drinking with them. Sometimes he gets so drunk that he doesn't recognize the girl he's with hours later.

He is currently in a troubled relationship with his boss(es); he's had to fight his ex-wife Ms. Replicate several times in the past and he's had to put up with the ridiculous and insane actions of his current boss Gonzalo on several occasions. He's in a tight fix.

---

Likes: Drinking excessively, scamming people out of cash, working as a repairman, getting to know all the juicy secrets of the satellite, hanging out with women all the time, mocking others, seeing himself as superior to others
Dislikes: Gonzalo, Miss Replicate, how abusive his boss is, how he's in a forced relationship with her, having to work on a tight schedule, people making fun of him, people not treating him seriously, people getting on his case
Gameplay Details
Analysis
Shredder is a heavyweight character with way above-average height, boasting moderate gravity and falling speed yet excellent mobility. Shredder has the unique niche of being able to use his rocket shoes to hover slowly down to the ground after jumping, giving him guaranteed domination over the air if he can win the neutral game. With his above-average range with the reach of his invincible High-Voltage Arms, and with the knowledge that the majority of his moves have extremely powerful sweetspots and strike foes numerous times, Shredder is terrifying to approach because he can very easily punish his foes' mistakes. He also boasts stage-controlling projectiles and a Special Move ("Assassin's Greed") that allows him to deal extreme damage if he can hit the backs of his foes. Shredder excels at pressuring his foes with his erratic, unpredictable behavior and having the tools to damage fighters of any archetype. He can additionally mix up his moves over and over and become a major hassle.
Shredder's no perfect fighter, nor is anyone else in the game. Shredder's moveset is almost completely centered around the concept of precision; most of his moves only deal immense damage if he can land the sweetspot of his moves and continually hit his foes with it, which is almost next-to-impossible if the foe's ready to predict his next move and move out of the way. Though his moves come out reliably fast, any miss Shredder makes will cause him to feel fatigue and disappointment, rendering him easy to punish for even just simple mistakes. He also suffers from having one of the game's worst recovery moves, which makes it very challenging for him to return to the stage even though the move comes with high power output. Lastly, Shredder's incredibly easy to juggle in the air and chain attacks against, because of his above-average hurtbox and moderate gravity, aiding how easy it is to punish him.
To master Shredder, you need to get a good grasp on how to hit foes with all the active frames of his attacks, especially if you want to deal the most damage and hit foes with mostly the sweetspots of his moves. Otherwise, he will clearly struggle and you will feel his pain.
| | | |
| --- | --- | --- |
| Stamina 3/10 | Heavyweight Class | Appetite 3/10 |
| Offense 8/10 | Defense 5/10 | Mobility 7/10 |
---
Moveset
Common Attacks
Shredder's basic moves are focused around the usage of his High-Voltage Arms, which have good range and are quite flexible, capable of rotating rapidly and generating the electricity that keeps foes trapped in his grips. Shredder will usually slash down his enemies with his huge metallic arms like they were swords of sorts, but in the case of moves like his forward tilt and forward and back aerials, he'll be spinning his arms around like screwdrivers. The tips of his moves deal the most damage, as most of the electricity on his arms will be transferred to the claws, but foes that are caught up in any part of his attacks will still take plenty of damage. His neutral aerial is among his most powerful attacks, having him spin around with his hovering shoes and outstretched arms. Finally, Shredder's heavy tilts are his most powerful attacks, as he will swing his arms around rapidly to knock foes away (side), knock these arms straight up (upwards), or spin around on his butt on the floor to knock foes away with his rocket shoes (downwards).
Special Moves
Neutral Special: Thunder Turmoil
Shredder will overcharge his body with electricity, drawing loads of watts into his body as it begins to sparkle and crackle with golden lightning bolts. He will then jump upwards a bit into the air, land on the ground, then begin fiercely somersaulting across the floor! The player can move the loose Shredder back and forth as he shreds along the floor, with his invincibility frames in his rolling form allowing him to roll into and electrocute his foes. Shredder can jump out of the move at any point to start attacking his foes and chaining attacks against him. It's difficult to steer him in this form, and any parry/counter will shake him off.
Forwards Special: Lightning Grapple
Shredder will take one of his two High-Voltage Arms backwards, charging tons of electricity within half a second before blasting it forward in the form of an electric whip. As he does this, he will be walking or running forwards, depending on the player's momentum, and will pause as soon as he launches the attack. When the whip reaches its maximum distance (about Shredder's whole body height transferred to width), it will limp to the ground and be drawn back to Shredder. If he catches onto the foe, he will electrocute them massively, piercing their defenses until the electricity dies out. He can also use this to snap onto ledges and onto walls so he may cling to them.
Recovery Special: Arching Thunderbolt
Shredder will windmill his arms frantically fast, charging up with loads of electricity before leaping high through the air in a corkscrew formation, eventually starting to plummet at the apex of his jump and then crashing into the ground, sending shockwaves to the left and right! If Shredder misses landing on the stage, he won't be able to grab onto ledges, so he'll continue diving and possibly self-destructing by the end. If he does crash into a foe, he'll take them with him and crash down onto the stage.
Crouch Special: Assassin's Greed
This is Shredder's signature move and one of his most useful, yet it's the simplest one to describe. Shredder will pull his arm back, then thrust it straight forwards. It will deal very little damage against any foe, only draining 1% of Pierce's stamina if it connects with him. However, if he stabs them in the back, it will be enough to pierce even the bulkiest of foes and deal massive damage, and OHKO Pierce! This move gets weaker as he abuses it, and if he whiffs it, he'll be easier to punish.
Hyper Moves
Neutral Hyper: Lightning Thrasher
Similar to Thunder Turmoil, except that Shredder will charge his energy much faster and travel around more before he's forced to cancel the attack. If he jumps, he'll catch foes in the middle of his electrocuting jump as he leaps and keep them rolled up in his attack as he spins across the ground again. Parries and counters will still shake him off, but because he's even more ferocious in this form, he's best avoided.
Forwards Hyper: Lethal Grapple
Shredder will take his arm back further before almost immediately thrusting the electric whip further. It reaches further than his standard Lightning Grapple and deals more damage altogether. It gives him greater range when it comes to grabbing ledges and clinging onto walls. The biggest change with this move is that Shredder can pick the foe up with the whip and then whack them into the floor.
Recovery Hyper: Skyhigh Lightning
This is very similar to Skyhigh Lightning, but Shredder will travel in a higher arc and plummet through the floor much faster! If he comes into contact with any foes, he'll drain a good percentage of their health meter if he can collide with them on the floor! However, it's even trickier and riskier to land, as it still won't be grabbing ledges, so plan this move out carefully.
Crouch Hyper: Killing Blow
Very similar to Assassin's Greed, but if it misses or attacks any part of the foe besides the back, he'll deal absolutely no damage. But he will be guaranteed an instant knockout if he can indeed land this in the back of any enemy! Perfect timing will allow him to befall any foe, but because of how easy it is to parry this attack and Assassin's Greed and to simply turn away from him, this move ain't likely to land unless the player's prediction is perfect.
ZONAL FEVER: It's Electric
Shredder will cackle loudly as he charges electricity through both of his High-Voltage Arms, rocketing upwards with his shoes as he heads into the background, charging a huge ball of explosive energy between his arms. He'll then make it form a huge bolt of electricity, having it rapidly streak across the ground and chase his foes under the player's command. It will deal rapid-hit damage and quickly drain at his foes' stamina, and the beam of lightning becomes thicker and thicker with time. Once it culminates with a huge laser beam, he will return to the battlefield.
Animations
Entry Animation: Shredder descends down a rope that suddenly drops down from the ceiling, leaping off of it and landing on his two feet, scanning the battlefield for his foes before lifting up a visor from his eyes and pocketing it, pointing his finger forwards as he becomes accusatory.
Idle #1: Shredder will spin his head around, putting on his visor to scan the battlefield. After looking around, he'll lift his scanner up and pocket it, muttering something under his breath.
Idle #2: Shredder will smoke on a cigarette, lighting it as he leans against a wall (if one is nearby) or otherwise pretends to lean against a wall. He will then crunch on the cigarette and spit it out.
Taunt #1: Shredder will cackle as he rotates his arms rapidly, saying "I bet you wanna have cool arms just like me!"
Taunt #2: Shredder will communicate with Gonzalo, saying "Boss, I think we've got a problem..."
Taunt #3: Shredder will mess with a Rubik's cube as he waits for the enemy to approach him.
Victory #1: Shredder will come in speeding on a motorbike, wearing shades as he skids the bike to a stop, getting off to lean against it while smoking a cigarette, saying "Is that really your best?"
Victory #2: Shredder uses his electricity to grapple onto a hook, swinging around before flinging onto himself on a lone platform, saying "This time it's personal!" as he swings around an electric whip.
Victory #3: Shredder will laugh maniacally as he starts out by crouching on the ground with his arms in front of his head, raising his posture up as his electric arms rise high into the air within moments.
---
Alternate Costumes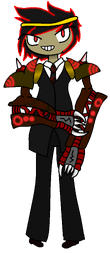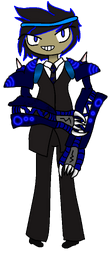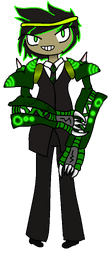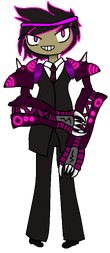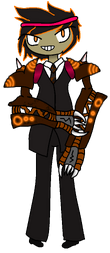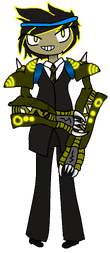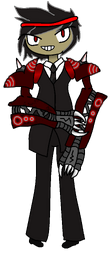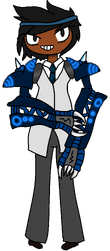 Oshelia
Name
Oshelia Eau
Mass
5'08" at 130 lbs
Birthday
February 16th, age 24
Gender
Female
Sexuality
Heterosexual
Alignment
Lawful Good
Home
Ocean Manor, Sector 2
Occupation
Sector 2 manager
Weapon
Pressure Guns
Powers
None

Young lady Oshelia Eau has a position among the board of bio-habitat managers aboard Satellite 15, being tasked with operating and securing Sector 2- the aquatic habitat chamber. She operates the aquarium daily, driving by every water tank and containment system and sampling the waters frequently to make sure they're clean and still suitable for life. A dedicated deep-sea researcher, Oshelia keeps around a scrapbook that she writes the bios of various aquatic species in, and monthly takes photos of everything to keep the scrapbook fresh and updated. Unlike other human beings, Oshelia has the capabilities to breathe underwater and move freely within it, since she injected herself with the DNA of a healthy shark so she may swim and survive with her fellow undersea friends. Lacking any offensive utilities, even with this DNA in mind which just makes her skeleton (including her teeth) slightly stronger, Oshelia carries dual pressure guns that can blast off scalding or freezing water. This scientist is also armed with a special scanner, which lets her absorb data on anyone and lets her exploit their weaknesses and acknowledge their strengths.

Oshelia is by far the most thoughtful and kind individual among anyone in the bio-habitat board of managers, almost never showing signs of malevolence or anger and keeping the atmosphere around herself civilized. Having lived with pessimistic and abusive parents that had high expectations of her that she wasn't always able to fulfill successfully, she turned a negative into a positive by avoiding her parents' way of handling matters and instead became a happy-go-lucky person. This isn't to say she isn't serious, though, she takes her job rather seriously and can get ticked off when people go off touching exhibits or doing other things that are either annoying or breaking the rules. She gets very tense when people mess with the water tank holding the restrained, dangerous aquatic monstrosity known as Jezebeth, who is never permitted to leave her cage as she could easily destroy the entire colony with her bottled wrath. Oshelia displays great anxiety when she knows that her schedule's packed for the day, and becomes very uncomfortable if she's talking for people for too long. Her greatest fear is Jezebeth escaping her imprisonment, which would likely result in the destruction of Sector 2.

Oshelia is currently in a troubled relationship with General Scotch, who spends most of his time leading the military and rarely has time to come home or visit Oshelia. They have good interactions most of the time, but sometimes things between them can get so heated that you just wonder how they're together in the first place. Scotch claims that Oshelia has a lot of maturing and growing up to do, but Oshelia just thinks he's being ridiculous and "overly masculine".

---

Likes: Aquatic animals, Apple, beaches, swimming, the "cool" colors (blue, green, purple), getting massages, going scuba-diving, her whole sector, doing her job, filling in her scrapbook
Dislikes: All arachnids, pineapples, war, stress, the idea of Scotch cheating on her, having to manage Jezebeth's tank, others being jealous of her skills
Gameplay Details
Analysis
Oshelia is an average-height lightweight fighter, having some of the best frame data in the game atop of alright power output and a good sense of speed. Oshelia holds a powerful pressuring game with her close-range combat, having the capabilities to exploit opponent openings and weaknesses and punish them with her highly damaging combos, leaving no room for them to react. Her specials also allow her to push around enemies quickly while moving around quickly simultaneously, allowing her to dominate and control the battlefield if the foes aren't fast enough to punish her mistakes or block her approach. Oshelia players can exploit their foes' exact hitboxes and the sweetspots on their attacks, allowing them to take advantage of any situation if they pay close enough attention using her Crouch Special. Finally, Oshelia has a super-flexible recovery and a lack of attacks that leave her with high ending lag, meaning that her mistakes are less focused on mixing and more about not taking advantage of the situation at hand.
This doesn't mean Oshelia is outright flawless, however. Oshelia lacks any high-power attacks, preventing her from dealing good chunks of damage towards any enemy and making it difficult for her to push her enemies back. If her foes don't flinch, they can aptly punish her with a single blow, taking advantage of her poor Stamina and pushing her a considerable distance back, forcing her to find a new approach. Her special moves are noticeably straightforward as well, and only two of them actually deal any damage, with her other two moves having niche purposes that only work in a handful of scenarios. This means that Oshelia's moveset is somewhat limited when it comes to her specials, and besides her Forward Special, they don't chain well into the rest of her moveset. Finally, Oshelia's range may not be terrible, but it's not impressive either, and as such it happens to be subpar and below most of the cast's.
Overall, Oshelia's a speedy character that can pressure her enemies at will and discover and exploit their weaknesses rather well, but she has a hard time pushing enemies off and her poor defenses mean that she cannot afford to be punished at any point during battle.
| | | |
| --- | --- | --- |
| Stamina 3/10 | Lightweight Class | Appetite 3/10 |
| Offense 5/10 | Defense 6/10 | Mobility 8/10 |
---
Moveset
Common Attacks
Oshelia's basic moves are... surprisingly actually basic at their core. Oshelia utilizes karate for her attacks; she can chop, stomp, and roundhouse kick her enemies at blinding speeds, which work efficiently and chain very well into each other. When it comes to her throws, she uses some judo to boss them around instead. Her heavy tilts have her blast a spray of water from her Pressure Guns, which push her enemies far away while dealing rapid-hit damage to them. Her strongest attack deals high damage should all hits connect: her forward aerial. She will perform a series of flutter kicks forwards in the air before subsequently flipping back onto her feet, which deal a lot of damage if they're all connected together. Besides this attack, her only other different attack is her jab; this is just a simple three-punch combo that ends with an uppercut chop.
Special Moves
Neutral Special: Pressure Burst
Oshelia will pull out both of her Pressure Guns and charge them up at the same time. When the player's ready, she'll blast water from both of these guns simultaneously, with more applied pressure meaning more water she'll bust out from both guns. These work as a distancing tool to push her foes back far, especially at full charge, and as a damaging weapon. The player can move around while charging, so Oshelia can choose which distance she needs to be at before she blasts off the weapon. If she tries to use the Pressure Guns too soon after firing, the resulting blast won't be as strong and will gradually get weaker until it's left to charge.
Forwards Special: Bubble Slide
Oshelia will act as if she was on ice, moving across the floor by sliding across it. If she jumps, she will jump up and spin multiple times with her hands out to brutally slap down anyone in her way. When the player presses in the opposite direction, Oshelia will skid to a halt and turn the other way with her momentum kept, with the skid creating trapping bubbles that keep in foes and damage them. It deals more damage than Pressure Burst, but doesn't keep in enemies for as long. If the player mashes the attack button, Oshelia will perform a series of fast-moving karate chops that are sure to keep her foe busy in pain.
Recovery Special: Pressure Jets
Oshelia will use her Pressure Guns to blast the area below herself, giving her plenty of vertical height. The amount of horizontal distance she crosses depends on the momentum she had before blasting the guns. The gun blasts have a meteor effect, shooting foes down towards potential death.
Crouch Special: Enemy Scan
Oshelia will pull out her scanner and viciously scan the enemy. She will detect their stronger body bits (green) and weaker body bits (red) as well as detect the sourspots of an attack (purple), the average hitboxes of an attack (blue), and the sweetspots of an attack (white). These "boxes" will disappear within 10 seconds.
Hyper Moves
Neutral Hyper: Freezing Beam
This move is very similar to Pressure Burst in how it is charged up, but the execution of the attack itself is significantly different. Oshelia will instead burst out a freezing horizontal beam from her guns, which will travel across the screen and trap anyone it hits within ice. They will then have to struggle to break free, allowing Oshelia to head in for the kill if she wants or take time to scan the enemy.
Forwards Hyper: Scalding Slide
Similar to Bubble Slide in how it is executed, but again, the attack itself is very different. Oshelia will make harsh blue flames when she skids across the floor, having these flames catch onto a foe and spread all over their body, dealing plenty of damage especially if Oshelia can skid over and over in almost the same place. The foe will have to move left and right repeatedly to get these dangerous flames off.
Recovery Hyper: Cascade Leap
Oshelia not only leaps up a further distance, but she will fire her guns diagonally backwards, granting her much greater distance and giving her plenty of forwards momentum, and her blasts are much harder to dodge since they are moving more horizontally than vertically.
Crouch Hyper: Deep Scan
Oshelia will scan her enemy even deeper. However, instead of any boxes showing up, Oshelia's eyes will simply flash white as she says "I found a weak point~". The next attack she does will be a critical hit, dealing 5x the usual amount of damage and launching the foe back massively. If she whiffs it, though, she can't fire it!
ZONAL FEVER: Seal the Deal
Oshelia summons an enormous seal, nicknamed Happy Flappy, which she climbs aboard in the background. Then the seal will jump nice and high before landing right down onto the battlefield, crushing anyone underneath its weight. It will then bounce back down up to five times before it exits. The player can control where the seal bounces while Oshelia rides it, with each successive bounce getting lower and lower to make it tougher for Oshelia's enemies to get away from the incoming impact.
Animations
Entry Animation: Oshelia comes in with a splash, coming down from above below a pouring cascade of water, tweaking her reading glasses a little bit as she twirls around, her lab outfit drifting in the wind a little.
Idle #1: Oshelia flips through pages of her scrapbook, occasionally looking up to take photos of her enemies, curiously laying down an image of the competition in her book before tucking it away.
Idle #2: Oshelia tweaks her glasses again, having them flash white as she writes down notes on a clipboard, occasionally looking up to make sure she's not going to be attacked at any point soon.
Taunt #1: test
Taunt #2: test
Taunt #3: test
Victory #1: Oshelia smiles and laughs innocently, twirling around a pen in her hand as she snidely says "Swim with sharks and the consequences will be the last things you endure."
Victory #2: Oshelia lets out a nice, loud hearty laughing fit as she places down photos of beaten foes in her scrapbook, occasionally beaming at the player as she tweaks her glasses.
Victory #3: Oshelia giggles to herself, saying "Are you done playing in hot water yet?" as she sits atop a water tank, filled with many fish. If Jezebeth lost to her, she will be in the tank.
---
Alternate Costumes






Clair
Name
Clair Voyell
Mass
5'07" at 130 lbs
Birthday
July 23rd, age 25
Gender
Female
Sexuality
Unclear
Alignment
[variation of] Good
Home
Alafino, Sector 6
Occupation
Clairvoyant, supernatural hunter
Weapon
PSI Batons
Powers
Psychic

Clair Voyell's a professional at her two careers- not only is she a masterful clairvoyant that can detect the written future and spiritually connect with realms outside of average human perception, but she's also a fantastic supernatural hunter that can track down any notorious creature and help others take them down! Working alone at her own fortune teller booth in the city of Alafino in Sector 6, Clair Voyell's day-to-day job is to predict others' futures for a fee and give them suggestions on how to avoid potential catastrophes and how to move along the right paths. If she's closed up shop, however, she's detected a supernatural oddity and is working to remove the abnormality from existence outright! Working with the likes of her boyfriend Pierce Hazel who can destroy these targets with his bare hands as well as her friend Nomila Rouse who likes to document and detail these monsters, Clair is very successful with what she does and is a guaranteed help when asked for assistance by others. Clair is so skilled in her field that she doesn't honestly need Pierce and Nomila to help her take care of the supernatural beasts released in the Kilmister disaster project, but she has them anyway since she likes company.

Clair Voyell is a serious type of individual that never hesitates to get the job done, rarely showing signs of cowardice or fear among her friends and being practically invincible to manipulation or trickery since her unusual perceptions can let her detect what's real and what's fake. She does not like to make haste or otherwise goof off and tries to command her team to get back on schedule as soon as possible, provided they're chasing after threats or doing something else that's really important. This said, sometimes she will slide in a bit of mischievousness or sneakiness into her personality when things are moving soundly and try to come off as extra perky, but it will sound rather forced if she's generally irritated. When she's doing her fortune teller business, she tries to sound much older and much more dire, especially when she's equipped with the heavy robes she usually wears when handling a crystal ball. However, her crystal ball has unveiled a lot of the dark secrets of her family she never wished to know- seeing what her father was like, seeing how her bloodline's history has fared in the end, such knowledge curses her for all the wrong reasons. As such, Clair sometimes comes off as unstable or kind of attention-grabby.

Clair's biggest weakness lies in the fact that she's the only one that can see the fourth dimension and sense things and objects beyond usual human perception, meaning that she's frequently alone in what she sees and feels- if she didn't have Pierce Hazel, the bearings of the past and future would have let her kill herself a long time ago from immense psychological stress. Sometimes she will lash out at others or show her intentions to go her own way when things don't work quite as planned, even if she's wrong and they're right.

---

Likes: Pierce Hazel, Nomila Rouse, hunting the supernatural, detecting gods as planned, predicting others' futures (usually), cotton candy, showing she's capable as a worker with or without her mother
Dislikes: People not believing in her clairvoyance, seeing the horrifying events of the past and future, making haste, losing her work, goofing off, her teammates goofing off, knowing she's attention-grabby, coming in contact with supernatural forces
Gameplay Details
Analysis
Clair is a floaty middleweight character boasting strong mobility overall and ridiculously strong aerial speed. While not being as technically advanced as her partner when it comes to her powerset, Clair's got a significantly stronger defensive game, and has a much better time guarding herself from attacks. Clair excels with stage control, using her psychic powers to generate spiritual blocks that either guard herself or can be used as projectiles. Players that have the upper hand in battle can use Fortune Teller to give Clair boosts because of her good luck and track down enemies with decently powerful attacks, rewarding players that play fine. She can effectively keep her enemies at bay using her long range powerset, with her PSI-made batons giving her way above-average range and effectively pushing enemies back, allowing Clair to use her otherwise sluggish psychic abilities.
However, Clair's got a small handful of problems she needs to deal with. Like Pierce, she's a lofty character with good speed- however, at the cost of being nowhere as fragile, she's not as strong nor as fast as him. This is a huge detriment to her moveset, as it means that she can't necessarily overwhelm her enemies with those attributes, which is a problem in a game that's full of reasonably speedy characters. Her PSI Batons also pose a problem; though they have some of the longest range out of any weapon in the game, they also grow weaker and become shorter as Clair takes more and more damage; Clair performs best when she's at full health and thus players that have been weakened may find it too late to make a reliable comeback once their health has fallen below 50%. Careless players will become much easier to beat up than careful ones, meaning a lot of strategizing is involved in playing Clair.
Overall, Clair is a fine character with a good handful of advantages in the right player's hands, but careless players won't be able to enjoy her powerset since it requires Clair to concentrate mid-battle to be effective.
| | | |
| --- | --- | --- |
| Stamina 7/10 | Middleweight Class | Appetite 6/10 |
| Offense 2/10 | Defense 8/10 | Mobility 9/10 |
---
Moveset
Common Attacks
Clair's basic moves make extensive usage of her PSI Batons, which are weapons that grow in size and receive more weight the more concentration Clair has. The higher Clair's Stamina happens to be, the greater her PSI Batons become, but if she's even at just 50% of her health, their power is halved and their range becomes far more abysmal, losing two-thirds of their size. However, when Clair's at maximum health, her batons are among the game's longest-reaching weapons and function as great spacing tools. Clair specializes in not just spinning these batons around repeatedly like battering tools, but she also shoves them around and is capable of bashing them into her enemies. When Clair's Stamina is at its highest, the sizes of her sweetspots moderately improve, as does their power. Clair's strongest attack with the batons is her forward heavy tilt, which has her thrust both batons down like hammers.
Special Moves
Neutral Special: Clairvoyance Shield
Clair will flash her eyes white, which will allow the player to detect numerous semi-transparent supernatural blocks that have a possessive white glow around them. These will rapidly float around Clair's body defensively and float around her in all 360 directions, phasing through the ground if necessary to do this. These blocks form a somewhat wide shield together, which enemies need to break through if they wish to attack Clair. If Clair has at least 80% of her Stamina, her batons have enough reach to phase through the shield, allowing her to attack enemies as they try to break her shield. She can use her other specials when inside the Clairvoyance Shield. If the player uses the neutral special combination again while her shield is still up, she can throw all of these blocks together as a series of projectiles.
Forwards Special: Fortune Teller
Clair will predict the future, a magenta glow shrouding her body with pink mist as her whole physique appears to shudder. Fortune Teller will either tell a grim end for Clair or a good future for her, respectively casting bad or good luck depending on how well Clair is faring in battle. If Clair has the upper hand, Fortune Teller will support her and give her small boosts for each stat, allowing her to briefly auto-heal. If she's close to an enemy, it will instead send a ray of dazzling light in their direction, sending more rays if her health is above 75%- these rays deal good damage. She can't use Fortune Teller too frequently, though, as the start-up is somewhat slow. If she has bad luck, like if Fortune Teller predicts she'll lose, then she will be cursed by not receiving anything from the move, making her waste her time and opening her to attacks.
Recovery Special: Optimistic Liftoff
Clair will concentrate her willpower into levitation, allowing her to free float around the stage and gain momentum through heavy concentration with her mind. She will auto-fall if the player is not holding the jumping option down, meaning that she will be somewhat rocketing up and down at the player's command. Once her glow dies down from magenta to white, she will begin to descend down to the ground without the ability to ascend- she will not be helpless and can still attack in this state, however. On the ground, instead of lifting into the air, she will instead boost her optimism for 10 seconds with a 7-second cooldown, allowing her to increase the range of her PSI Batons and regain lost strength for that amount of time if her Stamina is low.
Crouch Special: Mind Reader
Clair will read the mind of whoever's in front of her, allowing her to not just hear the enemy's thoughts, but also echo sounds in their head to damage them and temporarily bust up their controls. It's relatively simple when compared to the rest of Clair's powerset, but it has better range when Clair's at high Stamina, and works well when Clair's Clairvoyance Shield is active and when she's been boosted by both Fortune Teller and Optimistic Liftoff. Below 33% of her Stamina, Clair cannot concentrate enough to use this move.
Hyper Moves
Neutral Hyper: Clairvoyance Explosion
Clair will once again detect several supernatural blocks and surround her whole body with them. However, when the player presses the special attack button, these blocks will quickly close in on her body before being forced away from Clair's war cry, creating a magnificent white explosion that pushes enemies away from Clair's body. It destroys the shield, but pierces enemy defenses if they're directly within her attack radius.
Forwards Hyper: Fortune Blessing
Clair will collect as many optimistic thoughts as she can possibly carry and surround herself with a golden aura and mist as she does. She will absorb all of these thoughts and give herself magnificent buffs, with foes that come too close getting hit and taking damage by the positive rays of light that flow into her body very fast. Her whole body will glow golden for a brief period of time, and her stats will be kept for as long.
Recovery Hyper: Optimistic Rocket
Optimistic Rocket isn't necessarily very different from Optimistic Liftoff, except Clair will be able to concentrate for longer and drift around much more. On the ground, however, she will be able to double the time she has with maxed-out stats, allowing her to play very fine indeed if she's at low Stamina. It's good to save some of the HyperDrive meter for when her health is low, just for this move alone.
Crouch Hyper: Mind Shredder
Clair will be able to read an alternate thought from her enemy as she actively shreds through their mind with a series of loud echoing sounds, destroying their mind effectively and doubling the time their controls are reversed. The enemy will certainly suffer for much longer if they get hit by this attack, especially if Clair's at high health, which allows her to utilize a variety of attacks against them.
ZONAL FEVER: Voyell Reunion
Clair blows on a whistle, summoning numerous alter egos from her head (Setsi, Audri and Zinico, who each specialize in sentience, clairaudience, and cognizance), with all four boasting PSI Batons in their hands. They will each stand on a stage together before twirling their batons around, gathering their thoughts into this enormous white fireball that's blistering with rage. All four Clairs will then attack the fireball at once with their PSI Batons, hurling the fireball into the battlefield to deal immense damage. Clair will gather her alter egos back into her brain as the fires will persist temporarily before disappearing.
Animations
Entry Animation: Clair will gently flutter down from up high, sitting in a relaxing position with her legs criss-crossed before opening her eyes, warping onto her feet and pulling out her PSI Batons at maximum size.
Idle #1: Clair will generate a crystal ball within her hand, looking into various non-spoiler cutscenes that occur over the course of the game's story mode, which are all played in fast motion. She will then squeeze the ball within the palm of her hand, making it disappear as she returns to battle.
Idle #2: Clair will rush her head around a little bit, raising her hands a bit as she concentrates on her spirits, sitting in a meditating pose. She will not move out of this pose until the player decides to move her body, causing her to warp back onto her feet.
Taunt #1: test
Taunt #2: test
Taunt #3: test
Victory #1: Clair will rise high into the air in a meditating power, mid-air sitting in front of her crystal ball, which tells a good future for Clair as the candles on the floor flicker.
Victory #2: Clair leans against the wall, hungrily eating away at cotton candy, licking at it as the results screen plays. If the player waits three minutes, she will finish the whole thing, much to her disappointment.
Victory #3: Clair will keep her enemies alive for this victory pose- as they sarcastically clap for her, she will read their minds to hear just what exactly they had to say about that match.
---
Alternate Costumes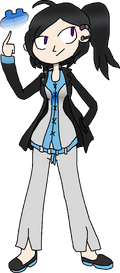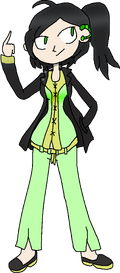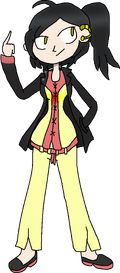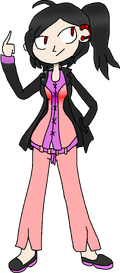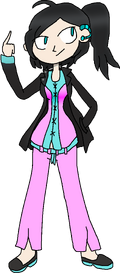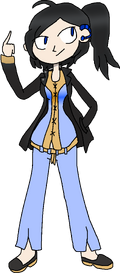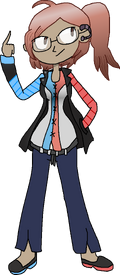 Smartie
Name
Smartie Sassface Caramel
Mass
5'11" at 167 lbs
Birthday
August 10th, age 22
Gender
Female
Sexuality
Bisexual
Alignment
Chaotic Neutral
Home
Alafino, Sector 6
Occupation
Freelancer spy
Weapon
Ember Claws
Powers
Fire

Smartie Sassface Caramel's a triple-employed freelancer spy that works for three separate agencies, investigating scenes and soaking in the action and drama and reporting back to her employers. Her objective is to spy on numerous suspicious individuals and provide as much information and detail as possible about them, occasionally being requested to go on live television to talk about her findings. These agencies are all rivals of each other, though, and are not aware that Smartie's working for all three of them, let alone spilling their secrets anonymously on the satellite's Wi-Fi! Smartie's goal is to shut down the privacy invasion tactics deployed by these three companies and absolutely demolish their reputation. You might think that Smartie's goals are for the benefit of people on the satellite exclusively, but plot twist! She just wants to shut these agencies down so she can return to spying on others at her own pace and working with individuals that are willing to pay her handsomely for her services. She actually adores spying on others and gets considerable enjoyment out of it. Don't worry, she never actually publishes what she finds! All the footage she has is in her shambles of a house.

Smartie's a mischievous person that thoroughly enjoys getting herself into trouble, behaving slyly and suspiciously in the public eye and purposefully making things awkward for everyone around her. She's also very flirty and playfully needy, begging others to let her stay at their home while displaying deep affection them simultaneously. She can be instantly recognized for her extremely odd yet warming accent- she purposefully speaks in a childish manner, using "dat" instead of "that" and "dere" instead of "there", etc. She doesn't care for saying the words right, enjoying the freedom of saying whatever flies off her tongue rather than paying attention to how she speaks. The freelancer spy's rather lazy when not out and about, preferring to crash at home or others' houses and taking advantage of the situation around herself to propel that laziness further. She's a big party-goer type of person; she'll beg for invitations to others' parties and always make it on time even if she's got serious matters to attend to, and will weekly set up parties at her own house. You'll almost always see her drinking heavily during these parties. From all of this, you might assume Smartie's not the type of person to care about her responsibilities 100%- and you'd be right!

Smartie's the youngest sibling of the latest Caramel generation, and unlike General Scotch and General Snickers, she decided to become a spy and work as a freelancer because she enjoyed her mischievous side more than her serious side. Smartie's a vampire- it's assumed that she made love with a vampire during one of her spying adventures and simultaneously came in possession of one's qualities. This means that she doesn't enjoy light that much and prefers to hang out in dark and shady spaces. Though Smartie has a good grip over her emotions, she's frail when it comes to talking about her past relationships, which all ended in failure. She's currently dating a man named Brook, who's currently resilient to her issues.

---

Likes: Being mischievous regularly, being reckless, being a couch potato, slurping up blood, blasting intentionally lame insults, being crazy in love, pulling pranks on the innocent, exhibiting everything about herself, jamming to classic music, making fun of strange vampire fiction, spying on other people, learning about others' interests, sneaking in through people's doorways, eating a worrying amount of potato chips
Dislikes: Being told what to do, any rule sheet in existence, bossy people, doing work, being told to "speak English", being caught spying
Gameplay Details
Analysis
Smartie is a lightweight character with a medium hitbox and heavy gravity, having incredible mobility overall and being among the game's speediest characters, having decent range with her Ember Claws and great frame data. She's a "Keep Away" type of fighter, preferring to glide in and out of the opponent's space to land just a handful of attacks before pulling away. Her moves do not excel in damage, but she's an "annoying" type of character as she will keep her foes at bat without letting them act or retaliate. Smartie has a distinct advantage in always being able to win the neutral game when under the hands of a skilled player against an unprepared foe; she moves so absurdly quick that she can go in for the kill essentially whenever she wants. Her overwhelming speed also allows her to chain a number of her attacks together, capable of dealing massive damage if she can keep her streak going. All of her attacks have the unique "Lifesteal" effect, letting Smartie heal some of her HP after it's been lost.
In spite of her incredible offensive presence, Smartie does suffer from numerous weaknesses and has perhaps the greatest assortment of them. First off, Smartie notably lacks any good killing moves and has trouble putting her foes down, mostly specializing at picking at their health rather than directly draining it. Nearly all of her moves are incapable of launching foes away from Smartie; while this helps with chaining attacks against her enemies, it keeps foes close to Smartie and frequently puts her in danger of getting smacked down. She is also among the game's lightest characters and has among the poorest defenses- this makes her very easy to launch, especially into walls, and makes her lose a considerable amount of Stamina. Lacking directly damaging projectiles for the most part, Smartie's forced more often than not to be lured into danger so she may strike her foes, which can be dangerous if the foe's prepared.
No matter whether she's on the ground or in the air, against zoning/camping foes, or being challenged by a heavy hitter, Smartie's advantage in having the best top speed in COLD❄BLOOD makes her a character that's tough to stop once she gets going.
| | | |
| --- | --- | --- |
| Stamina 7/10 | Lightweight Class | Appetite 3/10 |
| Offense 2/10 | Defense 3/10 | Mobility 10/10 |
---
Moveset
Common Attacks
Smartie's movepool has relentless blinding velocity and aggressiveness spread across it, with her moves coming out ridiculously fast and capable of chaining consistently into her foes. With some of the game's best ground-to-air transitioning and back, she can throw together almost any move and move her foes airborne without much of an issue. These moves do not deal much damage at all, frequently dealing as little as 3% damage on their Stamina and dealing as little as 0.32%, and therefore she needs to throw these attacks together quickly if she wants to dish out some scorching pain. Many of her moves are based around breakdancing techniques as well as suggestive poses, with the flair and professionalism of a successful porn star. Her basic moves make the best use of her Ember Claws; she will be frequently slashing at her enemies with flaming fingers if not kicking them around.
Special Moves
Neutral Special: Echoing Screech
Smartie will stand up straight as her head slowly leans back, slowly glowing red in the face as her shoulders rear back. When the player's ready, they can let go to let Smartie blast off supersonic waves, which will force her foes to back off while dealing minor damage to them. The further her head was reared back, the louder and wider this attack is and the more damage and knockback that will be dealt. This move covers a surprising amount of range when fully charged and is somewhat impossible to avoid if the foes remain in front of her. However, if she's attacked during the animation for Echoing Screech, it will be interrupted and she'll be forced to reset.
Forwards Special: Throat Pursuit
Spreading out her hidden black wings, Smartie will suddenly dive forwards with her palm stretched out, afterimages of her playing as she dashes forwards. If she clutches onto the enemy, she'll grab at their throat and crunch down upon it with her fangs, sucking plenty of health from their body before letting go of them. It won't deal much damage truthfully, but it still heal her fairly well. Unfortunately, missing with this move means that Smartie will be forced to fall helplessly, sliding across the ground face-first if so. This will leave her very open to punishment. The move can be predicted by watching Smartie bring a claw back right before she dashes.
Recovery Special: Butterfly Dash
Butterfly Dash is among the simplest recovery moves in COLD❄BLOOD, simply having Smartie flap her wings twenty times as she dashes in any direction. She will then fall helplessly. There's no plot twist to the move, there's no attack involved with the Butterfly Dash and it just travels an average distance.
Crouch Special: Wavering Heart
Smartie will wink at the screen as she blows a kiss, forming a heart that moves up and down in a wavy pattern as it moves away from her body. If the heart comes in contact with one of her foes' bodies, they will be put in a dizzy state and have hearts plastered over their eyes, preventing them from moving temporarily. Smartie will then be able to go in for the kill and lay her damage down. Though the heart will keep her foes stunned even after she attacks them, the heart has very low priority and can be broken with almost any projectile or attack.
Hyper Moves
Neutral Hyper: Incinerating Screech
Instead of supersonic waves, Smartie will breathe out enormous succubus flames from her throat, which will travel across the ground or directly horizontally through the air in a wave-like pattern. These will deal quite a bit of damage and pass through foes, allowing it to attack numerous foes until the flames disappear. The flames have a tendency to somewhat home in on Smartie's enemies.
Forwards Hyper: Blazing Pursuit
Cackling loudly, Smartie will reach forwards with a flaming claw, leaving a trail of fire across the ground as she makes her new throat pursuit. If she clutches onto her foe, she'll drag them across the floor as she burns them up, sucking health from their body as she does. Once again, this move remains punishable if it misses, and the same consequences from Throat Pursuit are applied here.
Recovery Hyper: Fireball Burst
The execution of this move is similar to Butterfly Dash, but now Smartie will have her claws stretched out as she flies, which will be on fire. If she comes into contact with a foe, she'll screw into them with the flaming Ember Claws until the move's animation ends, making her fall helplessly.
Crouch Hyper: Heartbreaker
Similar to "Wavering Heart", except it's a black heart and it will directly home in on a foe instead of move in just one direction. If this heart collides with her enemy, it will bring them down to their knees, absolutely paralyzed. Smartie can either chain her attacks against them in this state, or use the special command again so she can strike them through the chest instead, dealing a good 20%'s worth of damage.
ZONAL FEVER: Kiss of Death
Smartie will let out a loud triumphant laugh as she glides her way across the floor, grabbing any enemy in her path. She will then soar way high into the air, way above the fighting platform. She will then kiss them fiercely on the lips, secretly using her nails to break through their skin while they're under the paralysis shock, and then dive back down with them so she can suplex them into the floor, severely wounding them and being capable of taking out over 50% of a foe's entire stock. Note that with Scotch, she'll pretend to make a kissing motion before striking him across the face with her hand before moving down with him.
Animations
Entry Animation: Smartie will appear from a crimson portal, bats springing away from her as she stretches out her Ember Claws, yawning before smiling mischievously and striking a menacing but playful pose.
Idle #1: Smartie cackles deviously, springing herself into the air and mischievously floating as she looks through a pack of tarot cards, shuffling through them in a blinding instant before pocketing them.
Idle #2: Smartie lulls her eyes seductively as she leans forward on one foot, making a beckoning gesture with her hand as crimson flames light from her fingers, the mirror on her necklace glowing to represent her charm.
Taunt #1: test
Taunt #2: test
Taunt #3: test
Victory #1: Smartie will fly her way in, cackling mischievously to herself as she snaps various photos of the destroyed opposition, moving her head away from the camera to wink at the player and stick out her tongue. She'll say "Take dat, sveetums~" as she does.
Victory #2: Smartie will strike a number of gorgeous poses while saying "Dere dere, little one, I von't hurt ya~" before pretending to swoon, abruptly beginning to float midair using her vampire wings as she grins and picks at her teeth with a pick.
Victory #3: Smartie will face her back to the screen, her arms folded as she stands still, saying "By da time I'm done vith ya, yer not gonna be valkin' anytime soon~" before turning her head to face the camera, all of her pearly whites shown as she tosses and catches her camera.
---
Alternate Costumes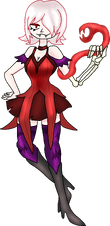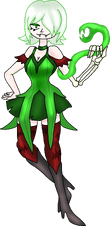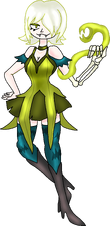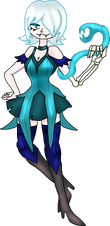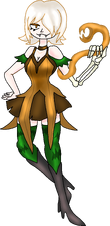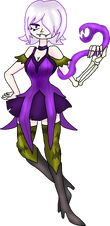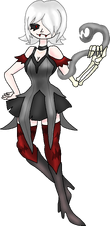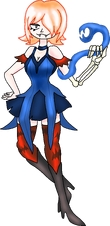 Dusty
Name
Dusty Velocizivitize
Mass
5'07" at 200 lbs
Birthday
February 1st, age 16
Gender
Male
Sexuality
Heterosexual
Alignment
Chaotic Good??
Home
Homeless, Sector 6
Occupation
Unemployed; part-time lemonade stand operator
Weapon
Sand Stick
Powers
None

Dusty Velocizivitize may be an incredibly clumsy oaf and he may be among the stupidest individuals aboard the satellite, but he's a charismatic and friendly dude. Though one might get the impression he's blind, he only wears the blindfold for sport and looks very uncomfortable if it's not wrapped around his eyes like it always is, even when he's showering. He's not completely blind, though- he has an incredible sense of smell and uses his scent to bring himself around, and knows enough Braille to be able to live blind, even though he's not blind. Consequently, it's not a perfect substitute for his lack of vision, and he still winds up breaking things with his Sand Stick and getting in hot water stupidly fast. Because of his clumsiness and incompetence with simple instructions, lured by smells of all types, he's been unable to get a job and remains unemployed. He has tried to get several jobs before, even through working with friends, but that rarely works out for him as intended because he breaks more than he makes. Currently though, he's working as a lemonade stand owner with his (legitimately) deaf sister Sandy, and makes a bit of money off of it.

Dusty has this whole "cool image" thing going on with him, thinking he's super radical and that he needs to pop around everywhere, even at the most inconvenient moments. He's super dorky and nerdy, frequently communicating his interests even if nobody is paying attention to him whatsoever, and his social skills let him into various friend groups at a time. He's so full of himself, he thinks he's perfection in anyone's eyes- he'll fight as a warrior for friends like Crymsia Rose or Penny Wisyneat, only for his competence to let him get thrown to the ground, and even offer to perform ridiculously difficult tasks that not even Silver has the gut to take on! Even through the training he's been taking from Ms. Rose to become a stronger individual overall, he's still a young clueless boy and is still getting himself into trouble a lot. This all said... he's a joyful person that's good at lightening up the mood, and is always unaffected by unpleasant situations or scenarios- even if nuclear disaster happened aboard the satellite! When he's pissed off enough, though, he will throw his clumsiness aside and throw off his blindfold, using combined strength and scent alike to decimate and rip apart enemies when they least expect it.

Dusty emerged from a tribe that wasn't exactly known for their experience with gadgetry or society, and thus Dusty's somewhat clueless even several years into his stay in Sector 6. He's still learning how to make anything work and requires a lot of help from his friends to get things going, but he's working towards getting a job as a baker anywhere aboard the satellite. Luckily for him, he's learned how to type blindly, albeit requires visual assistance from a partner.

---

Likes: Penny Wisyneat (crush), Crymsia Rose, sharing his interests, wanting to be cool, training to become the ultimate warrior, daydreaming about his successes, joy and optimism, wearing his blindfold, playing spin the bottle
Dislikes: Being scolded for his recklessness, being told to take off his blindfold, being forced to take off his blindfold, attempting to learn new things, getting rejected from a job, getting into trouble, people yelling at him for not getting a job, people in his family distancing themselves from him
Gameplay Details
Analysis
Dusty is a pseudo-heavyweight fighter that's a bit under the average fighter height threshold, having good mobility overall and having strong moves across his whole moveset. Dusty's weapon, the Sand Stick, has more range than a majority of the cast's weapons and grants Dusty an advantage by allowing him to poke at his foes with moderately-powered attacks and then make a safe retreat. As he's a glass cannon archetype, many of Dusty's attacks dish out high amounts of damage overall, and his generally good frame data allows him to string these moves together rather well. Several of Dusty's specials have incredible utility; Skull-Piercing Blows, for example, can ignore enemy parries and deal high damage, which helps Dusty's offensive game. With his Sandstorm Shield, Dusty will form a shield of debris that covers his sides- he can use the debris to defend himself, or thrust at it with his Sand Stick to launch them off like projectiles.
Being a glass cannon, it should be little surprise that Dusty's defensive play is rather poor, as his Stamina is among the worst across the game's entire roster. He cannot take too many hits, or he'll be toast within seconds, requiring players to master his range level and use all his specials to their advantage. This is especially important as he has only decent mobility, allowing a good percentage of the cast to keep up with him and strike him however they see fit. Dusty does not have to rely on capitalizing others for making bad moves in order to win, because his Sand Stick gives him enough range to let him outright interrupt enemy assaults, but the player does need to precisely move him around so that enemies don't take advantage of his poor stamina. Lastly, Dusty lacks any projectiles outside of Sandstorm Shield, preventing him from reliably attacking foes at a distance.
Dusty's a typical glass cannon- you have to manage his Stamina carefully and be careful to not his guard down, but once there's an opportunity to strike, you're rewarded with chances to use obscenely powerful attacks that can quickly end just about any match.
As a side note, Dusty will always be facing towards his enemies, as he must smell their scent in order to battle them the way he does with his blindfold on.
| | | |
| --- | --- | --- |
| Stamina 2/10 | Heavyweight Class | Appetite 5/10 |
| Offense 7/10 | Defense 7/10 | Mobility 7/10 |
---
Moveset
Common Attacks
Dusty's attacks almost always involve the use of his Sand Stick, which he uses in numerous ways. He can slap it forwards three times, then throw out a palm attack that blasts the foe away, at least as far as his jab combo is concerned. He can also strike down or upwards with it like it were a sword of sorts, skewer it forwards to deal multiple hits' worth of damage to an enemy, or twirl it around like a tornado above himself like in his upwards aerial attack. They're also used in both versions of his tilts, whereas he performs baseball batter-like swings with the weapon. There is no real exception to the rule; one way or another, all of Dusty's completed attacks use his fancy Sand Stick in some meaningful way.
Special Moves
Neutral Special: Skull-Piercing Blow
The Skull-Piercing Blow is a move that's immensely difficult to punish, thanks to its overwhelming level of strength and how quickly it is performed. Dusty will pull his Sand Stick back, then thrust it straight forwards to impale through the enemy, breaking any Parry there might be going on to hit all targets in his path. The further back Dusty pulls back on his Sand Stick, the harder he'll thrust it forwards, dealing significantly more damage with the weapon. He can also perform this attack midair with much the same efficiently. If the player holds left or right while using this attack, he will walk forwards while performing the blow. He can also reverse the thrust to strike in the other direction.
Forwards Special: Blinding Twister
Dusty will cloud himself within a twister, being capable of moving around left and right rapidly while slowly rising into the air, spinning around like a ballerina as he takes foes up with him through the air before launching them off with a high-powered strike. This move has a lot of ending lag, meaning that if Dusty doesn't land the attack with this move, he will be opening himself to trouble. If Dusty doesn't catch onto any foes within a few seconds, he will thrust his stick into the ground so he can stop all of his momentum in an instant.
Recovery Special: Blistering Uppercut
Dusty will race forwards a little bit before performing a strong uppercut with his Sand Stick, reaching high into the air. He will burn through enemies as he moves up and deal impressive amounts of damage if every single hit can land. If the player presses the special attack button again, he will cancel his jump and make a sharp diagonal dive with his Sand Stick, aiming for the ground. All enemies in his way will be caught by the momentum of the attack and be taken with him towards oblivion. If Dusty completes his ascent, he will not fall helplessly and can then use his dive attack as well as any other move of his choice.
Crouch Special: Sandstorm Shield
Dusty will shield himself with rotating debris that will hover and rotate around his body, serving as a shield that blocks attacks from both sides. Dusty can launch the debris like projectiles through usage of the Sand Stick, or alternatively spread them away from his body via his Blinding Twister, but this will remove his horizontal defenses. Dusty remains vulnerable from above, but if Dusty attacks normally, he will not hit any of his projectiles, allowing him to still fight as usual when using this move. It takes a while for him to get new debris, however.
Hyper Moves
Neutral Hyper: Heartbreaker Blow
Similar in execution to the Skull-Piercing Blow, Dusty will again blast his Sand Stick forwards. The catch is that several cracked pink hearts will escape from the collision impact when he lands his hit. This will dizzy the enemy and force them to stumble around a little bit, allowing Dusty to follow up with another strong punish, which they can do by simply pressing the special button again to launch them high in the air.
Forwards Hyper: Twister Valley
Dusty will twist himself around even faster, covering more ground as little tornadoes escape from his body and travel off around the scene, slightly jabbing any enemies they hit and possibly putting them in the way of damage. The tornadoes will automatically target enemies, but they won't all move in the same direction, meaning that it's not necessarily guaranteed they will be put in Dusty's direction. They're still hard to dodge, however.
Recovery Hyper: Mindbreaking Uppercut
Dusty will perform a stronger, harsher uppercut that has only one huge hurtbox, dealing impressive damage once it makes contact with his enemy. This will cause his foe to fall into a helpless state after the move, thus eliminating their ability to get their vengeance on them unless they have an extra stock or they're able to make it back onto land in time. Can be blocked by a Parry, but isn't recommended because of this move's speed.
Crouch Hyper: Sandstorm Bide
Dusty will surround himself with dust, glowing red for every bit of damage he takes as he halves the damage taken overall. This move functions like a counter, but won't drain the HyperDrive meter until he executes this attack in its final form. The power of this bide grows stronger if he takes immensely powerful attacks, and once he's countered five attacks, Dusty will summon a shield of debris and launch them all forward at once in the form of a huge ball. The more damage he's taken, the bigger the debris will be!
ZONAL FEVER: Just Desserts
Dusty will summon a sandstorm around himself, which will whip around the battlefield and damage foes by minuscule, rather ineffective amounts, but it does keep them rather still. However, the real meat of this move comes from the numerous desserts that get served to him on a plate by the maid Yemen from the Moore Lounge! He can then eat up all these desserts, boosting random stats and allowing him to regain lost Stamina, allowing him to get back into the fight without an issue after the 16 seconds end.
Animations
Entry Animation: Dusty will beat upon his chest, growling as he lunges his head around, sniffing the atmosphere before pointing his finger (almost) directly at the enemy, saying "Aha!" as he does.
Idle #1: Dusty will pull on his blindfold before letting it snap back above his eyes, wincing in pain a little bit before shrugging his head and returning his thoughts to the battlefield.
Idle #2: Dusty will scratch his butt, and then itch at it, making a grimacing face as he appears to be pretty distracted. He will then slap his itch and then return to the fight, a bit embarrassed.
Taunt #1: Dusty says "You can't get me!" as he starts to run the other way. He'll immediately trip, though.
Taunt #2: Dusty shouts out "Na na na na na!" as he steps left and right and blows a raspberry.
Taunt #3: Dusty will spin around before falling down and crashing into the floor. He'll then pick himself back up.
Victory #1: Dusty's dances all mock popular dances to an extent. This one is based off of the Fortnite default dance, with an Aztec rendition of the theme playing before a copyright brick is thrown at his crotch, causing him to groan in pain while quietly humming the infamous theme that goes with the dance.
Victory #2: Dusty does the floss in front of the camera, doing it perfectly before ending with a dab- he places his head into his elbow while extending his other arm far outwards. An anonymous person then clenches onto his arm and then swings him overhead to smash him against the concrete floor as he lets out a loud cat screech.
Victory #3: Dusty performs the shoot dance, doing it perfectly while being blind until he accidentally hops too far behind himself, falling off a cliff and landing with a thud. He then lets out a nice, clear "I'm okay, I'm just broken".
---
Alternate Costumes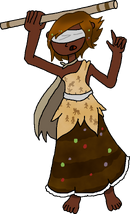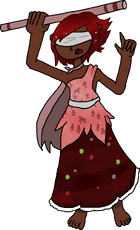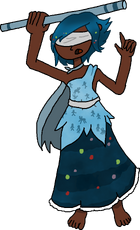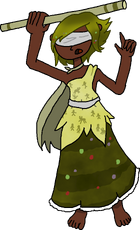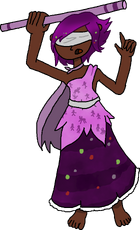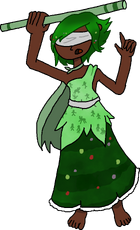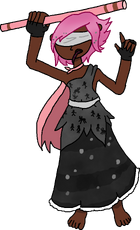 Manikin Man
Name
Ramen Zander, "Manikin Man"
Mass
3'10" at 281 lbs
Birthday
April 30th, age 36
Gender
Male
Sexuality
Asexual
Alignment
Lawful Good
Home
Sector 1
Occupation
Superhero
Weapon
Manikin Army
Powers
Radioactive

Manikin Man is an unusual superhero living aboard Satellite 15, being a nuclear-powered monstrosity of a man leading a group of deformed children referred to as his "manikins". This man's got several abnormalities about him when it comes to his personality and appearance, but those factors don't change just how willing he is to battle for the satellite's people and team up with the likes of Valerie Heartgold and General Scotch for battle. Manikin Man keeps a close eye over New Naxaz City, keeping himself well-concealed within trash cans and then bursting out when he sees crime to fight! He is considered something of a strong influence on the latest generation of humans aboard the satellite, easily beating up criminals and bringing justice whenever it's cried for. When not crime-fighting, he's either protesting against nuclear energy and how much it's destroyed him and his own family or hiding out in dumpsters consuming trash, as nothing can really make them any sicker than they already are at this point. Manikin Man is beloved by the satellite's people, but loathed by organizations like Mallorism and C.O.T.S.

Manikin Man has always been a highly energetic and confident superhero from start to finish, having much faith in himself and his group of manikins. Born in a radioactive-plagued town somewhere in Sector 1, he discovered just how wrong nuclear energy was because of how the nuclear contamination winded up enhancing his brain cells and shifting his interests at a young age. He's recruited many children from his hometown throughout his life to help him fight crime and call for resistance against nuclear energy usage across the satellite. Manikin Man is a very honest, but somewhat cheerful and funny man that likes to make things right, even if he has to be really careful about it in fear that he might accidentally radioactively poison someone with just his own breath. Due to his nuclear-induced defects, he behaves somewhat differently from the typical satellite citizen. He drools half the time, often looks wide-eyed, rarely eats or drinks, speaks with a mouth full of spit, and ferally growls when upset. While he struggles with his nuclear-infused body dysfunctions, he tries to become one with the human race and hopes to be fully accepted as a citizen by the public in spite of his oddities.

When nuclear energy becomes a topic, he audibly hisses and makes a lot of inhuman motions with his arms of unequal length, and savagely attacks anyone that is shown or heard supporting radioactive energy in any way. Over time, he has become more and more aggressive over this subject, becoming very political and potentially dangerous if provoked.

---

Likes: His manikins, the idea of world peace, guacamole, trash, rum ham
Dislikes: Nuclear energy, rich businessmen, stereotypes, how he looks, how he's not normal
Gameplay Details
Analysis
Manikin Man is a heavyweight fighter that's surprisingly enough the shortest fighter in the game, being nearly a foot shorter than the game's second-shortest, Oyster. Though he's one of the game's slower characters and is noticeably lacking in his power output, Manikin Man's attacks all inflict poison status onto the enemy, causing them to rapidly lose Stamina for a few seconds after one of his attacks makes contact. It's also worth noting that many of Manikin Man's attacks can stretch out and cover an obscene amount of distance, giving him deadly amounts of range and making him very dangerous to approach. His fellow manikins, which follow him around in battle and throw their own punches whenever their master does, can be thrown to latch onto enemies and be used to lift him around the battlefield effortlessly. Manikin Man plays well defensively, as his manikins will each parry when he does and his Atomic Scarab and Radiant Breath give his enemies many reasons to keep their distance from him.
Manikin Man does have his own flaws, however- his aforementioned sluggishness is his main weakness, rendering him too slow to counter much of COLD❄BLOOD's quick-footed fighters and having all his manikins vanquished will leave him wide open to all enemies' attacks. He also has his moveset design plagued with difficulty curves- one has to master how to guide his attacks in the right direction and keep a keen eye on his mischievous little manikins, atop of figuring out how to balance between poisoning his enemies and scampering away. If Manikin Man lacks any manikins, he won't have any recovery options and will lose one of his most important attacks, and he'll be incapable of using their Hyper variants as well as his ZONAL FEVER attack. Lastly, Manikin Man's range is a burden to work with; though rapidly attacking will increase his range because of his limbs branch off to make new ones, he will always have trouble reliably chaining these attacks together.
Overall, Manikin Man is a character that's very tricky to handle, but with enough practice, he can be very deadly in the player's hands.
| | | |
| --- | --- | --- |
| Stamina 8/10 | Heavyweight Class | Appetite 10/10 |
| Offense 3/10 | Defense 10/10 | Mobility 2/10 |
---
Moveset
Common Attacks
Manikin Man's common attacks usually involve him slamming his limbs about- interestingly, he can make his limbs "branch" and extend in length the longer the player continues to execute his attacks in a chain. For example, his jab range is fairly minimal at first, but rapidly jabbing will cause his limbs to extend further and further until their hurtboxes wind up being bigger than his whole body. In the air, performing an aerial will determine which way his arms will deform towards- say the player attempts to perform a forward aerial, then a down aerial, then a forward aerial. He will extend his hands forwards, then stretch his arms downwards, then stretch them forward again, in the shape of a lightning bolt. The more aerials he performs, the more range he will have at the base of his arm. His heavy tilts have him expand the size of his fists, giving him huge heavy-hitters.
Special Moves
Neutral Special: Radiant Breath
Manikin Man will breathe out a limegreen radiant flame, which will spread before him before disintegrating. Anyone caught in the way of his breath will take minor poison damage, but prolonged exposure to the radiation will cause them to take more and more damage the more times they've been caught in his dangerous breath. If one's been caught in the way of his breath a fifth time, they will take permanent poison damage until their stock is over and done with. If Manikin Man uses this breath too soon, its range won't be anywhere as strong and it won't be likely to poison anyone, so one has to wait a few seconds before he can throw out a fully-charged Radiant Breath again.
Forwards Special: Manikin Missile
Manikin Man will launch one of his three manikin children across the stage. The player can hold down on the special button to determine how far he'll fling them. If any of these children attach to an enemy, they will bite and bite until they're shaken off by the struggling enemy, sapping out their Stamina. Manikins that fall off will return to their master slowly, but they can be beaten up and killed before they can reach him, leaving Manikin Man no choice but to sprout more from his body. There is a counter next to Manikin Man's Stamina meter that counts how many manikins he has remaining- if all 3 of his manikins are beaten, the player must hold down on the Forward Special combination for six seconds to resurrect all three.
Recovery Special: Mutant's Ascent
Manikin Man's own little manikins will sprout wings, picking up Manikin Man and helping him soar into the sky. If he has all three manikins at his side, they will raise him high into the air at a quick velocity, but having only two or one manikin will mean he can't rise as high nor as fast. And if he has no manikins at all, recovery is next to impossible if he's falling off of the stage alone.
Crouch Special: Atomic Scarab
Manikin Man will set down a little metallic scarab beetle, which supposedly withholds the power of a nuclear bomb, all in a tiny little explosion. This beetle will crawl around after Manikin Man sets it down, usually scuttling away from his body but turning back towards him if it approaches an edge. It is somewhat linked to Manikin Man's own energy- if he jumps, so does the beetle. If Manikin Man uses the Crouch Special combination again, it will flash red before providing a powerful miniature explosion! One of the game's deadliest attacks, it can knock out Pierce in a single shot. Luckily for his enemies, this beetle can be kicked around with even low-priority attacks, and it can even be used against Manikin Man himself!
Hyper Moves
Neutral Hyper: Radiant Torcher
Manikin Man will breath out a much larger radiant flame, which will ignite the ground before him, with the resulting green flames damaging anyone that walks through them. This Hyper variant of Radiant Breath is chargeable and can spread further and further depending on the player's charge. The flames will disappear after a while, but for twelve seconds, they need to be very carefully avoided by Manikin Man's enemies.
Forwards Hyper: Manikin Rain
Manikin Man will launch off five manikins at once, including any manikins he already has by his side, with the aim being to make sure they all give a singular opponent a hard time. All survivors of an assault Manikin Man tries to carry out will stay with him, even the two extra ones he brings out through Manikin Rain, giving him more opportunities to use Manikin Missile until the two extras die.
Recovery Hyper: Bat Outta Hell
Manikin Man will convince his little manikins to bring him even higher, soaring him high into the sky- if he has just one manikin, the height he reaches will be equal to what he would normally receive with three manikins. He can reach the ceiling of any stage if he has three manikins... and if he's got five via Manikin Rain, he can hover his way down and throw out his aerials while holding on for his life.
Crouch Hyper: Chernobyl Beetle
Manikin Man will hurl out a much more dangerous-looking beetle, now shaped after a rhinoceros beetle, which will scuttle forwards but aggressively charge towards any enemy it sees. If it makes contact, it will stick its horn to them and not let go, allowing Manikin Man to guarantee that his bomb explosion hurts the person it is attached to. Not only that, but the explosion is much more harmful, capable of KO'ing even Jezebeth in a single hit. It can still be knocked around, however.
ZONAL FEVER: Nuclear Reaction
Manikin Man will cackle like a madman, bringing his fellow manikins close to him- with a final grin, he fuses them against his body so they can protect him like a shield, proceeding to use up all their energy so he may begin a nuclear chain reaction, by spitting an atom-splitting drop of saliva towards the ground. This causes a huge explosion to surround Manikin Man's body, practically frying everyone close enough to him and poisoning others that were near the explosion. Manikin Man then discards from the shells of his deceased fellow manikins, perfectly unscathed.
Animations
Entry Animation: Manikin Man first appears in a trash can, banging his way out of it with his fists and with the assistance of his manikins, eventually breaking free of the enclosed space. He then shrugs the trash off of him, grinning filthily.
Idle #1: Manikin Man looks around himself, looking for his enemies. If he finds one, he'll say "Let me introduce myself- I'm Manikin Man, the Trash Man, and I eat trash." He never says this again for the rest of the match.
Idle #2: Manikin Man looks a bit bored, almost nodding off to sleep before snapping awake, demanding "RUM HAM?? WHERE'S MY RUM HAM??". He's back on his two feet, looking much more alert right after saying that.
Taunt #1: test
Taunt #2: test
Taunt #3: test
Victory #1: Manikin Man stretches out his right arm, making it branch off into several arms that do multiple peace signs, saying "[FIGHTER NAME], your skills belong right in the trash! Just like my used magnum condoms!"
Victory #2: Manikin Man grins, stretching out eight arms from his back as he folds his two natural ones, stating "I am Manikin Man, the Trash Man, and I demand some aspirin, a roll of duct tape, a bag of peanuts, and four beers if you want me to fix you right up!"
Victory #3: Manikin Man wags his finger disapprovingly at the opponent, saying "Don't hurt no kids out there! I'ma watching ya!" before flying off into the distance, leaving his beaten foe(s) down on the ground.
---
Alternate Costumes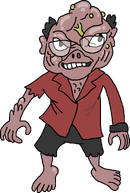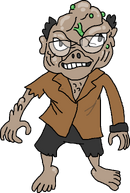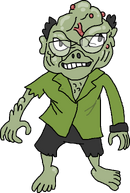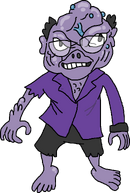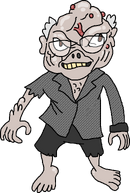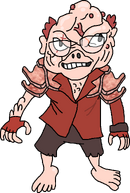 Vizole
Name
Vizole Cole
Mass
6'00" at 137 lbs
Birthday
"January 0th", age 32
Gender
Male
Sexuality
Homosexual
Alignment
Chaotic Good
Home
Cole Tank, Sector 4 (old)
Cole Studios, New Naxaz City (now)
Occupation
For-hire assassin, musician
Weapon
Bone Sword, Bonemerangs
Powers
Dark

Vizole Cole's a young, attractive male siren that grew up alone in the depths of the waters in Sector 4 aboard the satellite, having lost contact with his family after they got eaten up by a ravenous, irritated tiger shark. Vizole would swim these waters alone, scavenging the unmonitored "big tank" he lived in for leftover food and resources while competing with the shark to retrieve them first. Vizole was always known for being dangerous and unpredictable; he lured numerous men into his tank through usage of his feminine charm and then would soon begin to eat them up once they've fallen into his trap. He has even lured children, babies into his tank so he may simply keep himself alive! He always did this when they were alone, and because of how Vizole would craft his weapons and tools out of bones, nobody knew where their family or friends disappeared off to. Attracted to the sound of music, he lured several musicians into his tank and stole their instruments so he may work them out himself- this would help with luring others into his specialized tank. When he was finally yanked out of his cage for authoritarian questioning, he appeared to shrug and just look confused at the judge the whole time- he was deemed innocent and was allowed to roam free.

Vizole is two things: a high-profile musician that's sold a few million copies based off of his elaborate and melancholy solo albums, and a for-hire assassin that exclusively works for the good guys and sacks anybody he happens to find malicious or too mischievous. The first of these two occupations came as a result of Valerie Heartgold recognizing the talents of the young Vizole being put to good use on a flute, which she noticed when she came across him stranded alone on a bench in the Zaxinian Lobby. She dragged him over to her place and hired him as a band player, and he received such recognition for it that he would feel inspired to perform his own solo work. However, the second came as a result of his dark side coming to terms with new morals he's learned from the likes of people like Oyster Moore and Hector Forger, and thus he made himself a for-hire assassin during the day. He's willing to go out of his way to not just stop no-gooders, but also devour them whole and craft their bones into a gift as an apology to the people that were affected by the villain. He never wants to be paid in cash- he wants to be gifted, instead. He prefers seashells, but he'll gladly take bright stones, tools, or a night of passion if they're a guy.

Do not mistake Vizole for being a simple savage. He is an intelligent, bright young adult that knows how to craft any part of a deceased human into something useful, and knows how to sneak attack his prey and track them in silence. Though he is lacking in fluent English, his simple vocabulary gives him an advantage- he may sound easy to understand, but he can be so vague that troublemakers may not know what he truly has in mind for them. This little sea devil knows how to lure others to him, using his poetry, high-pitched voice, and suggestive clothing to take them close to him. He is fascinated by his own looks, and works hard to make sure he stays pretty.

Vizole is the lead guitarist, rhythm guitarist, and music arrangement supervisor for the abrasive, groovy metal band named "Black Haze".

---

Likes: Music, musical arrangement, guitar, men (twinks, twunks, hunks), singing operatically, devouring human flesh, receiving seashells/stones/tools, lurking in the dark, knowing his records are selling by the millions, being a tricky daredevil
Dislikes: Being questioned by the authorities, his food being snatched away from him, getting double-crossed, his music gaining notoriety or controversy, being called a "shredder", being called a savage, any and all vegans
Gameplay Details
Analysis
Vizole is a lightning-fast character with low weight and above-average height, being among the game's quickest and scariest characters. He is a precision-based fighter that strikes with a powerful sword boasting great range and a super-strong sweetspot, which not only comes out quickly but has high priority, destroying projectiles and effectively disabling various approach options for his foes. With his "bonemerangs", he doesn't even have to come close to the foe to dish out some damage, just capable of picking at them from a distance. It's worth noting that Vizole has powerful presence both on the ground and in the air, allowing him to dominate and get some serious momentum after winning the neutral game. All these strengths make Vizole particularly notorious to fight.
Though he may boast all of these important strengths, Vizole is far from being an invincible threat. His sword's sourspots are his worst nightmare; landing the wrong part of his sword will deal almost minimal damage and push the foe back too far for him to use the sourspots to his advantage. He also has very low Stamina, a problem which is worsened by the fact that he gets stunned if he takes high damage, making it easy for heavyweight and high-power characters to dominate over him in battle. Though Vizole is a lightweight character, he has surprisingly poor jumps and very high gravity- while this reflects the underwater pressure that's been over him for most of his life, it hampers his aerial momentum and doesn't allow him to chain his air attacks well.
Vizole's gameplay is based almost entirely around precision, and when it's not, it's focused around bait and punishment and finding the best approach. Vizole must find the best ways to take advantage of his prey, then strike when the moment comes so he may put them down for good.
| | | |
| --- | --- | --- |
| Stamina 2/10 | Lightweight Class | Appetite 2/10 |
| Offense 8/10 | Defense 5/10 | Mobility 10/10 |
---
Moveset
Common Attacks
Vizole's neutral attacks usually consist of him slashing with his Bone Sword, a lightweight but incredibly sharp weapon that deals immense damage when its tip lands. These sword swings are very violent and leave golden trails to display the amount of force Vizole applies to his every swing. His light tilts have him instead swing around Bonemerangs attached to seaweed, which are swung like yo-yos and give Vizole some decent range. His up and down heavy tilts have him swing his sword around violently, but his forward heavy tilt is among his most powerful attacks: he will hold back his head a bit before rushing it forwards with an outstretched jaw, working to clamp onto a foe so he can bite them and chew them up. All of Vizole's neutral moves have high priority; this lets them destroy projectiles and counter other physical moves in a snappy fashion.
Special Moves
Neutral Special: Startling Stare
Vizole will glance forward with his eerie eyes, stunning foes that are within his (impressive) horizontal eyesight. The closer they are, the longer they will be stunned, but there will be a slight delay before Vizole's able to perform this dazzling glare. He can then follow up with any move of his desire, or the player can press the special attack button again to have him perform this high-power crunch that deals high damage to the enemy.
Forwards Special: Bonemerang Splash
Vizole will detach a Bonemerang from some seaweed string and hurl it forwards like a boomerang, having it fly around in an arc before it returns to his body. The move happens quick and deals little damage to the foe, but it places them in long enough stun for Vizole to follow up with a nice sweetspotted sword attack. Works well in combination with his Startling Stare.
Recovery Special: Rising Aethercut
Vizole will toss his Bone Sword diagonally, having it flip rapidly in the air before he comes up to grab it and proceeds to slam right back down into the ground. Sounds... vaguely familiar. The spinning sword will trap any foes that touch it, then he will proceed to slam his foe right into the floor, dealing high damage to them if every hit has managed to connect thus far. Great for vertical recovery, not so much horizontally.
Crouch Special: Dance of Karachay
Vizole will perform a ritual dance, sultrily shaking his hips and licking his lips as he displays an intoxicating but quick series of moves. If the player can get down to the beat of the music by pressing the A button in rhythm with the song's beat, Vizole will successfully raise all of his stats slightly for 30 seconds. The effects can stack up, too, letting Vizole grow powerful if he's allowed to dance enough.
Hyper Moves
Neutral Hyper: Stoning Glare
Works identically to Startling Stare, except that Stoning Glare will turn his enemies to stone. Vizole can throw his foe around as many times as he pleases until they return to normal, with the effects reversing slower the closer the foe was to Vizole when he executed the glare. The glare will also make the foe heavier, allowing Vizole to chain several attacks against them, including using his sourspots to do the job.
Forwards Hyper: Bonemerang Wave
Similar to Bonemerang Splash, yes, but Vizole will instead spin three of these babes from his body that attack in a great range before they return to his hands. One goes horizontally, the second goes diagonally, and the last heads up vertically. This lets him be able to attack almost enemy for as long as they're in front of him first or somewhere above him and gets them the range of his stare or glare.
Recovery Hyper: High-Tide Aethercut
A much higher-moving Aethercut that comes with a wall of water underneath Vizole, which destroys projectiles and pushes foes back, which can potentially disrupt their recoveries if they're trying to get up as well. Vizole will then cut through the pillar of water, sending big tsunami waves to both sides that wash out the ground to both sides of his body. Among the game's most impressive vertical recovery moves.
Crouch Hyper: Purifying Fountain
Vizole will sprinkle healing water from his hands, healing himself for as long as he remains underneath the sprinkling water. If he can stand for a full 20 seconds without being damaged, he can heal himself completely if his Stamina or Hunger was at 1%. However, if the player cancels the healing at any time, the move cannot be triggered again unless the player has enough HyperDrive in their meter.
ZONAL FEVER: Kraken Showdown
Vizole will let out a crying shout, summoning an enormous Kraken that breaks through the floor of the stage, summoning all foes into Vizole's tank! The Kraken will twirl around its tentacles and try to slap the foes down with them, attempting to choke them and squeeze them. If any foe was grabbed, they will eventually become the feast of the night- after 20 seconds, five Krakens will show up and take the grabbed foe away from the battlefield, ripping them apart and eating them up for lunch!
Animations
Entry Animation: Vizole will shatter his way out of a containment water tank, slithering his long tongue out as he bears his sharp white teeth, licking off the blood dripping from his dry lips.
Idle #1: Vizole will swing his sword around overhead before plunging it into the ground, mischievously giggling as he puts his own hand to his neck, racing his index finger across it.
Idle #2: Vizole will stretch to his full body height, pulling back on his face to reveal his ugly siren stare, revealing just how exaggerated and ugly his secret sea monster features really are.
Taunt #1: test
Taunt #2: test
Taunt #3: test
Victory #1: Vizole will claw viciously at a downed foe on the ground, violently ripping them apart off-screen before he looks up, his face painted in the blood of one of his foes as he breathes in an almost alienish manner.
Victory #2: Vizole is shown biting on one of the limbs of his downed foes, having dressed it up in salsa as he fiercely eats away at the skin and meat present on the limbs. Again, the limb is somewhat off-screen.
Victory #3: Vizole holds up one of his foes' skeletons, showing just how cleanly he was able to pick it apart and clean all the blood, guts, and skin off of it, proceeding to begin carving it into more Bonemerangs.
---
Alternate Costumes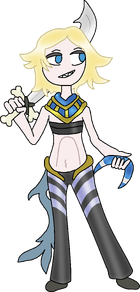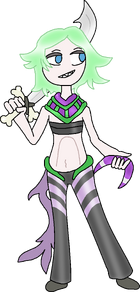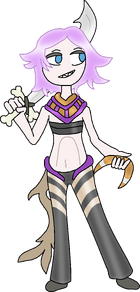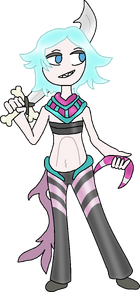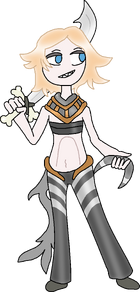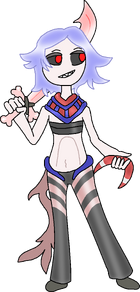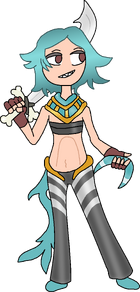 Hector
Name
Hector Forger
Mass
6'04" at 282 lbs
Birthday
October 27th, age 43
Gender
Male
Sexuality
Bisexual; promiscuous
Alignment
True Neutral
Home
S15 Shooting Star
Occupation
Satellite battleship captain
Weapon
Amor Claws
Powers
None

Hector Forger captains and manages the S15 Shooting Star, the most significant battleship aboard Satellite 15 and its main means of offense, and leads its crew of 300 to tackle and shoot through even the most defensive of armadas that approach the armed satellite. His ship's the main rival of interest for S04 Guacamole, which itself is piloted by the nefarious space pirate Captain Ryona, resulting in an on-and-off battle with her that's lasted for almost two decades now. Hector works under the command of Admiral Millicent, who manages all the ships and captains in her fleet, including Forger himself. Hector's been entrusted with the task of leading the offenses for the fleet, fearlessly charging his impossibly bulky battleship within the hearts of opposing armadas and fleets and damaging them all with the almost limitless ammo aboard. Though the S15 Shooting Star is an efficient ship as is, Hector likes to surprise the enemy captain by setting his whole ship on fire and crashing it into theirs or by performing an all-synced attack that deals heavy, destructive damage to the enemy ship all at the same time.

Hector's been frequently scolded for his recklessness, especially when his ship's been dragged back into the satellite to be repaired numerous times, but he's a respectable captain that can definitely get the job done against the worst of plunderers. That said, Hector's much more than he lets on. He's a narcissistic fellow that holds a very high self-image of himself, madly in love with himself and his looks, but he's also very passionate and affectionate towards others and has a somewhat loose polyamory relationship with several men and women aboard his crew. You can say this captain's something of a "hooker", if you please. He lives a simple life outside of his commanding and mating careers, being a passionate artist that's sold numerous thousands of copies of his priceless highly-detailed artwork and getting drunk almost every night in spite of the numerous empty threats from his girlfriend Marigold Blossom, a woman that writes the stories of the satellite and tracks what happens on it in tandem with Spade Amour- another woman he's in a relationship with.

Hector's a chatterbox that rarely shuts up, making up for this intentionally by sprucing up his lines to make them as phenomenal and powerful as possible. He'll sometimes exaggerate small mishaps into big tall tales, making him popular around the children and landing him a comedy show on television. Hector's a very optimistic person with something of an ego, vigorously challenging his fellow pirate buddies and getting all romantic without fear around others. When jealousy seems to stem in his loose love life, he always finds a way to bring all of them close and make up for it- usually by taking his party of 10 to 15 (it depends!) out to eat.

---

Likes: Himself, being entrusted as a captain, riding around on the S15 Shooting Star, humanity as a whole, looking good, getting reckless, all the men and women in his polyamory relationship, chatting random topics, doing risky tactics to show off, drawing whatever he likes, studying nudity and purity
Dislikes: Getting scolded by Admiral Millicent, his looks getting insulted, getting turned down by other men and women, getting caught for his tall tales, alcohol (surprisingly)
Gameplay Details
Analysis
Hector is a towering heavyweight character, known for his very sluggish mobility overall and for the immense ending lag waiting at the end of his attacks. However, as a worthy trade-off, Hector's general power output is impressively immense and makes him the second-strongest fighter after Niki. He also has numerous stage-controlling mechanics and bait-and-switch tactics that make him remarkably tough to counter for even fast characters, and he additionally benefits from being unable to flinch from weak attacks as well as having invincibility frames on his arms. This makes him a very defensive character that gives him an incredible punishing game. On the bright side, he's actually hard to punish himself as weaker characters will hardly lay a scratch down on him, and he can't really be chained against with attacks all that well. With his good range and assortment of stage-controlling moves, it can be challenging to stop Hector once his momentum gets going.
Hector does have his weaknesses, though. Because of his huge target size, he's remarkably easy to hit (especially in the head and torso), and his very poor speed makes it almost impossible for him to escape anyone's grasp. He also has very poor defense against projectiles and can't really do anything to prevent them from ganging up on him besides parrying. Even though his Forward Special "Hook, Line & Sinker" has a good chance of hitting airborne foes and speedy enemies in general, it isn't always guaranteed to land, and since it's his only means of discouraging these types of foes he can't hold off the pressure for long. He also has a mediocre recovery at best and has a joke of an aerial game, relying on him to use his punishing ground attacks and only use his aerials when he's been knocked high into the air, as they'll likely come out too late by the time he's back on the floor from a double jump.
Overall, Hector is an immensely powerful character that relies on bait-and-punish tactics to win, and must keep his high-Stamina body guarded from all sides so he can tank in as many hits as he can like the bulky man he is.
| | | |
| --- | --- | --- |
| Stamina 8/10 | Heavyweight Class | Appetite 8/10 |
| Offense 9/10 | Defense 9/10 | Mobility 3/10 |
---
Moveset
Common Attacks
Hector's basic moves are based around the usage of his thick bark-like arms, capable of hitting like a truck with just about every attack in his arsenal. He has no particular technique in mind when it comes to using his attacks, because why bother when you're going to outright trash anyone that stands in your way? He can slam his elbows into his enemies, hammer both his arms down onto the foe's head at the same time, and jab them right in the gut, all of which are attacks that can deal impressive damage. His moves don't come out too slow, but they do have a lot of ending lag regardless of whether or not they hit- though this weakness is negligible at least if he lands these hits, as his foes will be sent flying far back no matter how heavy they are. The usage of his Amor Claws lets him strike foes with more range than usual, and if he's empowered by his unique "LOVE" mechanic, then they will generate pink claw trails that grant him even more range.
Special Moves
Neutral Special: Space Pirate's Kiss
Hector will spin around and wink, blowing a kiss towards his foe. This results in the creation of a heart, which will rotate in circles while continually moving away from Hector's position. If the foe's hit by the heart, they will become infatuated with Hector and hold their arms together momentarily- they have to break free before the pirate comes to swing any attack he wants in their way! The more LOVE he's feeling, the more kisses he'll be able to blow out up to three at a time, and the less likely his foe's going to be able to avoid them all.
Forwards Special: Hook, Line, & Sinker
Hector will cast out a fishing rod from behind, laughing to himself as he casts the fishing line forwards. The player can tilt the control stick so that the line is cast directly forwards or in two different overhead arcs. Should the foe be near the player's chosen trajectory for the fishing rod, the hook of the rod will be used to grab onto their bodies! He will then yank them towards him if the player holds backwards, allowing the player to score in an attack against them as they get yanked over. The player can also hold down to drag enemies across the ground, but they might not be able to come close enough for punishment if it's overdone. The more LOVE he's got, the further the hook and line will reach, and the more likely it will snatch onto foes.
Recovery Special: Lovestruck Flight
Hector will wrap himself up in his own vanity, surrounding himself with numerous hearts as he rises up through the air by quite a distance vertically. This love will cause him to rise. LOVE happens to be very useful in sync with this move- he can recover thrice his usual distance if his LOVE is at the max! The move covers very little horizontal distance, however, and Hector will begin falling shortly after his initial rise.
Crouch Special: Romantic Appeal
Hector will smile before pulling off a romantic and/or sexy pose, flashing his abs and muscles for the audience! If he does this right after pulling off a successful attack, his LOVE will increase by 12%, and if the attack did phenomenal damage, it'll recover 25%! However, if he does this move when he hasn't done anything note worthy as of the past ten seconds or so, then he won't get any appeal at all, and he'll lost 18% of what he's got. LOVE is permanently kept throughout the fight, and if he keeps getting LOVE boosts when his LOVE is at 100%, then his speed will begin to increase slightly.
Hyper Moves
Neutral Hyper: Deathly Angel's Kiss
Hector will spin around three times now before winking his other eye, blowing out a black heart that will travel in a wider oval and at a faster speed, making it harder to dodge. If his LOVE's all the way up, he'll be having three of these babies going out, which can prove to be very hard to dodge and can only be avoided by having a good recovery and making the best use of all available jumps. These will latch onto foes and suck HP from their bodies until they're shaken off.
Forwards Hyper: Passionate Reeler
Very similar to Hook, Line, & Sinker except that the move happens faster and the move covers more distance. If Hector locks his hook onto a foe, he'll drag them over to him very quickly and be able to punish them instantly, even if he drags them across the ground. If Hector's hook lands on the ground, it will detach itself and then explode like a small mini-bomb, damaging anyone that tries to pick it up. As with its less powerful variation, having more LOVE will increase the move's range.
Recovery Hyper: Lovestruck Heaven
Very similar to Lovestruck Flight, except he'll fly up even further (especially as he gets more LOVE) and he'll have more control over his horizontal positioning! He will then begin to gently glide down like an angel if his love is 75% of the way to reaching its maximum capacity. If he isn't that high up with his LOVE, he will begin to plummet down again.
Crouch Hyper: All-Star Appeal
Similar to Romantic Appeal, except that the values will change: pulling off a successful attack will now raise 33% of his LOVE, and pulling off a highly powerful attack will restore 67% of it. However, if he misses, he'll lose about half of his LOVE, so he has to use this move at the perfect timing! This is a cheap and efficient way of building one's speed, if they choose to spend their HyperDrive points on this move.
ZONAL FEVER: S15 Shooting Star
Hector will blow hard on his whistle, summoning the S15 Shooting Star. He will jump right onto it as it passes by, with the ship eventually flying and locking itself in the background. After removing his shirt, the player will have to perform a series of quick time events that shows how Hector's going to be dancing. The better his dancing, the more artillery his ship will fire out, having a greater chance of damaging all of his foes! His last dance move will have him kneel down and spread his arms out, shooting the battlefield with a gigantic laser beam.
Animations
Entry Animation: Hector will ride in on a cannonball, his legs spread over the diameter of it as he visibly smirks, flipping off of it and bowing down for his audience as he lets out a nice "Ar har har har har!"
Idle #1: Hector will stand upright to reach his full height, hooks on his sides as he lets out a nice long gloat, flinging away the cigarette he was just smoking right afterwards.
Idle #2: Hector will look around, putting his hands to his mouth and calling out the names of various sailors (which could possibly be people he's engaged with romantically).
Taunt #1: test
Taunt #2: test
Taunt #3: test
Victory #1: Hector will laugh in pride, leaning back against his polyamorous gang while saying "Yo ho ho! Ya ready ter walk the plank, ya landlubber(s)?" as they shower him in confetti.
Victory #2: Hector swings around this massive anchor overhead, letting out a nice "Yo ho ho! Yer gonna be dancin' the hempen jig!" before he hurls it over at the camera feed, destroying it.
Victory #3: Hector stands behind a crew made of his beloved men and women, saying "Shiver me timbers! Yer gonna be visitin' some old man's locker tonight, landlubber(s)!"
---
Alternate Costumes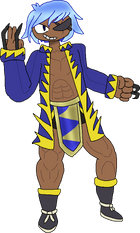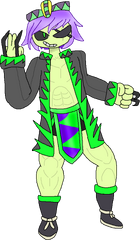 Noise
Name
Noise Lindemulder
Mass
5'04" at 145 lbs
Birthday
January 30th, age 34
Gender
Female
Sexuality
???
Alignment
Chaotic Evil
Home
C.O.T.S. Laboratories
Occupation
Surgeon, nurse
Weapon
Numerous
Powers
None

Noise Lindemulder's the leading nurse of Satellite 15, being the most efficient and reliable of them all and very talented in the field of health, having developed tons of various medicines and cures that the satellite hospitals now use today. In the eye of society, she is a panicky and frantic individual that downs about thirty mugs of coffee a day, being somewhat friendly to others but she's ultimately hyperactive and unstable. She tries to avoid eye contact with strangers and attempts to make all her conversations brief, sometimes becoming savage if she is stopped from moving along. In enclosed spaces, her attitude becomes much more ferocious, dominant, and passive-aggressive, unbottling all the stress in her brain against her very patients on a bad evening. In spite of her aggressiveness, however, she makes no effort to sabotage or attack her patients; she just sort of unintentionally haunts them with her scary, noisy rambling and growling. Make no mistake, however- Ms. Lindemulder is not a good person, and uses the money she earns as a nurse to fund illegal projects for her secret nightly job. These projects are destined to help her company secure the satellite and use it for their own disgusting gain, and Lindemulder wishes to kill everyone aboard so they can use it as a "secret breeding program" for an unnamed beta experiment.

Almost all of her bottled emotions are connected to her secondary job; she's a scientist part of the evil corporate group "C.O.T.S."; the Clone Operation Testing Squad. Verbally abused and mentally tortured nightly by the founder of the company, the mysterious Ms. Replicate, Noise finds it very hard to sleep alone and becomes withdrawn from society without her caffeine. In spite of Ms. Replicate selfishly using Noise for her own gain, Ms. Lindemulder is shamefully attracted to her boss and tries to really win her heart, but it never works out. She works with her assistant and ex-girlfriend Yama Velvetrot to appease her problems, but to no avail. She's mentally insane and keeps her mobile home infested with plants of varying kinds (which she produces illegal medicine and drugs in) so that she can inject herself with needles that give her whatever power or personality surges she needs. Having produced lots of fatal substances in her bathtub, she often attempts to poison and kill those that disturb her or take up too much time on her schedule.

Noise drains the bodies she's slain of the poisons she's bloated them up with, and then removes them of their skin, muscles and organs to continually stitch them onto herself, as "surgical practice". She's done this so much that she no longer retains any element of her original body, beyond her brain and her hairpiece, and she no longer feels pain from any type of surgery she does on herself since her body's so used to it- that, and she's removed her pain sensors entirely.

---

Likes: Ms. Replicate (insanely attracted), Yama Velvetrot (conflicted), caffeine, masochism, producing illegal medicines and drugs, feeling the joy in destruction, performing self-surgery, performing surgery on others, knowing nothing will cause her pain, being dominant, growling to keep others down, anime, manga
Dislikes: Yama Velvetrot (conflicted), having to sleep, lacking her caffeine, others squirming as she operates on them or works on killing them, being rejected by her boss, the abuse given to her by her boss, learning the flesh she applies to herself isn't working, humanity as a whole, Panty & Stocking with Garterbelt
Gameplay Details
Analysis
Noise's a lightweight character and among the game's shortest characters, having strong falling momentum and very solid jumps. Unusually, Noise has only average mobility yet has above-average damage output, making her one of the game's most unique characters to play. Noise's something of a rushdown-type of character, having long-ranged attacks using her surgical tools that come out reliably fast (thanks to her caffeinated personality) and can't necessarily be punished besides by parrying, as they will almost always have priority over her enemies' attacks. Noise excels at pressuring her enemies, poking her tools forward to intimidate them into staying back and rushing forwards when she can go in for the kill. Many of her attacks don't just deal a lot of damage- the player can have the attack button be held down so her moves last much longer, allowing her to repeatedly attack her enemies once the animation for their parry ends! This only holds true for her needle, drill, and retractor attacks.
Noise's greatest flaw, however, lies in the fact that she is very difficult to learn, let alone master. With her unorthodox mix-up of traits, it can be very challenging to get a grip on how she plays, which is important as a lot of her smaller flaws can be very easily exploited if the player isn't watching out for themselves well enough. The player has to keep on their feet and accurately predict the enemy's next move, or else they'll get punished as Noise's only-average mobility makes it hard for her to make up for her errors. Predicting attacks and approaching at the right time with the right tools is an essential part of learning Noise's character, as she's so lightweight that she'll get knocked very far away if the foe hits her with a heavy attack to retaliate against her. When performing combos, Noise must try to not let the foe gain control of their character again so soon, and additionally keep things mixed up so she can get access to her Hypers ASAP.
Noise requires an extreme amount of patience to learn, and there's a lot of kinks and elements to her strategy that need to be mastered so she may can be efficiently played as, but once the player's mastered all her techniques, they are almost guaranteed to win matches for as long as they can predict the foe.
| | | |
| --- | --- | --- |
| Stamina 5/10 | Lightweight Class | Appetite 2/10 |
| Offense 7/10 | Defense 6/10 | Mobility 5/10 |
---
Moveset
Common Attacks
Noise's standard moveset's based around her surgical tools, such as her scalpel, giving her good range overall. She usually slashes with her many blood scalpels, but she can also use injection needles to stab her enemies multiple times and make use of sharp drills in her heavy tilt attacks. Her forward aerial and forward light tilt have her blast a surgical laser. Perhaps her greatest asset lies in her extremely powerful upwards aerial; it has her use two retractors to force open an enemy's body very temporarily, causing them to take massive damage if they get hit by every frame of the attack. She uses rulers for her jab combo, following up with a long caliper stretch. These moves allow her to poke at her enemies and prevent them from coming too close, and generally deal a lot of damage. Her strongest attack is her upper aerial, with her second strongest being her forward heavy tilt.
Special Moves
Neutral Special: Intestinal Whip
Noise will bring out an intestine-made whip, which drips with disgusting fluids as she holds it out to her side. The player can choose to either whip it forwards to snap it at her foes, or hold down on the button to whip it around in front of her to block off projectiles. If the whip hits at the tip, it will deal the most damage to the enemy and knock them away the furthest. With well-timed spacing and good control, the player can perform a strong series of attacks to knock the foe back, then strike them with the Intestinal Whip. Should an enemy come too close as she's whipping the Intestinal Whip, she'll tie it around them and make them unable to move briefly.
Forwards Special: Stretcher Rusher
Noise will summon a stretcher right in front of her, grabbing onto the end of its metallic frame and pushing forwards with it to rush across the battlefield. This is a complex move with a number of utilities. Noise can simply keep holding onto it until it collides with a wall, or let go of it at any point to have it sacrifice losing some momentum but prevent her from getting hit by the stretcher's explosion. She can choose to have the stretcher catch foes so they can be part of the explosion that occurs when it hits the wall, or ride upon it so she can push enemies into the wall more reliably, but at the cost of her getting hit with the explosion. It will require several seconds for her to pull out a new stretcher.
Recovery Special: Nitrous Oxide
Noise will pull out a jetpack from behind, boosting upwards into the air a bit by releasing nitrous oxide (laughing gas) from its containers. After boosting upwards by just a small distance, Noise will begin to fall helplessly. If enemies come into the pathway of the laughing gas, their controls will become numbed a bit as they'll begin to laugh, making Noise's launching zone unsafe.
Crouch Special: Caffeine Overdrive
Noise will shakily pull out a long, long glass of hot coffee and maddeningly drink it up, screaming a little as her body becomes overloaded with pure energy. This will intoxicate her and damage her for 5 seconds to remove 20% of her stamina, but she gets a strong lag deduction and will be capable of running around twice as fast and have much more consistent attacks. Very risky, but effective when already under the effects of lag deduction.
Hyper Moves
Neutral Hyper: Gut-Laced Misery
Though similar in execution to Intestinal Whip, the "Gut-Laced Misery" attack is somewhat different. The player cannot swing the whip in front of themselves, but they can still lurch it straight forwards. The main difference is not that it deals more damage, but that it launches individual stomachs across the arena that explode bile onto her foes upon contact. She giggles maniacally if any of these stomachs make contact.
Forwards Hyper: Exploding Stretcher
Noise will pull out a stretcher armed with bombs atop it and rush it forwards towards her enemies. She cannot ride the stretcher, but she can still let go at any point. Once the stretcher's covered enough distance or been attacked by an enemy, all the bombs on the stretcher as well as the stretcher itself will explode, damaging any enemies around it or found atop of it and scatter them all over the place.
Recovery Hyper: Nitrous Rocket
Noise will take longer to launch upwards, but it will launch her three times as high and leave behind a much bigger cloud of laughing gas, which spreads horizontally and affects anyone that comes into its range besides Noise herself. After reaching the apex of the jump, Noise will begin to fall helplessly.
Crouch Hyper: Self-Rearrangement
Noise will re-arrange her own bodily skin, patching up old places and putting in new skin from a box she brought with her, restoring a good portion of her health (40%). However, it will take up to 6 seconds for her to finish the healing, leaving her vulnerable to enemy attacks.
ZONAL FEVER: Incurable Blow
Noise will cackle maddeningly as she pulls this enormous needle out from nowhere, dashing forwards to strike it through the enemy's heart, leaving it where it is as stock imagery of poison flows in the background temporarily. The foe will at first be losing 0.5% of their Stamina per second, but after 10 seconds, it will become 1%, and after another 10 seconds, it will become 2%, and so on. Basically, the functionality of the move means that it will very soon kill her enemy. This move's main weakness is that unlike most ZONAL FEVERS, it can be dodged.
Animations
Entry Animation: Noise rushes through a pair of hospital doors, scanning the horizon and breathing through her surgical mask, holding a long scalpel at the ready as she frantically giggles.
Idle #1: Noise holds her scalpel and frantically swings it to the left and right as if seeing someone there, her body muscles individually twitching as she breathes harshly in and out.
Idle #2: Noise slices and stitches around her neck to let her head roll around 360 degrees, dizzily drinking a cup of coffee and letting some of the steaming fluids spray down onto her clothes.
Taunt #1: test
Taunt #2: test
Taunt #3: test
Victory #1: Noise will be standing by 1-3 stretchers with her enemies laying down on them, laughing maniacally when she sees the monitor next to her display a flat line to represent her patients' deaths. "Operation 'unsuccessful'".
Victory #2: Noise will spring from the background with her scalpel, laughing viciously as she stabs through the heart of the enemy that got 2nd place that's found unconscious on a stretcher. She'll then say, "Patient down, Yama!"
Victory #3: Noise drinks a cup of coffee dizzily while sitting on the floor, a mountain of emptied coffee mugs behind her as she messily sips away at the boiling-hot liquids. She will move from cup to cup.
---
Alternate Costumes







Arikan
Name
Arikan Chan
Mass
5'08" at 206 lbs
Birthday
March 11th, age 52
Gender
Female
Sexuality
Homosexual
Alignment
Neutral Evil
Home
Satellite 15 Lobby, within office
Occupation
Hotel manager
Weapon
Magic Hands
Powers
Magic

Did you know that Satellite 15's lobby is actually a five-star motel operated almost completely alone by the 52-year-old witch known by Arikan Chan? This amateur witch works with her assistant (and girlfriend) Zia to ensure everything runs smoothly at the motel, wishing to provide all guests possible on the satellite the rooms and service they deserve. Arikan manages this motel daily by sending out ten of her best maids out into the main hall so they may serve breakfast, replace sheets, swap towels, etc. for their guests. Though she cares deeply for her guests, Arikan herself rarely goes out to check on them, locking herself away in her office alone with Zia and several of her maids, which double as her personal servants. Arikan is a lonely woman that desires much more than she can realistically gain from any one person- the truth is that Arikan Chan desires attention from many dozens of people, and thus keeps them trapped in her lair so she can feed off of their feelings and attempt to impress them with her magic and bottomless support.

Arikan Chan is surprisingly rather gentle and tries to be a strong and mature friend to her prisoners when possible, and will eventually set them free when she thinks they've helped her long enough or if she thinks she'll accidentally destroy them for good. She is very clingy and apologetic when she knows she's doing something illegal or wrong, and feels sad whens he knows her captives have to bear with her unstable mental tendencies and her excessive drinking habits until they're eventually rescued from her "care". In selfish and vain efforts to keep her relationships, she will kill to advance her circle of women and refuse to aid those (even the weak) that are against any of her plans. She will also lie to keep her captives a complete secret from the authorities and the public, and will further lie to assure her prisoners that everything's okay. Arikan becomes very depressed when she becomes aware her prisoners aren't happy, and occasionally forces herself to hypnotize them so they may forget their distresses and love her- but at the same time, Arikan feels like she's cheating. Zia tries her best to try and help Arikan be able to let these people go, but Arikan won't budge- she's too attached to whoever she captures.

Arikan is a somewhat important minor antagonist aboard Satellite 15, because she has been known for capturing people that are essential to the satellite's management and keeping them away from the authorities. She has particularly kidnapped Devina, Ginger, Penny, and even Pierce, which forces somebody to find a way to barge into her office so they may be snatched away from her. Though Arikan bears no ill will towards any particular person, she won't take separation well, and will battle tooth and nail for their return.

---

Likes: Having friends to look after, seeking attention, having attention, sandwiches, performing tricks for others' amusement, providing care for her friends, managing her hotel, taking walks around the satellite, eating sweets, being referred to as a "dominatrix"
Dislikes: Becoming the source of attention in the public eye, people poking fun at her suggestive clothing, losing prisoners, having her full identity revealed to the world, people taking her prisoners away
Gameplay Details
Analysis
Arikan is best described a middleweight character that's at the average height threshold, having below-average mobility and attacking strength but also being among the game's most gimmicky and versatile fighters, having a number of helpful spells for almost all circumstances. This dynamic fighter can use varying forms of magic to keep her foes down and out of the way, using hypno-beams to keep her foes paralyzed and using her magic hands to swap between whatever tomes she has available. She can use her broom to easily fly her way around the stage and attack from high up, never falling helplessly unless she's knocked off her broom. Arikan's basic attacks are made up of several light elemental attacks, which can strike a respectable distance away from her and prevent her foes from coming up too close to her. Her moves also have respectable speed, which makes it somewhat difficult to punish her overall.
Arikan is plagued with numerous weaknesses, though, that the player has to keep aware of. Arikan's a somewhat sluggish character, which makes her somewhat easy to approach and begin stringing attacks against without warning, provided the witch cannot block them off first. Her specials are also somewhat sluggish to perform, meaning if they miss their target, she will be open to punishment. Though her broom provides her with strong acceleration in the air, she's forced to fall off of it if she gets hit even once, and it can be then taken by her enemies for them to ride- forcing them to be protective of their broom. Though Arikan is hard to punish when she's not using her specials, her moves deal little damage and thus she's reliant on her specials to make big dents in her enemies. Lastly, her elemental attacks are strong but don't have much ammo; once she runs out of tomes, she must wait for them to respawn.
Arikan Chan requires the player to take advantage of all of her tools in order to succeed in combat, but once she's successful at blocking off enemies and laying out the full offense against her, she can absolutely become a force to be reckoned with.
| | | |
| --- | --- | --- |
| Stamina 7/10 | Middleweight Class | Appetite 8/10 |
| Offense 4/10 | Defense 7/10 | Mobility 4/10 |
---
Moveset
Common Attacks
It should be noted that none of Arikan's basic attacks steal from her limited tome ammo. Arikan's neutral moveset consists of mostly finger snaps, hand swipes, and finger gestures that resemble her forming various types of "alpha magic", otherwise known as weak magic that deals little damage but in turn is never risky to use. Examples include her jab attack letting her summon several electrical waves to deal multiple hit points' worth of damage to the enemy, her neutral aerial letting her spin around multiple times with icy winds being released from her hands, and her upwards tilt letting her breathe a pillar of fire that blasts upwards. Her heavy tilts are special, for she will instead create black magic rifts that will suck enemies in and deal plenty of damage to them, whether it's to her sides, right in front of her, or right above her.
Special Moves
Neutral Special: Magic Hands Command
Arikan summons a single white-gloved hand, which will walk on its "fingers" and follow her around. She can summon up to five of these, and both are required for her alternate Neutral Special as well as her Forwards Special. She can summon these hands by tapping the button, but by pressing the button, she will launch these hands off like missiles, one at a time. If they grab onto the enemy, they will slow them down and allow Arikan to hit them with the magic she pleases until they're capable of shaking them off. The less hands that are attached to the enemy, the more hands that can be used to hit the foe with Elemental Breakout, but the less likely they're going to stay in place. If the hands get shaken off, they will die instantly.
Forwards Special: Elemental Breakout
Requires at least one Magic Hand to be out in the player's arsenal. Arikan will summon all hands that aren't currently on any foe to come right in front of her, having them circle around repeatedly before having them blast an elemental laser right in front of her. The more hands that she's having do this, the thicker and more powerful the beam will be. Arikan must charge up her beam for up to three seconds, hold the charge for however long, then fire the beam. "Light" will have her enemies take simple damage and then be thrown away, "Fire" will deal little damage but make them take rapid damage and stick them in place, "Electric" will deal much more damage but throw the foe too far back for combos, "Wind" will simply force the foe to be tossed a very far distance away, and "Ice" will simply freeze the foe solid while dealing no damage, allowing strings of attacks to be made against them. Tapping the button allows Arikan to swap between elements in a hurry.
Recovery Special: Broom Zoom
Arikan will snap her fingers, summoning herself a broom to ride on. She can ride up, down, and all around in any direction, capable of casting light/heavy tilt attacks as well as dash attacks and jab attacks. This room has infinite life, allowing her to move essentially everywhere, but the broom's altitude climbing becomes weaker the further she is from ground level. It's recommend she stays close to the battlefield, as the broom can dash into enemies and knock them along. If she gets hit while on this broom, she will fall helplessly, and her broom can then be rode on until Arikan's able to knock them off and pocket it again.
Crouch Special: Hypnotism Beam
Arikan will send pink waves of energy from her mind, attempting to make her enemy fall down to their knees. This renders them open to punishment for a prolonged period of time and allows Arikan to dish out a lot of damage against them, but the move doesn't have much range and is as such very situational to use. If it misses, Arikan will look disappointed and look paralyzed, rendering her further open to attack.
Hyper Moves
Neutral Hyper: Captive Hands Command
Arikan will summon her hands like normal, but if the player chooses to throw her hands, they will all keep the foe captive for a prolonged period of time, strangling them as Arikan's able to throw a really powerful attack their way, such as her rift-based heavy tilts. It is recommended to have all of the hands attached to the foe and use a fully charged heavy tilt instead of Elemental Breakout / Darkest Spell, as the strangling deals an immense amount of damage if all hands are kept on the foe's body.
Forwards Hyper: Darkest Spell
Arikan will blast forward a very dark beam of energy, which captures foes into a very long rift and deals extreme damage them if all hands were used to formulate the attack. All the damage the move does will be turned back to Arikan, healing her. Arikan's dark beam will be thicker and stronger the more hands that are out, but if all five hands aren't dedicated to the spell, then the damage won't be as strong nor will it have as good of a gravitational pull to it.
Recovery Hyper: Astral Zoom
Identical to Broom Zoom, except that Arikan will move around even faster and she will stick on her broom for as long as she pleases, unable to be knocked off of it. When she dashes around with the broom, it'll create an electric-blue shield that shocks and damages any foes that get in the way of her broom attack. After 15 seconds, however, the magic aura from the broom will be lost, rendering her vulnerable to getting knocked off again.
Crouch Hyper: Seductive Wink
Similar to Hypnotism Beam, except that Arikan will simply wink, which takes way less time and covers a much greater horizontal distance in front of her, letting her possibly paralyze up to three enemies at once. She can then deal damage against all three of them at one time, especially with a nicely-powered Elemental Breakout if need be. It's much harder to miss with, but even easier to punish if she misses as she will look crushed.
ZONAL FEVER: Unholy Stew
Arikan will giggle as she summons a massive pot from her willing maids, stomping the ground with her heel to make her enemies bounce up into the air- if they're close enough to her, she'll drag them into her pot and swirl them around in the boiling texture, mixing them in with various meats and vegetables. She will then carry up the heavy pot and sip it down all the way, destroying her foes' stock in an instant. To be fair, this ZONAL FEVER doesn't have much range, so it's fairly easy to avoid- especially if one notes the delay there is before Arikan stomps her heel.
Animations
Entry Animation: Arikan warps from a magical portal in nothing but a towel, using a sparkling wand to magically don herself with her standard dress before stretching out her latex gloves.
Idle #1: Arikan stands around, humming quietly, waving her wand around. If her Magic Hands are out, they will appear to dance in place as Arikan spaces out and thinks to herself.
Idle #2: Arikan leans against the wall, sipping from a bottle of absinthe drunkenly as her Magic Hands do the same, seductively winking to anyone near her, shaking her hips invitingly.
Taunt #1: Arikan clinks together pots and pans, laughing her heart out as she tries to annoy her enemies towards rushing in towards her. Sometimes she'll use utensils like knives.
Taunt #2: Arikan lets out a hollow middle-aged woman's laugh, twinkling her fingers invitingly towards her competition while a sweet and seemingly innocent beam crosses her butter smooth cheeks.
Taunt #3: Arikan pops open a thermos, swigging down a cup of very hot coffee in moments' time. The way she sips at it can be used to imply the player is above the enemy's level, by how slow and mocking it seems.
Victory #1: Arikan giggles maddeningly to herself, saying while struggling to breathe, "Is that your real best, sweetie?" as her maids pick her up in a throne chair, the witch sticking her tongue out at her enemies as she's whisked away.
Victory #2: Arikan mocks her enemies, saying "Mmmm, you're not quite fit for my collection..." as she spins around repeatedly, magically warping away just after letting out this really evil-sounding cackle.
Victory #3: Arikan simply maddeningly cackles, raising her head up and hanging her head back, folding her arms right under her torso as one can get a nice glimpse of her pearly whites and her cleavage.
---
Alternate Costumes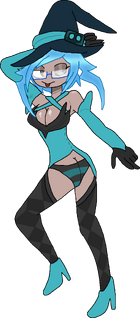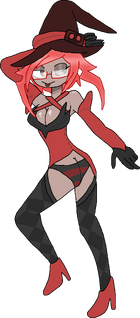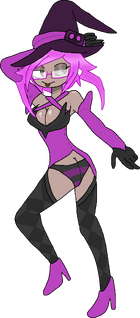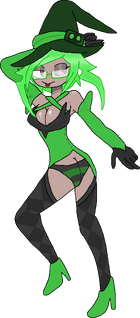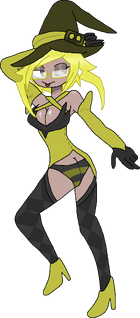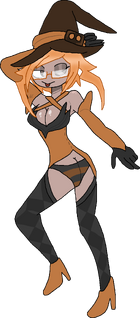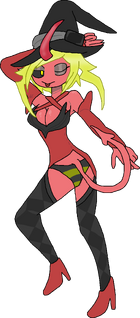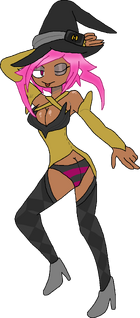 Xihuitl
Name
Xihuitl Szczepanek
Mass
5'05" at 97 lbs
Birthday
Unknown, age 79
Gender
Male
Sexuality
Asexual
Alignment
Neutral Evil
Home
At the Docking Haven
Occupation
Species negotiator
Weapon
Crimson Rapier
Powers
None

Xihuitl is (or once was) an almighty, ruthless alien commander that hails from a far-off world, living aboard the satellite only to serve as a negotiator and translator between the numerous species that travel to the satellite and away from it. He resides at the Docking Haven, checking all individuals who come in and come out- he will make sure that first time visitors get an ID tag that they can use aboard the satellite, and mark their ID tag green or red whenever they return or leave. Regularly, the alien has the unfortunate displeasure of having to deal with angry pilots and misbehaving children, having to regulate everything to the best of his ability without pissing off his boss. Apparently, Xihuitl is attempting to raise enough money by his job so he can purchase loads of illegal weapons from a black market aboard the satellite, but because of bad miscalculations done by his teammates, he's been on the satellite for years without making much progress. He doesn't even know his role as commander has been taken by someone else back home!

Unlike many "villains", Xihuitl tends to be fairly polite around civilization and tries to come off as harmless as possible, though bad reflexes towards screaming children or angry adults can make him suddenly lash out with powerful swipes of his Crimson Rapier. He tends to think that he stands above everyone else, especially over the human beings that "plague" the satellite, and will almost always put himself before them. He is very defensive of his species and his proud position of power back home, and will duel anyone that challenges his ego or otherwise tries to put him down. In battle, he is still somewhat polite and will actually compliment one's talents if they put up a good enough resistance against him, though he will bitterly insult his foe if he found them to be too easy. He only really makes exceptions in his day for General Scotch- he hates the man with a burning passion and shows absolutely no sympathy towards him at all, mostly because he and his family have once launched a raid on the planet to steal some important artifact to keep the satellite's reactor core working.

Xihuitl is notable for his incredible swordsman skills, able to fight very effectively with the Crimson Rapier and keep his distance while still striking heavy blows. With his oddly shaped legs, he can pace back and forth and to the sides very quickly, making him a surprisingly agile fighter. Xihuitl doesn't possess superhuman strength in any form, but he can release toxins from his head and hands to badly poison anyone on touch.

---

Likes: His species, the position of power he held at home, nothing else
Dislikes: General Scotch, the job he's taking on, human beings in general, screaming children, angry adults, easy enemies, having to prevent himself from lashing out at others, bottling in his emotions, not having seen his home in so long, his battles getting halted by the authorities
Gameplay Details
Analysis
Xihuitl is among COLD❄BLOOD's most unique characters, being a precision-based character that uses his rapier for both offense and mobility purposes, allowing him to very quickly switch directions and dash around and even build up momentum through "ground hopping". He also has very high offensive utility, having a really strong rapier that deals very extreme damage if he lands the tipper of it against his enemies, dishing out very high damage. Though his rapier swings appear to be very simple and generic, they come out strong and can be heavily abused given how the rapier gives Xihuitl some of the most flexible mobility inventiveness of any fight in the game. He can use Expel Shot to force his enemies back with a blood-shaped crescent that pushes foes back further and deals more damage the more damage his enemies have taken over the course of the match, and Rapier Root to instantaneously switch directions.
Xihuitl's biggest weakness lies in just how pathetically weak the base of his rapier is, which is so ineffective that it can't even be useful for chaining many attacks against Xihuitl's enemies- it requires 20 base swings to match the power of one tipper swing. Besides that, he is a heavyweight and thus can easily get juggled in enemies' attacks and thrown around rather easily by nimble attackers. He also is required to search for food, as he has a strong appetite and needs to feast off of as much food as possible so he can continue surviving. Lastly, Xihuitl's rapier doesn't have too impressive of range, which makes it somewhat suffer against other melee weapons in COLD❄BLOOD. Other than these weaknesses, Xihuitl doesn't really have too much going against him, allowing him to function well as a pseudo-boss characters.
Xihuitl has a very high learning curve, but if in the hands of the right player, Xihuitl can become a very annoying and unstoppable force that requires a lot and a lot of work to overcome.
| | | |
| --- | --- | --- |
| Stamina 4/10 | Heavyweight Class | Appetite 9/10 |
| Offense 7/10 | Defense 8/10 | Mobility 8/10 |
---
Moveset
Common Attacks
Xihuitl's Crimson Rapier is one of the greatest tools in COLD❄BLOOD, and not even primarily for combat reasons. His rapier is so lightweight yet so sharp, allowing him to use the rapier to get ahead of the game when it comes down to mobility, able to pick up so much momentum with his own dash attack to outspeed even Pierce. Should Xihuitl perform a dash attack, he will thrust his rapier towards the ground and then dance around it, moving faster in the other direction or continuing forwards depending on if the player holds forwards or backwards. If he slashes against the ground with the tipper of his rapier, he will fling himself back into the air and allow himself to continue any aerial assault he may have been leading up there. If he stabs a wall with the tipper of his rapier, he will be able to bounce right off and back into the air, gaining vertical momentum in the process. He can even stick himself to ceilings and crawl across them with his sticky fingers! His back aerial will also turn him around, his down aerial can be used like a pogo stick, and his heavy tilts can be done even while he's moving! His forward heavy tilt lets him continue running as he performs a multi-stab attack that keeps his foe trapped in and keeps his momentum going.
Special Moves
Neutral Special: Expel Shot
Xihuitl takes his rapier backwards before slashing outwards with it in an instant in a 240-degree arc, creating a blood-shaped crescent that travels across the screen. The more damage his enemies have taken over the course of the match, the greater the size and power of his crescent, and the further it pushes away his enemies upon contact. Though the Expel Shot can be knocked back easily by his enemies if it's weak and small, Xihuitl can continue boomeranging it backwards through slashing at it with his rapier jab, sending the crescent back at higher speed and power, making it impossible to swing back.
Forwards Special: Rapier Root
Xihuitl sticks his Crimson Rapier into the floor, pinning himself midair with it. He can then either kick forwards and gain a lot of momentum, or spin himself backwards to do this kick. He can also swing himself into the air so he can begin performing numerous chains of attacks midair. It is similar to Corrin's "Dragon Lunge" from the Super Smash Bros. series in (most of) these regards, but the main difference is that he glides forwards for much longer after launching off, for the move gives him an intense amount of momentum. In the air, he will instead skewer forwards with his Crimson Rapier to hit enemies numerous times.
Recovery Special: High Leap
Xihuitl will launch himself upwards, swinging his sword upwards as his short cape flows wildly behind his back. Crimson afterimages of his rapier are left during his initial rise, indicating the move's speediness and power. The rapier, brimming with poison to ensure he can't be interrupted from above, will poison any enemies that come in contact with it. After reaching the apex of his jump, Xihuitl falls helplessly.
Crouch Special: Sludge Bomb
Xihuitl will squeeze out a poisonous bomb from his throat, dropping it onto the battlefield. If any foe touches it, they will get hit with a moderately powerful explosion and become badly poisoned. They can be used to make traps on the battlefield as well as guard ledges from his foes' reach. He can also pick up these bombs and throw them around in whatever trajectory he needs, allowing him to punish recovering foes with poison.
Hyper Moves
Neutral Hyper: Blood Cutter
Xihuitl swings out his rapier even faster, spinning 500 degrees as he sends forth a thicker bloody crescent across the screen that seems to be glowing with a magnificent light. Enemies hit by the crescent will take multiple hits from numerous other smaller crescents that pop up around them, eventually getting launched back a fair distance by the final blow. It deals a lot of damage if the foe has already taken a lot of damage.
Forwards Hyper: Rapier Glide
Xihuitl will skewer forwards through the air like with the mid-air version of Rapier Root, being capable of steering upwards or downwards as he glides. The more momentum he has while using the move, the further he will go- it is suggested to use Rapier Root to gain momentum first, then use Rapier Glide immediately afterwards for seriously fast results. Any foes he touches will be kept in his range, eventually pinning them to the floor.
Recovery Hyper: Xihuitl's Flight
Xihuitl will fly upwards by a much more significant distance, with his rapier leaving even stronger, brighter afterimages to indicate how much stronger the move is. Any foe that gets in Xihuitl's way will become badly poisoned for a short period of time, whittling at their health rather fast.
Crouch Hyper: Poison Cloud
Xihuitl instead breathes out a long stream of toxic gases, made from the Sludge Bombs he let explode inside of his own stomach. Any foe that gets hit by the Poison Cloud, which goes a long distance, will become badly poisoned. The stream will then rise upwards, forcing aerial foes to use a well-timed Parry to avoid the effects of the sludge. Very annoying against foes attempting to make it back.
ZONAL FEVER: Infestation
Xihuitl will whistle, summoning numerous offspring from his species to the battlefield, stomping on the ground and throwing a temper tantrum as he commands them to surround and pin down the foe. They will comply almost instantly, leeching onto their bodies and draining energy from them- the more larvae that are on the foe's body, the harder it will be for them to escape. Xihuitl will be standing there, charging up a really powerful Rapier Strike- if the foes don't shake off the larvae, he will come right forth, sliding their heads clean off!
Animations
Entry Animation: Xihuitl will angrily slink onto the battlefield, shaking out his alien tail and breathing hard under his mask, shaking his fist as he strikes the air with his Crimson Rapier, letting out what seems to be a foreign war cry.
Idle #1: Xihuitl will slash the air numerous times with the Crimson Rapier, looking aggressive as he throws numerous punches, taunting his foe to come over as he wags one of his metallic-covered fingers.
Idle #2: Xihuitl will eat away at some stashed away grub that he usually keeps for himself while he's on the job. This grub will not heal him, it will simply entertain him until the fight continues.
Taunt #1: test
Taunt #2: test
Taunt #3: test
Victory #1: Xihuitl looks away from his enemies' corpses, staring out of a wide window on the satellite and looking towards what's implied to be his home planet of origin, his cape flowing.
Victory #2: Xihuitl sits down in a recliner chair, working on validating the ID tags of the deceased enemies around himself as he sighs, muttering quietly that he really really does hate his job.
Victory #3: Xihuitl will sit down at a table, drinking from a bottle of water as he looks rather refreshed, then leaning his head down as if he's done something very terribly wrong.
---
Alternate Costumes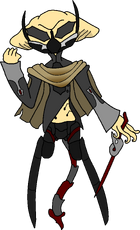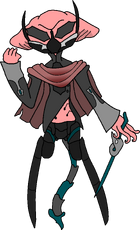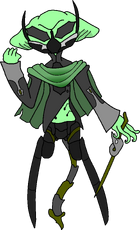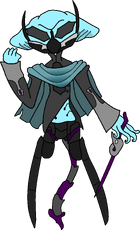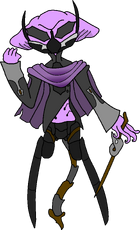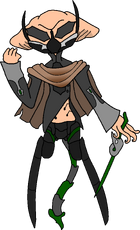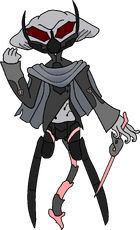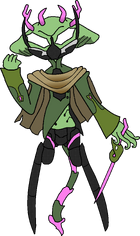 Kýrios
Name
Kýrios the Dark King
Mass
8'10" at 178 lbs
Birthday
March 17th, age 53
Gender
Male
Sexuality
Heterosexual
Alignment
Chaotic Good
Home
Admin Sector, Kýrios' Throne
Occupation
Satellite 15 lord
Weapon
Jigsaw Lyre
Powers
Darkness

Kýrios is the Lord of Satellite 15, managing it from the throne room found all the way at the back of the Admin Sector. He's responsible for keeping the government of the satellite in check and for ensuring the satellite doesn't cause any conflicts with the other moons neighboring the rocky giant named Zaxina. He's frequently seen quietly and gently playing the Jigsaw Lyre, a peaceful instrument that allows him to magically keep the numerous disjointed elements of the satellite together for as long as he continues to keep playing it. Kýrios suffers from a short memory span, incapable of remembering recent events, and his somewhat undeveloped brain means he has trouble expressing rational thoughts and feelings. He relies on his wife Zodiez to be his translator, and thus, Zodiez is almost at his side every moment. Though his mindset frequently clashes with his wife's, he does indeed love her very much and respects her very much, and aims to spend the most time with her when possible. Occasionally they may acoustically perform live in the throne room, Zodiez singing traditional songs while Kýrios finds a perfect melody on his lyre. It's said Kýrios came from a world filled with bug-like individuals like himself, and that he was a warrior for them until he departed because its ruler was garbage.

Kýrios may appear scary and intimidating initially, moving about in erratic patterns and spitting jumbled sentences out of his mouth, but he's the sweetest and gentlest soul in power and checks to make sure none of his fellow administrators are abusing their duties. He is very social and enjoys spending time with others for hours on end until it's time for him to return to his lyre; he especially likes communicating with children and improving their social skills to the best of his ability. It's thought that he's so open to communicating with others, in fact, that it's his main vulnerability and weakness- baiting the lord is surprisingly simple and it's why numerous villains aim to dethrone him since they know effective strategies to bringing him down. They just have to pass his numerous friends first, however, to get a chance to speak to him alone. However, should the time come for Kýrios to stand up and fight, he's very far from being unarmed. He can pour blood from his pores and bend it in any shape to form whatever weapon he wants, fly around at sonic speeds with his huge wings, and use his lyre to send his foes to sleep, letting him inflict nightmares upon them.

Kýrios does commonly receive criticism for his lack of coherency and for having 100% control of what happens in Satellite 15 without requiring the input of the rest of his team. Sometimes he acts on his own whim and makes laws whenever he wants without risking having them repealed by his team. However, this does not happen frequently, and he usually does listen to his team and nod his head to everything really.

---

Likes: Being able to trust "inferiors", communicating with and encouraging children, spending time around others, playing on his special lyre, getting wrapped up within intense combat, spending time with his wife Zodiez, playing around in his throne room, wasting time by fooling around with guests, moshing to heavy metal
Dislikes: Learning he's been baited, receiving insults, getting criticism for his way of handling things, being unable to speak properly most of the time, being seen as an irresponsible ruler, people picking on his wife, people attacking his wife, people stealing his lyre
Gameplay Details
Analysis
Though he's one of COLD❄BLOOD's tallest overall characters, Kýrios is actually a lightweight fighter with five lofty jumps and very low gravity. Kýrios has balanced damage output throughout his attacks and average speed both on the ground and through the air, giving him the utilities necessary to be a mix-up specialist. Kýrios possesses scythes he's conjured from his own blood for battle, which grow to be larger and more efficient with the more damage he's taken over the course of the battle. With his abundance of disjointed ranged tools in these scythes as well as access to parasitic bullets that can leech health from his enemies, Kýrios is an annoying fighter that has numerous ways of putting his foes down. With the efficiency and speed of his attacks, he has little trouble being strong on the ground or in the air, and can chain numerous moves against them at almost any time.
Kýrios does suffer from his fair share of weaknesses, however. His worst con, and one that's entirely exclusive to him, is that his defenses worsen the more damage he takes throughout a match. This is because the blood he loses is used to conjure his weapons, which leaves him with less Stamina the more and more of it he loses. Because of how incredibly floaty and light he is, combined with his massive hurtbox, it's easy to fling him across rooms and battlefields and force him to work his way back up to the player. Players that are having trouble evading taking damage with Kýrios will notice that his Bloody Parasites won't be very effective at all, as he will be losing more than he gains. With his only average speed, it's rather easy for rushdown and dominating characters to catch up to him and put him in his place. Several of his attacks require precision to be landed when he's at full health, too.
Though the lofty Kýrios does suffer from numerous weaknesses largely in part to his lightweight status meshing poorly with his huge body, he's very powerful in the right hands and can break through foes easily for as long as he's never thrown into a position where he has to be futilely defensive.
| | | |
| --- | --- | --- |
| Stamina 5/10 | Lightweight Class | Appetite 4/10 |
| Offense 6/10 | Defense 4/10 | Mobility 6/10 |
---
Moveset
Common Attacks
Kýrios' basic moves are actually quite versatile, making usage of bloody scythes that increase in range and power the more damage he's taken over the course of the match. They're lackluster at the beginning of a match, but fearsomely strong when he's taken massive damage and is on the brink of collapsing. These are helped further by just how enraged he becomes as his Stamina progressively worsens; his growing anger will surge newfound strength into these attacks as well as make them harder to escape overall. However, they do have a problem whereas they can't be used at even 50% of their full power unless he's at 80% health, and attacks will deal more damage to Kýrios the lower health he gets. Yet, the closer he is to dying, the stronger these moves become. This makes using him at full power very risky and very dangerous, and will result in him losing if the player using him is inexperienced. His heavy tilts have him form pillars of blood instead that will grow thicker as he's taken more damage.
Special Moves
Neutral Special: Bloody Parasite
Kýrios will lean his head backwards, his body bending back as he does, to spit forth a bloody cockroach-like parasite through the air. If it hits the ground or a wall, it will ricochet off of it before disappearing five seconds later. The parasite is surprisingly large when he's at higher health, carrying a large amount of Kýrios' blood with it, and smaller when he's at lower health, so to not kill him too soon. If the parasite successfully latches onto the foe, it will drain HP from their body to restore what Kýrios just lost and more- while the parasite's bouncing, Kýrios can utilize his improved range and power to strike a foe until the parasite latches onto them. Watch it, though- if the parasite doesn't land on the foe, Kýrios won't be getting that health back.
Forwards Special: Gory Slammer
Kýrios eerily cackles as he transforms his scythes together into powerful maces, streaking across the ground in a heartbeat to make them both simultaneously collide together. Any foe caught between these maces will take an absurd amount of damage from the impact, but the chances of this occurring aren't very high unless the foe has the obvious instinct to get out of his way. If the player holds down the special attack button, he'll instead launch these maces across the screen to make far-off foes take damage, restoring new scythes through sacrificing some of his Stamina to do this. If Kýrios doesn't have enough health to afford making new scythes, he cannot do this attack without sacrificing himself.
Recovery Special: Shattered Wings
Kýrios will make a moderate-distance covering dive in any one of eight directions using his wings, giggling to himself as they shatter at the apex, sending the harmful pieces everywhere as he makes a very quick fall! His wings will then reform if he lands on the ground again. It's thought that using his wings too hard will break their fragile glassy form, which is why the move doesn't cover much distance.
Crouch Special: Nightmare
Pulling out his lyre, Kýrios will send forth a wave of musical notes across the screen. If all four sucessfully make contact with the enemy, they will be lured to sleep. Kýrios can then sneak over to them during the ten seconds they're asleep and transform his body into a hideous ugly creature somewhat reminiscent of the Babadook, screaming at the foe before slashing deep at their wounds. It's almost impossible to land this attack if the foe is good enough to dodge all four notes of the lyre move, and renders him vulnerable to attacks. However, if the foe's just been knocked down, dodging the notes won't be so easy. If this move is used too frequently, the notes will become more spread out and easier to avoid.
Hyper Moves
Neutral Hyper: Bloody Infestation
Kýrios will perform Bloody Parasite again, but this time he'll spit out five roaches. There is absolutely no way they won't be latching onto the foe if he aims in their direction, and they'll lose quite a bit of health as the HP is restored to him. However, if he misses landing even just one roach, he will be putting himself at a disadvantage as he won't have restored all the health he could have. The player has to try and land them all.
Forwards Hyper: Lightning Gore
Not only is this move very similar to Gory Slammer in how it functions, but it's actually even more useful! Kýrios will travel a further distance, catching foes in his way before slamming them between his maces, sending them straight down if they're in the air! He can also throw his maces out like with Gory Slammer, but they'll work like boomerangs before returning to Kýrios, preventing him from sacrificing health.
Recovery Hyper: Angel of Death
This move is actually fairly different from Shattered Wings. Forming a pair of katanas, Kýrios will rush in any direction he pleases and go a very far distance with them, rapidly slashing with the katanas into any foes that come in his path! He will deal immense damage to them if they're caught with every slash, but he'll be vulnerable when the attack is over, forcing him to land back to the ground after his wings shatter.
Crouch Hyper: Final Rest
Similar to "Nightmare", except that Kýrios will instead summon 16 notes. If the foe touches even just one of them, all the notes will be gravitated towards them, forcing them into a deep sleep. The scenery will transform into a pristine olive garden, with life growing around them. However, as Kýrios nears them in their 10-second sleep, everything will become darker and darker. He will then tear off his face in front of the foe, sending them into a state of shock. Their stock will then be removed, following a heart attack.
ZONAL FEVER: Song of Extinction
Kýrios will cackle as he ascends high into the air, landing down on his throne and resting both arms on the sides, his shadowy arms kept crossed over his lap. He will then play the lyre, causing the stage around the foes to begin falling apart in every direction, forcing them to try and find safe landing as unfitting soft music plays, the winds pushing the players around as the god watches over them, feasibly grinning. After the 15 seconds of torture are ended, the move will end and the stage will return to its previous state, with the lord returning to position.
Animations
Entry Animation: Kýrios flies in from high in the skies, skidding across the floor as he screeches, his three sharp tongues visible and his eyes bugging out as he stretches out his abnormally long claws, slashing violently before hunching over.
Idle #1: Kýrios twitches uneasily as his head leans off to the side, grinding his teeth together as his limbs shake violently, his veins easily seen pulsating underneath his thin, pale skin.
Idle #2: Kýrios spreads his wings out, letting out a screech as his eyes blacken out, his limbs making crackling noises as Kýrios stretches them out by quite a distance.
Taunt #1: test
Taunt #2: test
Taunt #3: test
Victory #1: Kýrios peacefully plays his lyre as he sits atop some lonesome rocks, playing to the chorus of COLD❄BLOOD's main theme before turning his head to the camera, popping open his eyes and grinning.
Victory #2: Kýrios spins around in place like a ballet dancer before posing for the camera, letting out a hollow cackle as both his arms and shadowy arms fold together, winking at the screen.
Victory #3: Kýrios slashes multiple times to his sides as the camera rotates around him, watching him hunch over from behind as his face looks back towards the screen grinning, his head buried in his elbow and his other arm extended outwards.
---
Alternate Costumes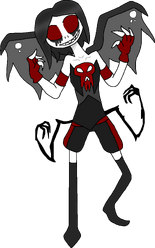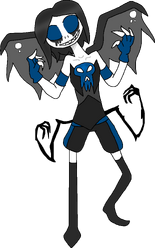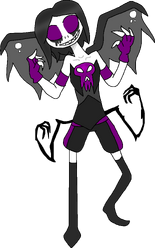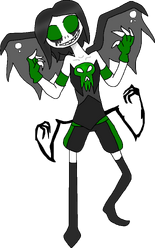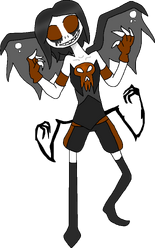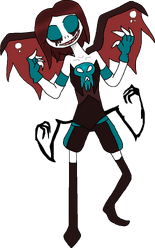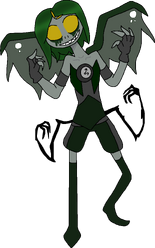 Unlockable Characters
There are just as many unlockable characters overall.
Agantuk
Name
Agantuk, the Last Dearthbringer
Mass
5'11" at 177 lbs
Birthday
May 3rd, age 19
Gender
Male
Sexuality
Pansexual
Alignment
Chaotic Neutral
Home
Satellite 15 Lobby Room #66(6)
Occupation
Universal cosmic destroyer
Weapon
Jewel of Hate, Silver Talons, Rainbow Prism
Powers
Demonic

Agantuk's a demonic creature with a nefarious past that's shrouded in mystery and limitless evil, having been birthed a millennium ago as the last in a line of destructive "Dearthbringers", which are also Heralds. He emerges from the galactic prison known as Cyaneth, where he was cursed by his abusive father with a special condition that would guarantee that his existence would never end, meaning that every death he takes on is meaningless- he will simply be born again back within the Dearthbringer Womb on Cyaneth and be raised again by his father to relearn his purpose and meaning. For every rebirth that occurs, he carries 10% of his memories with him to the next life, allowing him to recall elements of his previous lives in exceedingly greater and greater detail. All Dearthbringers, our demon boy Agantuk included, are gifted with the power to eradicate and completely destroy all forms of life, and can doom whole planets with remorseless obliteration. Millions of individuals across the universe have been wiped out by him and his kind. All previous notorious Dearthbringers that were known of have been erased from existence, leading the public to think Agantuk is the last when they are all hiding (in truth).

Do not take Agantuk as nothing more than a remorseless, hateful being- prior to the day he finishes his puberty and maturity, Agantuk usually lives his life as a friendly but mischievous person that's always sneaking into desserts and playing innocent pranks on his friends. Contrary to what many think of him, he's a loving, supportive and respectful person that tries to understand all people from all angles, and tries to make new friends so he can play games with them and follow their trails around the universe. Whenever he turns 21, he becomes capable of channeling his incredible inner strength and can turn it all against the world by his own command- this is a fact that Agantuk gradually becomes more and more aware of, and he begins to fear his own almighty power when it's almost at its peak limit. The closer he grows towards becoming an adult, the more mature and sophisticated he becomes, meaning he will crack jokes less often and be less prone to pulling off reckless stunts. As his time of freedom comes closer and closer to expiring, his maturity will be somewhat sacrificed for growing wrath and lust, with Agantuk's desire for physical contact and experience becoming more apparent, and he becomes almost more feral with his instincts and personality therefore.

Aboard the satellite, Agantuk is around eighteen years old and lives with his roommates Parabola, Luka, Olcia, and Jinx within one of the many rooms in the satellite's lobby. He's attempting to figure out how to remove the curse from his body that continues to let him be reborn again and again and also trying to figure out how to remove his Dearthbringer heritage- despite possessing powerful PSI, he does not want it anywhere in his body and desires to remove it so he can live peacefully aboard the satellite. He does not have many ties with the main story, but it's important that he does eventually figure out how to rid himself of his problems, or they will destroy the satellite almost singlehandedly.

---

Likes: Hanging out with his friends, being socially interactive, sneaking into and eating up desserts, pulling innocent pranks, caring for and listening to his friends, breaking the law (breaking the law), a good amount of Judas Priest, some Linkin Park, getting bedded
Dislikes: Being seen as immature, getting in trouble for his mischievousness, getting caught pulling off reckless stunts, vegetables, video games, light labor, house chores, knowing one day his Dearthbringer self will come along and destroy the universe if he doesn't think fast
Gameplay Details
Analysis
Agantuk is a semi-heavyweight character with above-average height for a fighter, having around-average speed and among the greatest power of any character in the whole game, functioning as a character categorized under the bait and punish archetype. Agantuk doesn't just boast strong projectiles that are difficult to recover from once they make direct contact with the enemy, he also boasts numerous hard-hitting physical attacks that are possible to chain together against heavier enemies. His job on the battlefield is to manipulate his enemies' behavior (baiting) before going in for the kill against them using his decent speed and almighty power (punishing). Exploiting his enemies and creating openings are a big part of learning to play Agantuk, who doesn't have the speed necessary to chase down half the roster, but patience and precision will reward players severely as he dishes out damage even harder than Whiskey if the player masters his powers to perfection.
Agantuk is plagued by some big weaknesses, however. Though his projectiles have a lot of power and range, his physical attacks themselves suffer immensely from being some of the shortest-ranged attacks in the whole game. This is a huge disadvantage for him when fighting against foes like Vizole or Xihuitl, who very easily outrange him with their respective weapons. Though Agantuk's decent speed compliments his great power output, many characters can outspeed him and take advantage of his mediocre Stamina, and his faster-than-usual starvation means that finding and gobbling food is even more of a priority than it normally be for others. His frame data isn't the best overall, either, with numerous missed attacks giving his foes many opportunities to punish him- meaning that he can be ironically baited himself.
Agantuk's a strong character with an amazing moveset to boot that possesses some severe power, but his meddling defenses and quickly draining hungry meter atop his other weaknesses can make him hard to manage.
| | | |
| --- | --- | --- |
| Stamina 4/10 | Heavyweight Class | Appetite 10/10 |
| Offense 8/10 | Defense 6/10 | Mobility 5/10 |
---
Moveset
Common Attacks
Agantuk's basic moveset surrounds the usage of two weapons: the Silver Talons and the Rainbow Prism. The Silver Talons are used commonly across his ground attacks as well as his aerials: these metallic-coated talons deal a lot of damage through his violent slashes. His Rainbow Prism concentrates a lot of his psionic energy into powerful light beams that he uses for his heavy tilt attacks, but also serves as the basis for his throw attacks, having him throw his enemies around after having captured them by light. Agantuk's attacks don't have much range barring the exception of his Rainbow Prism heavy tilts, and seem to have some tricky hitbox placements that make landing the sweetspots for him somewhat difficult. However, though his moves don't have a lot of range, he's surprisingly acrobatic and can safely defend himself from all angles with some of his attacks, especially his cartwheel neutral aerial.
Special Moves
Neutral Special: Immaterial Spear
Agantuk pulls his hand back far, charging up a fierce amount of psionic energy within his Jewel of Hate, concentrating a ball of dark light within his held-back palm. He will then blast forth his Immaterial Spear, a dark energy beam that carries numerous fragmented memories with it as well as his will to fight, piercing through his foe's body and temporarily numbing them. Takes at least three seconds to fully charge, but can travel across the whole battlefield once fully charged regardless of where Agantuk is standing, and the move itself can be stored. The size of the beam increases as the move is charged, as does the power of the move. If he is attacked while carrying a charged Immaterial Spear, he must recharge the move.
Forwards Special: Ozone Rupture
Agantuk will recreate an astounding amount of psionic energy within the Jewel of Hate he holds in his hand, swinging his arm around his body as he does a 360 spin, eventually blasting out an energy blade that ripples through the air, rapidly slicing at enemies upon contact before knocking them back. Unlike Immaterial Spear, it gets blasted off instantly and doesn't seem to leave Agantuk with much ending lag, and he can have up to two Ozone Ruptures on screen provided he's far away enough from the foe. The more Ozone Ruptures that make contact with the enemy, the more they damage the enemy, to the point where this attack can deal absurdly high damage. The multiplier resets when the player uses any other attack, however.
Recovery Special: Cognishock
Agantuk will receive a surge of cognizance, transferring the energy to his Jewel of Hate and suddenly becoming aware of his enemy's position. He will then leap towards them with dark energy frequently flashing from his Jewel of Hate, attempting to body slam his enemy with a really overpowered guttural punch. The enemy usually has just enough time to react and get out of the way, but if they avoid his high-power punch, they have to avoid the massive shockwaves that erupt from the floor when he misses. He will always target his closest enemy, meaning he can easily self-destruct if that foe is off the stage, but he will almost always take down his enemy with him.
Crouch Special: Spiritual Counter
Agantuk holds his left arm upwards, holding his Jewel of Hate to his forehead as he surrounds his body with a spiritual shield. If an enemy attacks his Spiritual Counter, he will sic his spirit upon them, which will repeatedly punch away at their backside for 10 seconds. The foe will flinch slightly for every punch they take, making it much easier for Agantuk to knock his enemy around. While his enemy's getting punched to death, Agantuk can use any move of his choice to deal massive damage to the enemy.
Hyper Moves
Neutral Hyper: Immaterial Tempest
Agantuk will once again pull his hand back far, charging up an even greater amount of dark energy within his syncing Jewel of Hate. Once again, he can hold the charge, and once again, he'll lose it if he gets attacked at any point. Agantuk will then blast off several arrows composed of dark light towards his enemy, piercing their body and dealing great damage as it briefly numbs the enemy after making contact.
Forwards Hyper: Spatial Rend
Agantuk will send forth three energy blades from his Jewel of Hate, which have gone from a greenish hue to a bloody red one instead. They will all knock the enemy back together while dealing heavy damage, and if the player's capable of launching off three of these in a row, then the damage will be so multiplied that it will outright KO any enemy in the game that isn't quick enough to dodge any one of these.
Recovery Hyper: Radioburst
Agantuk will screech as he rushes even faster towards his enemy's position, seeming to leave behind a sonic boom as he makes a very fast leap towards his enemy. The shockwaves he makes upon hitting the ground are intense, almost requiring a parry to dodge them. Unlike Cognishock, it is impossible to avoid this attack if you're in the air with him nearby, as he will be programmed to aim towards you and take you down.
Crouch Hyper: Alzheimer's Boomerang
Agantuk will hold his right arm upwards instead, surrounding himself with a green psychic shield. If he gets hit, he will send back the full force of the impact and dizzy the foe with amnesia, allowing him to get a very clean shot at them with a fully charged heavy tilt or a quick reaction with Immaterial Tempest or Spatial Rend. Needless to say, this attack can deal massive damage if he blocks the right move.
ZONAL FEVER: Dearthbringer's Wrath
Agantuk will let out an almost evil sounding laughter, rising high into the air as he opens the palm of his hand, letting his negatively glowing Jewel of Hate rise into the air. It will then continuously crackle with energy, removing all life from the battlefield and making the floor (and air) wholly toxic for numerous seconds. The toxins will eventually die down. This move may seem overwhelming at first, but repeated uses of it over a match will have the toxins become stronger and linger around longer. This move can be risky though, as it poisons food.
Animations
Entry Animation: Agantuk will step out of what appears to be the Dearthbringer Womb machine from Cyaneth, breathing the fresh air as his Jewel of Hate resonates with the overpowering psionic energy in his brain, bringing him to cackle loudly as he stretches out his muscular arms in what seems to be the most evil-looking way possible.
Idle #1: Agantuk will playfully balance himself on his devil tail as he thinks rapidly about the future ahead of himself, represented by a thought bubble displaying what he thinks will happen in the future.
Idle #2: Agantuk will spank himself, letting out a maniacal laughter as he teases the enemy with snapping finger noises. He will eventually calm down by puffing air out of his nose and snorting like a angry bull.
Taunt #1: test
Taunt #2: test
Taunt #3: test
Victory #1: Agantuk will repeatedly smack his hands together, the Jewel of Hate within his right hand's Silver Talons glowing vibrantly with pride as he sings mockingly, "Sounds like you don't have enough experience points to be a real challenge for me!"
Victory #2: Agantuk will juggle around his Jewel of Hate like it were just some toy, claiming "You don't stand a chance against me, you little punk!" before he catches his Jewel of Hate, squeezing it tightly between his hands as he lets out a loud and maniacal laugh.
Victory #3: Agantuk will perform a victory pose, grinning widely as he aims to please the crowd with a nifty little dance, sending by landing on his knee and getting rained down upon by roses, much to his pleasure as well as the Jewel of Hate's.
---
Alternate Costumes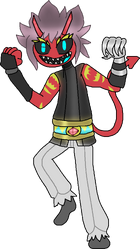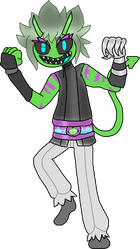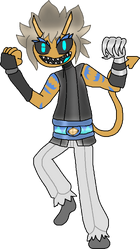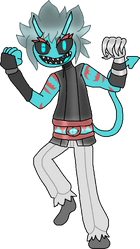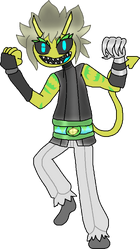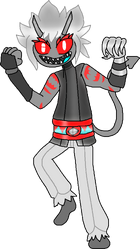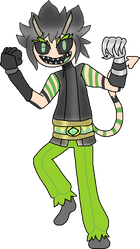 Junkhead
Name
Rhett "Junkhead" Reed
Mass
6'04" at unknown weight
Birthday
June 18th, age 43
Gender
Male
Sexuality
Swings back and forth
Alignment
True Neutral
Home
Matchon City backstreets, Sector 3
Occupation
None, but makes offers
Weapon
Splitting Limbs, Mace
Powers
Invincibility

Junkhead is a playful, passionate and reckless person that lives along the streets of Sector 3's Matchon, living dangerously as a professional "pro skater" (or so he claims) and a trigger-happy drug user. He never really thinks twice before doing something, so if his mind's ever set on something, you're very unlikely to change his mind. And Junkhead always does the things he does because he sees himself as tough and brave when compared to everyone else around him- while this is true, the reckless actions he takes from time to time again result in him having to deal with unwanted side effects and authority involvement. He's gotten into so much trouble, in fact, that Junkhead's spent more time locked away in jail than anyone else of his age. Junkhead always finds a way back out of prison, though, and has escaped the clutches of the police so much that they don't bother trying to arrest him at this rate (with few dedicated exceptions). It's not like you'd really want to mess with Junkhead, anyway: he can very easily rip apart his prey or any desired target or suddenly jerk guts and organs out from them to use as weapons against others daring to take him down. And Junkhead won't go down without a fight!

Though it's easy to assume that Junkhead's just some guy that's only really around to make trouble and intentionally annoy everyone else, he's always just been looking for a good time and feels cheated out of getting it a lot. Junkhead usually hangs out in the lesser known parts of town, abusing his favorite substances and practicing pulling off some tricks. When the authorities try to get him, he just gets really ticked off and attempts to avoid them if he's feeling threatened. Those who actively hang out around Junkhead, though, know he's more than the sum of his visible parts. He's very optimistic, opportunistic, and exciteable, and always appears excited to talk to his friends when he's around them. He does speak very crudely and has a dirty sense of humor, always speaking in ways that others may not find pleasant or polite, but this aspect of him is difficult to change and it adds to his charm. He painfully lacks any kind of subtlety, and speaks bluntly about who he is or how he thinks of people, though this means you can trust Junkhead to be honest. Junkhead is never judgmental, especially of those who are questioning who and/or what they are, and tries to be helpful with friends that feel that way. He has trouble understanding some concepts, but is nevertheless accepting and a reliable (if unique) ally.

That said, you should always exercise caution around Junkhead, as he's not your typical friend. Though he is always willing to be on your side and make you happy, he crushes your prey by gruesomely ripping them apart and can begin talking about some really gross or uncomfortable topics without flinching in the lightest. Best beware that he's friends with Black Eyes; whenever they're around, the conversations turn ugly and very unpleasant to everyone around. But you might find something useful in this street junkie, if you look deep enough into his (outward-lying) heart.

---

Likes: Hanging out, having a good time, junk food, heroin, cocaine, smoking, alcohol, beer, not giving a shit, people not catching on to his jokes, people being true to themselves, seizing opportunities, rock music
Dislikes: The authorities, judgment, pop, rap, therapy, rehabilitation clinics
Gameplay Details
Analysis
Junkhead is a middleweight fighter that plays very differently from the rest of the cast, standing out among the roster in dozens of ways. The aspect that's most notable about Junkhead is that he can split up his body and use his individual limbs as battering rams and projectiles, leaving the only vulnerable part of his body to be his chest. Junkhead can also swing around a mace; if the player taps the attack button soon after splitting Junkhead's mace-wielding limb off of him, he can make that disembodied limb swing the mace, giving him a superb amount of reach considering the many ways he can split up his body. He also directly splits himself in half (across the chest) for his parry move, blocking the necessity to make perfect parries, and can even toss his head around to smash fighters from a distance. Consider his high offense and high mobility and you have someone that's really difficult to fool around with. An insult to injury is that all his body parts minus his chest are invulnerable to flinching or stun, meaning enemies can't stop them as they come.
Junkhead has considerable flaws in his defense game, though, being the game's worst character defensively- in ways, he's even worse off than Pierce is. For one, he is extremely ravenous and craves food often, meaning that he has to protect his very frail body often while scavanging for scraps. Though the only vulnerable part of him is his chest, every attack that's done to it is automatically a critical hit, meaning he can't afford to be reckless at all lest he be brought down by less than half a dozen attacks. Because of the way his mace works and the amount of ways he can split up his body, he is a very difficult character to get the hang of and an even tougher character to master. He also lacks methods he can use to heal himself with on his own whim, leaving him helpless if he's getting beaten up over and over, so he has to play it as safe as he possibly can. He's also easy to knock around in general.
Though Junkhead has some obvious flaws as a fighter, he's got a lot of special functions and if you utilize him properly he really is a unique power player among COLD❄BLOOD's cast, and can quickly tear his enemies to shreds.
| | | |
| --- | --- | --- |
| Stamina 1/10 | Middleweight Class | Appetite 9/10 |
| Offense 9/10 | Defense 3/10 | Mobility 8/10 |
---
Moveset
Common Attacks
Junkhead can split the individual limbs of his body apart, with his head, arms, and legs able to easily detach from his body and be used as projectiles or long-distance mace-swinging weapons. The best example of him splitting his body up is in his neutral aerial, where all his limbs split up and rapidly spin around him before re-attaching to him in the proper spots. He can toss his arms around in his light forward and up tilt attacks, where the player can swing the mace during the attacks' mid-animations to strike someone that's otherwise a good distance away from Junkhead. He can also swing it in his up aerial and forward aerial attacks, as well as do a straight back swing in his back aerial. He dunks his head underneath himself in his down aerial to send enemies flying down like meteors. In his light down tilt, he'll split his legs apart to shove them away from himself. Junkhead's best splitting attacks can be seen in his heavy tilts, where he'll be combining his limbs together with his chest suspended midair to make giant fists that mash his enemies up, to the side, or straight down, like Bayonetta's smash attacks from the Super Smash Bros. series. In his pummel attack, after having grabbed an enemy, Junkhead will pummel them with his detached head and then use his detached legs to toss them away.
Special Moves
Neutral Special: Double Throw
Junkhead will toss his mace a moderate distance across the stage after the player chooses how they want to aim the mace. He will automatically toss out his hand to catch it and pull it back to him, but if the player quickly holds in a direction and taps the special button as the mace lands into his hand, he can toss it again in another direction. It's a rather unpredictable attack to use and Junkhead benefits from that as there's no telling exactly which direction he'll toss the mace in. Junkhead can make the attack have mimimal horizontal movement and make it mostly a vertical move, or have it have minimum vertical gain and maximum horizontal distance, or somewhere in between.
Forwards Special: Spinning Top
Junkhead will rapidly spin across the ground, spinning a mace clean around his body. If the player continues tapping the special button as he moves across the stage, his chest will begin to lift off from his waist as his body becomes two separate hazards, but if the player stops pressing the button, his chest will fall right back where it was. Both his mace and spinning bottom are hazards. The move stops projectiles altogether, and the move ends with Junkhead swinging his mace up in the same direction he was spinning in.
Recovery Special: Freaky Reach
Junkhead will separate his arms from his body, throwing them up in hopes of grabbing a ledge. If his hands come near a ledge during any point in the animation, he will automatically be drawn to the ledge and cling to it. The player can control the direction in which he tosses his arms, but if the player aims more downwards, he'll instead toss his feet to grab a ledge. If the player hits the special button mid-toss, he'll clench his fingers or toes together and have them double-punch or double-kick an enemy. If Junkhead is already on the ground, he'll only throw his arms.
Crouch Special: Emergency Split
Junkhead will immediately split up his body, having it crumble to pieces on the floor. The player can move these parts around really fast from left to right before he's forced to reassemble. Because this requires him to split up his chest, he'll have to sacrifice a bit of stamina to get away from the enemy. This should only be used to escape high-power attacks, as it'll put the player in a disadvantageous situation to damage themselves only to block a small attack.
Hyper Moves
Neutral Hyper: Triple Throw
This move works really similarly to Double Throw, but after the second throw, the player can throw the mace again a third time before he's forced to drag the mace back over to him. This move may not seem very special or that much of an improvement over Double Throw, but it can be used for mindgames and mess with the enemy's expectations, and the move overall happens faster than Double Throw so that the player doesn't remain too vulnerable.
Forwards Hyper: Junkie Hurricane
Junkhead will spin around much faster, becoming a much more rapid and alarming force of nature as he spins across the ground at high speeds. He travels faster than he does as a Spinning Top and can elevate his chest even higher. The mace is also slightly angled now, with the mace swinging more towards the ground in front of him and more towards the sky behind him, adjusting his reach. When he swings his mace up, now he swings it behind him.
Recovery Hyper: Monster Reach
This move works really similarly to Freaky Reach of course, except that the arms/legs reach out even further and have larger sweetspots if they're being thrown out like attacks. If the player taps the special button when he touches an enemy, he spring himself straight to them and cling onto them, able to bash his head into them and throw them around as if he grabbed then normally... even if they're mid-air.
Crouch Hyper: Living Grave
Junkhead will shrink his chest, spreading his limbs outward and waiting for an enemy to walk through him. This move will damage him considerably if used, but if successful, he'll close in on his enemy and use their guts as a vessel, restoring his stamina significantly. This improves his defenses, but if he closes in while the enemy isn't dead center, he will fail and he'll have wasted 25% of his stamina over nothing.
ZONAL FEVER: Junkie Elite Army
Junkhead will snicker as he rises up an enemy of undead heroin users, pointing the way forward as his emaciated soldiers grab his enemies and pull them down to the floor, slashing their way at the enemies and tearing them apart, with lots of split up limbs from everywhere torturing and pulling on their limbs. Junkhead will come in to hammer his mace across the enemy's face, dealing a considerable amount of damage to them while laughing his heart out- almost literally, if you notice how fast it's beating.
Animations
Entry Animation: Junkhead will fiercely cackle as he skates his way onto the battlefield, breaking his board into two as he pulls out his mace and swings it wildly, ready for battle.
Idle #1: Junkhead will smoke on a cigarette, pushing back against nothing as maggots squirm out of his free eye socket and smoke miniature cigarettes of their own, his fingers sifting through his thigh.
Idle #2: Junkhead swings his head around, his hair brushing all over his face before he swings it back up, his hair falling back where it was as he takes out a bottle of absinthe and carelessly drinks it down.
Taunt #1: Junkhead cackles maddeningly as he taunts his enemy, saying "If you were like me, you wouldn't be doing so bad!", his fingers very quickly snapping at the foe(s) as he does so.
Taunt #2: Junkhead twists his head around his neck, his arms and waist rotating around as he says "Aren't you happy? I am, man!" before all his body parts snap back into place.
Taunt #3: Junkhead leans back on the floor, holding up his head as he shoves an alcohol bottle into his throat, saying "Let yourself go and open up your mind..." before screwing his head down on the bottle.
Victory #1: Junkhead aggressively slashes through a bunch of policemen, cracking his knuckles as he boasts, "Your life is empty and bare... why don't I give you a good night, the best in a long time?"
Victory #2: Junkhead leans back against an armchair that we see from behind, his arms hanging back and holding his decapitated head as he taunts, "Poor scared [CHARACTER]... maybe you were wrong to judge the stoners, junkies, and freaks of my hometown."
Victory #3: Junkhead lays down on his front across a bed, smoking some cocaine as he taunts, "Too afraid to take some risks against me? Too bad..." while rubbing two greasy fingers against the sheets.
---
Alternate Costumes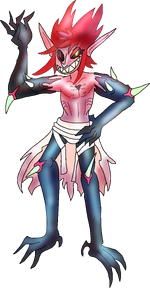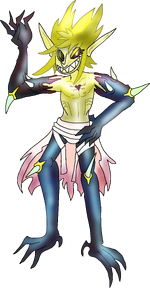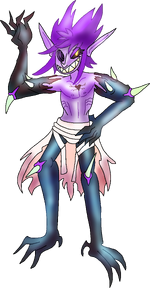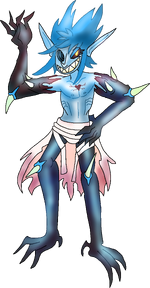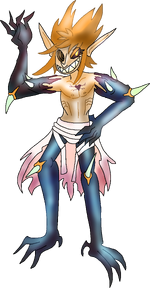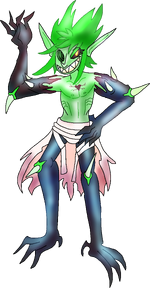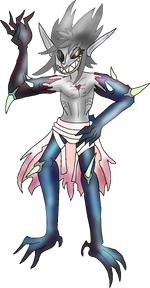 Koffina
Name
Koffina Laxi
Mass
6'03" at 368 lbs (inc. coffin)
Birthday
December 30th, age 62
Gender
Female
Sexuality
Bisexual
Alignment
Neutral Good
Home
Candle Flat, Sector 4
Occupation
Supernatural banisher
Weapon
Enchanted Coffin, Sangie
Powers
Pyrokinesis

Koffina's a meek and patient woman that's seen as a grandmotherly figure by those around her, showing attachment to those she sees as misguided or weakened. She's something of a klutz and trips over a lot whenever she walks free of her coffin, but she's well-meaning and tries to take care of those she adores as well as she possibly can. Koffina is the leader of the CandleWax Squad, working with the likes of Waxy and Wick to assist and heal up locals and strangers alike brought in from everywhere. She's responsible for using her pyrokinesis to light up the Candle Flat and keep the place nice and warm. Though she does work professionally as a healer and is very happy with this profession, she's actually the satellite's main gateway for banishing supernatural creatures and she ensures they can never escape. The inside of her coffin leads to an infinitely-lasting prison that seems to have no size limitation, where jailed supernatural creatures can make their home and enjoy tea parties and read up on whatever books they desire. As such, Koffina happily works with the likes of Devina Kilmister and Clair Voyell to get rid of them and make friends out of them.

Koffina isn't too limited by her age or by her professions, being more than a capable caretaker when she has to take matters into her own hands. Though her knowledge of pyrokinesis isn't super impressive, it can easily get the job done and she can easily burn up anyone she manages to wrap up with her spare mummy tape. A big weakness of Koffina's, however, is her poor balance and stamina; this is where her tentacle monster friend "Sangie" comes into play. Sangie lives right underneath Koffina's coffin and helps move her around, crawling its way around the satellite with Koffina and her coffin hoisted on its back. In exchange for his services, Koffina regularly feeds Sangie whatever carcasses and meat she can find around Sector 4 and always makes sure to go on shopping trips with Waxy or some other candle lady to find some. They get along like best friends and get very playful together, and Sangie sometimes helps out with Koffina's main job by passing her items when she needs them. They sometimes get into fights if Koffina isn't able to sufficiently feed him, but they manage to resolve everything in the end rather easily.

Koffina has shown much disgust with the Hospital Wing and the way it functions, being openly critical of lead surgeon Abraham Mason and frequently targeting Ms. Replicate for her supposed carelessness and recklessness around patients. As such, she sees her CandleWax Squad as a rival to the Hospital Wing and encourages others to come around her place instead.

---

Likes: The CandleWax Squad, Waxy, Devina, Clair, Sangie, helping others, healing others, lighting candles, eating vegetables (vegetarian), being able to relax, traveling, rocking chairs, knitting, honesty, smiles, laughter
Dislikes: The Hospital Wing and its associated parties, people feeling sickly, people feeling depressed, feeling overwhelmed, not being able to find enough food for Sangie
Gameplay Details
Analysis
Koffina is a heavyweight fighter with a large hurtbox, being one of COLD❄BLOOD's largest fighters as well as one of its most defensive characters. Koffina is a character that's really tough to take down, with her coffin being completely invulnerable to attacks and serving as a weapon for her, with its hitbox being rather difficult and tricky to dodge in the attacks that use it. With her long-reach command grab in Mummify and her ability to self-heal, Koffina requires a lot of patience and strategy to beat as she can easily nullify her enemies' efforts to whittle her down to nothing. She's also got some really interesting attacks, with Sangie slapping Koffina's enemies with its long tentacles while Koffina swipes at her enemies with walking canes- Sangie's attacks may hurt harder, but Koffina keeps enemies off her back. Koffina also possesses an impressive recovery move for her weight, a long-distance projectile, and a crouch that allows her to duck low enough to avoid most jabs and grabs.
Koffina is plagued with plenty of weaknesses, however, that can make survival for her pretty difficult. For one, Koffina is actually incredibly heavy and outweighs the whole cast, making her very easy to repeatedly attack especially as she can flinch like (nearly) everyone else. The only thing that cannot be directly attacked is her coffin, so all of Koffina's actual body is very vulnerable. She's also got mediocre offense and mobility, meaning she has to rely on overly-defensive tactics to survive in battle, especially considering how meddling her stamina is. Besides her Flamethrower attack, Koffina has rather mediocre range and her frame data is poor, meaning a lot of her moves come out either really early or really late and thus it's difficult for her to freely recover from mistimed attacks. Finally, she has rather poor jumps, meaning she lacks much of an aerial game (albeit her air moves are extremely strong).
Koffina has many unique ways to attack her enemies, but she's really risky to use because of her high weight combined with her poor mobility and mediocre attacks, meaning the player has to rethink their strategy a lot when playing as Koffina if they wanna win with her. Her many pros make her worth playing in face of her cons, too.
| | | |
| --- | --- | --- |
| Stamina 2/10 | Heavyweight Class | Appetite 1/10 |
| Offense 5/10 | Defense 10/10 | Mobility 5/10 |
---
Moveset
Common Attacks
Koffina's basic attacks revolve around the usage of her partner Sangie, her walking canes, and the coffin itself. In her jab attack, dash attack, light forward tilt, and heavy forward tilt, Sangie will lift up the coffin to slap at the enemy with strong moves while Koffina reaches behind herself by beating her canes up and down. In her down tilt attack, Sangie will quickly slither his tentacles across the ground before withdrawing them, and in the attack's heavy variant, he'll spin around with them stretched out. Koffina and Sangie spin around together in their neutral aerial, but in her other aerials, Koffina will instead swing around her heavy coffin to deal massive damage if it hits. After each swing of the coffin, Koffina will have to deal with an exceptional amount of downtime, leaving her vulnerable. Her down aerial is a heart-stopping dive downwards, with the coffin slamming against the floor.
Special Moves
Neutral Special: Flamethrower
Koffina will throw a lit candle into her mouth, holding it in before breathing out a long wave of fire across the screen. The fire looks black to contrast with other enemies' flames, and continues scorching enemies for a while after making impact. If the attack button is tapped, Koffina can take in up to three candles to maximize the size of her fiery breath, and then the button can be pressed to release it all at once. It works in unison with Koffina's "Mummify" technique; after Koffina wraps her enemy up in tape, she can breathe out fire to burn them up harder and drain at their stamina much faster, though the enemy can escape the tape.
Forwards Special: Mummify
Koffina will stretch out some mummy tape; if the player pushes in the direction away from Koffina, she'll spin the enemy away with mummy tape around them. She can then follow up by burning them up to take away a bunch of their health at once, or follow up in whatever other way she desires. However, if the foe is fast enough, they can break free from the tape and get back up on their feet. The more and more damage they take throughout the battle, however, the less resistant they'll become to the mummy tape. If Koffina pushes in the direction towards herself instead, she can take the enemy in and punish them with a throw attack.
Recovery Special: Sangicopter
Sangie will swing its tentacles around rapidly, helping Koffina fly straight up into the air before she's forced to free-fall her way back down. This is a simple recovery move and it doesn't let her move from left to right while ascending, but it still gives her a decent amount of height and she's completely invulnerable from above. The player can tap the special button while she's ascending to attack or disrupt enemies from above with her walking canes.
Crouch Special: Rest Up
Koffina will fall asleep inside her coffin, with Sangie sealing the coffin to let her rest. She'll restore 3% of her stamina per second, so the enemy has to be quick and disrupt her healing by attacking her coffin before she heals too much- it'll knock the lid off. It'll take around 33 seconds before her health is completely restored, so it's a slow process, but it can still give Koffina enough stamina to avoid getting KO'd by certain attacks. Koffina takes a second to get out of her coffin, so she has to pick a really good time to begin healing or she'll get punished.
Hyper Moves
Neutral Hyper: Helix Flame
Koffina will take in two candles, breathing a helix of intertwining flames across the screen that are respectively purple and black, that grow larger if Koffina continues to stuff candles into her mouth. These hit harder than her standard Flamethrower, make the burns last permanently but have damage done over time that continually spaces out, and it's easier for enemies to get stuck in the attack and take multiple hits.
Forwards Hyper: Mummy Strangle
Koffina will reach some mummy tape forward again; if she succeeds, she'll grab the enemy and strangle them, draining a lot of stamina out of them and absorbing some of it into Koffina's own stamina meter. It's a really quick, efficient move that gives Koffina slight advantage over the rest of her competition. If the player keeps pressing the button in rhythm, she can keep strangling them until they break free from the tape.
Recovery Hyper: Super Sangicopter
Unlike with normal Sangicopter, Sangie can actually move in any direction while moving Koffina around, with her gaining momentum while descending and losing some of it while ascending. It lasts much longer than Sangicopter and Koffina will twirl her walking canes above her like a propeller to damage any enemies that she flies into. It's a good off-stage tactic to slice up her enemies many times before flying away.
Crouch Hyper: Quick Restore
Koffina meditates while she's inside her coffin, Sangie holding tentacles around her to protect her from being moved around as she heals quickly. She'll restore up to 20% of her stamina within 5 seconds if she's not attacked quickly enough, but even if she's attacked mid-animation, she'll keep whatever stamina she managed to restore. Three of these, stacked together, can restore her stamina by 60%.
ZONAL FEVER: Nail in the Coffin
Koffina leaps from the confines of her coffin, taping up her enemy and pulling them inside the coffin, confining them inside a bloody monster space with tentacles squirming over their body. Koffina holds the coffin from the back while Sangie keeps them still, with an old-looking Morticia the Reaper stepping towards the enemy with a really huge nail ready, grinding the tip against a stone. She then dashes at the character's body and plunges the nail through their body, instantly killing them if they're at low enough health but otherwise dealing really heavy damage.
Animations
Entry Animation: Sangie crawls onto the stage holding Koffina in her coffin, who crosses her arms as she pulls out her walking canes, ready for combat as she looks directly at her enemies.
Idle #1: Koffina smokes a cigarette, smiling her grandmother smile before it drops back to a serious expression. She then spits out the cigarette, which Sangie takes to smoke for itself.
Idle #2: Koffina kicks back inside her coffin, reading a history book about the deceased while Sangie hangs back, reading an Amatsuchi manga and very quickly flipping through its pages.
Taunt #1: Koffina rocks back and forth in her coffin, with Sangie rocking its squiggly body left and right to support the elderly lady. She then relaxes, snoozing.
Taunt #2: Koffina laughs, folding her arms as she kicks back in her coffin, snapping her fingers at the enemy. Sangie rocks the side of the coffin supporting her bottom.
Taunt #3: Koffina knits up a shirt while waiting for the enemy to do something, with Sangie taking in some anti-depressants below. Koffina occasionally looks down.
Victory #1: Koffina cackles as she rises up from her coffin like she were a zombie, claiming "No matter how old I get, I'm never going to die to the likes of you!" Sangie sharply grins from below.
Victory #2: Koffina smirks as she rests herself inside her coffin, with Sangie sleeping below. She can then be heard snoring from inside the coffin, waking up Sangie and annoying him.
Victory #3: Koffina does finger guns from inside her coffin, saying "You look deader than I ever could, old man/woman!", snickering to herself as Sangie rocks her coffin back and forth.
---
Alternate Costumes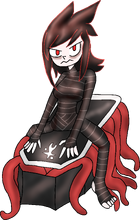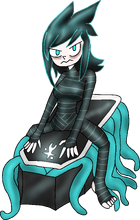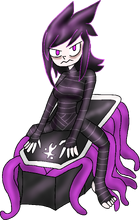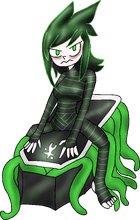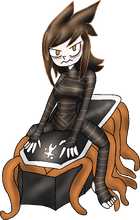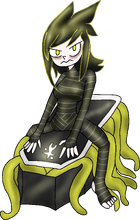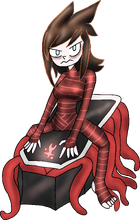 Munira
Name
Munira Malice
Mass
5'05" at 151 lbs
Birthday
June 12th, age 63
Gender
Female
Sexuality
Bisexual
Alignment
Chaotic Neutral
Home
Skull Valley, Sector 1
Occupation
Cartographer, magician
Weapon
Novice's Wand
Powers
Magic

Nobody knows too much about Munira Malice besides the fact she's a professional cartographer that's been magically mapping out the satellite for passerby for as long as she can remember. Munira's also known for her extensively long battle with her early-onset Alzheimer's disease, which she was eventually able to detach from her brain with the help of medical professionals but not before she lost roughly 80% of her memories. She cannot remember much beyond her basic vocabulary of knowledge, a small movepool of spells with varying effects and uses in her cartography career, and select memories from her childhood and adulthood. Because of her memory faults, Munira cannot hold onto newly learned knowledge for long and will forget it almost as quickly as she had learned it, and she will have trouble remembering names and locations that weren't already in her head to begin with. Keep in mind that she's lived with these difficulties for roughly three decades, meaning that anyone that's been introduced to her life since then will be subject to her frequent "oopsies" in how she refers to people by the wrong name and completely forgetting why they're even there to begin with.

Munira's past is mostly shrouded in mystery, but this Sector 1 dweller vaguely recalls having been the "seventh daughter of a seventh daughter" and thus she had access to numerous gifts, which were in truth insanely overbearing powers. It's unknown as to why she can't use any of these powers in the present day, but it's theorized that she abused her powers and thus they were taken away from her or that her Alzheimer's-related issues locked these abilities away from her reach. She likely settled down as a cartographer as that's who she aspired to be from a young age, and many of her remaining memories have some kind of focus around that dream occupation of hers. To keep herself in check, Munira frequently writes notes about things she's just recently learned, keeping in mind key details or knowledge that will benefit her or her limited friends in the future. However, she will usually need a friend to be with her so that she won't be writing up gibberish names or doing things like that, so her strategies aren't completely flawless.

Munira practically acts like a reasonable grandma with rhyme and reason to her words, even if she sometimes gets lost in the middle of saying something she finds somewhat important. Attempting to be the sweetest and gentlest person she can be, Munira bakes cookies for fellow people in her team and tries her best to understand others in spite of her Alzheimer's issues and her half-deaf hearing.

---

Likes: Working as a cartographer, suddenly making one of her powers work, getting to recognize herself as useful, enjoying a good time with close friends, binge-watching the same shows or listening to the same music, knowing she'll never be able to get bored
Dislikes: Forgetting what she or others just said, knowing she has hidden power potential she likely can't even come to realize, having to write down notes for her crippling memory, messing up a map and having to restart it, being scolded for calling somebody by the wrong name or for not recognizing them, having to adjust her hearing aids over and over
Gameplay Details
Analysis
Munira is a semi-heavyweight character with below-average speed, even though she's among the game's shorter characters overall and happens to be a bit lofty with her jumps. Munira's fighter archetype is that of the Turtle- this high-Stamina fighter plays very defensively, wearing down her enemies from a distance using her Traffic Road and U-Turn Signs and using the very tips of her map legend attacks to deliver damage when she is allowed to get close. Her Pausing Chain move allows her to slow her enemies down and and get in the comfortable zone necessary for her to attack her enemies, and her Hyper Specials have a lot of important utility that can be tide-turners in the middle of a fight. She excels well with poking at her enemies and just generally being a nuisance, waiting for her enemies to try and adapt new strategies or otherwise charge at her in a blinding rage.
Munira does have some weaknesses that she must keep in mind, however. She's among the game's slower characters, suffering immensely from her lack of mobility and her floatiness as it renders her very vulnerable to juggling, a weakness that will haunt her when she's against lighter and more nimble enemies. Her specials, though boasting a lot of unique utility for a fighter of her type, do not generally deal damage and she must rely on Traffic Road if she ever needs to make any long distance offensive attacks. As such, foes can easily heal and prepare attacks if they're out of her range, forcing Munira to try and prepare to use her Pausing Chain and U-Turn Sign moves at the right time- if she's faked out, it could very well be over for Munira. Though Munira's one of the surprisingly strong characters, her strength pales to the likes of numerous other heavyweights in the roster, such as Whiskey.
Munira's a character with a lot of unique and fun utilities overall, and she can easily deal a lot of damage and piss her enemies off with her numerous approach-stopping attacks, but she's hard to learn and her mobility will prove to be the biggest challenge for the player to overcome.
| | | |
| --- | --- | --- |
| Stamina 10/10 | Heavyweight Class | Appetite 2/10 |
| Offense 7/10 | Defense 8/10 | Mobility 3/10 |
---
Moveset
Common Attacks
Munira's basic powerset is... unique, to say the least- it's based off of the concept of map legends. Munira's normal moves have her use her Novice's Wand to generate magical, glowing shapes that she strikes with as projectiles, blasting off stars within circles (the "capital city" element of a political map legend) to strike enemies or forming black arrows (the "mountain" element of a physical map legend) to do the same thing. Her heavy tilts perhaps serve as the best example; her forward heavy tilt has her form a "mountain range" element that covers a lot of ground, her downwards heavy tilt has her form a big lake around herself with ripping high rides, and her upwards heavy tilt has her form a whole map legend (her most damaging attack). Her aerials have her form circles of heat that go from purple (least damaging) to red (highest damaging) in a hurry, which are based off of weather maps, particularly temperature maps. With her Alzheimer's condition and cartographer position, it explains why most of the shapes she makes with her wand are based on map legends.
Special Moves
Neutral Special: Pausing Chain
Munira summons a big "STOP" sign from her Novice's Wand, which she holds in front of herself to directly stop enemies from approaching her. She can either then strike them with whatever attack she pleases, or swing the STOP sign into their bodies to knock them over and deal moderate-to-high damage to them, though it is a rather laggy attack and is best used as a finisher. She can pull out this sign whenever to encourage her enemies to slow down, which will automatically happen to them if they're running, slowing them down harder the closer they are to her. It takes about half a second for Munira to pull out the sign, so she needs to correctly predict the enemy's attack. She can hold out this sign for three seconds.
Forwards Special: Traffic Road
Munira forms a long black line from her Novice's Wand, which she's able to guide up and down as she moves it across the screen. Once it's moved the full length of one "Final Frontier" battlefield, the line will turn red as numerous car and truck shapes move across the line, damaging any foes that happen to be in their way. It takes a bit less than a second to make a full traffic road, and the attack itself lasts a few seconds before the cars and the Traffic Road all disappear. The cars themselves don't deal much damage, but they can knock the foe(s) back by a considerable distance, making them good spacing tools if the player can guide the line well up and down. However, the more they force the line to go up and down, the less distance the road will cover vertically.
Recovery Special: Temperature Boost
Munira will summon a temperature icon from her wand, which will display the heat in the air around herself rising rapidly, allowing her to use the upwards drafts to hover high into the air. Red arrows moving upwards will show the heat rising underneath her, and blue arrows moving downwards will show where the cool air is (all around Munira's initial position when using the move). Munira will slowly glide downwards as the heat begins to sink back down to the ground.
Crouch Special: U-Turn Sign
Munira will pull out a U-Turn sign, which has the property of reflecting any projectiles that attack the sign back towards the enemy, though it will break after being stricken a few times. She can only hold out this sign for one second before she summons it away from the battlefield, and it will take her half a second to pull out the sign itself. It's one of her most useful moves, especially when she's against an enemy that's got very strong projectiles. If physical attacks attack the sign, the foe will simply be turned around without taking damage.
Hyper Moves
Neutral Hyper: Victory Exit
Munira will instead pull out a big "EXIT" sign using her Novice's Wand, which she will hold in front of her. If an enemy comes too close while this sign is out, she will teleport them off of the battlefield and force them to lose their stock. A dark aura will also form around Munira's body, and no slowdown effect will be provided to her enemies. However, it takes a full second to pull this sign out, and it'll only be able to last for a few seconds.
Forwards Hyper: Traffic Highway
Munira will form numerous lines instead of just one, guiding them forwards in front of her. Though the move is controlled rather identically to Traffic Road, she will form five lines as if she were forming a highway instead of one measly road. She will then have the lines turn red and send numerous vehicle shapes along the roads, which have a good chance of attacking enemies as the lines all cover a good amount of distance.
Recovery Hyper: Cloud Nine
Munira will rise high into the air, even higher than with Temperature Boost. When she rises to the apex of her rise, however, she will land on a cloud shape she generates with her Novice's Wand. She will then rest on this cloud, which will slowly descend and rain acid rain down onto any enemies below. Munira will lay forth on her front and be able to attack enemies with 360 spins of her tentacle arm and her nimble legs as she goes down.
Crouch Hyper: One-Way Sign
Here's a somewhat unique take on the U-Turn Sign attack. Munira will instead summon a One-Way Sign with her Novice's Wand, which won't actually reflect projectiles back towards the enemy instantly. Instead, she'll use her wand to catch onto the projectile and pocket it. When the player's ready, she can launch it off at any time with high priority, glowing magenta to signify it came from her. It will ignore all counters and shields.
ZONAL FEVER: Traffic Chaos
Munira will be put in the center of the battlefield, humming as she very quickly draws up a 3D map of the battlefield using her Novice's Wand. She will draw numerous roads and blocks around the battlefield as numerous roads show to be connecting themselves to the battlefield, with many cars, trucks, and planes starting to rush onto the battlefield! They will rush everywhere and deal massive damage if numerous vehicles manage to hit the foes at one time. They will eventually disappear, as will the artificial roads and buildings.
Animations
Entry Animation: Munira will warp onto the battlefield using her Novice's Wand, summoning a cup of tea for herself to drink before she hurls it behind itself, forming a projected map ahead of herself for cosmetic appeal.
Idle #1: Munira will look around, looking confused as she studies her environment, writing down key elements onto the map based off of the map legend she made with her Novice's Wand moments prior.
Idle #2: Munira will look down at her skeletal arm and then her tentacle arm, confused as to where they came from (which many fans question the design importance of), before returning to writing on her map.
Taunt #1: Munira points her bony finger straight up, silently. That's it, no personality shown really.
Taunt #2: Munira points straight forward, silently. This is the same as the first taunt but forward this time.
Taunt #3: Munira points her bony finger straight down, silently. Could be interesting for team battles?
Victory #1: Munira will snicker wildly as she folds her arms together, chanting "I don't remember your name, but I'll remember to drink to your victory alright!"
Victory #2: Munira will twirl her Novice's Wand around a lot, boasting "Don't lose your way after the door kicks you right in the ass, sonny/sweetie!"
Victory #3: Munira simply laughs a lot as she places down her finished map on a table, saying "Need directions? I'll direct you to the nearest gym to improve your mediocre skills."
---
Alternate Costumes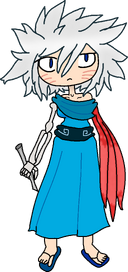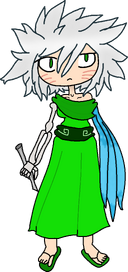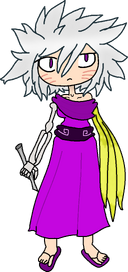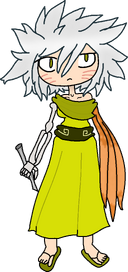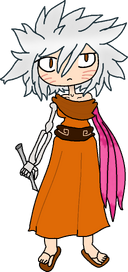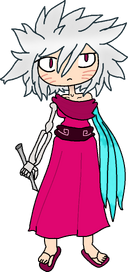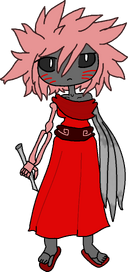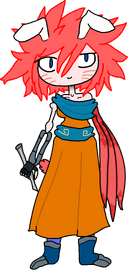 Millicent
Name
Admiral Millicent
Mass
6'05" at 152 lbs
Birthday
January 2nd, age 33
Gender
Female
Sexuality
Pansexual
Alignment
Unknown
Home
Millicent Springs, Sector 3
Occupation
S15 fleet admiral
Weapon
Soul Burner
Powers
Pyrokinesis

Millicent is the carefree, energetic, and way overconfident commanding admiral of the Satellite 15 fleet, being a snobby and rather egotistical bombshell that takes her position and power with great pride. She's a rowdy powerhouse, capable of easily pinning any of her men or women by their heads to the floor and being capable of halting the momentum of space shuttles, even forcing them to move the other direction. There's little room for disobedience around Millicent; she's got a special way when it comes to bossing her appointed captains around and she will go just as rough as she pleases on anyone that dares disrespect or otherwise hurt her. This feminine powerhouse isn't afraid of anything- Millicent laughs in the face of danger and dares her nemeses to bring it forth upon her and her crew, thinking there's absolutely nothing that can stop her or her associates. Oh, you want to be with her in person so you can know her better? You actually have to pay a small fee first- it'll win you a night with this crazy, live and reloaded fleet admiral.

Millicent's efficiency and technique as an admiral match up with all the bragging she's done for herself over the years. She's shut down numerous enemy forces through means of violence or mockery and leads what's thought to be the most sophisticated army aboard any satellite revolving around Zaxina. This isn't counting the time she seduced two enemy admirals, the times she's tied up numerous ship captains in her "locker", or the one time she dragged someone she outright abhorred to Niki's homeland, allowing her to eat them up. The reason why Millicent behaves the way she does can be connected back to her childhood; her father taught her to be brave and bold in any scenario and keep a smile even in the face of chaos itself. Her father acted much like how she is now back then, being a rowdy powerhouse that bossed her around and pushed her around when needed. His advice was important, as Millicent's mother was a scary woman who didn't like her kid, claiming her to be nothing more than a rat that eats up the food in the cabinets.

Millicent's no flawless being, though- if she's ever proven to be wrong, she will be fully embarrassed by it and will be too paralyzed to speak, and if she ever takes a hard blow from someone physically or mentally, it will shut her down for a little while. You need to put your all into it to stand a chance against Millicent!

---

Likes: Bragging about her technique, slapping around her crewmates, being the aggressor, going all out against her enemies, charging headfirst into the fight, laying down the first shots in battle, laughing in the face of danger, seducing people and then snapping in their faces, winning bloody battles where hundreds have died
Dislikes: Being proven wrong, losing a fight, losing a considerable amount of soldiers, her enemies having tactics around her tactics, people trying to bring her ego down through means of criticism, being told she's ignoring the criticism, having to eat food she's forcibly offered (instead of what she wants at any time)
Gameplay Details
Analysis
Millicent is what's referred to as a "Balanced" character- this overly tall bombshell's got little big strengths but little big weaknesses, allowing her to find time to sink into a comfort zone at any given time during even the most serious of fights. Millicent has a little bit of everything, having somewhat above-average stats and a good number of attacks that can dish out a lot of damage, as well as numerous short and long range attacks that allow her to control her spacing well. She also boasts heavy-hitting projectiles and a number of hard-hitting tools at her disposal, and with her good speed, she's prepared for pretty much any situation in combat. It's worth noting that Millicent's weapon, the Soul Burner, continuously strengthens her for every single knockout she nets, allowing her to become ridiculously powerful if she's killed a bunch of foes in a row without dying beforehand.
Millicent has her own share of weaknesses, however, to keep her in check with the rest of the game's cast. While she has no real checks when it comes down to stats, her biggest weakness is the fact that her Soul Burner weapon will eat at her HP for every attack she makes, meaning that every hit in combat really counts. The more she hits her moves at the start of a stock, the better, as her Soul Burner becomes less and less powerful with time- while her Stamina won't be eaten at as fast, she will lose her hard-hitting attacks and will be forced into finding food to regain this lost strength or adapting her strategy to use her weakened attacks for numerous chains of moves against her enemies. Because of her Stamina draining almost consistently as she attacks, it's somewhat easy for her enemies to straight up kill her with one attack throughout a whole match- provided she continues to miss enough with the Soul Burner.
Overall, there's not much wrong with Millicent- she can prove to be a very soulless pseudo-boss and perhaps the game's most challenging one of them all, but her Soul Burner eating at her health is a huge problem and puts the player at a big risk if they don't play their cards well, or rather don't play her well.
| | | |
| --- | --- | --- |
| Stamina 7/10 | Middleweight Class | Appetite 7/10 |
| Offense 7/10 | Defense 7/10 | Mobility 7/10 |
---
Moveset
Common Attacks
Millicent makes usage of her Soul Burner, which is a whip that's usually aflame through usage of her passionate spirit, which keeps the whip roasting and alive. Millicent whips and flails around her Soul Burner, sometimes lassoing it around her enemies for her long-reaching grabs or whipping it in such a way that it straightens out completely, dealing heavy damage at the tip as with her jab attack. Millicent doesn't just attack with the whip; she also throws out her chops and submission holds (like with her jab combo and her down throw) and displays great skill with her legs midair, kicking about and whipping at the same time. The size of her whip also increases with her heavy tilt attacks; she will be putting a lot of her spirit into these particular whip attacks and thus strike her enemies hard with it. However, all of her whip attacks eat at her HP.
Special Moves
Neutral Special: Fireball Barrage
Millicent will lick her lips before blasting forward a barrage of smaller fireballs out from her hands, which bounce twice across the ground each before quickly disappearing. If the player holds down on the charge, she will instead blast out bigger and better fireballs that deal more damage. Every time a foe gets hit by one of the fireballs, they will flinch and have any attempted approaches interrupted, allowing Millicent to use her good speed to get in and promptly punish them. At maximum charge, her fireballs become white-hot and become an intertwining spiral of fireballs that travel through the air.
Forwards Special: Scorching Sail
Millicent grins as she hops aboard a miniature wooden sailboat, pushing it forward with the hoverboard underneath it as she soars forwards through the air, holding a lit match. Her sailboat will quickly gain momentum and will eventually begin zooming along if it doesn't make any contact with anything. The moment Millicent jumps off, she'll backflip and leave behind her lit match on the ship, bursting it into flames and pushing it along! Whether she's on it or off of it, it will explode upon making contact with a wall or with an enemy, damaging herself heavily if she's caught in the explosion but also heavily damaging anyone in the impact zone of the explosion! She can use this as a mode of quick horizontal transportation to recover, if necessary.
Recovery Special: Blast to the Skies
Millicent flashes her glasses as she summons a fiery cannon around her body, which stays afloat if used midair through the power of her own passionate soul. The player can then choose where to launch Millicent, but they need to be quick or the cannon's weight will eventually become too much to bear, leading Millicent down towards her death! Once she's rocketed out, Millicent will flip through the air like a cannonball, kicking down enemies with a flaming dropkick and flipping off of them afterwards. She can also swing her Soul Burner whip around her body as she descends, snickering with each snap.
Crouch Special: Raging Uppercut
Millicent will hold out her tongue as she charges her right fist with an extreme amount of power, setting her whole fist on fire, flashing a menacing white smile when her charge ends. When she's done, she will hold her charge as her fist glows white with her passion, though she will have to reset her charge if she's attacked even once by an enemy. When the player lets loose, she will throw all of her strength into moving this fist upwards, dealing very extreme damage if the uppercut lands and knocking her enemy very high into the air. She will then be seen holding her damaged, spent arm, panting viciously but grinning as it soon enough recovers to its best shape. This is a very strong KO'ing move.
Hyper Moves
Neutral Hyper: Hellfire Barrage
Hellfire Barrage works slightly differently. Millicent will ignite the ground by crushing against it with her palms, causing a wall of fire to erupt from the floor and consume everything that happens to be within its radius. She will lick the tips of her fingers as her enemies burn harshly within the flames. The move can be predicted if the foe sees the light peering out from the ground beforehand.
Forwards Hyper: Dynamite Ship
Millicent will place on her filthiest smile as she rushes forwards with a more properly-sized ship, still driving it along with a thick hoverboard, the whole ship stacked with dynamite. Once Millicent drops her lit match and flips backwards, the whole ship will be set aflame, causing a massive, VERY powerful explosion that will very likely cause casualties to the injured! The boat starts off slower than the original, but builds momentum much faster.
Recovery Hyper: Emergency Breakaway
Emergency Breakaway behaves identically to Blast to the Skies at first, except that Millicent will be shot a further distance and be able to glide down safely with a parachute, making it much harder for the player to overshoot their target. She can then perform a hard dropkick at any point, heading straight down. If she lands on an enemy, she will be flung back up into the air, gently gliding down. She loses the parachute when she lands back on solid ground.
Crouch Hyper: Smoldering Jawbreaker
Believe it or not, Raging Uppercut doesn't even show Millicent at her maximum strength. Her fully-charged "Smoldering Uppercut" is perhaps unrivaled when it comes down to power- Millicent will ring her fist upwards at Mach 1 speed, saliva dripping loosely from her mouth as she knocks her enemy VERY high into the air! She will then hold her arm, passionately grinning in spite of how red and black it's gotten and how much HP she lost from the move. It will soon resume to its original form.
ZONAL FEVER: Blazing Armada
Millicent will disappear off to a balcony aboard Satellite 15's battle deck, calling all of her soldiers to the battlefield! They will each board numerous burning sailboats, each lined excessively with TNT and being carried above hoverboards. She will then blow a whistle, having all these ships and soldiers speed into the battlefield, creating many explosions and knocking foes everywhere! She will grin wide from behind the balcony window as she watches the chaos erupt below. She will then return to the aflame battlefield.
Animations
Entry Animation: Millicent will flutter down onto the battlefield, carried by a bunch of noisy pigeons as she flashes her familiar evil smile, taunting her foe by wagging her finger towards herself, evilly giggling as she flexes all of her individual muscles in front of them. Her entry animation is the longest of any character's.
Idle #1: Millicent will fold her arms, the back of her coat floating about in the wind as she continues to smile her pearly whites at everyone, her glasses shining to reflect the sun shining down upon them all.
Idle #2: Millicent will swig down some whiskey, windmilling her other arm before hurling her glass away, flexing her biceps as she shakes her hips, really displaying her figure to everyone around herself.
Taunt #1: Millicent stretches her hands up and makes the devil's horns with them, demanding attention as an audience appears to cheer for her from a distance. Her grin here is a priceless, bearing a lot of positive energy.
Taunt #2: Millicent cracks her knuckles as she stomps a boot forward, twisting her hat on right as she gets ready to have some real fun. If the enemy responds, she'll rudely laugh and point a finger at them.
Taunt #3: Millicent lurches herself backwards, playing some very mean air guitar as a wicked grin crosses her face. She'll get really down with this, slumping to her knees to play for what feels like hours. Very self-confidence boosting.
Victory #1: Millicent drops down from the top of her ship's platform, flexing her wrist as she flashes an evil smile down aboard her enemies, saying "Now you know why I'm the queen of the world, baby!"
Victory #2: Millicent whips around her Soul Burner excessively, stretching it out with her bare hands as she snidely comments "I'm killing myself to live, you're nothing against this bombshell admiral!"
Victory #3: Millicent turns her head away from the enemy, beaming with an overconfident and egotistical vibe about her, saying "Who put you on the planet?" before making a disgusted face "Uggggggghh."
---
Alternate Costumes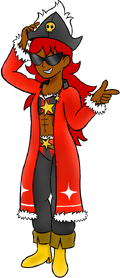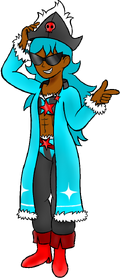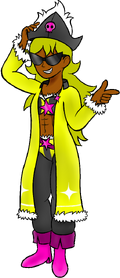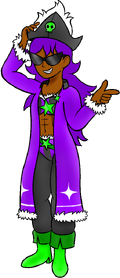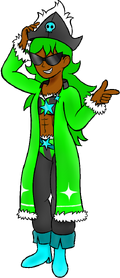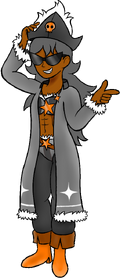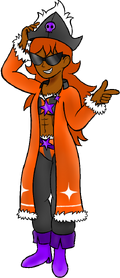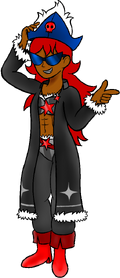 Zodiez
Name
Zodiez the Ink Queen
Mass
8'07" at 381 lbs
Birthday
June 31st, age 50
Gender
Intersex/Female
Sexuality
Pansexual
Alignment
Neutral Evil
Home
Admin Sector, Kýrios' Throne
Occupation
Satellite 15 queen
Weapon
Inkura
Powers
Inkura

Zodiez is the Queen of Satellite 15, and gleefully rules the colony together with her husband Kýrios. Though her husband is loyal to his people and warmly embraces anyone of any kind in his arms like he was their Santa Claus, Zodiez is noticeably nastier and more abrasive, dismissing anyone that comes up to her unless they have special "redeeming qualities". She's a significant part of the satellite's board of administrators, freely able to declare war whenever she wants on wherever she wants, usually with consequences that backfire on herself since their satellite's soldiers aren't exactly the most well-trained. Zodiez is a very dominant type of individual as the power of Inkura she possesses gives her nearly infinite adrenaline, which causes her to do things out of either impulse or habit even if she knows she shouldn't do it to begin with. Though she has a very vain self-image and only really uses her powers to aid herself or the satellite itself, she will reluctantly use her powers to restore things back to normal, even if she's liking the bloodshed probably going on. Zodiez is an immigrant from a neighboring planet known as "Splatterplot", composed of the same material she's made from.

Loving to show off her vulgar display of power, Zodiez enjoys wreaking havoc and deliberately instigating chaos between the satellites, and abandons any sense of morals to ruthlessly command her fellow soldiers. She doesn't care for any inferior lifeform unless they (again) showcase they're more than what they are on the surface. She has a strong dislike for others not bidding by her whim and crushes them if they dare disobey her at any point, and as such many see her as ultra-violent and incredibly destructive. She only listens to Kýrios on when to stop what she's doing and pack up in leave; otherwise, getting her off your home turf is practically impossible. When in public, Zodiez attempts to be laid-back and calm, but bad things can begin to happen if she gets too comfortable with the surrounding civilization around her, causing her instincts to go berserk. Zodiez bottles up many of her social anxiety traits, distrusting individuals that berate or hurt her and choosing to kill them if they take things too far for her. She is afraid of judgment and becomes wary of her mistakes long after they've occurred, letting them haunt her.

Zodiez is an obsessive individual. If she finds someone to cling to, she will hold them close to her heart and will find trouble in letting them go. If they leave her, betray her, or otherwise die, she will take it incredibly personally and suffer numerous anxiety attacks until someone can help calm her down. And sometimes, calming her down can be very hard and distract her mind from the situation at hand, which can be a really bad thing when she's on the battlefield. Around people she cares deeply for, like her husband or her roommate Mayxine, she can be seen as a very motherly-like protective figure since she is a lot calmer around those she loves dearly.

---

Likes: Kýrios, Mayxine, killing, winning battles, the stench of war, chilling alone, studying the Zodiac, managing Satellite 15, making rules then breaking them, flirting (on occasion), people who embrace their own weirdness, participating in big-time battles, coming out victorious in said battles, eating tonnes of food ten times her own body weight every single day
Dislikes: Ordinary organic lifeforms, being in public, talking about herself, generic superheroes, any superhero movie out there, having to spare people that haven't done anything wrong, losing big battles
Gameplay Details
Analysis
Zodiez is a heavyweight character with incredible bulk and an intimidatingly tall height, weighted down slightly by her high gravity and her immense falling speed, also being slow overall. However, she has some of the highest Stamina in the game as well as some of the best overall damage output, meaning a careful Zodiez player can last for a very long time with even just one stock remaining. Zodiez has some great range, with many of her moves' hitboxes emphasized by dark blue trails that represent her Inkura, and these moves always leave the foe to take poison damage when they make contact with the foe. Her ability to change her constellation sign will always leave her with one new weakness but always one good strength, and mastering the usage of her constellations will aid her in her footsies-like gameplay; she will be excelling at combat on the ground for her attacks have high priority and eliminate projectiles, making this luscious queen challenging to approach.
Obviously, Zodiez's biggest flaw lies in her lack of reliable mobility; she doesn't move at a crawl, but many characters in the game easily outpace her and have a chance at chaining numerous attacks against her all at once. She risks being gimped and juggled at all times if she doesn't play carefully, and if the foe's not giving her a break, she'll have to rely on baiting techniques that may not work out well since her attacks rarely string together and can't hurt the foe quite enough to leave a serious mark on their chances of success. Zodiez's attacks are also strongest at point-blank range, which is where the Inkura begins to seep into her moves, and chances are if the foe's that close, then they'll be able to get some easy hits in on Zodiez. She also suffers from her overall complexity; she's a challenging character to learn and is very rarely used in tournaments therefore.
Though Zodiez does have some very glaring flaws in her mobility, let it be consolation that the strength of her attacks as well as the poison damage they leave behind can very quickly wear down careless enemies.
| | | |
| --- | --- | --- |
| Stamina 6/10 | Heavyweight Class | Appetite 10/10 |
| Offense 8/10 | Defense 10/10 | Mobility 4/10 |
---
Moveset
Common Attacks
Zodiez's neutral moveset is mostly focused around her poisonous Inkura attacks, which typically are comprised in the form of her talon attacks but sometimes make her grow the limbs of aquatic sea animals to initiate them instead. She can form the tail of a thresher shark in her back aerial, for example, whipping foes from behind, or form the light of an anglerfish in front of herself to draw in enemies and shock them. Having some massive and incredible bulk, some of her moveset takes advantage of it; her down aerial, for example, is a huge bellyflop, while her dash attack makes her push down enemies with her titanium hips. These moves are generally very strong but leave her with plenty of ending lag to deal with, making her easy to punish if these moves miss. However, their great range comprises fairly well for it. Her light tilts have her form Inkura tentacles to splash her foes around, while her heavy tilts have her form the heads of animals like sharks and crocodiles to teeth down on her enemies instead.
Special Moves
Neutral Special: Constellation Hammer
Zodiez will throw her arms together and transform them into a heavy inky hammer, moving back and forth slowly as she holds it. At full charge, it will begin to slowly eat at her health as she exerts her Inkura into the move. At minimal charge it will only spin around 360 degrees and will only deal moderate damage and knockback, but at full charge, she will instead spin around 1080 degrees and deal much higher damage overall. Depending on the equipped constellation element, the effect changes. Earth will have her move around while swinging her hammer, while Air will let her jump to surprise airborne enemies. Fire will grant the move's hitboxes extra range, while Water will knock enemies back harder while dealing more damage.
Forwards Special: Narwhal Dive
Zodiez will shriek before diving forwards through the air with her sharp talons stretched out, drawing her claws together as the temporary Inkura-formed narwhal horn on her forehead spins and deals immense damage if every hit connects. She will then drill through the floor, forming an Inkura puddle as she dives into it. The player will be able to move left or right within the Inkura pool- when she hops out of the Inkura pool, she will be able to strike with her horn again and do the same thing again and again until she bumps into a wall or is interrupted. During the horn dive, she can cancel out her move to perform any attack she desires, letting this move make for a good combo starter. If her element is Fire or Earth, she will travel further and deal more damage and have more room to move.
Recovery Special: Dolphin Leap
Zodiez will assume the shape of a dark dolphin as she ascends into the air in a high leap, flipping forwards before coming back down with a heavy tail swing that is ready to meteor smash any enemies foolish enough to be in the way! If this tail hits the ground, she will send minor shockwaves across the ground that will trip enemies. Due to the gravity of this move and its speed, it is easy to self-destruct. The player can control exactly where they land by holding left or right. If her constellation element is Water or Air, it will carry her higher and let her travel a further distance, giving her more time to react to what she's doing and where exactly she's going.
Crouch Special: Constellation Change
By holding the special attack button and aiming the thumbstick in any one of five ways, Zodiez can change her Constellation element. Up removes her element, upper left activates Fire, upper right activates Earth, lower left activates Air, and lower right activates Water. These also have an impact on her stats... Fire increases knockback growth but lowers damage output and Earth does vice versa, while Air increases personal speed and decreases weight while Water does the very reverse.
Hyper Moves
Neutral Hyper: Constellation Chain
Zodiez will reform her hammer from her Constellation Rush attack, but this time, she'll behave differently once the move's fully charged up. Depending on whether the player taps or presses the button, the move will continue and end respectively with high power. Her first swing will have her knock her foe into the air, her second will have her swing them back down into the ground with heaving force, her third will fire the foe across the ground, and her last will have her chase them to hammer their body with her melting hammer. If the player chooses to end the attack at any point during this cycle, the move they did will be twice as strong.
Forwards Hyper: Narwhal Screwdriver
Zodiez will reform her Inkura-formed narwhal horn on her forehead, backing up just a little before levitating herself into the air, immediately spinning her body rapidly as she shoots horizontally through the air at blinding speeds. If she makes contact with her foe, she will aggressively thrust them into the wall with her horn, dealing incredible damage to them and shattering their defenses entirely. If she misses, she'll just bound down to the ground. Not boosted by the constellations.
Recovery Hyper: Supersonic Dolphin
This move is functionally very similar to Dolphin Leap, but it will carry Zodiez a higher distance no matter what and will make her tail deal incredible damage if it smacks a foe midair. It will also carry her further or not as far horizontally, depending on the player's input, though the move happens faster overall and can be trickier to control. If she hits the ground with her tail, she will send powerful shockwaves across the floor to knock her foes over. Not boosted by any of the constellations.
Crouch Hyper: Hyper Constellation
If the player uses this move, Zodiez will giggle filthily as she charges her body up immensely, making use of all four constellation elements at once for about 15 seconds! This will boost her personal speed, damage output, knockback growth, and weight, while not negatively impacting her stats for the worse. If Narwhal Dive or Dolphin Leap are used during this move's activation, they will have their benefits and receive no drawbacks until the Hyper Constellation ends and they've moved out of the move.
ZONAL FEVER: Inkura Ignition
Zodiez will cackle evilly as she releases Inkura from numerous pores on her body, on average coating 65% of the battlefield with the substance. She will then spring high into space, grinning as she abuses her constellation elements to form this enormous hot ball of energy, releasing it into the Inkura to set it all on fire! This will roast the stage and burn away at the foes' health. If Zodiez manages to beat her foes this way, they will burn to a crisp. If they all burn to a crisp and cannot respawn, the round will end with the camera panning on Zodiez, who grins filthily and maliciously as she looks upon the scorched battlefield.
Animations
Entry Animation: Zodiez drips down onto the battlefield as an enormous black raindrop, emerging up in her standard humanoid appearance right afterwards, licking her lips and shaking a claw out lusciously after briefly dividing into twelve Zodiac signs and reforming.
Idle #1: Zodiez evilly snickers at her foes, folding her arms and letting her head back so she can let out one long mocking laugh towards them, juggling fake Zodiac Stones as she does such.
Idle #2: Zodiez pulls out a bottle of absinthe and sloppily drinks away from it, throwing the bottle behind herself as she licks her siren-like teeth visibly, rubbing her preciously sharp nails together.
Taunt #1: Zodiez will spread her arms out intimidatingly, with Inkura falling by the gallons from her inky arms as she cackles loud and fierce, flicking her tongue forwards as her muscles become obvious.
Taunt #2: Zodiez will mimic one of the signs of the zodiac through her Inkura magic, snickering as it then disappears. Every time she uses this taunt, the sign she makes will become the zodiac sign on her belt.
Taunt #3: Zodiez will growl as she claws both of her hands forward, letting out an animal-like roar as her many teeth become visible at once. She will then pull back, licking her teeth clean for a meal.
Victory #1: Zodiez lets out a hearty, villainous cackle as she spins around in place, self-made ribbons of Inkura showering down around her body as she does a royal goddess' bow and takes off her mask, her yellow irises staring into the opponents' eyes, an evil grin striking across her face.
Victory #2: Zodiez forms herself up from the ground from a pool of Inkura, performing a fast-paced ballad dance with an inky clone of herself before breakdancing down onto the floor, sultrily remarking while kneeling on her inky twin's belly: "What's wrong, you can't touch me?"
Victory #3: Zodiez holds up the body of her opponent of her foe before she gleefully and greedily snaps it into two, blood pouring from both ends as she evilly grins. She'll then remark after spinning around and posing for the camera: "No sympathy from me!"
---
Alternate Costumes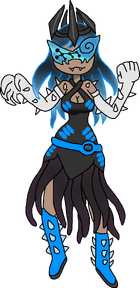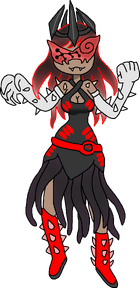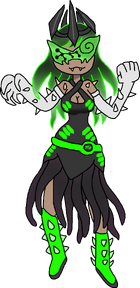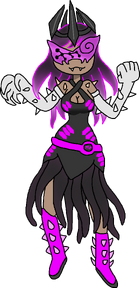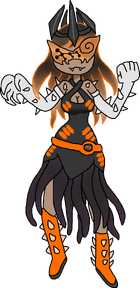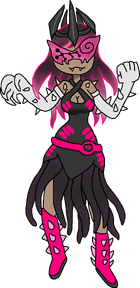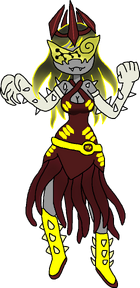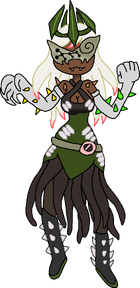 Sinicini
Name
Sinicini Cina Mon
Mass
5'06" at secret weight
Birthday
October 9th, age 22
Gender
Female
Sexuality
Pansexual
Alignment
Chaotic Good
Home
Collin Shop (Job)
Old Naxaz City (Home)
Occupation
Convenience store worker
Weapon
Kitchen Knife
Powers
None

Sinicini's always been known to be optimistic and happy-go-lucky person that passionately works her heart out as a convenience store owner, happily running it alone. Pursuing her dream career of becoming a film star, she progresses on her college studies whenever she's not helping out her customers and practices for roles for upcoming films (especially superhero movies). She's just as sweet as her name, helping out her customers with a smile and usually gushing about her interests with her boyfriend and girlfriend. This sweetness is partially why she's so productive and outgoing; she's never turned down a request to babysit on Sundays (her one day of the week off) or help out at an elderly care center beyond store hours (which she does every Monday and Wednesday). The satellite's citizens find it very easy to get along with Sinicini, because she's non-abrasive and almost never tries to come off as rude. She can be a bit twitchy though if things look out of place or if people are asking too much out of her; if pressured, she can start talking really fast and look like a nervous mess, and she'll start doing things out of instinct.

Unless she's working overtime, Sinicini always arrives home by six in the evening, only earlier if the Collin Shop's been closed for emergency purposes. Sinicini continues to be an optimistic and passionate person in the house, spending much of her time alone practicing for her dream career or doing whatever college work she couldn't do on her free time at her job but always being a cheery person around Zonas and Adexene. When she's hanging around her lovers, she's always listening to whatever new hits are on the radio while catching up on what they're up to and such. They don't usually get to spend much time around each other, as Zonas has busy days very frequently and Adexene spends a lot of time being merely nothing more than a tracking computer for the authorities. This lack of time she gets to spend with her lovers does hit Sinicini rather hard at times, as it leaves her rather needy and she can get very confrontational if she feels like they're not around her enough. When they're finally home, Sinicini demands a lot of stamina and energy out of them, which sometimes leads to exhaustion for everyone.

Sinicini's fatal flaw is her inability to tell a lie, not even a white one, without feeling incredible dread over it. Even the smallest white lies you wouldn't feel bad about would torment her for months. Sometimes we do tiny lies out of our best interest, but Sinicini can't even lie to save someone's skin- if someone knew she'd only tell the truth, disaster can spread around her fatally quickly. She always tries to act in her best interest though, even if it kills her.

---

Likes: Zonas, Adexene, going out on adventures, studying, sneaking out, being respectful and kind, attention from others, whistling and humming, personal comfort with her boyfriend and girlfriend, getting off the hook, having things go easy
Dislikes: Telling lies, being separated from her friends, being commanded by her OCD/ADHD at times, feeling left out at times
Gameplay Details
Analysis
Sinicini is a middleweight character with average height and gravity, having good agility and frame data though not being a particularly strong character offensively or defensively. Though she's not an impressive fighter statistically, playing like an average human would against a roster full of strange and alienating characters, she has a very dangerous weapon that makes her very threatening to play against: her kitchen knife. It doesn't just have good range, it pierces enemy defenses and it pierces armor, and to top it all off every finishing touch has a chance of being a critical hit. She might not be too threatening at first glance, but she's a very tough character to approach thanks to that weapon and her good agility. She also has a bizarre toolkit in spite of her ordinary nature, using a lot of ordinary household appliances and tools as projectiles and being capable of picking them back up and reusing them, giving her lots and lots of room to play around with her enemies.
As mentioned, Sinicini struggles offensively and defensively, with her attacks dealing mediocre damage at best and her combo game being surprisingly poor with the amount of distance her kitchen knife sends back her enemies. She also has a somewhat weakened parry that, while letting her negate most damage, still lets her take minor damage with each successful parry, weakening her defense game further. Though Sinicini's weapon lets her break down every enemy in the game to become easier for her to fight, weakening a massive chunk of the roster, she still struggles against high-stamina enemies like Whiskey and Jezebeth which can easily outlast her and take advantage of her inability to defend herself. Lastly, Sinicini can be really tricky to play, as her OCD makes her feel obligated to attack in odd-numbered strings of attacks. If you attack only twice in a row, Sinicini will twitch briefly, making her open to being hit.
Sinicini has some major flaws as a fighter, and ultimately some of her attributes leave a lot to be desired, but she's a fighter that packs a lot of surprises that can unexpectedly change the flow of battle.
| | | |
| --- | --- | --- |
| Stamina 4/10 | Middleweight Class | Appetite 3/10 |
| Offense 3/10 | Defense 4/10 | Mobility 7/10 |
---
Moveset
Common Attacks
Sinicini's main weapon is the kitchen knife, but it only gets used in her heavy tilt attacks and in her dash attack. However, if the weapon makes contact with an enemy, it will ignore all of their shields and armor and deal direct damage to the enemy. The less Stamina the enemy has, the more damage the knife does. The knife comes out so blindingly fast that it can be used to end combos, and has a slight chance of dealing critical hit damage. The rest of her attacks have her use ordinary house objects; she stretches out a measuring tape for her back aerial, throws a toaster for her forward aerial, flashes her bright phone screen for her up aerial, swings a blanket around for her neutral aerial, and drops straight down with her down aerial. She also fires staples from her stapler for her neutral and up light tilts, and throws mousetraps to her sides for her light down tilt. Her jab attack has her use boxing gloves to punch her enemies. The items that Sinicini throws, minus her staplers, can be picked up and used by Sinicini again if she's quick enough.
Special Moves
Neutral Special: Hoop Shot
Sinicini will begin dribbling a basketball, capable of running back and forth while dribbling it around. The player has to rapidly tap the special button, though, or she'll stop bouncing the ball and pocket it. When the player's ready, Sinicini will throw the basketball in a short or long arc depending on whether the player taps or holds the special button. If she jumps before throwing the basketball, it'll cover more range. It deals the most damage if it hits its enemies square in their heads, but it's always going to be effective at pushing away Sinicini's enemies and it'll likely bounce right back to her. A unique property of the move is that if the player inputs a Forward Special command, Sinicini will leap towards the basketball to dunk it straight down or at an angle for a surprise meteor dunk.
Forwards Special: Cat Hockey
Sinicini will take a hockey stick and her grouchy cat Simon and combine the two as her Forward Special move. She'll whack her cat from behind, with the hockey stick never hurting Simon but just sending him flying. Unlike Hoop Shot, it's rather fast and painless. If Simon hits an enemy, he'll latch onto them and scratch at them, slowing them down and giving Sinicini plenty of ample opportunities to strike her enemies. If the player taps the command, Simon won't fly too far, but if the player holds down as long as possible, Simon will fly a very considerable distance.
Recovery Special: Balloon Trip
Sinicini will grab a bunch of balloons and take off high into the air, though soon she'll begin slowly plummeting back down. The longer she's holding onto the balloons, the quicker they'll begin taking her down, so she should hop off as soon as possible. It's one of the game's best recovery moves by far, as it will take Sinicini a very high vertical distance and it gives her a lot of horizontal freedom even when ascending.
Crouch Special: Boiler
Sinicini will leave down a big boiling pot of water on the floor, above a campfire. She needs to set this move up first though; first she'll make a campfire, next she'll drop a big pot down on it, then she'll fill it up with water. It's a rather tricky move to set up, but thankfully the enemy can't destroy the setup directly without hurting themselves and the campfire itself is surprisingly durable. Once it's set up, Sinicini can whack the pot with a long iron ladle to knock it over, spreading a wave of boiling water across the floor (half of the Final Frontier) and strongly damaging anyone that makes direct contact with the burst of water.
Hyper Moves
Neutral Hyper: Mega Hoop Shot
Very similar to Hoop Shot, except that Sinicini expertly dribbles three basketballs all in a row and can throw them all in a row to attack more than one enemy or knock them back more than once. The player has to do triple the inputs to keep dribbling the balls, but it's a very strong edgeguarding tool. Sinicini can dunk the last basketball against the first or second basketball to send them flying in different directions, allowing for sudden panic to begin happening.
Forwards Hyper: Fat Cat Hockey
This upgrade of Cat Hockey is pretty special, as Sinicini will instead use her very fat cat Garfunkel for the job instead. Sinicini has to whack Garfunkel appropriately hard enough to send him flying, but he will function as a suicidal wrecking ball that can grab enemies and take them down in a Garfunkelcide. At maximum swing, Sinicini can send Garfunkel surprisingly far, making him a deadly weapon of mass destruction.
Recovery Hyper: Infinity Balloons
Sinicini will blow up two bigger, better balloons and rise a considerable distance with them. They'll never begin coming back down on their own, so Sinicini can drop down at any point. They don't rise as fast as the ones in Balloon Trip, but they can't be popped as the balloons themselves are too thick and push enemies back.
Crouch Hyper: Hyper Boiler
This move has very similar execution to Boiler, except that Sinicini cooks up a bigger pot and this time it means business. Once Sinicini's ready to knock it over, it will send an even bigger tempest of water in the direction Sinicini tips the pot in. It's a perfect edgeguarding tool, but if Sinicini doesn't tip it over and instead does a tap command, she'll pick up spaghetti from the pot for herself to eat, which restores some stamina.
ZONAL FEVER: Super Sinicini
Sinicini will do a rather amateur college girl laugh as she places on a costume, becoming Super Sinicini! She may not be a legitimate superhero under this costume, but she'll gain so much audience appeal that she'll begin charging up a Hadouken (in reality, it's just her expanding a blue heavy-weighted rubber ball) and knocking it forward to deal colossal damage to any enemy before her. It completely ignores enemy defenses, basically breaking any and all characters with poor stamina. She'll keep the silly costume for the remainder of the fight or until she gets KO'd.
Animations
Entry Animation: Sinicini will grin as she walks into the battlefield, straightening out her hair as she pulls out her kitchen knife and gets ready to battle. She'll wave cheerfully at Zonas if he's present.
Idle #1: Sinicini will stand around, looking around curiously through a pair of binoculars.
Idle #2: Sinicini smiles and checks her phone, looking through her Gangstagram account.
Taunt #1: Sinicini will taunt her enemy by smacking her behind, calling them a name ("chump!").
Taunt #2: Sinicini pets Simon (or rarely, Garfunkel), rubbing behind his ears while gushing over him.
Taunt #3: Sinicini will bend down to her knees and begin working on college homework, humming as she does so.
Victory #1: Sinicini bounces around, posing for the camera while standing at a place that very clearly mocks the Hollywood Hall of Fame, with a star of her etched out into the concrete below.
Victory #2: Sinicini poses at a cliffside, standing up against a wall with her arms stretched behind her head as she stands near a place that mocks Mount Rushmore, with Sinicini's face etched four times into a mountain.
Victory #3: Sinicini wheels around a swivel chair in a office, with ValCoins getting showered down upon her and around her to celebrate her victory while Zonas and Adexene stand nearby in tight suits.
---
Alternate Costumes





Yama
Name
Yama Velvetrot
Mass
5'08" at 530 lbs
Birthday
May 14th, age 31
Gender
Female
Sexuality
Homosexual
Alignment
True Neutral
Home
C.O.T.S. Laboratories
Occupation
Nurse
Weapon
"Bandy" the Sock Puppet
Powers
None

Yama Velvetrot is a nurse being trained under the eyes of the insomniac Noise Lindemulder, whose job is to help Noise with surgically operating on patients and trying to calm down those waiting to be called upon. When compared to her superior, Yama's always full of good vibes and usually happens to be friendly around patients and children- and considers herself to be a good nurse in great hands. She also likes to converse with her patients, entertain them with her ventriloquism talents, and give them a bag of candy (usually Hershey's chocolate) post-surgery. She can sometimes come off as childish and carefree, which can lead to unwanted accidents in the operating room and uncontrolled temper tantrums by Ms. Lindemulder. No matter the circumstances, she can always swallow whatever Noise throws at her, and shrugs off her temper and anger like it were nothing- she treats her frustration as a sign of conflicted love towards her. If too much pressure cracks down upon Yama, however, she can lose control of herself, slamming into walls and tables and crying uncontrollably, sometimes fleeing. Noise suspects this to be an aspect of her autism condition, and believes that she doesn't know how to express her own emotions and thus bottles up her feelings.

Yama has a secondary job as a member of C.O.T.S., aka the Clone Operation Testing Squad, which Ms. Lindemulder is also part of. Though Noise's job involves taking on risky (and illegal) missions for the evil corporate company, Yama is instead tasked with organizing and labeling everything past curfew hours, and thus spends a lot of time around the company's mysterious founder: Ms. Replicate. Like Noise, Yama Velvetrot has to deal with an extensive amount of verbal abuse and mental torture from her, and tries to ignore her as she lines up everything alphabetically and in the right spots. Even though terrible genetic experiments happen at the C.O.T.S. Laboratories and she occasionally is forced to pitch in with her own ideas or handwork, she remains rather pure-hearted and innocent in nature, as she has poor memory of what actually goes on at the laboratory and she's just trying to count down the hours to break time. When Ms. Replicate is out dating Silver Zin, she spends her time practicing her ventriloquism instead or talking with Noise if she happens to not be on any missions.

Yama lives in Noise's mobile home, living in its only clean room and keeping her space tidy. Though she isn't dating Noise, it should be worth noting that she has a huge crush on her, and that's why they sleep together- that's as far as Lindemulder is willing to go. Besides, both can use each other's comfort when they're being tormented by their boss.

---

Likes: Helping out patients, cold steel, being happy, Noise Lindemulder
Dislikes: Won't tell
Gameplay Details
Analysis
Yama's a lightweight fighter with average height and overall strong mobility, giving her a lot of vital edges in battle- quick, nimble, and hard to trap. Yama has great frame data, meaning many of her moves come out quickly and chain together easily, which is excellent for her when you consider the fact her damage output and overall range are above-average. Like Noise, Yama excels at applying pressure to her enemies, especially with her Bandy specials and how deadly they can be against enemies that don't know their boundaries or Yama's boundaries for that matter. With just how powerful her kit of moves is and how much range they cover, Yama can absolutely dominate the scene and wipe it clean if she so wished to, with the assumption that the enemies don't know how to exploit her weaknesses.
Yama doesn't have too many weaknesses, but by far the most important one is that she is very lacking in her defenses- any direct blow she takes can make her lose a lot of her Stamina, meaning she can go down in just a matter of hits. She also lacks ways to cover herself when she's using moves like Doctor Bandy and Voice Throw, she will be standing there in the open being vulnerable to attacks, letting enemies easily ambush her if she's not careful. There's also the fact that if she takes a hit, she will be forced to fly across the room, forcing her to restart her approach- this is especially a hindrance if she hits a wall, as this will make her lose even more Stamina. Lastly, her moveset lacks variety and ways to be mixed up, so she can be somewhat easy to predict.
Yama's pros by far outweigh her cons, and she's much easier to toy around with than Noise- she can dish out a lot of damage in a short period of time. However, she can also take a lot of damage very quickly, so players using Yama need to keep a keen eye on her!
| | | |
| --- | --- | --- |
| Stamina 4/10 | Lightweight Class | Appetite 6/10 |
| Offense 5/10 | Defense 3/10 | Mobility 8/10 |
---
Moveset
Common Attacks
Yama's neutral moveset revolves around her surgical tools, much like her superior's- she uses a scalpel for almost all of her attacks, and thus fights somewhat like an amateur swordsfighter. She doesn't have as varied of a kit as Noise does, but her scalpel is bigger and covers more range to make up for it, and the ways she toys around with it make her easy to separate from Noise. For example, she can tether her scalpel to a rope for her aerial attacks so she can swing it around and cover a lot more distance than any of Noise's would, and she can also use it to stick to walls and gently slide down them. Her heavy tilt attacks make use of her sock puppet Bandy- she'll attach him to a rope and swing him away from her so he can flail with his stubby arms a safe distance from her. She can swing him forwards, around on the ground, or straight up into the sky.
Special Moves
Neutral Special: Doctor Bandy
As Bandy gets switched into his doctor's attire in no time at all thanks to Yama, he'll quip "Ready to operate!", "I'm here for you!", or "Don't be scared!". Doctor Bandy is instantly given a needle and a bow to hold onto by Yama- as the player holds down the special button, they can control just how far back the needle's pulled back against the bow. When the player releases the button, this needle will be launched by Yama clean through the air, hopefully sticking to the body of an enemy. If this happens, the enemy will be stunned and briefly take poison damage. The more they're struck by this attack, the more damage the poison will do.
Forwards Special: Voice Throw
Yama will launch off Bandy in an arc, with how long the player holds down on the special button affecting how high he's launched. When the player's ready, they can do the input again while Bandy's being hurled through the air to make Yama "throw her voice", represented by pink-colored rings targeting her sock puppet. These rings deal damage to any enemies in their path, and when they reach Bandy, they will make Bandy say "Hello!" in a cutesy voice before he flails his stubby arms around himself, dealing damage to any enemies near him. Should any enemy get hit by these pink rings while near Bandy, they will take two separate blows! He will then magically return to her hand.
Recovery Special: Get-Well Balloons
Yama will grab onto a group of Get-Well Balloons, rising high into the air with them! She will be able to keep going up, and can use any of her Bandy attacks while rising into the air, until several seconds have passed, her balloons reach a ceiling, or her balloons get attacked. It is an exceptionally strong recovery move.
Crouch Special: Handy Bandy
Yama will raise Bandy before herself so she can shield herself from enemy attacks- Bandy will usually quip "Surprise!" or "Peekaboo!" when taken out of her hammerspace. It's a reliable means of defense and comes out instantaneously at frame 1, but Bandy can't really take much damage before falling apart. The player will have to manually fix Bandy themselves by holding down on the Crouch Special combination for roughly two seconds without being interrupted. Luckily, Bandy will always flail his arms if Yama gets attacked, reflecting projectiles or countering physical attacks, depending on the situation the player finds themselves in with Yama.
Hyper Moves
Neutral Hyper: Doctor's Love
Similar to her "Doctor Bandy" attack, Yama has her sock puppet blast off a poison-injecting needle through the air. This time, though, she'll fire five that spread out to attack multiple enemies! It's more useful when Yama's enemies are further away, so that she can attack more than one at a time, but if all five strike the enemy at once, she can deal a lot of serious damage all at once!
Forwards Hyper: Rubber-Bandy
Functions practically identically to Voice Throw, except that once Bandy's tossed, he will immediately rubberband back towards Yama! If the player attacks Bandy just as he comes close, he will go past her and stretch out the other way, striking anyone from behind! The player can travel around while having Bandy go past her over and over again, but if they fail to strike him before he returns to her grip, the attack is over.
Recovery Hyper: Deluxe Ascent
Yama will grab onto a bunch of superior-sized balloons, ascending even higher into the air with them! She has a lot of control over her horizontal movement this time around, and her move practically lasts for infinite until she hits a ceiling or someone else pops those balloons. Use this upgraded version to your advantage!
Crouch Hyper: Super Bandy!
Bandy glows gold as Yama holds him in front of her, shielding herself from harm once more, and he won't take any damage if anyone dares strike his body! This is a free-pass attack, and it immediately brings Bandy back from the dead if he's fallen apart after the last Handy Bandy attack, so it can serve two purposes at once if the player desires. The counterattack this move provides is stronger than it was before, too!
ZONAL FEVER: Operation Game!
Yama will summon Electric Eye and Ms. Replicate to her place on the battlefield through whistling for them- if they each catch an enemy together, they will be shown with most of their body underneath an operating table! Yama, Replicate, and the Electric Eye will be shown surgically removing limbs and bones from the victim's body, causing them to lose a lot of Stamina and possibly killing them mid-operation. If they were the last enemy, Yama will turn to the camera and go "Oops!" while her comrades clap for her.
Animations
Entry Animation: Yama rushes through a pair of hospital doors, scanning the horizon and rubbing Bandy the Sock Puppet on its head, holding a long scalpel at the ready as she hums quietly.
Idle #1: Yama pretends to give Bandy a haircut as she makes him speak poetry by throwing her voice over to him.
Idle #2: Yama brushes Bandy's "hair" as she makes him speak haikus by throwing her voice over to him. She smiles.
Taunt #1: Yama makes Bandy push in front of her and flail his arms, as if to rile the opponent.
Taunt #2: Yama tosses Bandy forward, who has his arms stretched out before Yama yanks him back.
Taunt #3: Yama straightens out her outfit as Bandy comes up with a random insult for the opponent.
Victory #1: Yama will be standing by 1-3 stretchers with her enemies laying down on them, looking a little sad as she sees the monitor next to her display a flat line to represent her patients' deaths. "Oh no..."
Victory #2: Yama will spring from the background with her sock puppet, having Bandy speak positive language to the victim in 2nd place as she tries to fix them up. She sometimes takes a sip of apple juice.
Victory #3: Yama drinks a cup of apple juice, sitting atop a mountain of emptied plastic jugs as she periodically takes new bottles out from her hammerspace so she can drink some more. "Mmmm..."
---
Alternate Costumes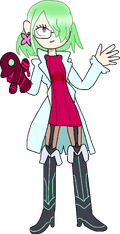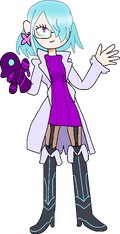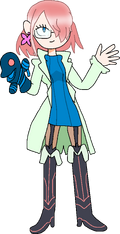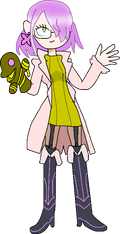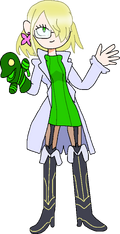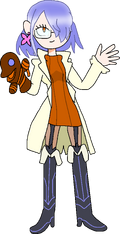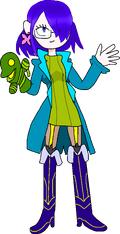 Werine
Name
Werine
Mass
5'06" at 220 lbs
Birthday
January 12th, age 21
Gender
Female
Sexuality
Unclear
Alignment
Unclear
Home
Were-Demon Woods, Sector 4
Occupation
Were-demon "Theta" leader
Weapon
Moonlight Talons
Powers
"Red Energy"

Werine is what's known as a "were-demon", a hybrid species combining humans with animal traits and instincts. They're freely roaming aboard Satellite 15's Sector 4, terrorizing civilizations on occasion and raiding them of their food supplies. Werine's always been known as the leader of the Theta tribe, the biggest pack around, and organizes these raids so they may take what they please. She communicates with others of her tribe through growls and hand gestures, but she's had enough experience with human beings to get a grasp on their language and speak accordingly. When out hunting, Werine's very aggressive and usually comes out as the dominant one in fights, never relenting in battle and savagely murdering her enemies if she doesn't believe they're worthy of their lives. But in truthfulness, Werine doesn't hold a complete hatred for humanity as a whole, and occasionally sneaks out into the public eye all dressed up in a trench coat and wearing a pair of shades to hide her gruesome eyes. She displays a friendly, but mischievous and occasionally very awkward personality when casually around others, but she usually prefers to be quiet.

Werine's moral code in combat is highly complex and rather convoluted- it's so complicated, in fact, that she bears the most intense love for battling of anybody aboard the satellite. As she's the leader of the Theta tribe, everyone in her pack follows her example to a tee, and nobody questions it. For starters, Werine will never ambush anyone that appears to be in a chronic or otherwise serious state of pain, believing that they're not in a condition to fight nor are their meat and bones worth their time. However, if the person appears to have malicious or suspicious intents, they will savagely attack them anyway. She also refuses to attack other members of their tribe unless they are posing a problem, but will never directly kill them as she believes such motions to be immoral. Werine will also not bother striking anyone when she can directly sense their strength, and will flee rather than picking a fight with someone above their class. Werine and her tribe will attack anyone else, even innocent bystanders, when they're presenting themselves as their species rather than as their human disguises. They believe all fresh, untainted meat is theirs for the taking. They have a fascination with wearing the bones of the dead as their prized armor. If someone is wounded, she will not come heal them unless they're in serious pain, believing they need to learn self-defense.

Werine's super powerful when loaded up with lunar energy, making her excessively savage as it really drives her Red Energy berserk. This will make her human disguise impossible to maintain, as she will be behaving too erratically within her trenchcoat for her to be seen as normal. On the other hand, it makes her battles significantly easier. In spite of her mixed relationship with humanity, she's a close friend of Valerie Heartgold's and occasionally sneaks away from her tribe (leaving her sister in charge) to spend some nights with her, provided she knows the tribe will be 100% safe while she's away.

---

Likes: Going hunting, scavenging food, devouring humans, intimidating enemies, eating food off the floor, kicking ass, breakdancing, watching bad horror movies, hanging out with Valerie's friends
Dislikes: Silver Zin, her food being hard to chew through, her own mother, the thought of giving birth, being forced to act like a human being
Gameplay Details
Analysis
Werine is a middleweight character with below-average height, having good mobility especially on the ground but excelling rather well in the air, having a moderate falling speed and numerous mid-air jumps to represent her dominating spirit. Without a doubt, Werine is one of the game's most efficient rushdown characters, having an excellent combo game with her super-speedy attacks and holding full domination over the aerial scene. Make just one mistake and Werine will quickly punish you for it, subjecting you to her long chains of attacks. Approaching Werine is also difficult, as she can easily swerve out of the way of others' attacks and retaliate almost immediately with whatever she pleases. Finally, Werine's version of the "HyperDrive" meter is unique; it is instead referred to as "Red Energy" and is colored crimson to match, and her Crouch Special can be used to charge it up. As her Red Energy builds, her neutral moveset continually gains more and more range, making her much tougher to punish.
However, Werine does possess several faults as a fighter, her biggest issue being she's among the roster's frailest characters altogether. Just damaging Werine with a moderate-powered attack will still take a bite-sized chunk out of her health and will (usually) knock her back enough to prevent her from coming back for the kill. If Werine's Red Energy meter isn't at least a third of the way full, then her attacks will have somewhat pitiful range and not deal as much damage, making it significantly easier to approach her. Unlike with other characters, when Werine takes damage, this meter will actually slightly deplete and possibly disrupt the player's strategy, meaning taking risks with Werine is usually a no-go. Her lack of a projectile also really hurts her in the long run, as it means she can't counter zoning or camping characters very efficiently nor poke at foes from a distance.
Werine's a strong character with equally strong speed, but the player has to be careful if they wish to assassinate to dominate, as Werine's numerous flaws can hold the player back if they let the foe take advantage of them.
| | | |
| --- | --- | --- |
| Stamina 4/10 | Middleweight Class | Appetite 1/10 |
| Offense 5/10 | Defense 3/10 | Mobility 9/10 |
---
Moveset
Common Attacks
Werine's neutral moveset is focused around her Moonlight Talons, which have the property of reaching out further and further as her "Red Energy" builds. She can use these talons to swipe at her enemies or dagger right through them, as well as knock her enemies above or below her using them. When her "Red Energy" is at max, these talons will be capable of reaching thrice their usual distance, giving her absurd range and tools that can be considered equivalent to massive swords. Werine's heavy tilts have her dish out crimson waves of energy out from her talons that reach away from her body- these deal a lot of damage and can push the foe back, but they dissipate fairly quickly. Though the majority of her moves utilize her claws, attacks such as her jab combo and forward aerial have her bite down on her enemies with her sharp teeth instead.
Special Moves
Neutral Special: Bleed-Out Attack
Werine will turn her head and torso away from the screen, rearing back her right hand as it begins to glow with a very intense crimson aura. Unlike many charging attacks, this move can be charged up for 15 seconds, a bizarrely long period of time for this move to reach its maximum strength and knockback growth. When she finally thrusts her talons forward, she will knock any enemy near her far, far away and possibly deal massive damage to them if they get knocked ruthlessly into a wall. The player can cancel their charge at any time and save their progress, but if the player gets hit while they're charging, they'll have to reset the charge all over again.
Forwards Special: Predator Pounce
Werine will make a big leap forwards, stretching her claws and wings out as she body slams against the ground. If she misses, the move's very punishable because of all the laggy end frames, but if she succeeds, she'll pin her enemy to the floor and be able to slash relentlessly at their body until they can throw her off. This move has a secondary function; it has small utility as a horizontal recovery move and strong priority as a fast-falling move, letting her arrive to the ground safely. Because of the weight of her attack, she will ignore all moves attempting to attack her from below and stomach her foes to the floor.
Recovery Special: Lunar Assault
Werine will flutter her wings rapidly as she rises high into the skies, looping around a silhouette of a moon before she's able to choose in what direction to dive in. If she decides to dive into an enemy, she'll piledrive them into the ground and kick off of them, letting her follow up with the attack of her choosing. She can also rocket down straight to the floor, using her palms to flip herself back upright. However, she can also choose to instead rise back up into the after while diving to fake her foes out, capable of gliding around until they reach the ground or when they begin to dive again.
Crouch Special: Moonlight Howl
Werine will stand up straight, howling to raise her Red Energy meter by 11%. If she howls a total of nine times in a match, she will be able to reach a 100% full charge, but this can be fairly unlikely as it takes one and a half seconds for her to complete a howl, making her punishable.
Hyper Moves
Neutral Hyper: Crimson Bleed-Out
The superheated, brand-new variation of the Bleed-Out Attack has Werine take half as long to charge it to its maximum potential, with a much more intense crimson aura surrounding her claw. Instead of thrusting her claw directly forwards, she'll instead knock them high in the sky as she uppercuts their body, causing them to take immense damage if she can get every hit to connect against their body.
Forwards Hyper: Crimson Pounce
Similar to Predator Pounce, except that the move will cover a blinding amount of horizontal distance and drag the foe across the floor as she slashes at their body with her crimson-glowing claws. The player can jump off at any point so they can avoid dragging their foe down into an abyss with her- unless that's what they want, though Werine's stock will always be taken first in this type of scenario.
Recovery Hyper: Crimson Assault
This variation of "Lunar Assault" functions similarly, rising her very high in the air before she comes back down with a dive, but this whole move functions significantly faster and she will auto-aim for any enemy, which will rocket her back up into the air and let her continue gliding. When she looks exhausted or when she takes damage, she'll be broken out of the attack's animation.
Crouch Hyper: Crimson Screech
Her body roasting with pure energy, Werine will let out a loud screech that drains all of her Red Energy, but can knock foes away considerably far. It doesn't deal much damage except if she drains the meter down from 100%, which will and will most certainly thrust her foes into walls, dealing serious damage. The foes have to be close enough to be hit by the screech, however.
ZONAL FEVER: Sanguine Bloodshed
Werine will move backwards a little bit, her eyes glowing a fierce red as her body becomes overloaded with a bright crimson aura, her body shakily floating up and down. She will then immediately zip right to the other side of the battlefield, the camera freezing to showcase the red beam of light representing Werine's traveling distance. Any foes in the path of the beam will take some damage and be paralyzed. Werine can then turn around to zip into them again with her intensely powerful claws, dealing much more damage to them and making them bleed out.
Animations
Entry Animation: Werine flies in from above, screeching as she slides across the ground, her wings fluttering about rapidly to display her wicked, vigorous personality as her body goes from being hunched over to standing at her full height.
Idle #1: Werine flashes her eyes as she looks about, growling to herself, slashing around feverishly with her claws as she filthily grins, looking ready to rip some bodies apart for her own pleasure.
Idle #2: Werine caresses her chin with her claw and licks her lips, snarling as she vigorously throws out some claw swipes, salivating as she looks ready to go up and get personal with her enemies.
Taunt #1: Werine chews fiercely down on a bone before spitting it out in a couple dozen chunks.
Taunt #2: Werine howls as she looks up high, as if to look at a full moon. Her hair ripples as she does this.
Taunt #3: Werine makes a slit-throat gesture as her teeth grit tightly together, threateningly.
Victory #1: Werine swoops her way in from above, dragging one of her enemies across the ground as she gets up close to the camera, cheesily grinning at it as she begins to savagely swipe at her off-screen opponent.
Victory #2: Werine stands upright, her wings fluttering endlessly before she lets out a loud howl, ending by dashing off into the night on all fours without any supervision. She cackles loudly as she heads off.
Victory #3: Werine springs her way high into the air, spreading her wings in front of the moon as nothing but her silhouette is shown, her body glowing in a mysterious red aura tied to her possession of Red Energy.
---
Alternate Costumes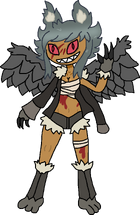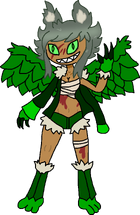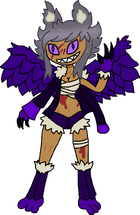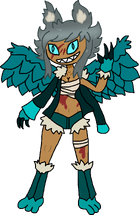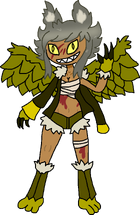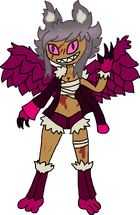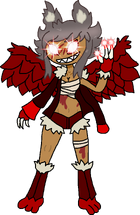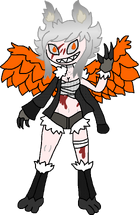 Chance
Name
Chance Roulette
Mass
7'10" at 272 lbs
Birthday
December 8th, age 107
Gender
Male
Sexuality
Heterosexual
Alignment
Lawful Evil
Home
Lucky Casino, Old Naxaz City
Occupation
Casino operator
Weapon
Pinball-n-Chain
Powers
None

Whether something's thought to be guaranteed or otherwise left up to luck, Chance Roulette will always crawl out victorious in one way or another! This century-old elder owns a shady but frantic and busy casino found in the restricted area of the Old Naxaz City, his neon palace littered with carnival rides, pinball table alleyways and super-rigged gambling machines. He lures villains and bad guys to his casino so he may drain them of their crash and relieve them of their weaponry before phoning the police on them, but enjoys the luxury in watching the almighty heroes fall for his tricks and lose everything they've got in the process as well! Seeing the satellite government and its established system as easy to manipulate, Chance regularly looks for loopholes in the rules and seizes advantage of them, working to hide his questionable antics and behaviors from the police so they don't complicate his schemes any further. The cybernetics-equipped man is not helpless; the robotic enhancements to his body render him immune to diseases and grant him incredible combat potency not previously accessible in his human form.

Chance is a very vigorous, active person with a cheeky and confident attitude, patiently waiting to place impending bankruptcy on anybody that rushes into his casino palace with an optimistic (but evil-looking) grin. He is incredibly energetic and gleeful, willing to do whatever it takes to catch and torment heroes or villains and drain them of their wallets. His punishments are very cruel- he's used Russian Roulette and scalp-tearing coaster carts to dispose of numerous no-gooders before, yet keeps everything undocumented so no police officer can arrest him for his... cruel and unusual ways. When others speak up to him, he will quickly assert his dominance by talking down to them, making them feel small with his intelligent vocabulary and making it clear that they cannot outsmart him for he has access to good fortune almost every hour, every minute. Don't think that Chance is immune to everything, though- this brainiac is constantly rushing with creativity fever, frequently sketching out designs for his cabinets and rides he loves so much and getting frequently distracted because of it! He's kind of forgotten his family as a result.

Chance's casino has an overall important role in the Satellite 15 story, with its sheer size and complex number of buildings ironically making it a good hideout for villains overall when one realizes how little authorities there are to take care of these menaces. Though Chance does not tolerate this villainy and is in fact working against it to the best of his ability, people like Mallory and the Messiah still frequently visit there and plot out their next goals there rather than risk it in quieter, more well-supervised areas like the Moore Lounge.

---

Likes: Casinos, gambling machines, slot machines, flashy gadgetry, being cunning, tricking his enemies, find loopholes in the rules of the law, being able to capture and bankrupt heroes and villains alike, killing targets through fashionable ways, gloating and guffawing
Dislikes: People using his casinos as a hideout to discuss plots, people romancing at his casino or eating and therefore not using money on his machines, people criticizing his works, people attempting to touch him, taking drugs and medicines to ensure he can still live
Gameplay Details
Analysis
Chance Roulette isn't just one of the game's tallest fighters, he's also among the heaviest and among the slowest. He's best described as a "Zoner" type of character, focusing on controlling the battlefield aggressively through his numerous tools and projectiles and using powerful melee attacks to outrange his enemies. Though Chance has some mobility issues and isn't among the game's stronger fighters, he's excellent at wearing down his enemies from a distance and can pick at them from afar with his projectiles rather easily. Chance's defensive game is among the best in the game; not only can he take a lot of damage within his robotic suit, it also gives him a longer-lasting Parry that's much easier to use and way harder to punish against. He also has an unusually powerful recovery for a slower character and many of his moves give him dominant control over the battlefield, and none of them negatively impact him besides having enough lag to render him somewhat punishable.
Chance's sluggishness and heaviness are two huge issues that drag him behind in battles occasionally. Both ailments make it ridiculously easy to catch up to him and juggle him up in the air, respectively. Though his frame data is somewhat better than his fellow heavyweight rivals', many of his attacks still have a detrimental amount of ending lag to them, and his only average power output means he has trouble dishing out damage as efficiently as anyone else in the game's roster. He also starves faster than numerous other characters in the roster, requiring him to continuously find more food to give more nutrition to his well-aging body. However, Chance's weaknesses are somewhat compensated for by his ultimate weapon, the mace-inspired Pinball-n-Chain. The huge ball attached to the weapon and how Chance swings it gives him a lot of defensive utility if used properly, and negates a lot of his weaknesses.
Though Chance is plagued with numerous issues like any old man out there, he has a lot of really good utility with his basic weapon and his specials all give him a ridiculous amount of stage control.
| | | |
| --- | --- | --- |
| Stamina 9/10 | Heavyweight Class | Appetite 9/10 |
| Offense 6/10 | Defense 10/10 | Mobility 2/10 |
---
Moveset
Common Attacks
Chance's primary weapon is the Pinball-n-Chain, which he consistently uses throughout his common moveset. This weapon is a huge metallic silver pinball attached to hard steel chain links, which Chance can swing around like it were a mace. Chance can swing this mace around in arcs around his body, bash it straight forwards, or use it like a wrecking ball with his forwards heavy tilt. Surprisingly, these moves don't deal too much damage outside of his heavy tilts, even though they give Chance a decent amount of ending lag to deal with once their execution is over and done with. Because of how wide the trajectory arcs are for these ball swings, they cover a lot of area around Chance's body, functioning as useful self-defense that can save him from virtually any angle. When he's not using this weapon, he's spinning off cards like shurikens with his jab move or spinning his foe on a big prize wheel as a part of his grab-and-throw system.
Special Moves
Neutral Special: Bingo Blaster
Chance will grin wide as he spreads out his feet, hunching over as a device on his back begins to glow brightly with power. He will then begin rapidly firing bingo balls across the screen, which he can use to punch his foes backwards to disrupt their approaches (he can aim up and down as he does so) or spill out a bunch of bingo balls across the floor at once so his foes may trip over them. The charge time for the former attack is slightly increased for balls that have greater strength, and every bingo ball is generated at random. All of his bingo balls are numbered and lettered; those under the B class (1-15) deal 0.33% to 5% damage, those under the I class (16-30) deal 5.33% to 10%, those under the N class (31-45) deal 10.33% to 15%, those under the G class (46-60) deal 15.33% to 20%, and those under the O class (61-75) deal 20.33% to 25%. This does not apply to when they're spilled all over the floor at once.
Forwards Special: Roulette Rush
Chance will furiously spin around a roulette wheel, throwing it and making it levitate midair with what looks like a golf ball spinning around its polished wooden rim. Within less than a second, it will be pocketed in a red or black space, or rarely a green space, leaving Chance to glow with a powerful aura that has its color dependent on the space the ball was pocketed in. He'll then snatch the wheel from midair and then make a hard charge across the floor holding the spinning sawblade-like wheel forwards, cutting up anyone in the way of his dash! If he's glowing a black aura, his attack will be at its least powerful but still deal high damage, and he'll deal even more damage if his aura is red instead. If it is green, Chance will rush forwards even faster and home in towards the enemy, dealing MASSIVE damage if he can land his attack! This move lets Chance dash around the battlefield real fast.
Recovery Special: Plunger Shot
Chance will pull out an enormous pinball plunger, grinning as he sets it underneath himself and shoots himself up high into the air with it, springing himself very high into the air. He will then freefall downwards like a pinball. Any ledges he barely dodges will have him land on a virtual pinball flipper that can only be touched by the player. He can then shoot himself back into the air, allowing him to tackle enemies in his curled ball shape, or shoot himself backwards so he can land back on the stage. He will land on his feet if he lands on solid ground at any point. The pinball flippers cannot be used again once he's standing back at his full height.
Crouch Special: One in a Hundred
Chance will grin evilly as he pulls out a card from what appears to be a deck of 100 cards. He will then stare at the card- most of the time, the move will have absolutely no effect. There's a 1 in 100 chance, however, that Chance will pull the Ace of Spades, allowing him to blast an enormous black laser shaped like the spade across the screen that instant-kills anything in its way! He can occasionally pull up Kings that double the chances to 1 in 50, Queens that allow him to fire weaker versions, and Jokers that will stick midair. Any Jokers remaining midair when Chance gets to blast an Ace Laser will gravitate the laser between all of them, all disappearing simultaneously soon afterwards. This move has absolutely no ending lag and just a tiny bit of starting lag.
Hyper Moves
Neutral Hyper: Bumper Blaster
Chance will be capable of blasting out up to three "Bumpers" from his machine, which will float around midair for a while. Any foes that come in contact with them will be shoved around violently, especially if they're lightweight enemies. These can be used to secure the edge of a star, to defend Chance from one side as he deals with enemies on the other, or to be a complete pain in the ass for everyone who's fighting against him. If a foe gets hit with a Bumper as it's blasted out of Chance's machine, they will be flung back by a significant distance and take a decent amount of damage. Each Bumper disappears after 20 seconds.
Forwards Hyper: Wheel of Misfortune
Identical to Roulette Rush in execution, except that Chance will always rush forwards with a magenta aura around his body. Chance, however, spins a wheel of misfortune instead of a roulette wheel, which will determine how much damage his enemy takes if he hits them under his adrenaline rush. The number can be as low as 10%, or as ridiculously high as 200%. He will then rush forward to cut open his enemy with his sawblade-like wheel.
Recovery Hyper: Bonus Shot
Chance will not just blast off using the Plunger, but he'll split himself into ten separate entities- the multiball experience! The alternate Chances will travel all over the place, rolling across the ground and using flippers to knock themselves back into the air. They will only disappear after 20 seconds, or if they've fallen off the stage with no way of recovery. The numerous Chances will damage any foes in their way, pinning them down.
Crouch Hyper: Guaranteed Crit
Chance will have a guaranteed chance of plucking out the Ace of Spades! He can now blast off the Ace Laser to absolutely obliterate anything in its path. However, there is a bit of starting lag, allowing enemies to find time to move out of the way as he pulls up the card that blasts off the insta-kill laser. All effects from Kings and Jokers are applied to the Guaranteed Crit, like they would with the One in a Hundred attack.
ZONAL FEVER: The Slots of Doom
Chance will pull off his best high-pitched laugh as he drops himself off at a casino, pulling on a lever to activate a big slot machine that's designed and dressed up with skulls! The player must control the slots for themselves, stopping each slot individually. He must get three Flames (massive fire damage), three Crossbones (slowly strengthening poison damage), three Thunderbolts (long-term paralysis), three 2X's (doubled stats for a brief period of time on self), three Hearts (heals all taken damage during fight), or a Lucky 7 (all of the above). However, if he messes up even once, he will lose his stock. Fortunately, the slots are somewhat easy to land, except for the Lucky 7 which will cause the wheels to scroll faster.
Animations
Entry Animation: Chance will gracefully walk onto the battlefield, bowing respectfully to his enemies like a real gentleman before standing up, fondling a deck of cards within his hands.
Idle #1: Chance will fan himself off with his deck of cards, lifting it up to his face and occasionally spreading the cards out and back in so he can peer at his enemies through the gaps.
Idle #2: Chance will take out his notebook, designing what appears to be slot machines and other casino gadgets on paper, sometimes maniacally giggling like a 7-year-old as he does so.
Taunt #1: Chance tosses a coin into the air, always announcing himself as heads. If it falls on heads, Chance wins a very tiny power boost. If it lands on tails, the exact opposite happens instead.
Taunt #2: What happens in this taunt is up to random chance. There's a 1/5 chance he'll smirk and cackle, a 1/5 chance he'll drink some wine, a 1/5 chance he'll take some meds, a 1/5 chance he'll smoke a cigar, and a 1/5 chance he'll fall asleep.
Taunt #3: Chance spins a big wheel that appears behind him. If it lands on a red space, Chance will cheer and receive a bit of money. If it lands on a black space, he'll lose some instead. The one golden space gives him a lot of money!
Victory #1: Chance will balance a pinball across his arms, laughing almost violently as he raises the ball high into the air, almost singing out "Ooh, maybe you'll be lucky next time you gamble your fate like that!"
Victory #2: Chance pleasurably sits down on a cardboard box, looking all sinister as the viewer is implied to be holding a gun. Chance then says "Now that you've lost, can you survive my innocent little game of Russian Roulette?"
Victory #3: Chance grins, spinning around with the grace of a roulette wheel as he bows down, before mockingly saying "Almost everything may be up to chance in this world, but know that your loss was your decision."
---
Alternate Costumes