— Buzz Buzz, EarthBound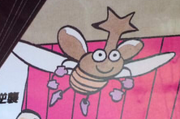 Buzz Buzz is a minor character from EarthBound. He is an alien from the ten years in the future, who travels back in time to warn Ness of Giygas' plans to sentence the universe to infinite darkness.
Physical Appearance
Buzz Buzz's appearance is inconsistent throughout his appearances. His in-game sprite vaguely resembles a fly, though he compares himself to a bee (and states that he is not one); Lardna Minch however believes Buzz Buzz to be a dung beetle in the English versions of EarthBound, though is referred to simply as a "toilet fly" in the Japanese MOTHER 2. Further complicating matters is that the only official art of Buzz Buzz that exists, which is shown on the cover of a MOTHER 2 "choose your own adventure"-type book, depicts him as a rhinoceros beetle-like creature.
Appearances
EarthBound
Buzz Buzz appears early in the game. While investigating a meteor, Ness, Picky, and Porky hear a buzzing sound. The meteor turns out to be a spaceship holding Buzz Buzz.
Buzz Buzz resembles a bee, but is really an alien. He warns Ness that in the future, all is devestation. He tells of the evil overlord Giygas taking over the world, and the prophecy that four heroes will stop him. The group then goes down the hill where Buzz Buzz was, only to be stopped by a Starman. The Starman followed Buzz Buzz from the future, and attacks the group. However, Buzz Buzz defeats him with powerful PSI attacks.
Ness then takes Pokey and Picky back home, where the parents of the brothers are mad and punish the boys by disallowing them to eat dessert for a decade. The mother of the family, Lardna , is terrified by Buzz Buzz, thinking he is a dung beetle. Lardna swats and kills Buzz Buzz. Before dying, he gives Ness the Sound Stone.
Buzz Buzz makes a minor cameo in Jake's Super Smash Bros., appearing alongside Ness in one of his victory poses. Like in EarthBound, Buzz Buzz's design is intentionally made to be very small, appearing only as a speck that swirls around the boy's head, though the speck does appear to be vaguely fly-like, as opposed to rhinoceros beetle or bee-like as other sources have portrayed him.
Trivia
Despite being in the game for less then 10 minutes, Buzz Buzz gives important info and the Sound Stone, a key item.
In Earthbound Animated, a fan animation based on the series, Buzz Buzz has an insignia on his chest similar to a Starman's.
A popular fan theory exists that draws parallels between Buzz Buzz and the hero of EarthBound Beginnings, Ninten, speculating them to be the same character.
Navigation Templates
Playable Characters
Assist Characters
Obstacles
Other Characters
Alolan Grimer · Amul · Ann Takamaki · Big Urchin · Blizzy · Bravoman · Buzz-Buzz · Cutiefly · Don-chan · Dragoneel · Fierce Deity · Gil · Happy Mask Salesman · Judge · King · Kissy · K.K. Slider · Litwick · Lloyd · Mappy · Mareanie · Mii · Missile · Morgana · Perry · Pidgit · Pooka · Rabbid Luigi · Rabbid Yoshi · Red Baron · Ribbon · Rowlet · Runner · Ryuji Sakamoto · Sandy · Smasher · Rusty Slugger · Servbot · Sima Zhao · Swanna · Tarosuke · Timmy Nook · Toadsworth · Tommy Nook · Tron Bonne · Valkyrie · Wonder Momo · Ziggy
Collectibles

Trophies

Stickers

Boolossus · Boo Mario · Bowser · Captain Toad · Cat Peach · Chain Chomp · Cloud Mario · Fire Mario · F.L.U.D.D. · Koopa Clown Car · Mega Mushroom · Mario · Penguin Mario · Peach · Propeller Mario · Rock Mario · Toad · Toadette · Waluigi
Birdo · Boo Buddies · Blooper · E. Gadd · Fuzzy · Metal Form · Waluigi · Whomp

Candy Kong · Lord Fredrik

9-Volt · Fauster

Ball and Chain · Deku Leaf · Majora's Mask · Mipha

Abra · Drifloon · Spinarak

Katrina · Mr. Resetti

Adam Malkovich · Arachnus

Nightmare · Noddy · Prank

Mr. Chicken

Back Shield · Centurion · Eggplant Wizard

Disco Kid · Doc Louis · Donkey Kong · Giga Mac · Glass Joe · King Hippo · Little Mac · Von Kaiser

Blue Falcon · Captain Falcon · Pico · Rick Wheeler · Wild Goose

Louie

Pyra

Franklin Badge · Negative Man

Apollo Justice · Franziska von Karma · Miles Edgeworth · Larry Butz · Judge · Phoenix Wright

Dr. Wright · Hammer Slam Bowser
Devil · Dr. Wright · F-Type · Rusty Slugger · Zethia
Community content is available under
CC-BY-SA
unless otherwise noted.