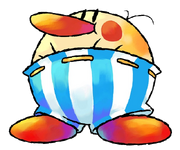 Burt the Bashful is an enemy-type character that debuted in Super Mario World 2: Yoshi's Island. He is the first boss in the game. Formerly a regular Burt, Kamek used his magic to grow this boss to much larger proportions.
To defeat him, Yellow Yoshi must hit him with four or five eggs, each time ducking underneath the platform in crevices to keep Baby Mario protected. When he is defeated, his pants fall off and, ashamed, he turns red, eventually imploding. As stated on the official Yoshi's Island: Super Mario Advance 3 website, "You can't fight while your pants are falling down!"
Burt the Bashful later reappeared as a boss in Yoshi's Woolly World.
Appearances
Burt the Bashful appears as a starting racer in Mario Kart: V² Circuit. They are a lightweight with a large size. They have an average speed, somewhat poor acceleration, good turning and good traction.
Burt the Bashful appears in Mario Tennis: Heroes Vs Villains as a non-playable character. In Kamek's Hero Special Shot He enlarges a Burt and says "Get him Burt the Bashful!" Burt the Bashful then jumps high in the air and crushes Yoshi before the cutscene ends and Burt the Bashful dissapears.