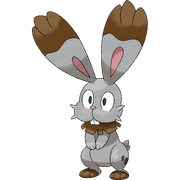 The Bunny type (Japanese: ウサギタイプ Usagi type, Leporid type) is a fanon Pokémon type. Like the Bug, Dragon, Fairy, and Ghost types, it is an element associated with a particular creature: in this case, lagomorph species such as rabbits, hares, and pikas. It was inspired by a comment on the Fantendo article for the Sound type.
28 existing Pokémon and 1 move are changed to the Bunny type.
Type matchups
Offensive

Defensive

Power
Types
 
Power
Types

2×

½×

½×

2×

0×

0×
The Bunny type inherits some matchup attributes from the Normal type.
It is super-effective against the Grass and Ground types, inspired by rabbits' herbivore diet and propensity for digging, respectively.
It is a poor matchup against the Steel type, in part because rabbits are often caged using wire mesh, and using this as hutch flooring can cause sore hocks.
The Dark type is not very effective against it, owing to rabbits' association with innocence and their folklore portrayal as a trickster archetype.
The Flying type is super-effective against it, inspired by various birds that prey on lagomorphs.
Pokémon
Most Bunny-type Pokémon have physical similarities to rabbits, and some are even categorized as Rabbit Pokémon. Certain choices with additional, subtle reasoning for their change in typing are explained in more detail below.
Pure Bunny-type Pokémon
#
Pokémon
Type

293

Bunny

327

Bunny

427

Bunny

428

Bunny

531

Bunny

659

Bunny
Please note that these only apply to certain Pokémon games.
Primary Bunny-type Pokémon
#
Pokémon
Type

040

Bunny
Fairy

428M

Bunny
Fighting

494

Bunny
Fire

531M

Bunny
Fairy

660

Bunny
Ground
Please note that these only apply to certain Pokémon games.
Secondary Bunny-type Pokémon
Moves
Move name
Type
Category
Description
Power
Accuracy
PP
Court Change

Bunny

Status
With its mysterious power, the user swaps the effects on either side of the field.
—
100%
10
As of Generation VIII, Court Change is one of Cinderace's signature moves.
Pokémon Types
Official Types
Fanon Types