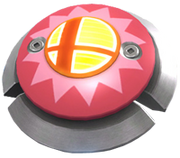 The Bumper is an item that appears in the Super Smash Bros. series of video games, debuting in the original installment for the Nintendo 64, and returning in Brawl and the fourth installment. Once thrown, it will either float in the air, or get stuck to the ground, and will bounce fighters who hit it away from it.
Appearances
The Bumper appears as an item in Mario Kart Silver. In the game, it acts similarly to it's Super Smash Bros. counterpart. Racers in fourth, fifth, ninth or tenth can obtain it as a common item, or as a rare item in sixth-eighth. Once thrown, the Bumper will stick to the ground, and will bounce all racers who come in contact with it. Like in the Nintendo 64 installment of Super Smash Bros., the Bumper will be pushed back according to where racers hit it from. Using the Bumper in strategic locations, can allow for a quick getaway, as placing it on bridges or blocking certain paths will cause mayhem in trying to get rid of the Bumper. The Bumper will despawn, however, after six people have hit it, or if it goes a minute without being hit once.
Gallery
Community content is available under
CC-BY-SA
unless otherwise noted.