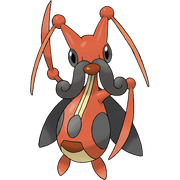 The Bug type is one of the eighteen official types from the Pokémon franchise. The Bug type is one of the first types of Pokémon a beginning Trainer encounters, and a general amount of them evolve very early, allowing the Trainer being introduced to the concept of Evolution very early on. This leaves at least half of the existing Bug-type Pokémon somewhat weak, although the Bug type also houses some of the stronger Pokémon.
Offensively, the Bug type is tied with the Grass type of being resisted the most - by seven types to boot, including the defensive Steel type and the newly introduced Fairy type, not to mention most of the seven types are commonly used. With that said, it is one of the few types that is super effective against Psychic and Dark, but also one of the many types that is super effective against the aforementioned Grass type.
Defensively, they are well resistant against Grass, Fighting and Ground, three of the more commonly used types, but are very weak against Fire, Flying and Rock. With Bug/Flying being one of the more common type combinations, Bugs are usually crippled after a Rock-type attack, but do have extra resistance against Fighting Pokémon. However, the Bug/Steel combination proves to be the most useful type combination concerning the Bug type, being only (doubly) weak to the Fire. There are a handful of Pokémon with this typing, Scizor being the most popular.
As of Generation 6, there are about 69 Bug-type Pokémon. About 17 of these are Pure Bug-type. The Bug type is most prominently a primary type, with 49 dual-typed Pokémon that are primary Bug, and only 3 that are secondary Bug.
The Bug type mainly consists of insects, spiders, and other arthropods or similar invertebrates. As for that, almost all Bug type Pokémon are found in the Bug Egg Group. The only ones that aren't found there are Shedinja (for being a hollow shed of Nincada), Anorith and Armaldo (for being Fossil Pokémon that lived underwater) and Genesect (for being a Mythical Pokémon).
Oddly enough, Shelmet and Accelgor are both Bug-type and in the Bug egg group, despite being mollusks instead of insects.
Type matchups
Official
Offensive

Defensive

Power
Types
 
Power
Types

2×

½×

½×

2×

0×

None

0×

None
Specialists
Notable
Pokémon Types
Official Types
Fanon Types
Community content is available under
CC-BY-SA
unless otherwise noted.