Bubbles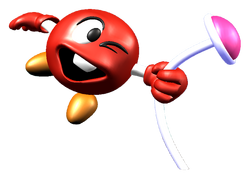 Bubbles
GENERAL INFO

GENDER

♀

Female
BIRTHPLACE
Clu Clu Land
PERSONAL INFO

CLASS
Clu Clu Hero
WEAPONS
Bubbles
MISCELLANEOUS INFO

CANON APPEARANCES
Bubbles was the hero of 1984's Clu Clu Land however after that she dissapeared seemingly for good but she was brought back as a trophy in Super Smash Brothers Melee then had a cameo playable apperance in 2005's DK King of Swing where despite being a hero in her own game she was affiliated with King K. Rool. She also had a string of cameos in Wario Ware
After this string of Cameos across the Mario series Bubbles had yet to have a real apperance again in a game until she was revived by Vined Inc. with a minor role in Captain N: The Game Master and a starring role in Captain N: Outskirt Warriors.
Captain N
Outskirt Warriors
Bubbles is a bubble fish who hails from the land of Clu Clu. When the Urina spread out across the kingdom and stole all of the gold it was Bubbles who left on a journey to retrieve the gold and when she did she was celebrated as a hero among the Bubble fish. However it wasn't long before the Master Hand came to claim her for the outskirts.
Bubbles quickly raised through the ranks and during the course of Captain N: Outskirt Warriors she became the only female general. She was a hard worker and a fighter and during the climactic final battle she too was rescued however unlike Little Mac and Pit she was rescued by Donkey Kong which left her confused.
The Game Master
Bubbles first actual apperance was in Captain N: The Game Master in a smaller role than the prequal. She revealed to King Charles that this was not the first time she had been a general in the army and that Donkey Kong threw her back as quickly as he had found her.
Takamaru had trouble trusting Bubbles because she had dissapeared last time, he was worried about her excuse of being rescued by the great ape and for a while believed that she had escaped on her own accord. However Bubbles proved herself as a warrior to Takamaru and she was trusted once more.
Gallery
Community content is available under
CC-BY-SA
unless otherwise noted.