Not to be confused with Bubble.
Bubbles
グルッピー Guruppī (Groopy)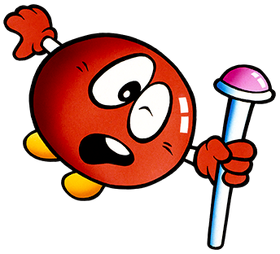 Bubbles, the heroine of Clu Clu Land.
GENERAL INFO

GENDER

♀

Female
BIRTHPLACE
Clu Clu Land
MISCELLANEOUS INFO

CANON APPEARANCES
NON-CANON APPEARANCES
"The mysterious Bubbles can only move straight ahead and has problems stopping: she changes paths by sticking out her hand and grabbing a post on the way by. If Bubbles makes contact with a Sea Urchin, she'll pop and deflate like a balloon. Bubbles protects herself by shocking Sea Urchins and pushing them into walls to destroy them."
—
Super Smash Bros. Melee trophy description
Bubbles is the main protagonist of the 1984 title Clu Clu Land. Bubbles is the saviour of Clu Clu Land, a title she earned when she fought the Unira that invaded her homeland and retrieved the Golden Ingots that they had stolen and buried around the sea floor. Despite being a Balloon Fish, Bubbles is a poor swimmer and relies on the use of pegs to change direction, reaching out to grab them whenever she is in range. She returns in the game's sequel, Clu Clu Land: Welcome to New Clu Clu Land, where she is once again forced to locate the missing treasures stolen by the Unira, and this time also defeat the Boss Unira that command the rest of their species.
Bubbles also appears as a playable character in the Game Boy Advance title DK: King of Swing. Sometime after the events of the Clu Clu Land titles, Bubbles found her way to Donkey Kong Island in time to participate in the Jungle Jam Tournament. She is one of the six characters only usable in the Jungle Jam side mode, and, alongside Wrinkly Kong, King K. Rool, and Kremling, one of the four unlockable characters. Bubbles possesses the highest balanced stats of any character in the game, with both her Jump and Attack stats being 4/5.
Fanon Appearances
Captain N series
Bubbles is a bubble fish who hails from Clu Clu Land. When the Unira spread out across the kingdom and stole all of the gold it was Bubbles who left on a journey to retrieve the gold and when she did she was celebrated as a hero among the Bubble fish. However it wasn't long before the Master Hand came to claim her for the outskirts.
Bubbles quickly raised through the ranks and during the course of Captain N: Outskirt Warriors she became the only female general. She was a hard worker and a fighter and during the climactic final battle she too was rescued however unlike Little Mac and Pit she was rescued by Donkey Kong which left her confused.
Bubbles first actual appearance was in Captain N: The Game Master in a smaller role than the prequal. She revealed to King Charles that this was not the first time she had been a general in the army and that Donkey Kong threw her back as quickly as he had found her.
Takamaru had trouble trusting Bubbles because she had disappeared last time, he was worried about her excuse of being rescued by the great ape and for a while believed that she had escaped on her own accord. However Bubbles proved herself as a warrior to Takamaru and she was trusted once more.
Gallery