"All I need to become Super Buap is... a chicken wing!"


— Buaptain
Buaptain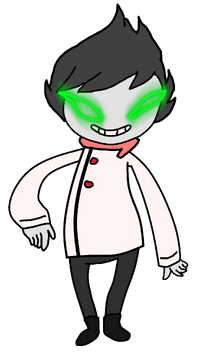 The leader of The Buap Squad
GENERAL INFO

GENDER
♂ Male
CURRENT STATUS
Alive
AGE
12
BIRTHDAY
October 22, 2002
BIRTHPLACE
Nega World
PERSONAL INFO

CLASS
Anti-Hero
WEAPONS
Mini-Laser Gun
MISCELLANEOUS INFO

CANON APPEARANCES
Buaptain is Guaptain's doppelganger in Fantendo Sports Resort, but later becomes the main antagonist of The Guap Squad 5: The Nega World. He is the leader of a group called the Buap Squad.
Personality
Guaptain is a very nice and caring person, so Buaptain is the opposite. He often hurts others when given the chance, and would hurt/kill anyone just to get his way. No matter what happens, his ultimate goal is to leave the Nega World and take over Earth.
Appearence
Buaptain is a 12 year old boy with black, spikey hair, green eyes, a white coat with red buttons, a pink scarf, black sweatpants, and black shoes.
Appearences
Buaptain's first appearance, he is a playable character on the Red Team. Not much is known about him yet.
The Guap Squad 5: The Nega World
Buaptain is set to make his Guap Squad debut in The Guap Squad 5: The Nega World as the main antagonist.
Relationships
Guaptain
Buaptain's original and main arch-rival is Guaptain. So naturally, things can get very instance between the two.
Gob
Gob is Buaptain's best friend, and is his right hand man. (Gob is very smart)
Boe
Boe is Gob's cousin, so he was forced to be friends with him. Buaptain tried to eliminate him, but even a heartless monster can't do that. So, they ended up hating each other, but still work together. (Boe is very Pop)
Bashley
Buaptain likes Bashley not just as a friend, but he likes her (which in the Nega World might mean the opposite. (Bashley is very gloomy and sadistic)
Bim
Buaptain likes Bim as he is very focused and quiet. (Pretty obvious)
Bandy
Bandy was Buaptain's first enemy, but after Buaptain shot Bandy off a cliff, he barley saved him from becoming good. (Bandy is very dumb)
Trivia
TBA
Gallery
Community content is available under
CC-BY-SA
unless otherwise noted.