Broque Monsieur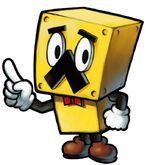 Artwork from Mario and Luigi: Bowser's Inside Story.
GENERAL INFO

GENDER
♂ Male
SPECIES
Brock
CURRENT STATUS
Alive
AGE
Unknown
MISCELLANEOUS INFO

CANON APPEARANCES

Super Broque Monsieur: Blitty Hunter
"Oui, zis is a très good choice, non?"
—
Broque Monsieur
Broque Monsieur is a Block collector and salesman who debuted in Mario and Luigi: Bowser's Inside Story.
Descriptions
Broque Monsieur has a large, upside-down-V-shaped mustache; two yellow, ? Block-like boxes for a body and head; and thin, black arms and legs. He wears white gloves, brown boots, and a red bow tie. He can flip his head upside-down to make his mustache resemble a pair of angry eyebrows, thereby changing his expression.
Appearances
Broque Monsieur appears as a starting racer in Mario Kart: V² Circuit. He is a mediumweight with a small size. He has poor speed, slightly above average acceleration, slightly above good handling and slightly above good traction.
Star Team Heroes
He's one of the victims of the Kirthar's Snap Finger.