Bowser Tower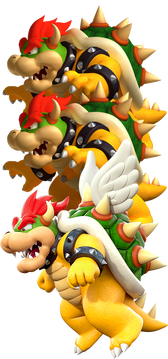 Bowser Tower, the triple Bowser
PERSONAL INFO

RELATIONSHIPS
CLASS
Bowser
WEAPONS
Flame Breath
Hammers
Bowser Tower (also known as Bowser Stack) is a set of three Bowsers stacked atop of each other. The concept of this is based off Super Mario Maker's general mechanic of enemy stacking, with three Bowsers being the max amount of Bowsers that can be added to any given sublevel. There is generally two varieties of Bowser Tower- one with three regular Bowsers, while a winged version of a Bowser Tower with a bottom Bowser that hoists the other Bowsers also exist.
Bowser Tower is more of a entity than a character, as it solely consists of three Bowsers, likely all Fake Bowsers, acting in unison until they are forcibly separated by something. In some games, these Bowsers are shown to be intelligent enough to stack up again into the Bowser Tower after being seperated.
Appearances
A winged Bowser Tower appears as a playable fighter in Umbrella Waffle, with the bottom Bowser having wings. They can separate and stack on top of each other as need be, piloting Koopa Clown Cars, attacking with flames, Hurlhammers, and more. They are unlocked if the user has Super Mario Designer data saved to the current user profile.
Gallery
Trivia
Bowser Tower consists of three Bowsers, all with their own brain and functions. However, they follow the orders of the bottom Bowser, who is applying the most force to keep them up.
See Also
Bowser - Parent character of the Bowser Tower concept.
Fake Bowser - What the Bowser Clones are likely supposed to be.
Dr. Goomba Tower - Another example of enemies coming together for something great.
Community content is available under
CC-BY-SA
unless otherwise noted.