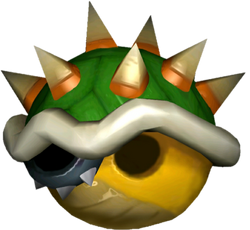 Bowser's Shell, also known as Bowser Shell, is a special item for Bowser and Bowser Jr. in Mario Kart: Double Dash!!. It works like a Green Shell, only it is five times bigger. It will be destroyed after an amount of time. Bowser's Shell, the item, is just like the shell that Bowser wears (hence the name).
Appearances
Bowser's Shell is Bowser's special item again in Mario Kart: Turbo Circuit. It works just the same in that game.
Bowser Shells appear in Mario Kart: Double Dash!! 3 as Bowser's special item. Bowser Jr. Shells replace Bowser Shells as Bowser Jr.'s special item.
After leaving the Mario Kart series after Mario Kart: Double Dash!!, the Bowser Shell returns as an item. In the game, it acts almost exactly the same as in Double Dash!!, being able to bounce off of multiple walls before breaking, though this time it flattens racers it hits instead of making them spin out. It can be obtained as a rare item in seventh, eighth or ninth, or more commonly in tenth, eleventh or twelfth places.
Gallery
Community content is available under
CC-BY-SA
unless otherwise noted.