Boss Brolder is not from Fantendo. However, this article may include related fan ideas.

These external sources may have official, more accurate information:

This character's article is free to edit. Please follow the article standards and respect good-faith contributions.
Boss Brolder
ボスゴロボン Bosu Gorobon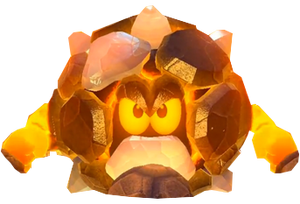 Boss Brolder, as he appears in Super Mario 3D Land
GENERAL INFO

GENDER
♂ Male
SPECIES

Brolder

ALIGNMENT
Evil
PERSONAL INFO

OCCUPATION(S)
Ally of Bowser, leader of the Brolders
ABILITIES

Rolling, summoning Brolders
MISCELLANEOUS INFO

CANON APPEARANCES

Super Mario 3D World
Boss Brolder is a recurring boss in the Mario series, first appearing in Super Mario 3D World. As his name suggests, he is a large Brolder, and is presumably their leader. His rocks are noticeably more jagged than a regular Brolder, and there are also white crystals all over his body. His eyes and arms also appear to be made of lava.
History
Super Mario 3D World
Boss Brolder debuts in Super Mario 3D World as a boss. He is the boss of World 4, and is also encountered in World Castle and World Flower. He mainly attacks by trying to roll into Mario, damaging him. He can also spin around to send fiery rocks in different directions, as well as summon Brolders to help him out.
In order to damage him, Mario must damage one of the Brolders, putting them in a dormant state, then throw them at Boss Brolder. After being hit by three Brolders, he will be defeated, revealing the Warp Box that leads to the Flagpole.
In World Bowser, he appears in an Enemy Blockade, where defeating him grants Mario a Green Star. In World Flower, he appears in the level Boss Blitz alongside Boom Boom, Pom Pom, the Hissocrats, King Ka-Thunk, and Motley Bossblob must all be defeated.
Appearances
Gallery