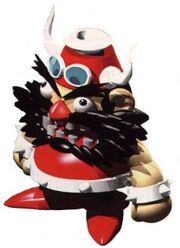 Booster, also known as Booster the Seventh (or Booster VII), is a character from Super Mario RPG: Legend of the Seven Stars who lives in Booster Tower with three Snifits. He is of the seventh and current generation of Boosters. Despite his wealth, Booster would rather have fun and spend his days playing with his Snifits and others he invites to his tower. Unfortunately for potential playmates, Booster appears to be quite eccentric to the point of insanity. While many of his antics can be dangerous to others, he for the most part does not mean any harm. He can do good such as rescuing Peach in Super Bowser Bros. 2.
Before battle in the tower, he would roar at Bowser and company. During battle, he would try to paralyze tem for an easy hit. In the castle he gains a thundershroom.
Personality
Booster is actually not a part of the Smithy Gang nor is he evil at heart. Booster is a bit crazy and relies on his Snifits to do all his work and explain things to him. He also has a lazy eye. The only time Booster wants to fight Mario is when his Snifits find him behind the curtains (when unsuccessfully hiding from them). Though even then Booster believes that it is the Mario Doll that he is fighting and not the real Mario. It is assumed that Booster's crazy mentalities run in his family. When the looking at the pictures of the seven generations of Boosters on the wall in the first room of Booster's Tower, the player can notice that they all have crazy eyes and weird smiles, much like Booster VII. They also all have pink noses like Wario and Waluigi.
Community content is available under
CC-BY-SA
unless otherwise noted.