"You stay up wonderin' if anyone ever gives presents TO Santa Claus"
—
Boomer, Super Paper Mario
Boomer is not from Fantendo. However, this article may include related fan ideas.

These external sources may have official, more accurate information:

This article is free to edit. Please follow the article standards and respect good-faith contributions.
Boomer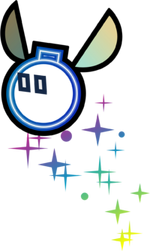 Boomer as he appears in Super Paper Mario
GENERAL INFO

SPECIES
Pixl
Thoreau is a Pixl from Super Paper Mario and is the 3rd Pixl that Mario encounters in his adventure. He resembles a bomb which fits his ability to explode. This ability is reminiscent of previous partners from the Paper Mario series, namely Bombette and Admiral Bobbery. He can be detonated at will by pressing the "1" button after he has been activated. After a short period of time, he will detonate on his own as well.
Upon first meeting him, he asks Mario questions before he joins the group;
You stay up wonderin' if anyone ever gives presents TO Santa Claus.
For some reason, you clean your room before a test.
When someone says, "Let's just be friends," you think, "Yeah, whatever."
You don't really understand why I'm askin' you all these questions.
You think shoppin' online is a wonderful and magical experience.
You once put on a shirt inside out but didn't bother reversin' it before goin' out.
You wanna be sleepin' when you're awake, but when you're tired, you wanna wake up.
You're gettin' real tired of these questions.
Game Appearances