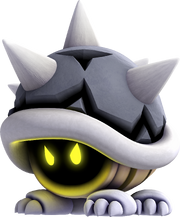 Bony Beetles are the Dry Bones like Sub-Species of Buzzy Beetles, that first appeared in Super Mario World in Ludwig Von Koopa's castle. They later appeared inPaper Mario, they reappeared in Paper Mario: Sticker Star with a redesign which was also used in New Super Mario Bros. U. Bony Beetles are found in fortresses and castles and some volcanic areas in the Mario series.
Game Appearances
In a galaxy far far away...
After a long absence, they make a reappearance in Super Mario Galaxy 4 as enemies. The enemies are low in HP but has high FP.
Also in "Mario and Bowser 2 War!" Thay guard The Dry Bones King and stop Mario from getting the toads.
Joining the Super Brawlers
Bony Beetle joins the battle in Mario Super Brawlers. In the game, he is a feather-weight. For some reason, he always remains in his "spike" form.
Gallery
Mario Kart Dimensions
Characters
Toad • Koopa • Baby Mario • Lakitu • Mario • Luigi • Peach • Yoshi • Bowser • King Boo • DK • Wario • Dry Bones • Shy Guy • Toadette • Paratroopa • Retro Mario • Baby Luigi • Daisy • Birdo • Bowser Jr. • Diddy Kong • Kamek • Dixie Kong • Waluigi • Wiggler • Boom Boom • Rosalina • Pom Pom • Petey Piranha • Mii • Noki • Pianta • Goomba • Hammer Bro. • Kritter
Courses
Luigi's Circuit • Sky Fortress • Pinna Playground • Airship Ruins Pipe Sewers • Cheep Cheep River • Ghost Mansion • Prehistoric Path Soda Lake • Chai Hills • Supermassive Station • Cement Factory Donut Plains • Subcon Desert • Bowser's Castle • Rainbow Road GCN Baby Park • MKP Retro Hills • 3DS Piranha Slider • SNES Vanilla Lake 1 GBA Yoshi Desert • SNES Donut Plains 3 • MKP Sherbet Mountains • N64 Luigi Raceway N64 Frappe Snowland • NDS Mario Circuit • GCN Mushroom City • MKP Tutankoopa's Curse NDS Wario Stadium • GBA Boo Lake • Wii Bowser's Castle • GCN Rainbow Road Gelato Speedway • GCN Peach Beach • NDS Delfino Square • Corona Caverns
Stardust Fields • Peach's Castle Grounds • Dimble Clearing • Bowser's Lava Lair • Delfino Plaza • Wii Block Plaza • SNES Battle Course 1 • GCN Tilt-a-Kart • 3DS Sherbet Rink • MKP Vanilla Dome
Items
Coins • Item Box • Morph Bubble • Licenses • Mushroom (x3) • Fireball • Banana Peel (x3) • Super Star • Bob-Omb • Green Shell (x3) • Red Shell (x3) • Blooper • Golden Mushroom • Fake Item Box • Blue Spiny Shell • POW Block • Super Leaf • Boomerang • Lightning Bolt • Whimp • Topmaniac • Freezie • Bullet Bill • Oil Drum • Dash Pepper
Enemies
Chain Chomp • Goomba • Cheep-Cheep • Thwomp • Dry Bones • Roto-Disc • Boo •

Mecha Bowser

• Electro-Koopa • Bowser Statue • Fishbone • Eerie • Rocky Wrench • Fishin' Boo • Cannon • Piranha Plant • Ptooie • Inky Piranha Plant • Chargin' Chuck • Goombe • Monty Mole • Cheep-Chomp • Swooper • Terekuribo • Bony Beetle • Dry Bone Bro. • Jack O' Goomba • Buzzy Beetle • Big Boo • Big Bubble • Bat •

Skellyrex

• Torpedo Ted • Unagi • Sidestepper • Fighter Fly • Blooper •

Chicken

•

Chikako

•

Pompon Flower

• Nyololin • Goombo • Bullet Biff •

Pionpi

• Pakkun Flower •

Roketon

• Supermassive Koopa Troopa • Supermassive Goomba • Supermassive Piranha Plant • Game & Watch • Super Koopa • Koopa Troopa • Volcano Lotus • Spike Top Snifit • Ukiki • Pokey • Pidgit •

Tweeter

• Halcandra Dee • Degout • Halcbounce • Halco Burt • Armoured Halcandra Dee • Halcandra Bowby • The Metal General of Egg Engines • Polluted Piranha Plant • Swoopin' Stu