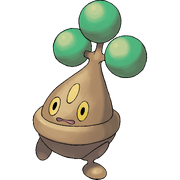 Bonsly (pronounced bon-sl-I) is a Bonsai Species Pokémon. This Pokémon can adjust its levels of fluid by eliminating the extra water in its body by crying. They are a Rock Type Pokémon that weighs 33.1 pounds and has the height of 1'08". It's possible moves are Rock Slide, Sucker Punch, Slam, Double-Edge, Rock Tomb, Rock Throw, Block, Mimic, Copycat, Fake Tears, Low Kick, and Flail. A Bonsly will evolve into Sudowoodo when leveled up while knowing the move Mimic.
Gallery
Community content is available under
CC-BY-SA
unless otherwise noted.