The
Blue Falcon
is the machine driven (and supposedly built) by
Captain Falcon
. It is a very sleek and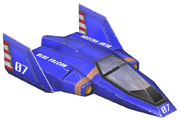 aerodynamic vehicle with the slight appearance of the bird it's named after, with a pair of equalizing fins on it's back end and a strong, pointed nose in the front(together granting wind resistance on and off the track). It is a very well-balanced machine in terms of stats, being able to be driven by even the most unpredictable rookie drivers in the circuit. Even though the Blue Falcon has a moderate amount of body strength and boost power but a below-average grip, Captain Falcon knows this machine inside and out, being the only pilot in existence with the ability to push it beyond it's possible performance statistics while on the track. Captain Falcon also uses this machine on his bounty-hunting assignments, also utilizing the Falcon Flyer to safely and effectively transport him and his machine to any location on any planet.
Statistics
Appearances
The Blue Falcon makes several appearances in Super Smash Bros. Universe. It appears in Captain Falcon's battle entrance, and is also used for his Final Smash. In addition, Rick Wheeler's Indigo costume changes his Final Smash into the Blue Falcon as well.
The Blue Falcon returns once again in F-Zero U, and is one of the only machines that hasn't been tweaked or improved on. As such it once again serves as one of the most balanced vehicles in the game.
As with previous entries in the Super Smash Bros. series, the Blue Falcon makes a prominent appearance in Jake's Super Smash Bros. as part of Captain Falcon's Final Smash. Just as in other Super Smash Bros. games, Captain Falcon will call upon the Blue Falcon and launch away any foe hit by the vehicle. Captain Falcon also climbs out of the Blue Falcon at the beginning of battles.
Trophy Description
Blue Falcon
The Blue Falcon is Captain Falcon's well-maintained F-Zero machine, and it may as well be the logo of the grand prix considering its highly-memorable appearance. Weighing in at 2777 lbs. the Blue Falcon boasts... a fairly well-rounded stat set, with a fair amount of defence and handling. That doesn't mean Captain Falcon's ever at a disadvantage - he knows the vehicle inside and out and can use it to the best of its ability with ease. Those who are unconvinced may change their mind when Captain Falcon uses it to take down his foes once he destroys the Smash Ball!
Navigation Templates
Playable Characters
Assist Characters
Obstacles
Other Characters
Alolan Grimer · Amul · Ann Takamaki · Big Urchin · Blizzy · Bravoman · Buzz-Buzz · Cutiefly · Don-chan · Dragoneel · Fierce Deity · Gil · Happy Mask Salesman · Judge · King · Kissy · K.K. Slider · Litwick · Lloyd · Mappy · Mareanie · Mii · Missile · Morgana · Perry · Pidgit · Pooka · Rabbid Luigi · Rabbid Yoshi · Red Baron · Ribbon · Rowlet · Runner · Ryuji Sakamoto · Sandy · Smasher · Rusty Slugger · Servbot · Sima Zhao · Swanna · Tarosuke · Timmy Nook · Toadsworth · Tommy Nook · Tron Bonne · Valkyrie · Wonder Momo · Ziggy
Collectibles

Trophies

Stickers

Boolossus · Boo Mario · Bowser · Captain Toad · Cat Peach · Chain Chomp · Cloud Mario · Fire Mario · F.L.U.D.D. · Koopa Clown Car · Mega Mushroom · Mario · Penguin Mario · Peach · Propeller Mario · Rock Mario · Toad · Toadette · Waluigi
Birdo · Boo Buddies · Blooper · E. Gadd · Fuzzy · Metal Form · Waluigi · Whomp

Candy Kong · Lord Fredrik

9-Volt · Fauster

Ball and Chain · Deku Leaf · Majora's Mask · Mipha

Abra · Drifloon · Spinarak

Katrina · Mr. Resetti

Adam Malkovich · Arachnus

Nightmare · Noddy · Prank

Mr. Chicken

Back Shield · Centurion · Eggplant Wizard

Disco Kid · Doc Louis · Donkey Kong · Giga Mac · Glass Joe · King Hippo · Little Mac · Von Kaiser

Blue Falcon · Captain Falcon · Pico · Rick Wheeler · Wild Goose

Louie

Pyra

Franklin Badge · Negative Man

Apollo Justice · Franziska von Karma · Miles Edgeworth · Larry Butz · Judge · Phoenix Wright

Dr. Wright · Hammer Slam Bowser
Devil · Dr. Wright · F-Type · Rusty Slugger · Zethia
Community content is available under
CC-BY-SA
unless otherwise noted.