Bloo Snifit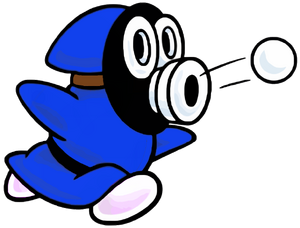 GENERAL INFO

GENDER
♂ Male
SPECIES
Snifit
CURRENT STATUS
Alive
BIRTHPLACE
Mushroom Kingdom
ALIGNMENT
Bad
PERSONAL INFO

OCCUPATION(S)
Armorer
Bloo Snifit is a Snifit and a loyal member of the Koopa Troop. His main role is to supply the Koopa Troop with weaponry.
Background
When he first joined the Koopa Troop, he started out as a mere troop. However, his incredible effort and dedication to Bowser's army caused him to be promoted to one of the armorers of the Koopa Troop.
Appearance
He is a blue Snifit with white shoes.
Personality
Bloo is very loyal to the Koopa Troop, following any order given to him by his superiors. He also cares for his comrades, often offering to give them useful equipment for battles. Bloo wants the Koopa Troop to be at its very best potential.
Community content is available under
CC-BY-SA
unless otherwise noted.