Blitztank
Denkōsensha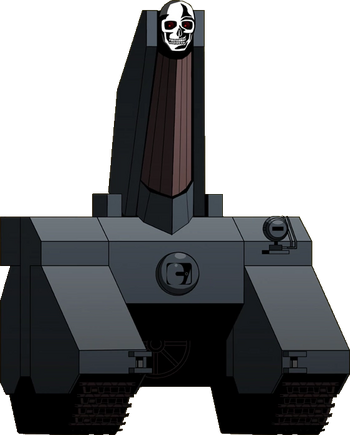 GENERAL INFO

NICKNAME(S)

The Forbidden Living Tank

GENDER
Varies
SPECIES
Tank
CURRENT STATUS
Varies
BIRTHDAY
Unknown
PERSONAL INFO

RELATIONSHIPS

Gesellschaft (creators)

CLASS
electric tanks
WEAPONS
Tank Arsenals
MISCELLANEOUS INFO

CANON APPEARANCES


Akatsuki Blitzkampf (2007)
Akatsuki Blitzkampf Ausf. Achse
En Eins Perfektewelt
BlazBlue: Cross Tag Battle (2018)

VOICE ACTOR(S)

None
Blitztank is a series of mass-produced characters in the Akatsuki En-Eins series who debuted in Akatsuki Blitzkampf and mainly serving the main antagonist organization, Gesselshaft.
Story
Blitztanks are mass-produced electric tanks created by Gesellschaft using a Blitz Engine, the same engine implanted in Akatsuki and one of Gesellschaft's leader Murakumo Zero (or simply Murakumo), with Gesellschaft modified the Blitz Engine into their own version, renamed Perfecti Engine fortheir other projects. After the end of World War II, Gesellschaft created a prototype, but the project was cancelled before it could proceed any further.
Behind the rumored mysteries on creation of Blitztanks, it is suspected that Blitztanks were original humans converted into cyborgs in tanks' bodies, making them look like living tanks.
Blitztank solely serves Gesellschaft for their own evil ends. However, one Blitztank, just like one Elektrosoldat and one Tempelritter begin to rebel against Gesellschaft. The playable Blitztank's case when encountering Akatsuki and their universe's Murakumo, it is likely have a lost memories relating to Blitz Engine's creation.
Game Appearances
Fortresses of Light
Blitztank is one of the playable characters.
Blitztank is part of the S3 DLC Pack 1 alongside Axl Low, Hibiki Kohaku, Terry Bogard, Archer Emiya and Ken Masters.
He represents Akatsuki series alongside Akatsuki, Ni Kanae, Sai, Marilyn Sue Dae Jie and Perfecti.
Gallery
Characters