Blaze Fielding is not from Fantendo. However, this article may include related fan ideas.

These external sources may have official, more accurate information:

This article is free to edit. Please follow the article standards and respect good-faith contributions.
Blaze Fielding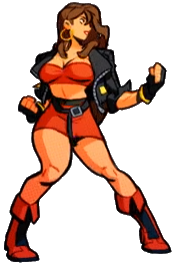 Blaze's art in Streets of Rage 4
GENERAL INFO

GENDER

♀

Female
SPECIES
human
PERSONAL INFO

OCCUPATION(S)
Cop
ABILITIES

Nothing but her fists and whatever she picks up off of any attackers.
Blaze Fielding is one of the playable stars of Sega's Streets of Rage franchise.
A retired cop, she turns vigilante alongside her close friends Adam and Axel when their police force gets corrupted by a crime syndicate. In Streets of Rage 1, she, Adam, and Axel are rated by their power, speed, and jumping skills, with each character having one "weak point". Blaze's weak point was power. Perhaps due to feminist outrage, this distinction went away in the rest of the series, with Blaze evolving into more of a balanced fighter.
In Streets of Rage 4, she seems to bear a resemblance to Laura Matsuda of Street Fighter 5.
Fanon appearances
Blaze was a playable character on Super Smash Stadium. However, she was retired. As a result of this, she is an Assist Trophy in the video game. She was active on the show for 14 years, but lodged a somewhat-low 60 appearances, an average of four per season.