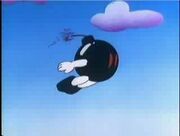 Black Pit Bob-ombs
, also known as
BPBOs
, are a species of
Bob-omb
that originated on the
Super Mario Bros. Super Show!
, and are now being adapted for game appearances. They are capable of creating an explosion powerful enough to create gaping pits, referred to as "black pits"
Black Pit Bob-ombs appeared in Goomsday Wii as the Maskplex's anti-intruder system. If a player attacked a Shy Guy, an alarm would sound and the BPBO would be fired at the hotel from a distant location. The Game Over short portrayed General Guy's top-floor room ejecting like a rocket to avoid the explosion. After the General's defeat, a BPBO would be fired after 5 minutes.
After the defeat of Goomboss, Bowser hurled a BPBO at Almighty Waluigi. Waluigi himself survives, but the Scepter of Superiority falls into the black pit. Bowser Castle is soon rebuilt, covering the pit forever.
Future Appearances
-Wowser will use at least one Black Pit Bob-omb in The Brother of Bowser.
Community content is available under
CC-BY-SA
unless otherwise noted.