Birdetta is not from Fantendo. However, this article may include related fan ideas.

These external sources may have official, more accurate information:

This article is free to edit. Please follow the article standards and respect good-faith contributions.
The community has decided to refer to this character as Birdetta on this article; in the North American manual for Super Mario Bros. 2, it is the name she would rather be called, and the later Birdie appears to be shorthand for it. See also Fandom's Gender Identity Guidelines.
Birdetta
キャサリン Catherine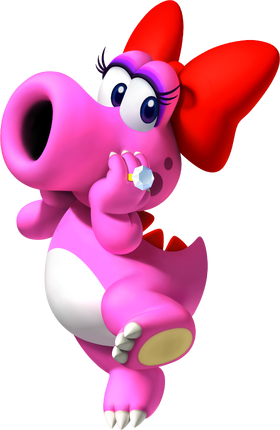 Birdetta can be recognized with a diamond ring and a cute bow.
GENERAL INFO

NICKNAME(S)

Birdie
Catherine (Japanese and rarely English media)

GENDER

♀

Female
BIRTHPLACE
Mushroom Kingdom


Subcon

(Former)
PERSONAL INFO

RELATIONSHIPS
CLASS
Ally
Villain (Former)
WEAPONS
Birdo Eggs
MISCELLANEOUS INFO

CANON APPEARANCES
VOICE ACTOR(S)

Kazumi Totaka (current; Mario Kart: Double Dash-present)
Jessica Chism (original, previous; Mario Tennis)
Jen Taylor (previous; Super Mario Advance)
Birdetta, or Birdie for short (often called "Birdo" in official media), is the main member of the Birdo clan. She first appeared in Super Mario Bros. 2 as a resident of Subcon and a lackey of Wart. Since then, however, she has acted as a friendly character and is seen in the Mushroom Kingdom.
Birdetta is often teamed up with Yoshi in various sports games and otherwise, and the two are rumored to be in a romantic relationship. It is subjective whether she is the legal guardian of the fan character Pirto, whom she often cares for like her child.
Personality
Birdetta is very determined and confident in all aspects of her life. She is also very feminine, often doing girlish poses to show her elegance, and she often uses this to her advantage. Relationships and crushes are a big part of her life, as evidenced by previous relationships with the Beanbean thief Popple, and she is always looking for love, being very flirtatious.
Appearances
Birdo is confirmed to appear in Super Mario Legends: Saga of Evil, as evident of new official artwork. It is unknown what her role is however.
Birdo is a playable character in Mario's Batter-Up Baseball. Here are her stats:
Team name: Birdo Bows
Alternative colorations: None
Speed: 6/10
Batting: 7/10
Pitching: 7/10
Fielding: 10/10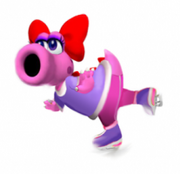 Birdo appears in Mario Guitar World as the 3rd boss in story mode on Pro. If she is beaten, Birdo will be unlocked as well as other features.
Birdo is a player on the Yoshi Eggs team on the multi-player Wii sports game Mario Rugby League. She is a strong and speedy character with poor skill. Her special skill is to swallow the ball and shoot it forward, this is a pass only. You can pass her to players at the other end of the field.
Birdo make her debut in the Mario Singalong! series in Mario Singalong Boys vs Girls! where she is a member of the girls team. She reappears in Mario Singalong Disney! in place of Toadsworth. She has appeared in Mario Singalong Rocks! and Mario Singalong Down Under!
In Mario Singalong Legends! to unlock her you must sing both "Papa Don't Preach" by Madonna and "Son Of A Preacher Man" by Dusty Springfield with Yoshi at least once.
Birdo appears in Eevee's Story in Pikachu's Final Destiny 2 as a supporting character. She tells Eevee about Jigglypuff has stolen her purple dress when she is walking in the woods. After you find her dress, she will give Eevee a Big Red Bow.
Birdo is a NPC in Super Princess Peach: Mushroom Kingdom's Drought She is only seen in Yoshi's Island in a cutscene with a pink Baby Birdo, but her species is seen as an enemy that launches eggs out of its mouth. Birdo barely has an appearance in this game, but her species has multiple appearances.
Birdo appears as a starter character and a captain in Super Mario Rocket Baseball. Unlike previous titles Birdo has alternate colours that can be unlocked.
Birdo makes her first Paper Mario appearance in Paper Mario: The Sage's Quest. In this game she is battled in Juniper Jungle. She expresses frustration as she was kicked out of Juniper Village because they were suspicious of her being linked to Bowser. After the battle, she stubbornly says she wont budge until she can go back to Juniper Village. Mario must then talk to Yoshi and explain the situation. Yoshi allows Birdo back into the village, and Mario continues into Juniper Valley. Strangely, this Birdo is supposed to be the character Birdo, yet she lacks the ring she usually sports.
Another Birdo appears later on in Chapter 7 in the Frozen Sanctuary called Blizzard Birdo. This Birdo is one of Bowser's minions, as opposed to Birdo.
— Legend of the Chaos Star Part 11
Birdo appears in Super Mario Bros.: Legend of the Chaos Star as one of the protagonists. Birdo's initial appearance was the first chapter, where she, alongside Yoshi and Toad, tagged along with Mario and Luigi in order to save Princess Peach, who had gotten herself kidnapped by Bowser again. In the eleventh chapter, Birdo, after the heroes split into groups, tagged along with Donkey Kong and Diddy Kong (who were soon followed by a reluctant Cranky Kong) at Iggy Koopa's castle in hopes of obtaining one of the eight mystical Purity Stars, which were needed in order to combat the destructive power of the Chaos Star and save the universe from destruction.
Despite coming to her rescue in the first chapter, it's been shown throughout the story that Birdo harbors a severe, one-sided grudge against Princess Peach, often claiming that Bowser's frequent kidnappings of the latter were staged, and that the two of them have something going on behind the scenes. Birdo's dislike of the Princess also stems from the events of Mario & Luigi: Superstar Saga, where she ended up losing her voice to Cackletta and Fawful due to apparently being forced to pose as Princess Peach.
Birdo appears in this crossover game as a Gym Leader who specializes in cute Normal-type Pokémon. She is found in the second gym's door, but she only accepts a challenge from trainers who have the "Egg Power". The player have to go to the next gym, defeat Yoshi and get the Egg Badge. Then, Yoshi says that the player have the "Egg Power". Now, the player can back to challenge Birdo. After being defeated, she'll give the Ribbon Badge, $3,500.00 and TM10 (Hidden Power) as prizes. Also, she gives a hint about the Royal 4: "Do not understimate cute Pokémon. They can be really strong. As everyone knows, the three ladies from Royal 4 use pretty Pokémon, so do not judge a book by its cover...". If the player talks to her again, she'll give a Lucky Egg. If the player uses one of certain amiibo, she will give $4,200.00 instead of usual $3,500.00.
Birdo appears as the shopkeeper in Yoshi's Quest. She sells Yoshi items and new moves. She appears to flirt with Yoshi while he shops. She appears to be one of the only residents of Koopa Island that isn't hostile to Yoshi in any way. This also appears to be the first time she and Yoshi met, as when Yoshi first visits the shop, Birdo introduces herself, although in previous games, the two are considered partners.
Dry Bones Party 4
Birdo makes appears in Dry Bones Party 4, as an unlockable character. Unlike most other games, Birdo is male in this title and speaks with a deep voice. He can be unlocked by defeating Baby Peach in her boss minigame: Baby Peach's Mystic Match-Em' Up.
Birdo appears as a playable character in Super Mario Spikers, appearing as a Balanced-type Captain. Her outfit consists of a gray full-body jumpsuit with purple stripes and wristbands. Her emblem is her bow, as in other Mario games, and her theme is Avant-Grande.
Birdo appears in Mario Hoops 3-On-3 Switch as a playable character. She is an All-Around character type and her special move is Egg Shot. She is a starter character. Her default partner is Yoshi. Her team name is the Birdo Bows.
Birdo appears as the main protagonist in Birdo's Beautiful Quest. Yoshi finds out after doing some reasearch that the Birdo is the natural enemy of the Yoshi. So he plans to get rid of her for good by tossing a Yoshi Egg at her. This cause poor Birdo to go flying all the way to Bowser's Castle. When Birdo arrives at Bowser's Castle, she develops a relationship with Kamek. The two were about to head to the park for their first date, however Kamek gets captured by his ex-girlfriend, Miss. Kamesly, so now Birdo must rescue her little "Kammy Poo" with the help of her and Kamek's elderly son from the future, Bamek. After Birdo beats Bashful Bowser and rescues Kamek, the two go to the park to start their first date while Bamek returns to his own time period. The final level has Birdo trying to avoid Yoshi's attacks, who is trying to get rid of her for good when he finds out she is still alive. After she passes this level, Yoshi decides to stop going after her for now, finally ending Birdo's adventure.
Gallery
Navigation Templates
Mario Kart Dimensions
Characters
Toad • Koopa • Baby Mario • Lakitu • Mario • Luigi • Peach • Yoshi • Bowser • King Boo • DK • Wario • Dry Bones • Shy Guy • Toadette • Paratroopa • Retro Mario • Baby Luigi • Daisy • Birdo • Bowser Jr. • Diddy Kong • Kamek • Dixie Kong • Waluigi • Wiggler • Boom Boom • Rosalina • Pom Pom • Petey Piranha • Mii • Noki • Pianta • Goomba • Hammer Bro. • Kritter
Courses
Luigi's Circuit • Sky Fortress • Pinna Playground • Airship Ruins Pipe Sewers • Cheep Cheep River • Ghost Mansion • Prehistoric Path Soda Lake • Chai Hills • Supermassive Station • Cement Factory Donut Plains • Subcon Desert • Bowser's Castle • Rainbow Road GCN Baby Park • MKP Retro Hills • 3DS Piranha Slider • SNES Vanilla Lake 1 GBA Yoshi Desert • SNES Donut Plains 3 • MKP Sherbet Mountains • N64 Luigi Raceway N64 Frappe Snowland • NDS Mario Circuit • GCN Mushroom City • MKP Tutankoopa's Curse NDS Wario Stadium • GBA Boo Lake • Wii Bowser's Castle • GCN Rainbow Road Gelato Speedway • GCN Peach Beach • NDS Delfino Square • Corona Caverns
Stardust Fields • Peach's Castle Grounds • Dimble Clearing • Bowser's Lava Lair • Delfino Plaza • Wii Block Plaza • SNES Battle Course 1 • GCN Tilt-a-Kart • 3DS Sherbet Rink • MKP Vanilla Dome
Items
Coins • Item Box • Morph Bubble • Licenses • Mushroom (x3) • Fireball • Banana Peel (x3) • Super Star • Bob-Omb • Green Shell (x3) • Red Shell (x3) • Blooper • Golden Mushroom • Fake Item Box • Blue Spiny Shell • POW Block • Super Leaf • Boomerang • Lightning Bolt • Whimp • Topmaniac • Freezie • Bullet Bill • Oil Drum • Dash Pepper
Enemies
Chain Chomp • Goomba • Cheep-Cheep • Thwomp • Dry Bones • Roto-Disc • Boo •

Mecha Bowser

• Electro-Koopa • Bowser Statue • Fishbone • Eerie • Rocky Wrench • Fishin' Boo • Cannon • Piranha Plant • Ptooie • Inky Piranha Plant • Chargin' Chuck • Goombe • Monty Mole • Cheep-Chomp • Swooper • Terekuribo • Bony Beetle • Dry Bone Bro. • Jack O' Goomba • Buzzy Beetle • Big Boo • Big Bubble • Bat •

Skellyrex

• Torpedo Ted • Unagi • Sidestepper • Fighter Fly • Blooper •

Chicken

•

Chikako

•

Pompon Flower

• Nyololin • Goombo • Bullet Biff •

Pionpi

• Pakkun Flower •

Roketon

• Supermassive Koopa Troopa • Supermassive Goomba • Supermassive Piranha Plant • Game & Watch • Super Koopa • Koopa Troopa • Volcano Lotus • Spike Top Snifit • Ukiki • Pokey • Pidgit •

Tweeter

• Halcandra Dee • Degout • Halcbounce • Halco Burt • Armoured Halcandra Dee • Halcandra Bowby • The Metal General of Egg Engines • Polluted Piranha Plant • Swoopin' Stu
Template:YI2




Playable Characters
Mario | Luigi | Wario | Waluigi | Green Toad | Birdo


Other Characters
#615 | Yoshi | Toad | Diddy Kong | Koopa the Quick | Princess Peach


Bosses
Boom Boom | Mummipokey | King Boo |

Yoshice

| Goomboss |

King Puffer

| Big Bob-omb | Lakithunder | Huff N. Puff | Kamek | Bowser | The Koopalings


Main enemies
Goomba | Paragoomba | Koopa | Paratroopa | Piranha Plant | Chargin' Chuck | Goombe | Winged Goombe | Rex | Volcano Lotus | Buzzy Beetle | Dry Bones


New and returning Items
Paratroopa Shell | Hammer Flower | Dragon Coin
Template:SMASBcharacters
Mario Kart: Double Dash The Sequel
Starting Characters
Mario, Luigi, Peach, Daisy, Yoshi, Birdo, Toad, Toadette, Koopa, Paratroopa
Goomba, Paragoomba, Shy Guy, Fly Guy, Wario, Waluigi, Rosalina and Luma, Pauline, Mowz, Bandit.
Unlockable Characters
Baby Mario, Baby Luigi, Baby Peach, Baby Daisy, Bowser, Bowser Jr., Donkey Kong, Diddy Kong
King Boo, Petey Piranha, Dixie Kong, Funky Kong, Dry Bones, Dry Bowser, Noki, Pianta
Lakitu, Honey Queen, Hammer Bro., Blooper, Bullet Bill, Banzai Bill, Mii Kart Outift, Mii Bike Outfit
Nitro Courses
Mushroom Cup:

Mario's Rainbow Castle

, Shroom Circuit,

Rainbow Road

,

Bowser's Fortress

,

Mariachi Mole Mine

.
Flower Cup: Luigi's Mansion II, Koopa's Seaside Bonanza, Shroom Woods, Mowz's Hideout, Paratroopa Party.
Star Cup: Bowser Jr's Castle, DK's Jungle Hijinks, Bullet Bill Highway, Funky Kong Circuit, Music Mania.
Special Cup: Peach's Palace, Fly Guy Isle, Mosh Pit Playroom, Rainbow Road 2, Heatwave House
Hammer Cup: C'est Defino, Rio de Janeiro, Biddybud Dash, Bomb-omb Brigade Prix, Kalimari Railway
Retro Courses
Shell Cup: NDS Luigi's Mansion, 3DS Music Park, N64 Kalimari Desert, GCN Dino Dino Jungle, ARC Mario Beach.
Banana Cup: GBA Shy Guy Beach, GCN Sherbet Land, Wii Dry Dry Ruins, 3DS Koopa City, ARC Yoshi Park 1.
Leaf Cup: Wii Grumble Volcano, GBA Vanilla Lake, NDS Cheep Cheep Beach, GCN Mushroom Bridge, ARC Waluigi Stadium.
Lightning Cup: SNES Rainbow Road, N64 Toad Turnpike, GBA Sky Garden, Wii Wario's Gold Mine, ARC Banana Ruins.
Mega 'Shroom Cup: N64 Choco Mountain, 3DS Maka Wuhu, GCN Luigi Circuit, Wii Rainbow City, ARC Diamond City.
Battle Courses
Nitro: Theatre Stage, Chocolate Cake, Isle Defino, Nintendo Wii, Nintendo 3DS
Retro: Wii Delfino Pier, GCN Pipe Plaza, NDS Tart Top, N64 Double Deck, GBA Battle Course 2
Template:DMK