This character is free to use in fanworks. Unless permission is given by the owner, all other usage of the character will be considered non-canon.
Beorn Reaper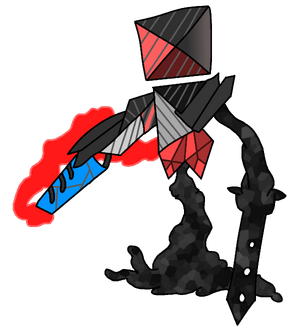 A Beorn Reaper as it appears in Fantendo Origins Neo.
GENERAL INFO

GENDER
 ???
CURRENT STATUS
 ???
BIRTHPLACE
Unknown
PERSONAL INFO

CLASS
Beorn Reaper
Beorn Reapers
are a type of race that works under
The Threat
. They are a crystal-based lifeform that were sent to destroy Judges, a power that is known to belong to Beorns, hence the name. Since they are not gods but immensely powerful, Judges are usually useless against them. However, they require a lot of energy and resources to create, which means that The Threat cannot create a huge number of them.
Biology
Beorn Reapers are mostly identical. Created from hundreds of crystals and stones, they lug around a sword and a blaster attached to their bodies. They seem to lack a consciousness, only working off the hivemind that the Threat has given them to use for orders.
Appearances
FantendoQuest
They appear as a late game enemy.
Community content is available under
CC-BY-SA
unless otherwise noted.