Begonia Blisson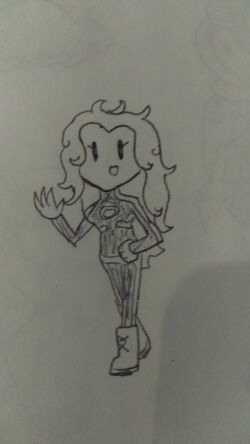 A sketch of Begonia, by Pyrostar (t∣b∣c).
GENERAL INFO

GENDER

♀

Female
SEXUALITY
⚤ Heterosexual
SPECIES
Human
CURRENT STATUS
Alive
AGE
21
HEIGHT
5'11"
BIRTHPLACE
Bliss City (place of birth)
ETHNICITY
White/Caucasian
ALIGNMENT
Good
PERSONAL INFO

RELATIONSHIPS

Patricia Blisson (mother)

LIKES

Freedom
Having fun
Exploration

DISLIKES

Strict rules
Her mother
Getting dragged into pointless situations

WEAPONS
Blissonian plasma whip
MISCELLANEOUS INFO

SERIES
Weirdo Valley
New Fantendoverse
CANON APPEARANCES
VOICE ACTOR(S)

Ashley Eckstein
Begonia Blisson is the main protagonist of Weirdo Valley. She is the daughter of a dictator named Patricia Blisson, but despises the thought of this and wants to severe all ties with her empire.
History
TBA
Personality
Begonia is rebellious by nature, and her views have always clashed with her mother's. While Patricia believes that humanity should follow her own set of extremist rules if it wants to survive, Begonia thinks that order cannot exist without chaos; it's just how the real world works. She generally doesn't like dealing with figures of authority -- not just political leaders, but anyone seen as higher than herself -- because she thinks they will only hinder her own progress.
Relationships
Patricia Blisson
After a long time of growing up under Supreme Leader Patricia's vigorous laws, Begonia grew weary of the same old lifestyle and developed a sort of disinterest in her. However, after watching an innocent child get forced out of town for participating in a one-on-one fight that he didn't even start, she began to straight up hate her mother and everything she stands for. Begonia seeks to expose Patricia's true nature at all costs.
Pedro Cardona
In her teenage years, Begonia was inspired by Pedro Cardona, a member of the international crime organization known as the False Deities. She wants to follow in his footsteps and spark a resistance in the town of Bliss City. Upon meeting him in person, she starts to develop a crush on him because they share the same ideals and worldview, but refuses to admit it because she thinks he will ridicule her for her Blissonian origins.
Community content is available under
CC-BY-SA
unless otherwise noted.