Battle of Bracelets: Unlimited Tales
, previously codenamed Project Bracelets Pre4, is a future project in which
Yami no Tenshi
(t∣b∣c)
is currently working. Right now, there is not much information besides it is a
Battle of Bracelets
game. This game can be considered a sequel of
Battle of Bracelets: Beyond
. It is confirmed that its name will not be its codename.
New features
This game is different to the rest of the franchise for several reasons. Here, you can see the list of new features that will be included in this game:
Characters will be available only in the stories to which they belong, since this game is based of the characters instead of the story.
Some character will have a special class: Support. These characters will have weaker attacks but they will control different magics that will be useful to help other characters.
In 2020, there will be special events with characters dressed up for a different theme. These characters will have different weapons, attacks and abilities and will appear with minor stories.
Story
The story is divided in thematic chapters in which only a few characters will be available. The story relates all the events that happen after the Golden and Dark Bracelets leave the Hades and rescue Darkreon and Bella. These chapters can be played the order in which the player prefers. The announced chapters at this moment are these ones:
Aingeru Reflection
"You have always been trying to run away from shadows but never wondered if light was the right path."


— Night to Aingeru after this one requested her help.
The story of
Aingeru
relates the training of his dark power with the help of
Night
. Nevertheless, a Resistance will appear to avoid it, since the hidden power of Aingeru hides a terrible fate...
Aingeru and Elena begin their training to become stronger Golden Bracelets. Night, who has noticed an enormous dark power into him, decided to help them with their training. Soon, the God of War Ares and his offspring will appear to execute Aingeru for a hidden reason. This will become a war between the Golden Bracelets and the Bellum Warriors.
more information coming soon...
Ainhoa Clock
"We wouldn't ask for your help if we had an alternative. Nevertheless, fate can be changed if you break time."


— Erik asking for help to Ainhoa.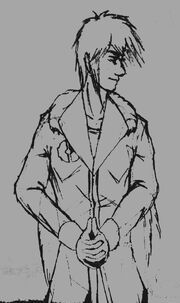 Ainhoa
started training her power of time. However, she will fight in between the Photos army of the present, the Photos army of the past, the Bellum Warriors and a hidden foundation that will work to avoid a cataclysm.
One day, Ainhoa recieves some strange visitors: Erik, the Green Shadow Bracelet and Oculus, the Lord of Imagination. They order her to travel to the past and kill Jessica before she meets Aingeru. There are two possibilities: she travels to the past and kills the elder Green Bracelet or the Light Bracelets will appear to kill Aingeru. Due to these possibilities, Ainhoa will decide to accept the mission. Nevertheless, some enemies will appear in the past that will baulk her objective.
more information coming soon...
Pablo Titan
"I didn't believe in ghosts before, but after travelling to the Hades and meeting gods, maybe spirits are not so unbelievable..."


— Pablo deciding to help Pandora with The Maiden.
Pablo
decides to train on his own to be able to defend the world of new threats. After hearing about the True Power of Cold (being able to freeze even ether) he decides to train her Ice Power by trying to freeze spirits of fallen warriors. However, while training, he is attacked by a spirit with a high energy.
Pandora
then appears to help the Golden Bracelet to stop the spirit but they can just chase it away. The Death Bracelet explains him about a species of ghost that never belonged any being, they have been in the Earth since the beginning of existence and the one that attacked him is one of the strongest, known as
The Maiden
.
more coming soon...
Kida Zombie
"It looks like Gods decided to play and joke with use. They cruelly experiment with our existences... Isn't it funny?"


— Kida after reading some books about the Bracelets.
After leaving the Hades,
Nastacia
decides that she must leave the Golden Bracelet to a younger person.
Kida
who left the Underworld thanks to the Pink Bracelet is the person that she chose to be her successor. Kida must learn some things before she becomes a Golden Bracelet. However, her training will begin a series of horrible events.
more coming soon....
Inferna Jackal
TBA
Nihilhelm Nothing
TBA
Aingeru Awakening
"How can a person suffer so much? I can't believe there was so many despair in his inside!"


— Ainhoa talking to Elena after learning where she was.
And suddenly, Ainhoa woke up in a place that was in her memory. It was not the same place, but it looks similar to the village where she met Aingeru the first time. The only difference is that this place was dead, there were no people nor soul. The only being that was in that village was a young version of Aingeru. Ainhoa will learn where she is and that this child-Aingeru is not that inoccent as a child should be...
more coming soon...
Charles Bee
"I got the permission of Hades to come back to the Overworld and find my younger brother. Please, bring me to him!"


— Edward after fighting Aingeru for the first time.
Aingeru thought that Hades would stop fighting them, but it seems to be a mistake... At least, it was what it could be, but the Death Bracelet that appeared in front of him had a different reason to fight him. Meanwhile, Charles starts to live a past that never happened. Some unknown "bees" will come to his hive to change his vision of the past.
more coming soon...
Special Events
These special events will be seasonal and will allow players to get characters who are dressed up for each event, new items and new weapons. These characters will get different weapons, attacks and skills. To get access to these special events, the player will have to pay $2.99 for each event or get a one-year suscription that contains all the special events ($9.99). You can see the announced special events here:
Kida Temptress
In this special event, some characters will be invited to the Lovers' Festival. After returning from the Hades, Kida fell in love with her "saver". She wants to have a rendez-vous with Nastacia and try to get lucky. Meanwhile, other characters will have their own love stories...
This event contains four playable characters dressed for the Lovers' Festival:
Alange Egg
In this special event, Pablo and Ainhoa get ready to participate in the Egg Hunting Festival. It is a fantastic time to enjoy a fantastic spring morning. Nevertheless, the mind behind the Egg Hunting, Alange, will make the egg hunting a chaotic event with unpredictable adventures.
This event contains four playable characters dressed for the Egg Hunting Festival:
Characters
Character
Description
Abilities
Weapon
Aingeru Reflection
Green Golden Bracelet: For some reason, he is followed by several enemies. They want him to be dead so he will have to be ready for it. After not being able to control his dark side, he started to train to control it, so thanks to Night, he will be able to develop his power of Shadows.

Wing Form

Flame Form

Chaos Sword
Citron Golden Bracelet: Night adviced her training her dark power too. She also noticed a big source of Shadow energy in her and it would be useful to future wars. Nevertheless, following Aingeru with this training may be a big problem for her, she will have to fight the enemies of her friend too.

Thunder Form

Wing Form

Igniter Blade
α-Darkness Bracelet: One of the darkness sources that will train the Golden Bracelets with their Shadow energy. She is looking for something in their souls, since their dark energy hides a weird past. Her real identity will be revealed soon and she will not be able to hide from the rest anymore.

Fairy Hex

Night Fielder

Blackstaff

Galen (N)

δ-Darkness Bracelet: A trainee human to defend Night with the power of darkness. His mysterious identity is somehow related to the Bellum Bracelets, since he knowns all the plans and missions of them. He is continuously acting hostilely to Aingeru and Elena for some reason.

Shadow Form

Second Chance

Black Broadsword

God of War: Ares only expects to see blood and corpses on the battlefield. He lives for war and enjoys fighting strong beings. This time, he got a dirty mission that consists of killing a human, not a weak human. A dark future must be avoided and it is his job to avoid it.

Flame Form

Mind Control

Scepter of War

Phobos (N)

Demigod of Phobia: One of the sons of Ares. He is one of the leaders of the Bellum Warriors and one of the physically strongest warriors that the world has ever seen. Although his title is Demigod, he is the God of Fear. His strength is physical but his psychic powers can be a problem for their enemies.

Berserker

Flame Form

Sacred Spear of Fear

Deimos (N)

Demigod of Dematia: One of the sons of Ares. She is one of leaders of the Bellum Warriors and one of the worst nightmares for humans. Her title Demigod just covers her real nature as the Goddess of Pain. Her title makes her the ruler of the half-real imperium of Dematia, named after her in which she is sanctified and feared.

Berserker

Mind Control

Sacred Spear of Pain


Vectoria (N)
Analytical Bellum Bracelet: This young girl reached a high role in the Ares' Army. She is one of the second level Bellum Bracelets and an analytical warrior. Her knowledge of geometry and maths makes a great strategist, but when she falls in Berserker mode, the result may be fatal.

Vector Form

Berserker

Euler's Forbidden Tome
Ainhoa Clock
Indigo Golden Bracelet: Oculus and Erik discovered that Ainhoa can control time. She will be trained by them to save Aingeru, although the way to save him is to travel to the past to kill his trainer before Aingeru becomes the Green Golden Bracelet. She will find some unexpected friends then... or not?

Time Stop

Gravity Change

Celestial Scepter
Erik
(Support) Green Shadow Bracelet

Flame Form

Dark Form

Diabolical Sword
Drake
Green Dark Bracelet

Dark Energy

Dark Form

Antimaterial Sword
Oculus
Lord of Imagination
Sorcerer Orb
Acerola (N)
Cyan Dark Bracelet: The lost Dark Bracelet. Drake once read that a Dark Bracelet was sent for some strange reason to the past. Now, Ainhoa's time travel will give the opportunity to get back one of her main potences to the Dark Army. Although, her return may be full of revenge...

Water Form

Slow Time

Dyschronism Fetter

Pablo (Reverse) (N)

Red Golden Bracelet: Pablo is the result of changing the future. Although he was destined to wear the Red Golden Bracelet, his purposes are not the same than our Pablo's ones. His soul seems to be different too, even it seems to cast something similar to a dýnamis...

Ice Form

Awakening of the Past

Imperial Hammer

Bruno (Reverse) (N)

Amber Golden Bracelet: Bruno is the result of changing the future. As Pablo, he does not serve the Light God. His soul is also different and his power is even darker. An alternative fate was born when Ainhoa decided to travel to the past, now his friend turned an enemy.

Water Form

Strong Danger

Chaos Bow

Sync (N)

Indigo Golden Bracelet: This girl looks weird and her powers are similar to Ainhoa's ones. She seems to be related to Time. Which kind of interest does she have in Ainhoa? She is the Indigo Golden Bracelet as a result of changing the future.

Time Stop

Necromancer

Time Cloths
Pablo Titan
Red Golden Bracelet
Chaos Hammer
Pandora
Calamity Death Bracelet
Rhadamanthys
Chaos Death Bracelet

The Maiden (N)

The Ethereal Maiden: There were some tales that talked about some ghosts that travel through the Earth. They are actually guardian spirits that look after the World. The fact that Pablo is finding her quite often means that she wants to talk to him. What will be the message that she wants to tell...?

Rebel Space

Gravity Change

Ethereal Parasol
-

The Soldier (N)

The Ethereal Soldier: This spirit usually protects the Ethereal Maiden.  He hardly appears in the world because his mission is just protecting the rest of guardian spirits. Nevertheless, the current situation made the spirits appear. Something wrong is happening, when they come.

Rebel Space

Gravity Change

Ethereal Spear
-

Gellich (N)

Polar Titan: Gellich is the titan that is invoked by Pablo to throw his most powerful attack. She woke up to help Pablo, although she needs liberty. As a titan, she also protects the world, but not the same way than the guardian spirits.

Polar Titan Body

Ice Form

Polar Spear

Fillen (N)

Wood Titan
Gift of Leaves
Kida Zombie
Pink Golden Bracelet: After returning with Nastacia from the Hades, the former Death Bracelet is given the Pink Silver Bracelet and started training to help Photos. Nevertheless, she will find some secrets... the future is already written...

Blood Form

Nekrow

Gift of Flux
Pink Silver Bracelet: She decided to leave the Golden Bracelet to someone whose power is bigger. She trains Kida as the new Pink Golden Bracelet. Justice is her main reason to fight, but Kida needed to ve saved, although their new adventure may be one of the most dangerous ones.

Cryos Fielder

Selene Spirit

Chaos Whip
Frost Death Bracelet

Ice Form

Bombardier

Gift of Tides
Orpheo
Harmony Death Bracelet

Eternal Melody

Necromancer

Death Lyra
Shagaste (N)
Sable Sacred Bracelet: He is the young legitimate emperor of the Shakram Holy Empire although he does not govern until he is older. He hides a giant powerful army and controls the imperial Faith. Shagaste will need the help of some Golden Bracelets to stop a possible coup d'état that the Empire may suffer.

Divine Transformation

Dark Form

Emperor Scepter
The Mirror
Feena (N)
Black Rose Cleric: One of the clerics who protect the Holy Empire and serves the emperor Shagaste. She is one of the main roles of the imperial Faith and will do whatever she thinks that has to do to protect the Empire, even if that means attacking the emperor.

World of Roses

Necromancer

Thorns Dagger
Inferna Jackal
Red Dark Bracelet: Alange has started to have weird trips to the Sacred Realm and Inferna will have to travel there to know what is his mission there. But the Sacred Realm is living weird events and Inferna will be immersed into them. The awakening of the God of Chaos is near...

Flame Form

Chaos Space

Ash Spear
Alange
Orange Dark Bracelet: He is not following Darkreon missions since he is looking for another thing. He seems to be related with the awakening of the God of Chaos but his intention are still unknown. He will try to control Garone to have a henchman to help him with his mission.

Steel Form

Climate Control

Igniter Sword
Garone
Yellow Dark Bracelet

Space Traveller

No Gravity

Dark Trident


Carmen

Purpure Sacred Bracelet

Pharaoh Scepter

Seth (N)

Set Embodiment: As the Egyptian God of Chaos. His vital energy depends on the entropy of the world. His nature is irrationally evil and his only reason to exist is to make the World suffer. Although he is sealed, the number of set animals through the desert has increased, a possible announcement of his terrible return.

Canceler

Rebel Space

Set Khopesh

Khufu (N)

King of Lost Souls: Currently, he is the older one of the three harbingers of Anubis. Long ago, he became the Pharaoh of the Sacred Realm but Anubis gave him a chance to keep his life as a warrior of him. Now, he keeps control of the Sacred Realm to avoid a catastrophe.

Golem Father

Call of Anubis

Pharaoh Reaper

Khafre (N)

King of Rotten Souls: Khafre is the son of Khufu. As his father, he became the Pharaoh of the Sacred Realm but after dying Anubis gave him the power of defense of the Sacred Realm. He is physically the strongest one of the three Defender Kings and his ability turns him even more dangerous as a mummy.

Mummy Body

Call of Anubis

Pharaoh Axe

Menkaure (N)

King of Broken Souls: The son of Khafre was also the Pharaoh of the Sacred Realm after his father died. He also got the harbinger role given by the God Anubis. His craftiness made him an interesting strategist of the Sacred Realm, an expert that will think of the best solutions. 

Soldier Invocation

Call of Anubis

Pharaoh Spear
Nihilhelm Nothing

Nihilhelm (N)

Brown Golden Bracelet: He is nobody, at least existence wanted to be so. This human was sent to a space between dimensions in which everything there is considered not to exist. It is a trip to a dead universe the one that reveals his appearance. It is hard to live in a paradox where he does not exist...

Plasma Form

Chaos Space

Null Gun
Emerald Golden Bracelet

Thunder Form

Drawing Power

Fulgure Machete
Grey Golden Bracelet
Demonic Edge

Gaiken (N)

(Support) Null World's Father God

Aizi (N)

Null World's Mother God

Bizhambra (N)

Bruno Demon
Amber Golden Bracelet
Nestor
(Support) Amber Silver Bracelet

Angra Mainyu (N)

Evil Mind Embodiment: According to the Zoroastrian text, he could be considered the Theory of Fundamental Evil. Humans are naturally evil, and when the world turns evil, Angra Mainyu appears to increase the level of chaos. His arrival is a bad augury...

Canceler

Nekrow

Tome of Chaos

Spenta Mainyu (N)

(Support) Kind Mind Embodiment: He is the opposed being of Angra Mainyu. He could be considered the Theory of Fundamental Good. He is something like a Deus Otiosus but he came back when he saw the future of the World due to the arrival of his opposition. 

Canceler

Healing Body

Tome of Purity
Semiramis (N)
High Priest of Avesta: She became one of the most powerful queen of Persa, but her magic control allowed her become the High Priest of the kingdom. People do not trust in her, since she is well known by using dark magic and torturing some Persans. She was always interested on invoking the Evil Mind.

Golem Body

Foam Form

Assassin Dagger
Ahkra (N)

Black Warrior of Avesta

Xavier Mosquito
Orange Golden Bracelet

Huracan (N)

God of Winds: Huracan is a young God for the Maya civilization. He was chosen by Xavier to be the new Orange Golden Bracelet. However, his absence may cause giant doubts and a giant mayhem in the Maya cities. He will have to help Xavier to calm down the Mayan humans.

Climate Control

Wind Absorption

Windcutter

Frizziel (N)

Turquoise Golden Bracelet: The last Golden Bracelet to appear. He stays in the caves to train his freezing moves. He can invoke a polar pegasus with which he can fly. His mission in the Mayan Hidden Cities is cooling down the ambient due to the extremely high temperatures.

Ice Form

Slow Time

Grimoire of Freezigus
Rachel Valkyrie
Cyan Golden Bracelet

Alrune (N)

Thunder Valkyrie: One of the Asgard guardians and a valkyrie. She was chosen by Rachel to be the new Cyan Golden Bracelet. Nevertheless, she is not allowed to leave Asgard due to some weird events in the North. A complex war is about to start and this heroine is ready to fight.

Thunder Form

Aurora Field

Storm Spear
Seith
Yellow Golden Bracelet
Aingeru Awakening
Indigo Golden Bracelet: She woke up into an Aingeru's dream, although this dream seems to be more complex than what a dream is usually. She will need to help her friend to fight his inner demons. Just hope Aingeru is not one of his inner demons on his own.

Time Stop

Gravity Change

Celestial Scepter
Young Calamity 
Curse of Nightmares
Paladin of Dreams
Ghost Mother
Motherly Nightmare
more coming soon...
Weapons
Gallery
Kida Temptress
Alange Egg
Trivia
This game is used to show a game in which the story is less important than the growth of the characters' psychology and as a bridge between the story of Battle of Bracelets: Beyond and the future end of the franchise.
Aingeru will lose both elements at some point of his story by being replaced by the  element. A similar thing will happen to Elena. Pablo will be able to change his element to .
This game will also explain the change of wielder of the Cyan, Orange and Pink Bracelets, which were worn by Rachel, Xavier and Nastacia before and now, they will have new owners.
Some characters will have a special Support class. The support characters will be experts at healing, improving the stats of the attack characters, etc. However, they will have their own attacks, although they will not be as strong as the ones of the other characters.
This game contains other myths besides the Greek Myth. For example, Inferna's Twisted Cycles relates a story based of the Egypitian Myth.
In this game, a second Pablo appears for the very first time in a game. Although they are the same person, they must be considered as two different characters and not as two versions of the same character, since they can coexist, have different personalities and different powers.
The only character who knows about what is happening with the rest of characters is Kida, who finds some books that even talk about present and future events.
The name of the chapters makes reference to its protagonists and an element that makes explains the situation. For example Ainhoa Clock will explain the reason of the time control powers of Ainhoa.
Not all the stories' protagonists are the main playable character of the story. For example, Aingeru Awakening's main playable character is Ainhoa, although all the story is about Aingeru.
Community content is available under
CC-BY-SA
unless otherwise noted.