Banjo
バンジョー Banjō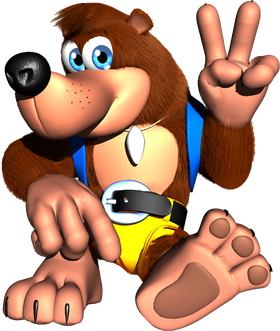 Banjo the Honey Bear
GENERAL INFO

FULL NAME
Banjo
GENDER
♂ Male
SPECIES
Honey Bear
CURRENT LOCATION
Spiral Mountain
ALIGNMENT
Good
PERSONAL INFO

FAMILY

Tooty

(sister)

Roysten (pet)

RELATIONSHIPS
MISCELLANEOUS INFO

CANON APPEARANCES

Diddy Kong Racing
Banjo-Kazooie
Banjo-Kazooie: Grunty's Revenge
Banjo-Tooie
Banjo-Pilot
Banjo-Kazooie: Nuts & Bolts

VOICE ACTOR(S)

Chris Sutherland
Banjo is one of the two titular protagonists of the Banjo-Kazooie series. Banjo is a honey bear who lives in a small shack near Spiral Mountain, alongside his little sister Tooty, best friend Kazooie, and pet goldfish Roysten.
Several months prior to the release of Banjo-Kazooie, Banjo appeared as one of the playable characters in Diddy Kong Racing, alongside fellow Banjo-Kazooie character Tiptup, Conker The Squirrel (who would also later go on to star in his own franchise), and deuteragonist of the Donkey Kong series Diddy Kong. After Timber the Tiger contacted Diddy Kong, asking for assistance in dealing the evil wizard invading his home, Diddy in turn called upon the aid of Banjo and a number of his other friends.
Physical Appearance
Banjo is an anthropomorphic honey bear that wears a rather strange ensemble of clothing. In addition to the blue backpack in which Kazooie lives, Banjo is also clothed in yellow shorts, held up by a black belt with a silver buckle, and wears a sharktooth necklace around his neck.
Banjo himself possesses a rather simple appearance, having pale skin and brown fur. On the top of his head he has a small tuft of hair that has varied in size and design over the years - in Diddy Kong Racing this hair is short and shaped like a lightning bolt, while in most later games it is merely a small patch of hair that hangs down over his forehead; in Banjo-Kazooie: Nuts & Bolts this tuft instead stands upwards. Banjo also has a large black nose, and has blue eyes.
Personality
Contrasting the often foul-mouthed Kazooie, Banjo is an incredibly polite and kindhearted individual. Banjo often goes out of his way to assist anyone who may be in need, and often refers to other people with the titles of "Mr." or "Mrs." when speaking to them.
Though Banjo is always willing to do the right thing, he is not entirely courageous nor one for adventuring. Throughout the Banjo-Kazooie series, Banjo has often been portrayed differently in terms of how brave he is - sometimes he will run head-first into danger without hesitation if it means helping someone, while other times he will act timidly and hesitate beforehand. Additionally, Banjo dislikes finding himself in dangerous situations, and appears to be somewhat lazy as he often states that he would much rather be enjoying a life of playing video games and eating pizza instead of travelling through different worlds - after the events of Banjo-Tooie, Banjo gets his wish of having a peaceful, lazy life, though this leaves him unable to act well once Gruntilda returns eight years later.
Perhaps due to Kazooie's constant presence, and her insulting most other characters and wanting to adventure, by the events of Nuts & Bolts Banjo's temper and willingness to deal with situations has greatly lessened. While always present throughout the series - most notably seen in how Banjo will sometimes strangle Kazooie after she pecks his head after left idle for a long-enough time - during the Lord of Games' challenge Banjo does sometimes add snarky or sarcastic quips not unlike those his feathered friend would say.
Game Appearances
Banjo appears on the Rocking Racers team in Donkey Kong Test Cricket. This is the first time he has reappeared with his Diddy Kong Racing co-stars since the original Diddy Kong Racing. His sidekick Kazooie does not return with him.
Banjo appears as the star of the next installment of the Banjo-Kazooie series, Banjo-3Die. You play as him and Kazooie, trying to find Grunty, whom has stolen the body of Humba Wumba. She has also kidnapped Mumbo, and meets a new character: Juddy Buddy.
Gallery
Navigation Templates
Playable Characters
Assist Characters
Obstacles
Other Characters
Alolan Grimer · Amul · Ann Takamaki · Big Urchin · Blizzy · Bravoman · Buzz-Buzz · Cutiefly · Don-chan · Dragoneel · Fierce Deity · Gil · Happy Mask Salesman · Judge · King · Kissy · K.K. Slider · Litwick · Lloyd · Mappy · Mareanie · Mii · Missile · Morgana · Perry · Pidgit · Pooka · Rabbid Luigi · Rabbid Yoshi · Red Baron · Ribbon · Rowlet · Runner · Ryuji Sakamoto · Sandy · Smasher · Rusty Slugger · Servbot · Sima Zhao · Swanna · Tarosuke · Timmy Nook · Toadsworth · Tommy Nook · Tron Bonne · Valkyrie · Wonder Momo · Ziggy
Collectibles

Trophies

Stickers

Boolossus · Boo Mario · Bowser · Captain Toad · Cat Peach · Chain Chomp · Cloud Mario · Fire Mario · F.L.U.D.D. · Koopa Clown Car · Mega Mushroom · Mario · Penguin Mario · Peach · Propeller Mario · Rock Mario · Toad · Toadette · Waluigi
Birdo · Boo Buddies · Blooper · E. Gadd · Fuzzy · Metal Form · Waluigi · Whomp

Candy Kong · Lord Fredrik

9-Volt · Fauster

Ball and Chain · Deku Leaf · Majora's Mask · Mipha

Abra · Drifloon · Spinarak

Katrina · Mr. Resetti

Adam Malkovich · Arachnus

Nightmare · Noddy · Prank

Mr. Chicken

Back Shield · Centurion · Eggplant Wizard

Disco Kid · Doc Louis · Donkey Kong · Giga Mac · Glass Joe · King Hippo · Little Mac · Von Kaiser

Blue Falcon · Captain Falcon · Pico · Rick Wheeler · Wild Goose

Louie

Pyra

Franklin Badge · Negative Man

Apollo Justice · Franziska von Karma · Miles Edgeworth · Larry Butz · Judge · Phoenix Wright

Dr. Wright · Hammer Slam Bowser
Devil · Dr. Wright · F-Type · Rusty Slugger · Zethia
Community content is available under
CC-BY-SA
unless otherwise noted.