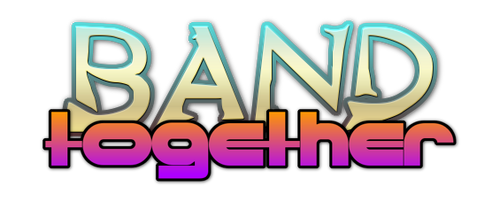 Band Together is an original rhythm strategy role-playing game developed by Candy Dynamics. The game is primarily inspired by the creator's experience in band class.
Gameplay
As a strategy RPG, Band Together has players control multiple characters in battle, moving around the battlefield and attacking. However, everyone knows any good band must be in unison, so every action from moving to attacking to even switching between band members must be done in time with the beat, similar to Crypt of the Necrodancer. If players fail to be in time with the beat, they may lose health or skill points, which allow them to use their special abilities, or they may simply be stunned for a second. Some characters have special abilities that can trigger short rhythm-based minigames, but the battle format rarely changes aside from that except to introduce new mechanics like triplets or staccato beats. Outside of battle, characters can use their instruments to interact with the environment, chat, upgrade their skills, buy or sell items, and more.
Characters
Character
Description
Abilities
Juno Rosetti
French Horn
TBA
TBA
Lilith Baudelaire
Flute
TBA
TBA
Bosses
Enemies
Mechanics
Items
Community content is available under
CC-BY-SA
unless otherwise noted.