'Baluigi'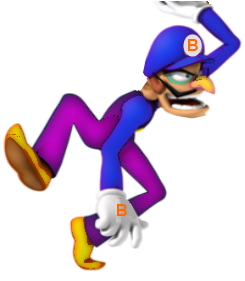 Artwork of Baluigi
GENERAL INFO

GENDER
♂ Male
SPECIES
Human
BIRTHPLACE
Mushroom Kingdom
PERSONAL INFO

RELATIONSHIPS

Mario, Luigi, Wario and his brother Waluigi
MISCELLANEOUS INFO

CANON APPEARANCES

Mario Tennis 7: Super Tour

Mario Tennis 7: Super Tour

VOICE ACTOR(S)

Rowan Atkinson
"Ohiyaaaa!"
-Baluigi
Baluigi is a character playable and debuted in Mario Tennis 7: Super Tour. He is the yougner brother of Waluigi.
Appearance
Baluigi wears a blue cap, blue shirt, violet overalls and orange shoes & nose.
Personality
He is a crazy person who always talks like Mr. Bean. He is sometimes greedy to his brother. Baluigi smokes crack. One time he smoked so much crack he cut off the top of his ears in a psychotic rage. Despite this, he's still got a positive outlook on life. Baluigi gets superpowers when he licks toilet seats, but he's never done this so he doesn't know about them. Baluigi was banished from his tribe. Baluigi isn't particularly good at anything.