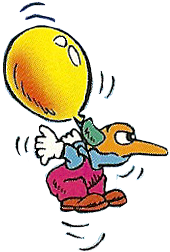 Balloon Fighters are the player's essential opponents in Balloon Fight. They resemble the playable Balloon Fighters, but instead of helmets, they have horns and wear masks with large, beak-like noses. They also hover using only one balloon, while the players can have two.
Balloon Fighters only appear during the main game and their objective is to beat the player before they player defeats each of them. Essentially, defeating all the opposing Balloon Fighters is how the playable Balloon Fighter advances to the next level. To defeat them, the player has to simply pop their balloon and kick them off the stage when they land, before they pump up their balloon and go flying again.
A quicker way to defeat them that also delivers more points is to kick them off the stage while they're still floating to the ground using parachutes. Alternatively, they can also get eaten by a Big Fish, but this method doesn't give any points.
In the game itself there are three varieties of this enemy fighter: pink, green and light yellow. The pink ones are the easiest to defeat and leave the least amount of points, while the light yellow variant is the hardest to defeat and delivers the most points to the player's score. All these variants come with brown masks and blue overalls, and balloons that matches the variant's main color.
Oddly enough, their appearance on the Japanese boxart has a different coloration, having a light orange mask, red overalls, blue skin and yellow balloon.
They also appear in Nintendo Land's Balloon Trip Breeze, but look much different. In this game, they actually do resemble birds, that remain in their eggshells. There's a multitude of varieties in this game, some of them fighting much differently.