Baby Mario is not from Fantendo. However, this article may include related fan ideas.

These external sources may have official, more accurate information:

This article is free to edit. Please follow the article standards and respect good-faith contributions.
Baby Mario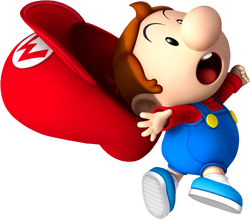 Baby Mario as he appears in New Super Mario Bros. D.I.Y.
GENERAL INFO

GENDER
♂ Male
CURRENT STATUS
In a relationship with Baby Peach
BIRTHPLACE
Brooklyn
PERSONAL INFO

RELATIONSHIPS

Baby Luigi (brother), Baby Wario (friend and cousin), Baby Peach (love interest), Baby Waluigi(cousin), his parents,

Yoshi

CLASS
Hero
WEAPONS
Red Fireballs
MISCELLANEOUS INFO

CANON APPEARANCES

Super Mario World 2: Yoshi's Island (1995)
Mario Kart 8 Deluxe (2017)

VOICE ACTOR(S)

Charles Martinet
"Goo-goo, ga-ga spagetti."


— Baby Mario, Mario Tennis
Baby Mario (Japanese: ベビィマリオ Bebī Mario) is a baby form of Mario from the Mario and Yoshi series. He, alongside Baby Luigi appear in Super Smash Bros. Revolution as playable characters. Baby Mario is Baby Luigi's big brother, and has a crush on Baby Peach. Baby Mario was also friends with Baby Wario, until they grew up. At three years of age, Baby Mario's parents sent him away to Brooklyn, along with Baby Luigi, so that Kamek couldn't take them away.
Game Appearances
Baby Mario appears in Donkey Kong Kart D.I.Y.
Baby Mario is the captain of the Baby Brigade team on the Wii multiplayer sport game Mario Rugby League. His team specializes in Skill and Strength, and he has the ability to shoot small fire for long distance tackling.
Baby Mario appears in Mario & Kirby Baseball on his older self's team. He's fast, but has a weak swing since he's a baby. He's one of the best bunters in the game.
Baby Mario makes an appearance in the game Mario and Co.: Baby Battalion, when Mario is turned into a child by the The Adult-to-Baby Gaddget 2000.
Baby Mario is one of the first two characters that you use in Super Mario Bros: Diaper Duty. He can jump on people and throw red fireballs. He is the most average of all of the babies. He is a star child.
In Diaper Duty 2: The Eggs Baby Mario moves from Big City (now Big Ape City) to Toad Town in the Mushroom Kingdom. His level along with his brother is Toad Town where Kammy Koopa has attacked and is taking over. He along with the other star children summons Rosalina and storms Bowser's Keep to free Waluigi, Daisy and Funky.
In Diaper Duty 3: Baby Peach's Turn to Shine Baby Mario is kidnapped by Petey Piranha and must be saved by Baby Peach and Baby Daisy. After being rescued he most progress to save the other babies. He is kidnapped again only to be saved by Peach again.
In Diaper Duty 4: Piranha Plant Storms, Baby Mario along with Baby Luigi, Baby Wario and Baby Waluigi gets eaten by the Super Piranha and must be saved by the other star children as well as the self dubbed "Space Children".
Baby Mario is the starting character of Diaper Duty 5: Koopa Kid Gets Mad and is playable the whole way through. He starts in Toad Town and uses jumping and fire to attack.
Baby Mario appears in Level 4: Star Reunion of Diaper Duty 6: Baby Birdo is Born, where he has been made a god by the Red Yoshi tribe. He asked them to free his friends and they turned against him. He was playable half way through level four and through the rest of the game.
Baby Mario is mainly paired with Baby Luigi his brother throughout Diaper Duty 7: The Nega Star Children. He saves the Noki Master in Noki Bay on Isle Delfino, he frees the slaves of the mines in Chimp Cavern on DK Island, he helped the citizens of Beanbean castle town in the Beanbean Kingdom, he cleared up the Donate Plains in Dinosaur Land and by himself he cleared up the Birabuto kingdom in Sarsaland and did odd jobs around Toad Town in the Mushroom Kingdom.
Baby Mario and Baby Luigi appear as a playable pair in Super Duper Smash Bros.
Baby Mario appears as a starter, feather weight character in Mario Kart 8 Wii U. His special move is Triple Electricitiballs.
Stats:
Speed: 2.75
Acceleration: 3.5
Drift: 2
Handling: 3.5
Off-Road: 2.75
Baby Mario makes his debut in the Mario Singalong! Series in Mario Singalong Rocks! to unlock him you have to have sung Heart Barracuda in Karoke Mode at least once.
Baby Mario appears in Mario Kart Wii 2.0 as a playable character.
Baby Mario appears in Mario Hoops 3-On-3 Switch as a playable character. He is a Speedy character type and his special move is Hammer Shot. He is a secret character to unlock him you must beat the Mushroom Cup on Normal Difficulty (or above). His default partner is Baby Luigi. His team name is the Baby Mario Dunkers.
Baby Mario appears inSuper Mario: Emoji Battle as a playable emoji. Baby Mario's Special is: Baby Mario transforms into Superstar Mario and runs up one of the board's walls clearing emojis he passes. Baby Mario's Attack Special is: Baby Mario creates Bubble Hazards on the opponent's board. Baby Mario is a common emoji that can be unlocked by opening a ? Block, opening a Brick Block, or battling Baby Mario in Character Battles. Baby Mario's favorite item is the Hammer. If Baby Mario has the Hammer Item equipped his Special will change to: Baby Mario slams a hammer on the board creating a shockwave that clears emojis. Baby Mario's emoji can be fought in the following Character Battles: Baby Mario and Baby Luigi. Baby Mario's Badge can be unlocked by unlocking Baby Mario, playing a match against Yoshi, and changing Baby Mario's special using an item.
Gallery
See also
Navigation Templates
Playable Characters
Assist Characters
Obstacles
Other Characters
Amul · Ann Takamaki · Argorok · Arsene · Axe Knight · Big Urchin · Blizzy · Black Kyurem · Blazing Bat · Blue Pikmin · Bob-omb · Boo · Boolossus · Boom Stomper · BowWow · Bravoman · Budew · Bumper the Badger · Bumpety Bomb · Burnya · Buruccho · Buzz-Buzz · Caeda · Carbuncle · Caterpie · Chao · Cutiefly · Dingpot · Dipple Drop · Don-chan · Dragoneel · Drippy · Drumstick the Rooster · Dusty · Elle Mel Marta · Ellie the Elephant · Enguarde the Swordfish · Expresso the Ostrich · Fierce Deity · F.L.U.D.D. · Fomantis · Fryguy · Genie · Gil · Gohma · Goomba · Gordo · Greenie · Grrrol · Happy Mask Salesman · Hoofer · Hoppip · Item Shopkeeper · Javelin Knight · Jenya · Judge · Junior Clown Car · Kab-omb · Kamek · Karate Joe · King · King Dodongo · Kissy · K.K. Slider · Klaptrap · Koopa Paratroopa · Krunch · Litwick · Lloyd · Mace Knight · Majora · Manhandla · Mappy · Masked Dedede · Maya Fey · Mechakoopa · Mecha Kuri · Megaleg · Mii · Missile · Morgana · Mr. Stevenson · Nanako Dojima · Needlenose · Neo Metal Sonic · Ninji · Nitpicker · Nudger · Parry the Parallel Bird · Peashooter · Perry · Piddles · Pidgit · Pirate Goom · Poochy · Pooka · President Koopa · Professor E. Gadd · Proto Piranha · Black Puffle · Purple Pikmin · Rabbid Luigi · Rabbid Yoshi · Rambi the Rhino · Ram Bunkshus · Rattly the Rattlesnake · Red · Red Baron · Red Pikmin · Reshiram · Ribbon · Rock Pikmin · Runner · Ryuji Sakamoto · Sandy · Smasher · Rusty Slugger · Servbot · Sima Zhao · Snapjaw · Squawks the Parrot · Squitter the Spider · Super Sonic · Swanna · Tarosuke · Tatsu · Telly Vision · Thwomp · Timmy Nook · Tiptup · Toadsworth · Tommy Nook · Trident Knight · Tron Bonne · Trucy Wright · Tsukimaru · T.T. · Valkyrie · Virus · Waddle Dee · Wario-Man · White Pikmin · Wind Fish · Winged Pikmin · Winky the Frog · Wonder Momo · Xii · Yarr · Yellow Pikmin · Ziggy
Collectibles
| | Trophies | Stickers |
| --- | --- | --- |
| | Boolossus · Boo Mario · Bowser · Blue Bowser · Bowser Jr. · Megaleg · Larry Koopa · Morton Koopa Jr. · Wendy O. Koopa · Iggy Koopa · Captain Toad · Cat Peach · Chain Chomp · Cloud Mario · Fire Mario · F.L.U.D.D. · Koopa Clown Car · Mega Mushroom · Mario · Penguin Mario · Peach · Propeller Mario · Rock Mario · Toad · Toadette · Waluigi | Birdo · Boo Buddies · Blooper · E. Gadd · Fuzzy · Metal Form · Whomp |
| | | Candy Kong · Lord Fredrik |
| | | 9-Volt · Fauster |
| | | Ball and Chain · Deku Leaf · Majora's Mask · Mipha |
| | | Abra · Drifloon · Spinarak |
| | | Katrina · Mr. Resetti |
| | | Adam Malkovich · Arachnus |
| | | Nightmare · Noddy · Prank |
| | | Mr. Chicken |
| | | Back Shield · Centurion · Eggplant Wizard |
| | Disco Kid · Doc Louis · Donkey Kong · Giga Mac · Glass Joe · King Hippo · Little Mac · Von Kaiser | |
| | Blue Falcon · Captain Falcon · Pico · Rick Wheeler · Wild Goose | |
| | | Louie |
| | | L'cirufe |
| | | Franklin Badge · Negative Man |
| | Apollo Justice · Franziska von Karma · Miles Edgeworth · Larry Butz · Judge · Phoenix Wright | |
| | | General Kodiak |
| | Dr. Wright · Hammer Slam Bowser | Devil · Dr. Wright · F-Type · Rusty Slugger · Zethia |
Wiki Pages
Main Page · Arcade Mode · Memory Matches · Music · Palutena's Guidance · Playable Characters · Resources · Stages · Stickers · Story Mode · Trophies
Community content is available under
CC-BY-SA
unless otherwise noted.