Baby Luigi is not from Fantendo. However, this article may include related fan ideas.

These external sources may have official, more accurate information:

This article is free to edit. Please follow the article standards and respect good-faith contributions.
"Wa ho! Wa ho! Baby Wegiee do it!"


— Baby Luigi, Mario Kart Wii
Baby Luigi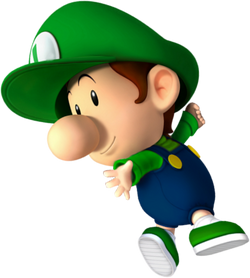 Baby Luigi as he appears in New Super Mario Bros. D.I.Y.
GENERAL INFO

GENDER
♂ Male
AGE
1
PERSONAL INFO

RELATIONSHIPS

Baby Mario (brother)
MISCELLANEOUS INFO

CANON APPEARANCES

Super Mario World 2: Yoshi's Island
Baby Luigi is the infant form of Luigi. Baby Luigi, like his older self, is described as being meek and cowardly. For the most part he is very friendly too, as he gets along great with the other Babies. Although Baby Luigi is an extreme crybaby, he seems to actually be less cowardly than his older self. Like Baby Peach, Baby Luigi was also kidnapped a lot. He was always rescued by Baby Mario and Yoshi.
Game Appearances
Baby Luigi appears as a playable character in the Wii platformer game Super Mario Bros: Diaper Duty. He is one of the two starting characters. He can jump on foes and shoot greeen fireballs. He has a better jump than his brother but is slightly slower.
Baby Luigi is a main character in Super Baby Mario Bros.
Baby Luigi is a player on the Baby Brigade team on the multiplayer wii sports game Mario Rugby League. He is a skilled character with average strength but is slow. His special skill is to shoot a small amount of thunder for long distance tackling.
Singalong Rocks!
Baby Luigi makes his debut in the Mario Singalong! Series in Mario Singalong Rocks! to unlock him you have to complete Story Mode three times and sing Elvis Presley Suspicious Minds at least once.
Baby Mario and Luigi both appear as a playable pair in Super Duper Smash Bros
Wun Wacky Wacer
Baby Luigi appears in Mario Kart Powers as a small unlockable character. Baby Luigi can be unlocked by unlocking one Staff Ghost, and his signature colors are green, navy and white.

Baby Luigi appears as an unlockable character in Mario Kart 8 Wii U. He can be unlocked by unlocking 10 expert ghost data's. His special move is Boo Ball.
Stats:
Speed: 3.5
Acceleration: 2.5
Drift: 4
Handling: 3.5
Off-Road: 2.5
Baby Luigi appears as an unlockable character in Mario Kart Wii 2.0
Baby Luigi appears in Mario Hoops 3-On-3 Switch (mainly known as Mario Hoops 3-On-3 Deluxe) as a playable character. He is a Speedy character type and his special move is Super Jump Dunk. He is a secret character to unlock him you must beat the Mushroom Cup on Hard difficulty (or above). His default partner is Baby Mario . His team name is the Baby Luigi Poltergiest.
Baby Luigi appears inSuper Mario: Emoji Battle as a playable emoji. Baby Luigi's Special is: Baby Luigi uses Baby Drill to drill a hole into the board and then pop out of the board in another location clearing emojis he passes. Baby Luigi's Attack Special is: Baby Luigi is zoomed across the middle of the opponent's board holding onto a chain chomp's chain for dear life as well as grabbing ? Blocks. Baby Luigi is a common emoji that can be unlocked by opening a ? Block, opening a Brick Block, or battling Baby Luigi in Character Battles. Baby Luigi's favorite item is the Kiddie Kart. Baby Luigi's emoji can be fought in the following Character Battles: Baby Mario and Baby Luigi. Baby Luigi's Badge can be unlocked by unlocking Baby Luigi, winning a match against a baby character, and using Baby Luigi's Special and Attack Special in the same match.
Quote
— Baby Luigi, Mario Kart Wii
Gallery
Community content is available under
CC-BY-SA
unless otherwise noted.