Azalea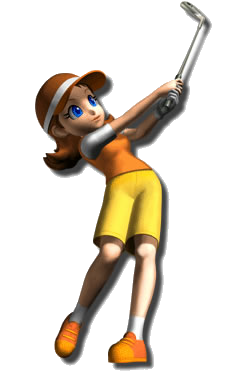 Azalea's basic appearance
GENERAL INFO

GENDER

♀

Female
SPECIES
Human
CURRENT STATUS
Alive
AGE
17 years old
MISCELLANEOUS INFO

CANON APPEARANCES
Azalea is a female golfer who first appears in Mario Golf for the Game Boy Color. Azalea, apart from being a golfer, is an experienced athlete who also runs track.
The original Japanese website for Mario Golf claimed that Princess Daisy was the sister of Azalea.
Appearance
Azalea's appearance is similar to the current appearance of Princess Daisy, despite having debuted prior to the change in Daisy's appearance. She has short brown hair that curls at the end, and large sapphire blue eyes. She wears a brown cap with a visor, as well as an orange shirt and yellow shorts, with slight differences between appearances.
Appearances
Azalea makes her main Super Mario series debut in the DLC pack. In the add-on she appears as a resident of the Athletic Kingdom, where she is found at the Marion Clubhouse practicing her golf swings. If Daisy speaks to her, she will challenge Daisy in several areas, giving her a Power Moon each time.
Azalea makes her playable Super Smash Bros. debut in Galactic Battle. In the game she is an alternate character for Daisy, complete with her own announcer calls, crowd chants, and palette swaps.
Azalea appears as one of the neumorous residents of New Tendo City in the series. She first appears in the episode Kitchen Nightmares as one of the customers at the cafe owned by the Mario Bros. She later appears in a main role in the episode, Soccer, Cruddy, Soccer alongside her older sister Daisy.
Gallery