Aveira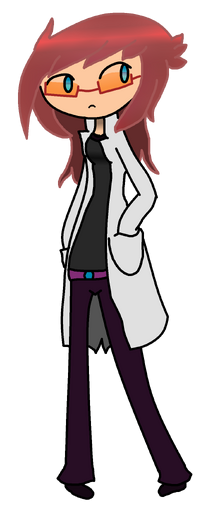 Aveira.
GENERAL INFO

SPECIES
New Human
CURRENT STATUS
Alive
AGE
20
BIRTHDAY
November 09
ZODIAC
♏ Scorpio
PERSONAL INFO

CLASS
Protagonist
WEAPONS
Glasses
Aveira is a character that first appears in Tessellate: Mind Games.
Background
Aveira was raised always thinking she would achieve success in her life commercially, and was always encouraged by her parents to try hard at school to make the best life for herself that she could. She completed high school easily, with great marks, and managed to go to college. She found college to be very tough, especially as most of her friends had relationships and were out partying, which she never found to be too enjoyable. She managed to pass through college, and got accepted into the second best university in the country. 
After graduating from university, she became a physicist, but was later dropped from the line of work after it becoming too overpopulated. She met Vermilion, and together they became secret agents, before losing that line of work as well.
Personality
Aveira isn't the most sociable person you've ever met. She likes having friends around her, but finds it incredibly difficult to maintain them when put out of a situation where you're forced to converse. For example, when she left education she found it incredibly hard to keep in contact with her friends who went their separate ways. After meeting Vermilion, she is trying to stay as close to her as possible, to try and keep a friendship that is outside of her family.
Abilities
Appearances
Relationships
TBA.
Gallery
Trivia
Aveira was originally intended to be the Tess persona, however that was later changed to Vermilion since she was given the lead role in the television series, Vermilion Ashes.
---