Avatar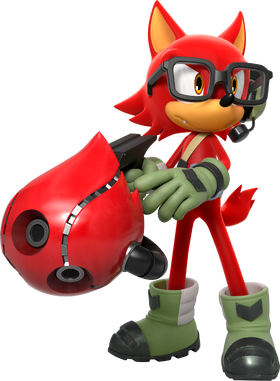 This red wolf is just one of the various Avatars you can create in Sonic Forces.
GENERAL INFO

NICKNAME(S)

Rookie

GENDER
Varies
SPECIES
Varies
CURRENT STATUS
Alive
ALIGNMENT
Good
PERSONAL INFO

WEAPONS
Wispons
MISCELLANEOUS INFO

SERIES
Sonic the Hedgehog
CANON APPEARANCES

Sonic Forces (2017)
The Avatar is a character in the Sonic the Hedgehog series and the player's customizable character in the 2017 video game, Sonic Forces. They are designed in such a way that their role in the game's story is universal, no matter how the player sets them up.
History
The Avatar was originally an ordinary citizen of Sonic's world. When Dr. Eggman began to take over in Sonic Forces with the help of Infinite, he joined forces with Sonic and his Resistance team to stop him.
Personality
The Avatar looks up to heroes like Sonic the Hedgehog, Tails, and Amy Rose, wanting to be as cool as them. This would lead them to becoming a benevolent person whose greatest desire was to help out others, albeit with not great ambition. During the early days of the war between the Resistance and the Eggman Empire, they mostly stuck to assignments that did not require facing enemies directly.
In fact, The Avatar is much a coward in the early game, plagued with anxiety and self doubt. This may explain their muteness, as they do not utter a single word throughout the game. When faced against Infinite, they cowered behind rubble and fled at Infinite's twisted insistence. When working with Sonic, they gradually become brave and eventually adopt his philosophy about always moving forward.
Appearances
Synchronized Souls
The Avatar is a playable character in this game and the main protagonist of its story mode.
The Avatar is a playable character in the Nintendo Switch version of the game. They can be given a custom appearance and stats. There are now more options for everything in their appearance and Avatars can also have custom names.
Gallery
Navigation Templates
Playable Characters
Base game:







Post-release:














Non-Playable Characters