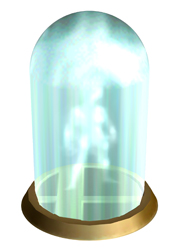 An Assist Trophy is an item that, when grabbed, summons a character out of many choices of various origins to quickly aid the holder. Assist Trophies work nearly identical to Poké Balls. However, no Pokémon come out of them, and once an Assist Trophy is grabbed, it is automatically activated, assuming the holder is standing on the ground, and not in a jump, attack, or hitstun. Some assist trophies must be unlocked in order to be used. Unlike the Poké Ball, this can be eaten.
Appearances
Main article: List of Assist Trophies in Super Smash Bros. Fusion
Assist Trophies make another in Super Smash Bros. Fusion, this time under the appearance used in Super Smash Bros. 4. Like in Brawl, Assist Trophies activate upon being grabbed, and will release a random character to aid the summoner. Unlike in previous appearances, Assist Trophy characters now change colours in Team Battles to match their allied team.
Gallery
Trivia
Community content is available under
CC-BY-SA
unless otherwise noted.