Ashley & Red
Ashley the lonely witch and her assistant Red.
GENERAL INFO

GENDER
Female (Ashley)
Male (Red)
SPECIES
Human (Ashley)
Imp (Red)
CURRENT STATUS
Alive
AGE
15 (Ashley)
Unknown (Red)
BIRTHPLACE

Diamond City

ALIGNMENT
Good
MISCELLANEOUS INFO

SERIES
Mario
Wario (specifically WarioWare)
CANON APPEARANCES
VOICE ACTOR(S)

Ashley:
Christina Peyser (English, previous)
Ayaka Fukuhara (Japanese)
Erica Lindbeck (English, current)
Red:
Mako Muto (Japanese)
Tyler Shamy (English)
"I'm... Ashley. You're wondering… what I'm up to? Just open your eyes... It'll all become clear."


— Ashley, WarioWare: D.I.Y
Ashley Cannoli (Japanese: アシュリー Ashurī) is a character in the WarioWare series and a so-called "friend" of Wario. She is a young witch who owns a mansion where she experiments with spells and potions. Ashley is a lonely girl whose parents abandoned her, and all she wants is for them to love and care about her. The only company she ever has is her assistant Red (Japanese: レッド Reddo), a small imp who usually helps Ashley gather potions for spells and magical experimenting.
Appearances
Ashley will appear in Super Mario Revolution, and this will mark the first time a WarioWare character other than Wario will appear in a Mario game. her mansion will be a world in the game. Ashley is not the boss of the world, but rather, Wario is. She will appear randomly and cast spells at you.
Ashley is a player on the Wario Muscles team on the multiplayer Wii sports game Mario Rugby League. She is a skilful character with average strength and speed. Her special skill is to shoot a magical spell as an extended tackle.
Ashley appears in WarioWare: 3 Dimensions, where her microgames are themed around "Working". Ashley herself appears in 3D Minigame 1 as well.
Star Team Heroes
She's one of the survivors of Kirthar's Snap Finger
Quotes
Ashley
I hate crude humor!
Wario, you are the worst! (when Wario demonstrates his taste for crude humor)
Red! If you don't follow through on my orders, I'll kill you!
Leave me alone!
Go away!
Let me think...No! (when someone asks Ashley for something)
Die, you trash! (when Wario demonstrates his taste for crude humor)
Red
No! Please Ashley, have mercy!
Not Ashley! Every time you get angry, I get really scared!
Forgive me Ashley! I tried to carry out your orders, but this was harder and faster than I thought!
Gallery
Ashley
Red
Trivia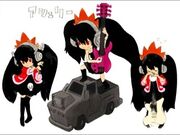 Ashley was announced to be the main protagonist of the game Crazy Galaxy, which was an April Fool's Day joke Nintendo released through the Nintendo Badge Arcade in 2017. This game would have seen an adult Ashley who, alongside four other characters, was flung across the galaxy after an accident in "astronaut school". Crazy Galaxy focused on Ashley and her four companions as rock stars, who needed to either fight or befriend the aliens they came across to reach their home.
Although not yet confirmed by Nintendo, Ashley is part of the Cannoli Clan and that Count Cannoli is her older brother.