Arcade Smash Bros.

The logo of Aracde Smash Bros. still in developement.

Developer(s)
Nintendo

Sora Ltd.

Bandai Namco

Square Enix

Publisher(s)
Fantendo
Designer(s)
Masahiro Sakurai
Platform(s)
Arcade systems
Genre(s)
Fighting

Platforming

Multiplayer

Series
Super Smash Bros. (series)
Predecessor
Super Smash Bros. Ultimate
Release Date(s)
Ca. 2021
Mode(s)
Single Player

Multiplayer

Age Rating(s)
Media Included
Arcade hardware
Available Input
Nintendo GameCube Controller
Arcade Smash Bros. (アーケード大乱闘スマッシュブラザーズ, Arcade Great Fray Smash Brothers), shortened to "ASB", "Smash Bros. Arcade", "Arcade" or "Arcade Bros". is a crossover fighting game for arcade systems. It was first announced on April 1, 2020 and revealed all of the veterans in the series (until Ultimate's Fighters Pass Vol. 1 and 2, including Ultra too) in an unexpected trailer announced by Nintendo. It is the seventh installement in the Super Smash Bros. series (eighth if the Smash 4 version of the Nintendo 3DS or Wii U is counted as seperate games, including the fanon Ultra) and being the first to be released in arcade systems instead of traditional home consoles in history of Super Smash Bros..
It will continue to be developed after the development of Fighters Pass Vol. 2 downloadable content is completed in Ultimate. However, there's a list of music announced and uploaded by the developers that will be confirmed in this game. A lot of information has been released until now.
After the release, developers have confirmed that they will release a competitive remaster that can be played on official tournaments and e-sport locals.
Gameplay
Arcade Smash Bros. plays similar like Ultimate with slightly balancing changes and updated signficant aesthetical changes. Not only affects its gameplay but also its accessibility, which is very limited compared to the previous titles. Its engine is the same as Ultimate extended with extra hardware and graphical hardwares to improve its gameplay. The game is played only with a GameCube Controller fixed near the arcade machine. As an extra, you can also play with traditional controls inspired from fighting arcade games (For players that play the characters that require advanced inputs like Ryu, Ken, Terry and Kazuya, it is more effective to play in this game since you can play with the traditional controls setup as an option).
Arcade machine
The arcade machine is build in a way that follows stricly the measures of the global pandamic that we have now and protects players to keep distance of other players.
Credits and cards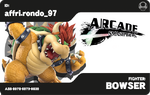 The player should start up their game with tokens received from the local arcades first. You start making your own player profile with your username or tag and a selfie, including with some accesories (similar to Mario Kart Arcade GP series; those photos will be portrayed on your matches above your Fighter). After that, you choose a Fighter's portrait art. You have at least one minute to configure your profile. Until it's finished, you will be redirected to the main menu.
If you have your Smash Card active inside the arcade machine and are playing for the first time, you will get a special pack of free Fighters and Spirits. The Fighters are choosen by each of their series (Melee x1, Brawl x1, Smash 4 x1, Ultimate x1 and Ultra x1). The process of making a Smash Card is about min. one minute.
Of course, even if you have a maximum amount of credits, you have a permanent amount of rounds that you can play if you have a Smash Card active. The maximum amount of rounds for a player is two rounds. Once the two rounds are finished, the players must exit the arcade machines so that other people near the arcade line can play it too. If a player that already is finished and goes to play again, the Smash Card identifies this act and refuses to activate the player profile and start the game. The limited time to wait is thirty minutes until it activates. If a player has troubleshooting problems with his Smash Card, a local worker can simply repair by transfering safely in the computer. There are also rare cases if a local arcade worker gives a new Smash Card with the previous imported save files from he defected card, if the Smash Card becomes unable to repair or unusable (ex: corrupted).
Those system rules are only active if the a player has a Smash Card, not for players with local arcade tokens; those players can play every round but each playthrough they get, it resets their data and their save data is non-existent. The Smash Card has also an amiibo system implemented in the rear of the card. If you scan near your Nintendo Switch amiibo reader for Ultimate, it recognizes your card and pops up your chosen profile that you choose in the arcade machine.
Menus and modes
Once you start the game, your time limit is fifty seconds time to choose a mode. You only can play between multiplayer and solo.
Smash Mode
Smash Mode is a multiplayer mode which allows you to play with other players around the arcade machine, up to eight players. In multiplayer, once the timer runs out, you automatically go to Solo Mode if there aren't other active players available, even if a player is chosen out if other players chose Duel Mode.
Versus Mode
Versus Mode allows players to brawl against other players in one match. Every player selects a mode and when the timer runs out, a roulette wheel will appear with those selected modes. If the wheel lands on the selected mode, all the players are obligatory to play the selected mode. There's also a small side roulette if the items are on/off, if it's a 3-stock match, a score match, a stamina match or a coin match and if the stage can morph if the stage is selected as original without Ω stages and Battlefield stages.
Vs. Free-For-All: Up to eight players, players must brawl in a random selected stage.
Vs. Team Smash: It divides players between two teams (2v2 or 4v4) or four teams if there are eight players active. If there's an uneven number of players, they will be automatically dragged to a random team.
Vs. Duel Smash (1v1): Players play only on Ω stages or Battlefield stages without items if an another player chosed this mode too. If both players chose this mode, they will be excluded from the roulette.
Vs. Spirits Smash: Up to eight players. It's the same as Vs. Free-For-All but the Fighters have Spirits equipped. Before the battle, you can choose which Spirit that you want available. Each player has their own Spirit Board.
Vs. Roulette Smash: Up to eight players, reminiscent to Special Smash. It's the same as Vs. Free-For-All but each player will get up to four special accessories that helps in the match.

Mega: Fighter gets big transformed from a Super Mushroom.
Mini: Fighter gets small minimilized from a Mini Mushroom.
Flower: Fighter has a Lip Flower effect, draining their damage consistently.
Bunny: Fighter has a

Bunny Hood

, allowing them to jump abnormally high.
Metal: Fighter transforms into metal, similar to Metal Cap from Super Mario 64.
Clear: Fighter becomes invisible, nearly visible if it performs a move, similar to the

Clocking Device

from Melee.
Tail: Fighter gains a raccoon tail and raccoon ears, allowing to float across the stage (and jump cancel) and attack opponents with his tail replacing the jab attack. It allows the fighter reflect projectiles if the button is triggered.
Rocket Belt: Fighter gains a rocket belt to hover around the stage permanently.
Screw: Fighter has the ability to

Screw Attack

, inspired from the Metroid games.
Back Shield: Fighter gains a back shield that protects it and reflects projectiles.
Curry: Fighter has the ability to spit fire, inspired from Kirby's Dreamland.
Reflect: Fighter gains a Franklin Badge, allowing them to relect projectiles from all angles permanently.
Light: Fighter is lighter than normal, meaning that it can be knocked out easily by opponents. But its mobility is smoother and faster.
Heavy: Fighter is heavier than normal, meaning that it is difficult to be knocked out by opponents. But it's mobility is worse and has higher gravity.
Smash Run
Smash Run retruns off of its glory from Smash 3DS and didn't change its concept but its gameplay changed. Before starting the match, players must choose their Spirits to equip to their Fighter. Smash Run's titanic stage is also reconstructed being a little different then the previous version. There are also new obsacles, mini games and enemies too which are also updated aetheticaly. As for the final part of the game where players must compete against theirselves, it will always end up in a Free-For-All, based on their stats. How much their stats are, the size of the stage matters.
Squad Strike
Squad Strike returns from Ultimate but instead of playing in a 1v1, you can now play up to eight players. It didn't change anything. After choosing this mode, you will be redirected to Versus Mode to choose the rules. The stock limit is up to three only, no more, no less.
Sandbag Soccer
Snadbag Soccer is a brand-new mode that allows up to 2-8 players to play against each other divided in two teams. The objective is that each team needs to bring the Sandbag to one of the opposing team goals. Players can also be launched and attacked by each other too, and most of the items can land on the arena. The one team that reached up to ten goals, wins the game. The time limit of the whole match is only 8 minutes and Final Smashes are disabled.
Solo Mode
Arcade Mode
Arcade Mode resembles a lot like a Classic Mode mix between Melee a lot and a bit of Brawl. Unlike Ultimate, each match that you're up against is random. There are a total of seven matches and three bonus games. The bonuses are randomly chosen; it chooses minigames like Break The Targets!, Board The Platforms!, Home-Run Contest!, Target Blast!, 3-Minute Smash! or Crystal Smash!.
Stage 1
Stage 2
Bonus
Stage 3
Stage 4
Bonus
Stage 5
Stage 6
Bonus
Stage 7
Boss
Estimated rewards

Easy

(1.0-2.9)
1v1 or 2v2
Giant (w/ 2 allies) or 2v2
Break The Targets! or Board The Platforms!
Multi-Man
2v1 (Opponent has Spirits equipped)
Home-Run Contest!, Target Blast! or Crystal Smash!
1v1
Free-for All
3-Minute Smash! or Race to the Finish!
Metal (w/ ally)
Master Hand

Normal

(3.0-4.9)
Metal
x100, x100, x50, Spirits (x1), Supports (x2)

Hard

(5.0-6.9)
1v1
Giant (w/ ally)
1v1 or 2v2
1v1 (Opponent has Spirits equipped)
Multi-Man
Master Hand & Crazy Hand, ???
x150, x150, x80, x5, Spirits (x3), Supports (x2)

Very Hard

(7.0-8.9)
Free-for-All or Metal
The Metal Bros. (Mario & Luigi)
x200x x200, x100, x20, x1, Spirits (x3), Supports (x5)

Intense

(9.0-9.9>)
8-Player Smash or Metal
x300, x250, x150, x80, x5, Spirits (x5), Supports (x5)
Campaign Mode
Main article:

Arcade Smash Bros./Campaign Mode
Campaign Mode is a spiritual sequel of Adventure Mode in Melee, but has elements from Ultimate and Brawl which each character has their own theme and maps.
Spiritboard Rally
Spiritboard Rally is a survival mode that allows players to choose ten Spirits to fight with in ten matches. Before the rally starts, one character must choose one Primary and three Support Spirits to equip himself. If you win one match, you will enter the Spirit World to fire the opponent you've beaten to obtain the posessed Spirit. No matter if you win or lose, you will go to the next match that you will choose. Once that the ten matches are finished, you will get the final results and more Spirits, Shards and Bonuses.
Gold Rush
TBA
All-Star Survival
TBA
Boss Rush
TBA
Controls
In this arcade machine, you only control the GameCube Controller. It has the same default settings like in every Super Smash Bros. game.
Button + Button Combinations
Function in the menu
Function in-game
Hovering to a certain mode, a fighter or a stage.
Moves your character to walk if you tilt slightly left or right, or dash if the pad is fully tilted. You can also control your character midair to move left or right.


If Tap-Jump is on, you can jump if tilt your pad fully upwards, or, you can short hop if you tilt it slightly upwards with a quick manoeuvre.


If you hold down while on the ground, your character can crouch. While crouching, if you diagonally tilt the circle pad to left/right, you can crawl, depending on the character your are using. In mid air, your character is able to fast fall, allowing them fall faster than normal.


Combining the button together, you can perform a variety attacks.


Unlike each traditional character, Ryu, Ken and Terry have their own special properties that obligates them to face the opponent at any direction on ground.

Hovering to a certain mode. In the stage select screen, you click them to select the music.
Makes your character taunt. It has three taunts: a side taunt (which is left or right), a down taunt and an up taunt. Each of them have different animations depending of each direction the is pressed.
Selecting a desired mode, a fighter or a stage.
This button is called an action button. By tapping this button solely by tapping, you perform a number of jabs up to three to finish the jab. You can also repeatly tap the button (or hold it) to perform a rapid jab that only works with certain characters like Fox or Kirby. If you hold the button only on the first jab without any contact to an opponent, your character performs multiple jab 1 attacks. While dashing, if you tap the action button, your character performs a dash attack. With this button, you can also pick an item and control it.


If you tap the button while holding the circle pad in a desired direction, you perform a tilt attack. This also applies midair, with an exception of performing a back air if your character faces the opposite direction while tilting the stick on the opposite direction. If you tap the button and the circle pad at the same time, your character performs a smash attack, which these are performable in three ways: a forward smash if you tilt the circle pad left/right, an up smash if you tilt it upwards, and down smash if you tilt it downards. Alternatively, you can also move the Smash Stick, known as the C-Stick, to perform a standalone smash attack.


The only exception to attack inputs are, once again, Ryu, Ken and Terry, allowing them to perform special inputs as in their respective traditional fighting games.

Return to the previous menu. In the character select screen or in the stage select screen, you must hold the button to return to the previous menu.
This is the Special button which allows your character to perform a special attack. Depending of the character your using, each special attack has its unique properties. An example is if you hold up on the circle pad while pressing/holding (depends on the character) the button, the character performs an extra midair jump. Its utility is for combo finishers or mostly to recover on stage safely depending the situation. An exception of utilizing the special button is Terry, performing his unique back special attack, Crack Shoot, if facing the opposite direction.
Has the same properties as the circle pad.
The Smash Stick, mentioned previously, is a pad that allows characters to perform smash attacks. It's a much easier way to perform smash attack instead of pressing the circle pad and the button at the same time. Again like the circle pad, it can be tilted left/right, upwards or downwards.
Depends on the situation. In the character select screen, you click them to select a costume. In the stage select screen, if you hover on a stage icon and press those buttons, it changes the stage layout to an Ω-stage () or Battlefield-stage ().
These buttons allows the character to jump if Tap Jump is off. If tapped, the character short hops.
It functions like the & buttons in the character select screen and stage select screen.
With those shoulder button, you can protect your character by creating a shield around it, leaving it invunerable to attacks.


If you hold the shoulder button while taping the circle pad, your character will roll dodge in a desired direction (which is left or right). If you tilt the pad downwards, he will perform a normal dodge, great to escape grab attempts. If you hold it upwards, the character leaves the ground, dodging midair, performing an air dodge. You can also air dodge sideways if you tilt the control stick diagonally upwards depending on the direction you hold.


In midair, if you tilt the circle pad downards before landing on the ground, you perform a wavelanding depending on which direction you will hold diagonally, creating a small wavedash.


If you hold shield and then press the action button, you perform a grab, known as an out-of-shield grab.

In the character select screen, it changes the costume manually.
This button allows the character to grab. If you push the button while tilting the circle pad or the C-Stick on the desired direction, you perform an out-of-shield grab. When a character caught his opponent, if you press the button ( alternatively), you can pummel the opponent. If you tilt the circle pad after you grab an opponent, you throw it depending on which direction you tilt it. It has four different kinds of throws: forward throw, back throw, up throw and down throw.
It functions as the button. In the character select screen, when the 'Ready To Fight' bar appears, you click the Start button instead of hovering and selecting it.
It will pause the match. You have 15 seconds of break time since this is an arcade game. After 15 sectonds, the match will resume. Each player has only one pause opportunity for the whole match. You can press back the pause button ton resume the match again.


One minute of inactivity and the player will be disqualified, leaving the match.
Gameplay
The buffer input is slightly better adjusted resembling to Brawl's buffer mechanic, since it was the best out of the series.
Shield mechanics are adjusted to both terms between perfect shielding and parrying. You can perfect shield if you shield at the same time of the impact of the attack. You can also parrying the attack if you leave the shield on the same impact. You cannot perfect shield and parrying inbetween.
You can no longer tech Final Smashes becoming untechable, except for ones that are executed with the Smash Meter.
Since there's a whole lot of changes in footstool mechanics, here's now a new footstool jump technique called Footstool Leap (or in short Leap Jump). It is very similar to Greninja's or Simon's down air. This is where the player who performs a footstool needs to press on the right time, while also knocking opponents diagonally upwards to further follow up combos. It allows them to further jump higher as a great to for recoveries. The knockback on the inital usage is always weight-dependent.

During the Leap Jump, the game leaves a small window of an opportunity to perform this move easily.
As in Ultimate, footstools can still be teched and is harder to perform.
During the Leap Jump, characters have unique animations.

Special Zoom's have now a special background to each character, reminiscent to their games, improving it aestheticaly.

Donkey Kong has Jungle Japes with bright sunset scenery as a background when using fully charged Giant Punch.
Captain Falcon has a bright burning phoenix as a background refering to his iconic Falcon Punch.
Jigglypuff, if she uses Rest, has a green background with sleeping bubbles and the letter Z scattered on screen looking a lot like the textures of the modern Pokémon games.
Chrom, using fully charged Flare Blade, has a blue background with horizontal bright flashes, reminiscent to Fire Emblem: Awakening's cover artwork.
Byleth, when using clean hit Amyr, has the Garegg Mach Monastery as a background with a red background hue and horizontal flashes.
TBA
Characters
These are the confirmed characters to come, obviously all the veterans. No newcomers are currently announced. Some characters from the previous series return as Echo Fighters whith different playstyles different from the original, like Link from Twilight Princess that plays very similar to Smash 4.
All characters that debuted in Smash 64, including the unlockables are the starter characters. All that proceeds of Melee until Ultimate (and Ultra) are unlockable. Newcomers can be unlocked like in its traditional way with a duel match. Putting the newcomers aside, the unlocking method of this game is very different compared to the previous titles. Since it's an arcade game, to unlock the veterans, you need to complete the modes above to gain awards. Those awards include Fighter Shards which the player must collect during their gameplay to unlock them as playable fighters. However, it is not simple as that; each Fighter Token has his own rarity.
Here are the rarity symbols and their meaning:
| | | |
| --- | --- | --- |
| | Starter Shard | Those shards are already ready to use if you start the game for the first time to unlock all the startable characters. However, you can unlock extra costumes (known as EX Costumes, so in this case, Starter EX Costumes, if you gain these shards by completing some modes. The EX Costumes are 50 shards worth. |
| | Common Shard | Common shards are easy winnable awards to unlock Common Fighters. The amount to unlock Common Fighters are 50 shards worth. If you already have those fighters, you can also unlock Common EX Costumes too. |
| | Rare Shard | These are also easy to collect but the amount of shards that you gain are not the sames as the Common ones, so it takes time to gain those. The amount to unlock Rare Fighters are 100 shards worth. If you already have those fighters, you can also unlock Rare EX Costumes too. |
| | Epic Shard | Those shards are difficult to have. It requires to beat certain modes without losing a game after losing all the Fighters' lives if you want to win big with these shards. If you continue, you gain lesser and lesser until you win.The amount to unlock Epic Fighters are 150 shards worth. If you already have those fighters, you can also unlock Epic EX Costumes too. |
| | Legendary Shard | Those shards are extremely difficult to gain since these are the rarest ones out of the bunch. It requires to beat certain modes without continuing on a Game Over on higher intensity. Only if you choose Intense Mode, you only gain 5 shard if you win but also only one in Very Hard. The amount to unlock Legendary Fighters are 200 shards worth. If you already have those fighters, you can also unlock Legendary EX Costumes too with those shards. |
Main changes
Not only there're aesthetical changes, but also there's enough information to get into the technical data for the majority of the veterans that get a major moveset overhaul.
The visuals and aesthetic are more vibrant and smoother instead of being "clay-like" looking.
As refered above, the majority of the characters have more than eight alternate costumes, now being known as EX Costumes that you need to unlock with their corresponding Fighter Shards.
Echo Fighters will have some differences in their moveset, similar to Ken.
It is confrmed that Mario will use Cappy as his side special, replacing his Cape. You can see Mario's moveset in his own page for more information.
Link from Twilight Princess plays similar to Smash 4 and also shares a majority of the moves and mechanics from Link from Breath of The Wild. Still, Link recycles his Brawl and Smash 4 voiceclips back.

Samus

' design is inspired from Metroid Samus Returns and Metroid Dread. (Her appearance may change if Metroid Prime 4 is announced)
Luigi uses now his Poltergust G-00 continuously, altering his moveset.
Shulk received significant aesthetic changes to his appearence, being inspired of an mix between Xenoblade Chronicles and Xenoblade Chronicles: Defenitive Edition. They also receive new costumes from their recent game from Xenoblade Chronicles: Future Connected.
Like it's representative in Fire Emblem Warriors and Heroes, the female version of Corrin now is the main representative character in this game instead of the male version.
Ridley appears as a playable character and a boss hazard in Pyrosphere only if the playable version is absent.
Changes from Ultra
Like in every character in Ultimate, all the characters have an overhaul in aesthetic and facial expressions being more expressive.
Chibi-Robo's game mechanic is different compared to the previous installement. It uses a stamina-like mechanic that uses as a battery, reminiscent to his games.
Impa's representative design is now inspired of young Impa from Hyrule Warriors: Age of Calamity instead of the old Hyrule Warriors one. She will also have a major overhaul for her moveset inspired from this game. As example of a major overhaul, her speed has significantly improved to be more nimble and agile than in Ultra, where she was normaly slow but powerful. However, in this game, her damage output has drastically weakened.

There will be also major changes graphical and sound effects reminiscent to her respective game.

Paper Mario still remains the same with the Paper Mario: Sticker Star appearance, but his hammer changes to the model of Paper Mario: Color Splash and Paper Mario: The Origami King.

Krystal

's appearance is now similar to Ultimate, inspired from Star Fox Adventures. She will also receive her latex-like costumes too from Star Fox Assault and Command.
Bomberman's main appearanace is now inspired from the mainline

Bomberman series

, instead of the Bomberman Generation design.

Baby Mario & Luigi

no longer represent the Yoshi series. Instead, they represent the Super Mario franshise.

Excitebike Rider

has changed appearance. He's more bulked and buffed resembling to be more humanoid instead of being cartoony.
Rhythm Heaven series symbol has changed.

Marshal

's animations alters appearance from the Rhythm Heaven games, similar to Mr. Game & Watch.

Marshal has now a dark thick outline around him to resemblance his games from Rhythm Heaven, while being fully three dimensional.

Fiora

,

Reyn

and

Melia

received significant aesthetic changes to their appearence, being inspired of an mix between Xenoblade Chronicles and Xenoblade Chronicles: Defenitive Edition. They also receive new costumes from their recent game from Xenoblade Chronicles: Future Connected.

Bubble Bobble

series symbol has changed.

Bub changed from appearance reminiscent to the newest game: Bubble Bobble 4 Friends.

Rayman

series symbol has changed.
Black Mage's appearance is now inspired from the modern aged Final Fantasy games, having clothes inspired of Vivi Ornitier, a character from FFIX.
Dr. Luigi now doesn't wear his green cap, comparing to Ultra, similar to Dr. Mario.

Also while Luigi has a new moveset, Dr. Luigi retains his older special moves.

Galacta Knight

's main appearance is now inspired from the Aero Hero in Light form Super Kirby Clash.

It also has an alternate outfit of Aero Hero in Dark form from the same game.

Dillon's appearance is now inspired of Dillon's Dead-Heat Breakers. He will also get his old model from Dillon's Rolling Western, similar to Ultra.

Sora

's model is now inspired of Kingdom Hearts III. He will also have his old outfits back from Kingdom Hearts and Kingdom Hearts II.
Confirmed Roster
There are a total of 124 characters confirmed to be playable in this game, also from Ultra Smash Bros. IV included. After the Kazuya presentation, a newcomer as been announced and it will be revealed after the last downloadable character in Ultimate.
The Mii's are unlockable, but they are not affected by the unlockable system. Players must play one of the modes as the way to unlock them. The customization menu will also be unlocked alongside with the Mii's.
Medusa is a Ultra character and is the only Echo Fighter that is a veteran, but falls under the terms of an Echo Fighter of Palutena. So, it is not wrong to place on the list near her counterpart.
Veterans (124)

Table of contents

Rank shards

Starter Characters

Common Characters

Rare Characters

Epic Characters

Legendary Characters

Amount of characters
12 (+ 3 Miis)
13
21
45
27

Starters

Mario
Donkey Kong
Link (BotW)

Samus

Yoshi
Kirby
Fox
Pikachu
Luigi
Ness
Captain Falcon
Jigglypuff

Unlockables

Link (TP) (ε)
Dark Samus (ε)
Peach
Daisy (ε)
Bowser
Ice Climbers

Common

Common

Rare

Rare

Epic

Common

Sheik
Zelda
Dr. Mario
Pichu
Falco
Marth

Epic

Legendary

Rare

Common

Rare

Epic

Lucina (ε)
Young Link
Ganondorf
Mewtwo
Roy
Chrom (ε)

Rare

Rare

Epic

Legendary

Epic

Rare

Mr. Game & Watch
Meta Knight
Pit
Dark Pit (ε)
Zero Suit Samus
Wario

Rare

Epic

Common

Rare

Epic

Epic

Snake
Ike
Pokémon Trainer
Diddy Kong
Lucas
Sonic

Legendary

Epic

Epic

Epic

Rare

Epic

King Dedede
Olimar
Lucario
R.O.B.
Toon Link
Wolf

Rare

Common

Legendary

Rare

Epic

Epic

Villager
Mega Man
Wii Fit Trainer
Rosalina & Luma
Little Mac
Greninja

Common

Legendary

Rare

Legendary

Common

Epic

Palutena
Medusa (ε)*
Pac-Man
Robin
Shulk
Bowser Jr.

Legendary

Legendary

Epic

Epic

Epic

Common

Duck Hunt
Ryu
Ken (ε)
Cloud
Corrin
Bayonetta

Rare

Epic

Epic

Legendary

Epic

Legendary

Inkling
Ridley
Simon
Richter (ε)
King K. Rool
Isabelle

Rare

Epic

Epic

Epic

Epic

Rare

Incineroar
Piranha Plant
Joker
Hero
Banjo & Kazooie
Terry

Epic

Common

Legendary

Legendary

Epic

Epic

Byleth
Min Min
Steve
Sephiroth
Pyra & Mythra
Kazuya

Legendary

Legendary

Legendary

Legendary

Legendary

Legendary

???

Mii Brawler

Mii Swordfighter

Mii Gunner

Starter

*

Starter

*

Starter

*

Ultra characters

Chibi-Robo
Captain Toad
Nabbit
Impa

Ghirahim

Paper Mario

Common

Common

Rare

Epic

Legendary

Epic

Dixie Kong
Bandana Waddle Dee
Sceptile

Krystal

Fiora

Reyn

Epic

Rare

Epic

Legendary

Epic

Rare

TBA
TBA
TBA

Melia

Sylux

King Hippo

Excitebike Rider

Classic Pit

Marshal

Legendary

Epic

Rare

Legendary

Epic

Legendary

TBA
Bomberman
Bub
Rayman

Genesect

Waluigi
Isaac

Epic

Epic

Epic

Legendary

Rare

Epic

TBA
Black Mage

Baby Mario Bros.

Dr. Luigi

Toon Zelda

Galacta Knight

Wonder Red

Epic

Rare

Rare

Legendary

Legendary

Epic

Dillon

Sora

Shantae

Shovel Knight

Rare

Legendary

Epic

Legendary

Newcomers (1/??)
Assist Trophies
Assist Trophies return with some of already confirmed aesthetic changes.
The Nintendogs animals all appear in this game, including a new kitten from Nintendogs + Cats.
Starly now shares the same properties as Starfy.
Klaptraps can now come in purple color too.
Knuckles now can throw rocks, similar to Sonic Battle.
Vince and Nikki has now more objects to draw.
The Space Invaders are now 8-bit instead of being 3D models.
Note: Some of the returning Assist Trophies could be confirmed to be a fighter in the future.
Returning

Hammer Bros.
Lakitu & Spinies
Tingle
Metroid
Knuckle Joe
Andross
Jeff

Samurai Goroh
Lyn
Grey Fox
Shadow
Excitebikes
Devil
Jill

Ray MK III
Barbara
Helirin
Infantry & Tanks
Nintendogs & Cat

Dr. Wright
Saki Amamiya
Kat & Ana
Starfy / Starly
Chain Chomp
Skull Kid
Midna

Mother Brain
Nightmare
Starman
Magnus
Phosphora
Ashley
Elec Man

Ghosts
Riki
Dr. Kawashima
Color-TV Game 15
Prince of Sablé
Takamaru
Sheriff

Thwomp
Flies & Hand
Klaptrap
Moon
Chef Kawasaki
Black Knight
Tiki

Knuckles
Burrowing Snageret
Kapp'n
Wily Capsule
Zero
Guile
Rodin

Squid Sisters
Alucard
Vince
Sukapon
Arcade Bunny
Nikki
Yuri Kazukato

Rathalos
Akira
Spike
Space Invaders

New

???
???
???
???
???
???
???
Poké Balls
There are 77 confirmed Pokémon that come out in Poké Balls, which are the returning ones. The new ones are yet to come. There also some changes to some moves on certain Pokémon. Mythical Pokémon such as Arceus and Darkrai have a low chance of appearing in Poké Balls, while the Legendaries appear in Master Balls. Also, the new written moves are underlined while the Mythical Pokémon are written with a (*) symbol:
While there are some changes in moves, some of them have aesthetical changes:
Mew, Celebi and Jirachi use Fly all the same. While they don't do particularly nothing, they are rare Pokémon that have almost never the chance of appearing unlike other Mythical Pokémon. The only difference is that Moltres can also use Fly, but it sends the opponents significantly upwards when hit by the Pokémon.
Latios & Latias are the only ones that appear in a normal Pokéball, instead of a Master Ball for an unknown reason.
Goldeen still has a very low chance of appearing on a Master Ball.
Bosses
TBA
Stages
It is also confirmed that all the stages from the previous series will return to Arcade Smash Bros.. The stage selection screen, is not available anymore due to having a random stage selection after all the players are ready to battle. However, it differs from layout depending on the mode that it's playing.
Stage Changes
All three variant forms of Battefield are inspired by one of the concept arts of Ultimate. Big Battlefield is now only choosable in 8-Player Smash and has the same layout and visuals as the normal one.
Final Destination remains the same from Ultimate but is a lot more vibrant (including the background scenery) and has neon light colors around the stage.
Fixed a bug or an exploit with travelling stages when players get instantly Star KO'ed when a travelling platform has stopped on a section during Sudden Deaths. Now they never stop travelling until the remaining opponent gets KO'ed[1].
Super Smash Bros. (64)
Planet Zebes and Sector Z have been added to this game, receiving the same aesthetical changes from Ultimate.
Meta Crystal is now brand-newly added to this game for the first time as a stage instead of a single-player stage. It also receives the same aesthetical changes from Ultimate. It is now part of the Super Mario franchise, being reminiscent to Super Mario 64's Hazy Maze Cave level.
Super Smash Bros. Melee
Mushroom Kingdom, Mute City and Poké Floats are now added to the game with overall aesthetic changes.
Mushroom Kingdom, now named as Lost Mushroom Kingdom, recieves the same treatment of Mushroom Kingdom 64, adding correct textures of the original Super Mario Bros, especially from Lost Levels.
Mushroom Kingdom II has fixed textures and more consistent colors[2].
Mute City's layout is inspired from a mix between F-Zero X, F-Zero GX and the vibrant look of Mario Kart 8 Deluxe.
Poké Floats, now named has Poké Floats GO, has now significant balancing changes and has a more vibrant look, reminiscent to the mobile game, Pokémon GO, where giant Pokémon balloons appear everywhere designed like in Pokémon GO. New Pokémon from newer generations appear too such as Hoppip, Trumbeak,

Darmanitan

and more.
Super Smash Bros. Brawl
Mushroomy Kingdom has now its 1-2 section restored from Brawl, having the same treatment from Ultimate and being less chaotic for balancing and gameplay purposes.
Super Smash Bros. for Wii U/3DS
Jungle Hijinxs returns with updated aesthetic changes. The mechanics from Smash 4 are also added to the stage including some balancing tweaks.
Pyrosphere returns with updated aesthetic changes and the stage size is slightly smaller. Ridley returns as a boss hazard with the same appearence of Metroid: Other M. However, when playable Ridley is on this stage, the boss hazard is absent for the whole match and only the stage minions appear.
Orbital Gate Assault returns with updated aesthetic changes and significant balancing changes.
Pac-Maze returns with few changes. The stage is now playable with the same mechanics of Balloon Fight and Mario Bros. Players can walk off to the blastzones to be warped to the other side of the stage. However, when the player is being launched, the blastzones are active and receives a KO.
Super Smash Bros. Ultimate
Mementos now has two new stage textures based on older Persona series as the first Persona game, being purple themed, and Persona 2, being a redish orange and yellow theme, when they play their songs from their representative series.
Ultra Smash Bros. IV
Chosen stages from Ultra return with updated aesthetic changes and overall significant balancing changes.
Underworld / Skyworld have now updated looks and fresh background instead of being a solid black background, inspired and derived from 3D Classics: Kid Icarus for the Nintendo 3DS.
Prison Island's cameo characters have now aethetical changes to reminisize their appearence from Xenoblade Chronicles: Definitive Edition. There are other cameos from Xenoblade Chronicles: Future Connected added too.
Waluigi Pinball shares inspired aesthetics as in the textures of Mario Kart Tour with an updated and vibrant look.
Bubble Bobble has now added new level sections to be playable.
TETRIS has now a overall futuristic layout instead of being retro.
Confirmed Stages
Returning (141)

Battlefield
Big Battlefield
Small Battlefield

Final Destination

Peach's Castle

Kongo Jungle

Hyrule Castle

Planet Zebes

Yoshi's Island

Dreamland

Sector Z

Saffron City

Mushroom Kingdom

Meta Crystal

Princess Peach's Castle

Rainbow Cruise

Lost Mushroom Kingdom

Kongo Jungle

Jungle Japes

Great Bay

Temple

Brinstar

Yoshi's Island

Yoshi's Story

Fountain of Dreams

Green Greens

Corneria

Venom

Pokémon Stadium

Mute City

Onett

Mushroom Kingdom II

Brinstar Depths

Poké Floats GO

Big Blue

Fourside

Delfino Plaza

Mushroomy Kingdom

Mario Circuit

WarioWare Inc.

Bridge of Eldin

Norfair

Frigate Orpheon

Yoshi's Island

Halberd

Lylat Cruise

Pokémon Stadium 2

Port Town Aero Dive

Castle Siege

Distant Planet

Smashville

New Pork City

Spear Pillar

Mario Bros.

Hanenbow

Green Hill Zone

Summit

Skyworld

Shadow Moses Island

Luigi's Mansion

Pirate Ship

3D Land

Golden Plains

Gerudo Valley

Spirit Train

Dreamland

Unova Pokémon League

Prism Tower

Mute City

Magicant

Arena Ferox

Reset Bomb Forest

Tortimer Island

Balloon Fight

Living Room

Find Mii

Tomodachi Life

Pictochat

Pac-Maze

Mushroom Kingdom U

Mario Galaxy

Mario Circuit

Jungle Hijinxs

Skyloft

Pyrosphere

The Great Cave Offensive

Orbital Gate Assault

Kalos Pokémon League

Coliseum

Flat Zone X

Palutena's Temple

Gamer

Garden of Hope

Town & City

Wii Fit Studio

Wrecking Crew

Pilotwings

Wuhu Island

Windy Hill Zone

Pac-Land

Boxing Ring

Gaur Plain

Duck Hunt

Wily Castle

Suzaku Castle

Midgar

Umbra Clock Tower

Great Plateau Tower

Moray Towers

Dracula's Castle

Mementos

Yggdrasil's Altar

Spiral Mountain

King of Fighters Stadium

Garreg Mach Monastery

Spring Stadium

Minecraft World

Northern Cave

Cloud Sea of Alrest

Mishima Dojo

DLC6

3D World

Rainbow Road Generations

Lost Mangrove

Gangplank Galleon

Beanstalk Walk

Valley of Sears

Underworld / Skyworld

Blue Sky Palace

Gyromite

Venus Lighthouse

Formidable Oak

Living Room

Prison Island

Pac-Maze CE

Bomb Factory

Chaos Shrine

Bubble Bobble

Waluigi Pinball

Nintendo Land

Excitebike Arena

The Mysterious Murasame Castle

TETRIS

Blossom City

Scrogs Gun Tower Defense

The World That Never Was

Scuttle Town

Plains of Passage

New

???
???
???
???
Developement
Master & Crazy Orders makes now part of the Campaign Mode.
There will be more than eight alternate costumes for every character, which they will be unlockable and known as EX Costumes.

Some of the older costumes from the previous games that were being cut will now return.

The movement and gameplay will still remain from Ultimate with a few balancing tweaks.
There will be more Assist Trophies and Pokéballs.
Some mechanics like the combo power raiser from Ultra will be removed for balancing purposes. However, the combo counter will still return for scoring and Final Smash Meter purposes.
The graphics and aesthetics will be more detailed and vivant comparing to Ultimate for being less "clay-like". The UI and menu themes will change too.
Media
See the whole soundtrack of the game here: Arcade Smash Bros./Soundtrack
Trivia
Mii Wizard and Mii Sports Trainer, from Ultra, are the only Mii Fighter classes that are excluded in this game.

This makes the third Super Smash Bros. installement that excludes veterans from previous games, excluding Ultimate.

Icicle Mountain, Rumble Falls, 75 m, 3DS Rainbow Road, Paper Mario and Super Mario Maker are stage that are exluded in this game due to balancing issues and already removing unnecessary duplicates.

Aside from the canon universe, in the fanon Ultra universe, the removed stages are Comet Observatory, Woolly World 2, Oubliette, Royal Road, Wish Park, Realgam Colosseum, Death Desert, Sand Ocean, Weyard, Desert of Dirijidoos, Wii Play and Endless Ocean.

It's the second time that the battle portrait of Jigglypuff is being slightly rotated since Brawl.
This makes the second Smash game that it follows the same "Everyone is here!" principle, added with extra Ultra characters and future newcomers, being the biggest fighter roster up to date.

The statement above also counts to the stages, except for those that are cut from the game.
Gallery
Logo's & Boxarts
Character Artworks
Sprites & UI
Screenshots
Damage Meters
Credits
Final Destination: AnimeAbsol
Chaos Shrine: demonslayerx8