"Check it out! We've identified this sea anemone gal as the clerk who works at the headgear shop. We hear that she's pretty shy and mostly keeps to herself, which sort of makes you wonder why she'd even want a job in the service industry. Oh, and see that little fish dude hanging out in her hair? He apparently talks tough but never does anything on his own. Maybe these two actually have a lot in common?"


— Splatoon Official tumblr
Annie and Moe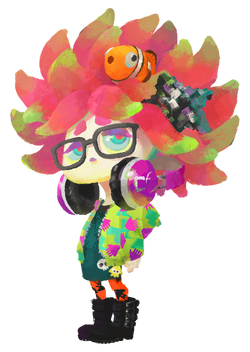 Annie's basic appearance, with Moe in her hair
GENERAL INFO

GENDER
Female (Annie)
Male (Moe)
SPECIES
Sea Anemone (Annie)
Clownfish (Moe)
AGE
Young adult (Annie)
Unknown (Moe)
BIRTHPLACE
Inkopolis
MISCELLANEOUS INFO

CANON APPEARANCES

Splatoon (2015)
Annie[1] is a Sea Anemone character from Splatoon. She acts as one of the shopkeepers in the game, selling headgear to the Inklings. The fish that sits in her hair is named Moe[1].
Likes and Dislikes
Annie
Likes
Working as a clerk for Cooler Heads
Dislikes
Moe's rude criticism about the costumers
TBA
Moe
Likes
Living in Annie's hair
Making fun of the costumers
Dislikes
Appearances
Fanon
Others games
Annie and Moe appear as World 5's shopkeeper, selling head gear just like they did in Splatoon but instead of hats, it's powerups that go over the head like Light Boxes, Cannon Boxes, Goomba Masks, and Propeller Boxes.
Animation adapations
Annie and Moe appear as two of supporting characters in the 20th Century Fox's full-length animated feature. Annie's voiced by Anne Hathaway and Moe's voiced by Tom Kenny.
Gallery
Names in Other Languages
Annie
Language
Name
Meaning
Japanese
アネモ
Anemo
From アネモネ anemone.
Spanish
Némona
From anémona.
French
Anne
Actual name, resembling part of anémone.
German
Anne-Mona
Combination of the names Anne and Mona, resembling Anemone.
Italian
Anemonica
From anemone and Monica.
Moe
Language
Name
Meaning
Japanese
クマノ
Kumano
From クマノミ kumanomi (anemone fish).
Spanish
Omar
References
Community content is available under
CC-BY-SA
unless otherwise noted.