The character Anna did not originate from fanon, and the information on this page may not be entirely accurate to their canon. You may read more about this subject in the context of their canon on the following wiki(s):
This article refers to the Fire Emblem character. For other uses, see Anna (disambiguation).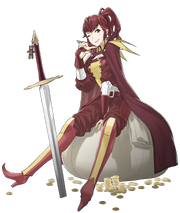 Anna is a recurring character in the Fire Emblem series; she features in every Fire Emblem game except for the second instalment in the Fire Emblem series, Fire Emblem Gaiden. She appears as a red haired female and is rarely seen without her trademark pose (of her resting her pointer finger on her face) or her sly smile. She appears a lot when the character enters a secret shop.
Fanon Appearances
There are two different Annas in this game.
The first Anna serves as the only shopkeeper in the game.
The second Anna can be unlocked as a playable unit in Xenologue 24, which can be unlocked with a DLC pack or with an Amiibo. Her default class is the Mage class, while her alternative class is the Archer class.
Gallery
Community content is available under
CC-BY-SA
unless otherwise noted.