Anna is not from Fantendo. However, this article may include related fan ideas.

These external sources may have official, more accurate information:

This character's article is free to edit. Please follow the article standards and respect good-faith contributions.
This article refers to the Fire Emblem character. For other uses, see Anna (disambiguation).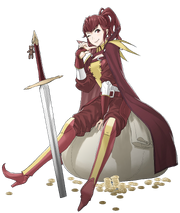 Anna is a recurring character in the Fire Emblem series; she features in every Fire Emblem game except for the second instalment in the Fire Emblem series, Fire Emblem Gaiden. She appears as a red haired female and is rarely seen without her trademark pose (of her resting her pointer finger on her face) or her sly smile. She appears a lot when the character enters a secret shop.
Fanon Appearances
There are two different Annas in this game.
The first Anna serves as the only shopkeeper in the game.
The second Anna can be unlocked as a playable unit in Xenologue 24, which can be unlocked with a DLC pack or with an Amiibo. Her default class is the Mage class, while her alternative class is the Archer class.
Gallery