Ankha did not originate from fanon. This article can be edited freely by everyone in the community.

Despite covering an existing subject, this article may include related Fantendo content. These external sources may have more official information:
Ankha
ナイル (Nile)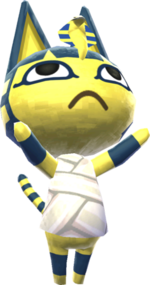 Ankha's appearance in New Leaf
GENERAL INFO

NICKNAME(S)

Ankha

GENDER

♀

Female
SPECIES
Cat
BIRTHDAY
September 22nd
ZODIAC
Vigro
PERSONAL INFO

LIKES

Writing about pickles, astronauts, historical clothing

DISLIKES

Monsters, rock n' roll clothing, apples
MISCELLANEOUS INFO

SERIES
Animal Crossing
CANON APPEARANCES

Animal Crossing
Animal Crossing: New Horizons
Ankha is a snooty cat villager who made her first main appearance in the original Animal Crossing and has appeared in every single game after except Animal Crossing: Wild World and Animal Crossing: Pocket Camp. Her name is based on the ankh, which is the Egyptian hieroglyphic character that reads "life." Since her debut, Ankha has become extremely popular in the Animal Crossing fandom.
Description
Ankha is a navy blue and gold striped cat with navy blue eyeliner stylized after Egypyian royalty. She also has orange shadow that is seen when she blinks. Her moth is constantly curved into a scowl, even when she is happy. Her headgear was formerly worn by Queen Cleopatra, the Hellenistic ruler of Egypt. In City Folk, she lacked the normal headdress, instead going for a head pendent. This was changed back to the original design in New Leaf. She wears egyptian themed clothing in her appearances.
Personality
"All that glitters is not gold."


— Ankha's description, Animal Crossing New Leaf
Ankha is a snooty villager, often coming off as arrogant and snobbish towards the player and other villagers. She has her nice moments if her lifestyle is not insulted. She finds appearance important and will get angry about criticism towards it. She will gradually warm up to the player over time. She does not like lazy villagers and upsets peppy villagers by gossiping about them. She gets along well with cranky, normal, and snooty villagers.
Her catchphrase relates to her snooty personality, which is an arrogant combinaton of "me" and "meow". Her Japanese catchphrase, Kufufu, is a combination of the pharaoh Khufu and ufufu, the Japanese onomatopoeia for laughter.
Appearances
Canon Appearances
Animal Crossing
Animal Crossing: City Folk
Animal Crossing: New Leaf
Animal Crossing: New Horizons
Fan Game Appearances
Ankha appears in Nintendo All-Stars Chess as a special Hero Piece that moves like a Knight piece while moving in the enemy faction's direction, but can move like a Queen piece when going back to her allied faction's direction.
amiibo
| | | |
| --- | --- | --- |
| | An amiibo card of Ankha exists! For more info about this amiibo, see this page. | |
Gallery
Community content is available under
CC-BY-SA
unless otherwise noted.