This article was made by Vonn Karma (t∣b∣c)
It is currently
I would really appreciate it if you didn't edit or ruin the page since I put a lot of work into making this. If I have given you permission or you are fixing typos then go ahead, although try to use source mode since some of my tables break in VisualEditor. Otherwise, please enjoy the article and any comments would be much appreciated.
Developer(s)
Amuza
Publisher(s)
Nintendo
Platform(s)
Genre(s)
Life Simulator
Series
Animal Crossing (series)
Predecessor
Animal Crossing: amiibo Festival
Release Date(s)
September 23, 2018
September 30, 2018
September 30, 2018
September 30, 2018

Mode(s)
Single-Player
Online Multiplayer
Age Rating(s)
Media Included
Switch Cartridge
Digital Download

Animal Crossing: Fresh Air (動物の交差点:ホットスポット Dōbutsu no kōsaten: Hotto supotto in Japan), is a life simulation game for the Nintendo Switch that was released in September, 2018. It was developed by Amuza.
Like usual Animal Crossing games, the player experiences life in a town with animal residents. There were many new features introduced into the game, including the ocean, the gem collectable, and villager traits. It is the fifth installment in the mainline Animal Crossing series.
Nintendo eShop Description
Your favourite animals are back in town! It's time for you to move out of home and into a new village where every day is a new experience. How about you set sail on the ocean and reunite the lost gyroid families? Maybe you'll spend your time mining in the caves, then go on to spend your hard earned bells on a cruise ship vacation? Don't forget to talk to your fellow animal villagers, and along the way you can become their best friend, or their worst enemy. Once you've finished up in town for the day, head online and play games with your friends! The possibilities are endless!
Gameplay
Animal Crossing: Fresh Air is a life simulation game that follows in the same vein as previous installments in the series.
The player starts out as a human moving into a new town that is populated with anthropomorphic animals. Gameplay is open-ended, meaning that the player is given no defined objectives or goals to work towards, and instead are encouraged to spend time in their town and perform any activity that they wish to partake in. This may include collecting items, landscaping and decorating, or socialising with the animal villagers. The game plays out in real-time through the use of the Nintendo Switch's internal clock and calendar, meaning that the game world time will correlate to the real world time. This means real world events will occur in the game on the same day as they do in the real world.
Upon arriving in town, the player has no money and so they mortgage a block of land and a tent from the local real estate agent, Tom Nook. Paying off the player's mortgage will gradually upgrade their tent into a house, which can be later expanded upon. Inside the player's house, they can decorate it with furniture that can be bought from stores or collected around town.
The town is populated by anthropomorphic animals. Through interacting with them, the player can learn more about their fellow villagers and become friends or enemies with them. 
Another main feature of the gameplay is collecting. The player can collect fruit, fish, insects, paintings, sculptures, fossils, furniture, clothing, gems, and other items. All these items can be placed within the player's home to show off. Collected items can also be donated to the Museum, where they are displayed inside exhibitions. 
The player can also customise their town through landscaping and building Public Works Projects. Whilst landscaping, the player can grow trees, plant flowers, place rocks and dig rivers or ponds. Public Works Projects are structures that can be placed within town and interacted with to add character to the player's town. Some Public Works Projects include the Park Bench, Swing Set, Butterfly Dome, and the Mystic Fountain.
There are also a number of online functionalities in the game. A town can host up to 4 player characters, and for the first time in the series history, more than one character can be controlled at a single time by having another player use the second JoyCon. Through the use of Nintendo Wi-Fi Connection, the player can visit the towns of other players. There are also a number of games that can be played online with other players, such as Board Game Festival, Desert Island Escape, and the Spot Speed Stadium.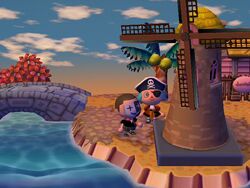 Controls
| | | |
| --- | --- | --- |
| | A Button | Interact |
| | B Button | Use Tool |
| | X Button | Open Camera |
| | Y Button | Pick Up Item |
| | L Button | Run |
| | R Button | Sneak |
| | ZL Button | Sprint |
| | ZR Button | Crawl |
| | Up Button | View Sky |
| | Left Button | Switch Tool |
| | Right Button | Switch Tool |
| | Down Button | Lie Down |
| | Left Control Stick | Move |
| | Right Control Stick | Adjust Camera |
| | Plus Button | Open Leaflet |
| | Minus Button | Save & Quit |
| | Home Button | Open Home Menu |
Opening

Fresh Air begins like most other Animal Crossing games, in which the player is asked a couple of questions to determine their character and town.
The player wakes up from a nap on Kapp'n's Tugboat, and see Kapp'n commanding the ship. The player has spilt chocolate all over their face, and Kapp'n will hand you a mirror to clean the chocolate. This will open a menu where gender and facial features can be chosen after the chocolate has been cleaned off.
After this, Kapp'n realises he has been rude and will ask for your name. He also asks the player why they have decided to move to a new town, and the player's answer will determine the biome of the town. Following this, Kapp'n will pull out a map for the town they are approaching, telling you that the tugboat is headed here. The player can accept the town map or reject it, and Kapp'n will turn the boat around until a town map is chosen.
Kapp'n will accidentally shipwreck when arriving in town, and his tugboat will be destroyed. After this, the player is free to wander around town.
Town Features
Ocean
One of Fresh Air's biggest new mechanics was the ability to sail across the ocean. It can be accessed by rebuilding Kapp'n's Tugboat. Once the player makes enough donations to rebuild Kapp'n's Tugboat, Kapp'n will let the player sail to any part of the sea.
Whilst setting sail, the player takes control of the boat and can determine the path it takes across the sea. Once the player finds a spot and wants to remain still, they can step away from the engine to walk around the tugboat and fish off the boat. The player can buy a telescope from the Nooklings, which can be used to view things out in the distance. Kapp'n will also make some passing comments about the ocean, and hum little tunes to himself throughout the voyage. The Tugboat will only have a limited amount of fuel, and once the fuel meter runs too low, Kapp'n will retake control of the ship and take you back to the village. Fuel will be automatically refilled every 24hrs, or fuel can be purchased from the Nooklings.
There are a number of things that can be seen whilst out sailing. The most common is finding other villagers fishing inside small rowboats. Bringing Kapp'n's Tugboat close to the rowboat will allow the player to board the rowboat and interact with the villager. As well as this, waves and rock formations can be found on the sea. Hitting a rock formation will anger Kapp'n and he will immediately take control of the tugboat and take it back to shore. The player can also find sea creatures jumping out of the water, which indicates that the area is great for fishing. Sea creatures that jump out of the water can also be caught with the net.
Sometimes, sea creatures like dolphins or whales will swim alongside and jump around the boat. In extremely rare cases, a golden whale will appear in the distance. If the player hits the whale with their slingshot, the whale will come and talk to the player, and give them a large sum of bells.
Lastly, the main function of travelling across the ocean is to discover islands. Gyroids inhabit each island in the game, and each gyroid family has its own island to represent themselves. The first time the player visits a gyroid island, the island will be completed, meaning the entire gyroid family will be present and the island's facility is built. After leaving the island, a large storm will occur that sends the player and Kapp'n hurtling back to the village. The next time the player arrives at a gyroid island, it will be completely destroyed and only one gyroid will remain on the island. Talking to the gyroid will reveal that the storm ruined the island facility and all the gyroids were swept away by the sea. The player is then tasked with rebuilding each gyroid island, which can be done by finding all the missing gyroids of a family. Gyroids can be found floating on the ocean water, through fishing on the sea, or buried in the player's town. Collected gyroids can be stored in the Tugboat. Once all gyroid families have been reunited, the player will be able to discover Tortimer Island. On Tortimer Island, the player can finally meet Tortimer, who says he has been stranded on the island for a very long time. There is a large cavern which unlocks the Island Saviour's Outfit. This is a special outfit that honors your work in saving the gyroids. There are also two caves that can be walked through to unlock new modes. One mode is the Population: Growing! Mode, which alters everything in the game to appear as if it was in Animal Crossing: Population: Growing! The other mode is Ye Olde mode, which adds a sepia tone and causes the town and islands to appear is if it was from generations ago. Animals will also talk in Ye Olde Animalese.
There are 39 islands to discover in the ocean. Each island represents a gyroid family, and has a special shape, an area for each member of the gyroid family, and its own facility. There is one extra island, Tortimer Island, where Tortimer resides.
Island
Gyroids
Island Shape
Facility
Alloid Island
Alloid
Mini Alloid
Drum Set
Cabana Stage
Mega Alloid
Tall Alloid
Short Alloid
Fat Alloid
Bovoid Island
Bovoid
Tall Bovoid
Cow Tail
The Laughing Milk Cafe
Mega Bovoid
Fat Bovoid
Spotty Bovoid
Tipped Bovoid
Bowtoid Island
Bowtoid
Saxophone Bowtoid
Saxophone
The Yellow Tie Club
Trombone Bowtoid
Trumpet Bowtoid
Drum Bowtoid
Piano Bowtoid
Buzzoid Island
Buzzoid
Tall Buzzoid
Bee's Nest
Bee Sanctuary
Mini Buzzoid
Mega Buzzoid
Hollow Buzzoid
Round Buzzoid
Clankoid Island
Clankoid
Empty Clankoid
Trash Can
Trash Conversion Centre
Full Clankoid
Mini Clankoid
Mega Clankoid
Broken Clankoid
Croakoid Island
Croakoid
Tall Croakoid
Frog Head
Frog Pond
Mini Croakoid
Mega Croakoid
Happy Croakoid
Sad Croakoid
Dekkoid Island
Dekkoid
Mini Dekkoid
Big Square
Lighthouse
Little Dekkoid
Small Dekkoid
Big Dekkoid
Mega Dekkoid
Dingloid Island
Dingloid
Tall Dingloid
Bell
Bell Tower
Squat Dingloid
Mini Dingloid
Wee Dingloid
Mega Dingloid
Dinkoid Island
Dinkoid
Mini Dinkoid
Brain
Message In A Bottle Collection
Mega Dinkoid
Flying Dinkoid
Hollow Dinkoid
Vanish Dinkoid
Drilloid Island
Drilloid
Mini Drilloid
Jackhammer
Mini Mine
Mega Drilloid
Broken Drilloid
Twirling Drilloid
Bouncing Drilloid
Droploid Island
Droploid
Tall Droploid
Water Droplet
Weather Machine
Howling Droploid
Quiet Droploid
Dented Droploid
Wet Droploid
Echoid Island
Echoid
Tall Echoid
Oval
Ladder to the Sky
Mini Echoid
Mega Echoid
Hollow Echoid
Full Echoid
Fizzoid Island
Fizzoid
Mini Fizzoid
Lightning
Crater
Mega Fizzoid
Round Fizzoid
Square Fizzoid
Long Fizzoid
Freakoid Island
Freakoid
Angry Freakoid
Pacifier
The Stork's Nest
Sad Freakoid
Hungry Freakoid
Lonely Freakoid
Forgotten Freakoid
Gargloid Island
Gargloid
Mini Gargloid
Glass of Water
Cannonball Waterfall
Fat Gargloid
Tall Gargloid
Broken Gargloid
Long Gargloid
Gongoid Island
Gongoid
Tall Gongoid
Gong
Pagoda
Mini Gongoid
Mega Gongoid
Wee Gongoid
Squat Gongoid
Harmonoid Island
Harmonoid
Tall Harmonoid
Circus Tent
Big Top
Wide Harmonoid
Mega Harmonoid
Square Harmonoid
Loud Harmonoid
Howloid Island
Howloid
Mega Howloid
Circle
Midnight Forest
Mini Howloid
Wolf Howloid
Ancient Howloid
Modern Howloid
Lamentoid Island
Lamentoid
Tall Lamentoid
Tiki Mask
The Ten Huts
Mega Lamentoid
Mini Lamentoid
Open Lamentoid
Close Lamentoid
Lullaboid Island
Lullaboid
Mega Lullaboid
Harp
Lullaby Palace
Mini Lullaboid
Tall Lullaboid
Stringed Lullaboid
Holed Lullaboid
Metatoid Island
Metatoid
Mini Metatoid
Wind Chime
Broken Boardwalk
Tiny Metatoid
Small Metatoid
Open Metatoid
Closed Metatoid
Nebuloid Island
Nebuloid
Tall Nebuloid
Asteroid Belt
Planetarium
Mini Nebuloid
Mega Nebuloid
Slim Nebuloid
Squat Nebuloid
Oboid Island
Oboid
Captain Oboid
Skull and Bones
Pirate Ship
First Mate Oboid
Navigator Oboid
Crewmate Oboid
Cabin Boy Oboid
Oombloid Island
Oombloid
Tall Oombloid
Flame Campfire
Cabana Stage
Mini Oombloid
Mega Oombloid
Slim Oombloid
Round Oombloid
Percoloid Island
Percoloid
Squat Percoloid
Tree
Nintendo Treehouse
Slim Percoloid
Hollow Percoloid
Old Percoloid
Overgrown Percoloid
Plinkoid Island
Plinkoid
Mini Plinkoid
Jingle Bells
Season Machine
Mega Plinkoid
Tiny Plinkoid
Round Plinkoid
Rainbow Plinkoid
Poltergoid Island
Poltergoid
Mega Poltergoid
Ghost
Wisp's Manor
Mini Poltergoid
Tall Poltergoid
Flying Poltergoid
Hollow Poltergoid
Puffoid Island
Puffoid
Mini Puffoid
House
Gyroid's Home
Tall Puffoid
Mega Puffoid
Brute Puffoid
Ruster Puffoid
Quazoid Island
Quazoid
Tall Quazoid
UFO
Tower from the Future
Mini Quazoid
Mega Quazoid
Slim Quazoid
Squat Quazoid
Rustoid Island
Rustoid
Mini Rustoid
Cog
Gyroid Manufacturing Centre
Mega Rustoid
Holed Rustoid
Broken Rustoid
Flipped Rustoid
Rhythmoid Island
Rhythmoid
Mini Rhythmoid
Music Note
Morning Melodies
Mega Rhythmoid
Leader Rhythmoid
Wide Rhythmoid
Long Rhythmoid
Sproid Island
Sproid
Tall Sproid
Two Broken Islands
Hot Spring
Mini Sproid
Mega Sproid
Moving Sproid
Forgotten Sproid
Sputnoid Island
Sputnoid
Circular Sputnoid
Rocket
Shooting Star Voyager
Long Sputnoid
Station Sputnoid
Broken Sputnoid
Wee Sputnoid
Squelchoid Island
Squelchoid
Mini Squelchoid
Boot
Shoe Shack
Mega Squelchoid
Faceless Squelchoid
Wet Squelchoid
Stunning Squelchoid
Strumboid Island
Strumboid
Tall Strumboid
Electric Guitar
Record Store
Mini Strumboid
Mega Strumboid
Acoustic Strumboid
Electric Strumboid
Timpanoid Island
Timpanoid
Tall Timpanoid
Timpani Drum
Midnight Melodies
Mini Timpanoid
Round Timpanoid
Wee Timpanoid
Squat Timpanoid
Tootoid Island
Tootoid
Mini Tootoid
Cloud
The Big Lump Comedy Club
Mega Tootoid
Flying Tootoid
Broken Tootoid
Forgotten Tootoid
Warbloid Island
Warbloid
Tall Warbloid
Lips
Ciao Bella Boutique
Mini Warbloid
Mega Warbloid
Lanky Warbloid
Flipping Warbloid
Tortimer Island
N/A
Turtle
Island Saviour Caves
Collectables
Main article: Animal Crossing: Fresh Air/List of Collectables
There are 84 collectible bugs and 84 fish, raising from the 72 in Animal Crossing: New Leaf. The game also introduced ten new fossils and a new collectable in the form of gems.
The process of collecting bugs, fish, and fossils was overhauled in Fresh Air to be more interactive and intuitive, as this process has remained very similar since its beginning. Each collectable type was given its own store, where items can be purchased to affect the process. Inside these stores, villagers will talk about their experience of collecting, judge your own collections, and create a rivalry between who has the better collection.
Fishing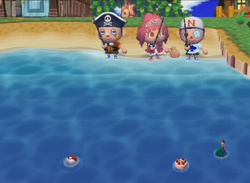 Fishers Chippings is a store run by Chip that enhances the fishing experience. Giving fish to Chip will reward the player with Fish Points that can be used towards purchasing new Bobbers for the fishing rod.
The store sells bait that can attract certain types of fish, raising the chances of catching that specific kind of fish. Bait comes in Sweet, Sour, and Salty. If bait is added to a line, the player will also be able to catch fish in any water, rather than just where fish silhouettes can be seen.
A Fishing Tourney can be started at any time, and lasts up to an hour. A Tourney can task the player and their villagers to either catch the biggest fish, catch the most fish, or catch the most of a single kind of fish. At the beginning of a tourney, all the villagers participating are called to Fishers Chippings, and will run out the store as the timer starts. At the end of the tourney, Chip will rate each villagers collection, and award points based on the best collection. Winning a tourney awards the player with Fish Points.
Chip will offer a scuba suit for the player to buy, and will unlock scuba diving. Unlike New Leaf's diving suit, the scuba suit allows the player to swim underwater along the ocean floor. On the ocean floor there are many different deep-sea creatures to catch and coral reefs to swim through. To catch a creature, the player has to swim within range, then lunge and catch the fish. If the fish is caught, the player then has to quickly swim back to the surface.
Chip also runs daily and weekly challenges that will reward the player with more Fish Points upon completion.
Inside Fishers Chippings, the 'Fish of the Day' is displayed, which is the best fish caught that day. At the end of the day, the player can eat their fish at the Shell Shack to increase their luck. The store is closed on the day of the Monthly Fish Tourney.
Bug Catching
Snatch! is a store run by Nat that expands on the bug catching experience. Bringing bugs for Nat to eat will grant the player Bug Points that can be used to purchase new net designs. Bug Points can also be used to increase the size of the net, making it possible to catch larger bugs.
The store sells single-use traps that can be placed in trees to catch bugs. Once a bug is caught, it remains there until collected by the player. However, using traps may lower the bugs score when given to Nat, as the bug may be injured or not fresh. Sometimes villagers will accidentally get caught in the traps.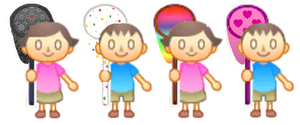 Bug Spray can be bought and sprayed to attract bugs to a certain area or tree for a period of time. Bug Spray comes in Honey, Berry, and Fruity.
A Bug-Off can be started at any time, and last up to an hour. A Bug-Off can task the player and villagers to either get the biggest bug, get the most bugs, or get the most of a single kind of bug. At the beginning of a Bug-Off, all the villagers participating are called to Snatch!, and will run out the store as the timer starts. At the end of the Bug-Off, Nat will rate each villagers collection, and award points based on the best collection. Winning a Bug-Off awards the player with Bug Points. Nat will also run daily and weekly challenges that will reward the player with Bug Points upon completion.
Inside Snatch! Nat will display the 'Bug of the Day', which is the best bug caught that day. Once he eats it at the end of the day, he will give the player a random piece of furniture. The store is closed on the day of the Monthly Bug Off.
Digging
Russ's Fusses is a store run by Russ that focuses on the fossil digging experience. Blathers, in is old age, has now forgotten how to analyse fossils, and fossils must now be examined by Blathers' younger brother, Russ. However, Russ is still a newbie, and so the player has to help analyse the fossil. The fossil is closely examined by the player, and Russ will ask specific questions about the fossil to help determine what it is. After correctly answering three questions about the fossil, Russ will be able to confirm what fossil it is. Russ will be able to examine previously collected fossils without the help of the player. As well as this, Russ will ask if he can buy the fossil off the player to add to his collection. Once Russ buys 15 fossils off the player, the option to play Fossil Finders will be available when talking to Russ. In Fossil Finders, every villager playing will be called to Russ's Fusses. Russ will hide all the fossils throughout town, and ask all the villagers to find a specific fossil. The first to find the fossil and bring it to Russ will win MEOW Coupons.
Inside the store, Russ will sell a metal detector, which can be used to find hidden unmarked items under the ground. Hidden items can be anything within the game, including furniture, fossils, pitfalls, clothes, shoes etc.
The store also sells daily Town Charts, which highlights areas of town where secret fossils and items are more likely to be found that day.
Mining
A mine has been added to the town and will appear on one of the hills on the town's edge. From the mine, players can collect a new type of collectable known as Gems. The entrance to the mine features a bonfire and mine shaft. There are a total of 19 gems to collect.
Around the bonfire will be the new special character, Clink the Badger, who knows everything about mining. He will talk to the player about good digging days, as well as funny stories he collected over the years from mining. Other random villagers may appear around the bonfire, having a break from mining for bells.
The mine shaft will take players down into the mines. A Pickaxe is required to travel down into the mines. There are five stages to the mine, which are progressively unlocked the more the player uses the mines. The five stages of the mine are the Mine, Light Ruins, Deep Water Caves, Rock Labyrinth and the Fabled Shrine.
Hot Spots
Hot Spots is the name given to sub-sections of town where numerous facilities appear together, similar to Main Street from New Leaf. The Plaza, The Dock and Downtown are the three Hot Spots that appear in a player's town. Each Hot Spot serves different functions based on the facilities that occupy them. Unlike Main Street, each village will have their own configuration of Hot Spots and their facilities in their town. As well as the Hot Spots, there are a few standalone facilities in the player's town. These include the Town Hall, Campground, Reset Centre, Mine and Town Tree.
The Plaza
The Plaza is located within the town's mainland. The Plaza is most similar to Main Street, and centres around town and villager customisation. Many of The Plaza's facilities are the shops which have been in Animal Crossing since its creation. The Plaza includes the following.
Nook's Homes is a house decorating store run by Tom Nook. Here, the player can purchase exterior elements to customise the look of their house. The player can also pay off their mortgage, and use Tom Nook's services to move homes within the village.
Nookling Junction is the town's central convenience store. Inside, they sell numerous furniture items, tools, albums and fortune cookies. It can be upgraded to T&T Mart, Super T&T, T.I.Y and finally T&T Emporium.

Hunger Time is the grocery store which sells food to suppress the player's hunger as well as stoves and fridges for food. Basic essentials such as stationery and wrapping paper can also be bought.
The Able Sisters is a fashion shop for all your clothing and accessory needs. The Able Sisters run the clothing department along with Labelle who works in the accessory department.
The footwear store, Kicks, is owned and run by Kicks. It sells shoes, socks, and roller blades that can be worn for quicker travel.
The Post Office is where the player can mail letters or store money in a bank account. Stationery and stickers can also be purchased and put on letters or patterns. The player can also create custom town events on their calendar. 
Shampoodle is a salon run by Harriet. The player can get their hair and eye colour changed here. The new character, Prudence, runs the cosmetic area where the player can change the look of their face or have their Mii's face imported onto their villager.
The recycling store, Re-Tail, buys items and showcases recycled items. Cyrus will be able to customise items the player has in their pockets. Cyrus can also craft any item the player has previously owned, which can be performed through his catalog.
The Police Station holds the town's lost and found service. Talking to Booker will allow the player to see the town calendar, and he can also give the player more information on any current town events. The player serves as Copper's assistant when they take on the job of a Police Officer.
The Hospital will tend to sick villagers and sell medicine. Medicine can be used to heal the player or a villager before they become bedridden. If the player or a Villager goes too long without eating food, they will pass out and awaken in the Hospital.
Leaflet University is a school where the player can gather knowledge on all elements of the game. The player can read up on general functions of the game.
Full Bloom, the Gardening Store, is where all elements of gardening can be purchased. This includes flowers, trees, saplings and fertiliser. Additionally, outdoor furniture and town decorations can be bought from here. A new landscaping mode can be accessed from Lief, which allows players to view the entire town and instantly add, move, and remove landscaping elements.
The Museum holds the players fossil, fish, bugs, paintings and gems in their own exhibitions. Personal exhibitions can also be displayed. Blathers will request a themed exhibition every month. Entry to this exhibition is 100 Bells, and the player will receive all the profits from the exhibition at the end of the month. 

Celeste runs the Observatory where constellations can be created, viewed or deleted and Celeste will also tell the player the forecast for the week, highlighting any interesting space events such as meteor showers. Celeste will also examine fallen Shooting Stars, in which a rare item is inside.

Snatch! is the town's store for everything to do with bugs. It is run by Nat and sells traps and Bug Spray. The store also displays the 'Bug of The Day', which is the best bug caught by any villager that day.
The Dock
The Dock is located on the shoreline of the Village. Its facilities centre around the ocean, the beach, and leaving the town. It features the following facilities.
The Marina is where Lylee's Liner is located and the player can take a cruise vacation on Lylee's Cruise Ship. Small boats can also be boarded to use throw nets and catch multiple fish at once.
The fishing shop, Fishers Chippings is connected to the Shell Shack. The player can purchase different kinds of bait and different rod bobbers. Daily and Weekly Challenges are held at the store, as well as a display for the 'Catch of the Day'
The Shell Shack is a restaurant connected to Fishers Chippings. The player can order food and dine with friends or villagers here. Their menu primarily features seafood.
The Lookout is a stunning tourist attraction where the player can get an overview of their entire town. Special villagers will appear at The Lookout during specific times, such as K.K Slider after he has finished his performance.
The Roost is a coffee lounge where Brewster serves coffee to villagers, special characters, and visiting villagers. The lounge features a karaoke stage, where other villagers may perform.

In the Arcade, there are a number of arcade games available to play to win tickets. The Arcade games include Donkey Kong, Mario Bros, Wrecking Crew, Ice Climbers, Balloon Fight, The Legend of Zelda, Excitebike, Golf, Pinball, Tennis, and Punch Out!!. Each arcade game lasts for two minutes in a newly created stage specifically for the game. Tickets won from playing arcade games can be used to purchase special items only available in the Arcade.
Fortune Shop is the fortune teller Katrina's shop. Inside, she holds a number of functions. As well as telling the player's fortune, Katrina can read the player's palm, and read the player's future through Tarot cards.
Beach Boys is a store that sells decorations specifically for the beach in town. By talking to Al, the player can access a landscaping mode to decorate the beach with bought items.
Kapp'n's Tugboat is the boat that the player arrives in their village on. The tugboat initially shipwrecks, and must be rebuilt through bell donations. Once the boat is rebuilt, the player can talk to Kapp'n to move to a new village or set sail on the ocean.
Downtown
Downtown is most similar to the City from City Folk. Downtown is accessed through the City Gate, which is located along the back hill of the village. Phineas stands at the City Gate with his cart handing out a single gift every day. He will also run a gelato cart in Summer, juice cart in Autumn, pie cart in Winter, and crepe cart in Spring. The player can give Phineas different fruits to create different flavours of gelato, juice, pies or crepes depending on the season. Downtown centers around online functionality and night time activities. Downtown includes the following facilities.
Town Square is the outdoor area connecting all the facilities in Downtown. Other online players can be met and interacted with in the square. Key features include the Moonlight Fountain, Central Park, and the Tortimer Statue.
The Orange Beaver Bistro is Downtown's main restaurant, and it sells an assortment of expensive food that keeps the player full for a couple days. Inside the restaurant, other players that are online can be interacted with and chatted to. If the player is offline, random villagers will appear inside.
The Cinema is where the player can watch movies or create a movie if the player has the job of a director. After creating a movie, the player can upload it to the internet for other online players to watch. Inside the theatres, players can watch movies uploaded by other players alongside other online villagers. Once the movie is over, each audience member performs an emotion, and these are taken as a survey that rate the movie's performance.

Crazy Redd's is a black market store run by Redd. Paintings and sculptures are sold and can be used to fill the player's museum. However, some of Redd's items are forgeries. Redd will also host auctions every hour between 10PM and 6AM. The player will bid against other players that are online, and the highest bid will win the item.
The Happy Home Headquarters is where the player can enrol in the Happy Home Academy and have their home reviewed, as well as explore the Happy Home Showcase.  The Happy Home Academy will also hold Happy Home Competitions, in which the player will face off against their villagers in creating the house that best fits a theme. The player can also enrol their house into the Worldwide Happy Home Competition, and face off against other players.
The high-end furniture shop, GracieGrace sells expensive premium furniture that changes every month. In the backroom, Grace sells custom items and patterns created by online players.
Club LOL is the town's main entertainment venue. K.K Slider and DJ K.K will perform, and give an album to the player after his performance. Dr Shrunk will perform during the day, and teach the player a new emotion to express.
DeeJay is a night club that hosts lots of parties and is open every night. It attracts a number of exclusive visitors, villagers, and online players. Each night, the club hosts a new theme, and entry is available only to those who dress to fit the theme.
ABC is a casual bar that is separated into a number of different rooms. In the Bar, the player can order food, Billiards can be played in the Pool Room, in the Bowling Alley the player can play Bowling, a Karaoke stage allows players to hold a performance. There is also a dance floor where other players can be interacted with, and a VIP section that is only accessible to famous villagers. In each room, the player can interact with villagers and online players.
Fortune Street is a casino where players can play a number of minigames against players online. All of the games from amiibo Festival are available to play. This includes Board Game, Balloon Island, Desert Island Escape, Acorn Chase, Resetti Bop, Mystery Campers, Card Battle, Quiz Show, Sweet Day and Fruit Path. There is also a new game known as Leafers. In Leafers, players use cards based on villagers and their personalities. Each personality trait has its own strength and weaknesses. The player which has a stronger villager card will win a point. The first to ten points wins a prize.
Cat Scratch Street is a hidden back alley within Downtown, and is the headquarters for the Crime Cats. They are a group of three cats who plan out evil schemes to ruin other villagers day. They only operate after dark.
Five Leaf Villas is a hotel where your player can stay for a night to access their amenities. It has numerous different rooms which cater to your villager's needs, including a dining hall, bedroom, entertainment room, pool and gift shop. Other villagers, celebrities and online players staying the night can be encountered.
The Dream Suite allows players to visit the town of another player if they have uploaded their town online. Players can be searched by name, or by code.
Southpaw Lane is a street lined by apartment buildings. Inside each building is the apartment of a special character from in town, such as Tom Nook or Labelle. Their apartments can only be accessed outside of their working hours.
Spot Speed Stadium hosts a number of sports games that can be played with other online players. The sports the stadium hosts are Aerobics, Foot Race, Ball Toss, Tug-O-War, and Soccer.
Jobs
More jobs within the town were added into the game from New Leaf. Whilst the player can still become the Mayor, there are now a total of 11 jobs available.
Each job requires the player to complete different tasks based on the occupation, such as talking to villagers and job-specific minigames. Some of these minigames include making coffee to an order, waiting tables, and catching a criminal. The player will receive a different pay from each job they work.
| Job | Description |
| --- | --- |
| Mayor | Like in New Leaf, the player can run the town they live in. Being the mayor allows the player to enact Town Ordinances and approve Public Works Projects. The Mayor will also have to run in elections and face off against another villager to be elected. Elections can be won by having a higher approval rating than the opposition. Elections are run once every two months. |
| Police Officer | Work alongside Copper and help solve cases within town. Cases will include helping a villager find their lost possession, finding who stole coffee from Brewster or investigating into one of the Crime Cats schemes. |
| Criminal | Perform crimes in town and ruin the day of villagers as part of the Crime Cats. Being too careless while performing crime may cause your villager to get caught by the Police and pay a fine. |
| Apprentice | Apprentices help out around the Nookling stores by running errands, or running the shop themselves. Running errands plays very similar to past games, where one of the Nooklings will tell the player to do something, and reward the player with bells once it is done. Running the shop tasks the player to convince villagers to buy items and barter with villagers when they are trying to sell an item to the store. |
| Waiter | Work at any of the town's restaurants or island restaurants. The player has to show villagers to their seats, write down their orders, then cook their orders in the kitchen, and finally take the food to their table. Successful performance will get the player tips for extra bells. |
| Barista | Work at the The Roost with Brewster and brew specific drinks to the villager's request. Unlike New Leaf's barista job, a minigame is played in which the player has to brew the perfect coffee to the villager's request, rather than just selecting a text box. |
| Movie Director | Create movies by filming different things around town. Upon creating a movie, the player has to select the genre they want their movie to be, and have to fit in a number of key scenes. Villagers can be hired to act as a character in a film, and specific villager traits will perform better on camera. Critics will review your movie after it premieres and the player will get more bells the better the movie is. |
| Stylist | Help Harriet around Shampoodle by styling customers hair to fulfil their wishes. This is done through a minigame, where the player has to cut hair, dye hair, and style the hair. The player may also be tasked with giving villagers contact lenses.  |
| Tailor | Working at the Able Sisters, the player will take on the role of Sable and create designs to fit villager's requests. The closer the design is to what the villager asked for, the more bells that will be rewarded. Mable will also ask the player to create new designs to display in the store regularly. |
| Carpenter | Craft furniture alongside Cyrus and design each part of a piece of furniture. The player can change the colour of certain areas of an item, as well as create patterns on certain parts of the furniture. Villagers will come in and request the player customise their furniture to look a certain way. |
| Interior Designer | Design homes and facilities for the town as a worker for the Happy Home Academy. Designs will have to fit a bill that the villager specifies, and more bells will be rewarded for fitting the bill closely. |
Vacations
Vacations were a new mechanic introduced to the game, and happen aboard Lylee's Liner at The Dock. The player can pay for a one day cruise, three day cruise, or any day cruise which is determined by the player how long it lasts. Whilst on a vacation, the player's town will be unaffected, meaning players that will be away from the game from a extended period of time will not be punished. Whilst on Vacation, Lylee will task the player with taking photos to use as promotional material for her cruise. If the player takes the best pictures out of all the villagers onboard, Lylee will reward the player with furniture or clothes from the Pirate, Boat or VIP series. She may also give the player a discount on their next trip if she really likes the picture.
Whilst aboard the cruise ship, the player will have access to all of its amenities. Areas aboard the cruise ship include the Main Foyer, Purser's Desk, Crew's Quarters, Concert Hall, The Compass Buffet, Smooth Sails Bistro, Dragon Lady Restaurant, Galley, Magrodome, Cabins, Health Club, Lido Deck, Top Deck Park, and Gift Shop.
There is also the celebrity facilities, that are only available to famous villagers. If a player is a famous villager, they can also access the Staterooms, Golden Bathroom, Boiler Room, Luxe Lounge, Rear Deck, Rowboats, and Fortune Street on the Sea.
On board, the player will run in to other villagers, celebrities and special characters taking a holiday. During the cruise, the ship will dock at islands to refuel. Each of these islands are based off a real-world country, and will have a special villager the player can talk to. Rare fish and bugs can be found on each island.
Campsite
The campsite introduced in New Leaf has returned but been given an overhaul, and appears more similar to its iteration from Pocket Camp. After the player has paid off their second debt, the three birds from OK Motors will appear at the edge of the player's town. Giovanni, Beppe, and Carlo will tell the player that they are building a Campsite in town.
The next day, the Campsite will be accessible. Upon arrival, Giovanni will tell the player that they have no idea how to run a Campsite, and ask the player to help them out. From here, the player will have complete control over the look of the Campsite.
The player can customise their Campsite with different furniture and amenities like in Pocket Camp. By decorating the Campsite with particular furniture, it will raise the chances of having a particular villager decide to come visit your campsite. Villagers that are staying in the campsite can be persuaded to move into your town.
In the Campsite, Fresh Air can be linked with Pocket Camp to transfer over the player's camp and villagers, giving access to unique amenities that are not available in Fresh Air. These amenities can then be built as Public Works Projects in the player's main town.
Biomes
Biomes refers to a specific environment in which a collection of flora and fauna exist in, such as a forest. Villages can now be set in different biomes than the standard grassland.
The selected biome for the village will affect the kinds of villagers that are more likely to appear, as well as the time of year certain bugs and fish will be found. The biome will also affect the default styles of the buildings within the town, but they can still be customised later on. For example, the Urban biome will have villagers homes appear in the style of apartments upon arrival. There are a total of 6 biomes which include grassland, urban, desert, mountain, and tropical.
The Grassland Biome is identical to the towns generated in previous Animal Crossing games. Facilities and homes initially appear identical to their previous iterations. It is one of the two biomes where towns can appear with different layers.
The Urban Biome would greatly impact the facilities setup in the game and the nature within town. Instead of having Hot Spots, all the facilities would be spread out throughout the village and set up like a city with many concrete paths. Each facility and home would appear in a highrise formation. The city would centre around a bay rather than a beach, with a boardwalk for fishing off of. A large park would be located somewhere in town, where the player would be able to catch bugs and fish in freshwater.
The Desert Biome features no grass throughout the village and minimal trees or bodies of water. A single large river would run all the way through the village for fishing, with a portion of the village dedicated to an oasis for bug catching. All the facilities and homes in the village would have a western quality to them.
The Mountain Biome is set up high on top a mountain, with a number of mountains around the village. Waterfalls would be very common in the village, and a river would lead to the explorable ocean. The mountain town would have a heavy emphasis on different layers to the town, and all the buildings within the village would have a quaint, cottage aesthetic to them.
The Tropical Biome separates the player's village into a number of different smaller islands that are connected by bridges. In this biome, the town would have no hilled borders and instead be contained by ocean water. All of the facilities and homes within the biome would be styled around a tropical theme.
Villager Features
Personality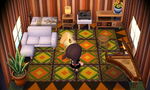 Personality was greatly expanded upon in Fresh Air. Each villager now recieves three traits that affect their character, rather than just having one overall personality. This creates more distinguishable villagers that each have their own quirks. All the available traits are as follows.
Absent-Minded
Adventurer
Angler
Athletic
Bug Catcher
Charismatic
Childish
Chef
Cranky
Coward

Crazy
Cold Blooded
Dramatic
Early Bird
Eco Friendly
Evil
Exotic
Famous
Funny
Genius

Jock
Lazy
Leader
Loner
Lucky
Mooch
Neurotic
Night Owl
Party Animal
Perfectionist

Peppy
Smug
Snob
Skeptic
Sweet
Unlucky
Uchi
Vain
Warm Blooded
Workaholic
Traits
Absent-Minded: These villagers will often forget what they are talking about mid-sentence. Many of the things they will tell the player is about how they keep forgetting about something, and they will often task the player with finding something they have lost.
Adventurer: These villagers will talk about all the places they have been and want to go. They don't like to stay in their home often, and can usually be seen hanging out in strange places. Sometimes they will leave town for a day, with a note on their door saying how they have gone on an adventure for the day.
Angler: These villagers love to fish, and can be seen fishing regularly. They love to win Fishing Tourneys, hang out at Fishers Chippings and try to win the 'Fish of the Day', and just talk about fish in general.
Athletic: These villagers will want to be on the move always, and they especially love playing the sport based Public Works Projects with the player. They perform well during the Sports Fairs and minigames and will love to discuss sport with the player.
Bug Catcher: These villagers love to catch bugs, and can be seen searching for bugs regularly. They love to win Bug Offs, hang out at Snatch! trying to win the 'Bug of the Day', and just talk about bug catching in general.
Charismatic: These villagers talk, and talk, and talk. They never seem to know when to end a conversation, but it means they love it when the player comes and interacts with them. They will talk about absolutely anything and everything, even if it is something small that happened to them days ago.
Childish: These villagers are very innocent and will be astounded by new things they learn, and love to let the player know this. Villagers that are childish will always let their inner child out, acting just like how a child would in interactions.
Chef: These villagers live for food. Whether it be talking about the most recent thing they ate, talking about the great restaurants around town, or thinking about what they are going to eat later, they just can't get enough food in their life.
Cranky: These villagers always have something to complain about, and they love to let the player know what is bugging them. They can come across as quite bitter, and often discuss trivial things like the placement of a single tree.
Coward: These villagers are afraid of just about everything. They overthink situations where they have to do anything, and will psyche themselves out from doing what they want to do. It takes a couple days for them to really open up to the player. A lot of their time is spent in their home.
Crazy: These villagers will pretty much do whatever they want when they want, and will seemingly jump from personality to personality in a single sentence. Villagers that have the crazy trait will exhibit a little bit of every trait, and rapidly switch between them.
Cold Blooded: These villagers just cannot get enough of winter, they wish it was all year round. They will often talk about the cold weather and activities to do during cold days. They have a hatred of hot weather, and will complain whenever it is hot.
Dramatic: These villagers exaggerate every emotion they have to its extreme. They are very easy to read because of this, but that doesn't mean they love a good gossip about other villagers. Sometimes, they can be found gossiping about the player to other villagers.
Early Bird: These villagers have a bit of an adjusted sleep schedule, and will often be awake very early in the morning, but have already clocked out by dusk. This means their interactions will usually occur out of synch with real time, such as them eating dinner at lunch time.
Eco-Friendly: These villagers are happiest when they are surrounded by nature. Because of this, they don't spend much time in their homes, and will love to talk to the player about all the trees, fruits, bugs and fish.
Evil: These villagers get the most amount of enjoyment from being mean and ruining another villagers day. They are nuisances throughout town, and many of their interactions will revolve around how evil they can be to other villagers.
Exotic: These villagers are those whose wear their heritage on their sleeve, and let you know about the culture they grew up in. Many of these villagers will theme their outfit and house around their own culture, and discuss events that happened back home.
Famous: These villagers are affected by fame just the same as the player can be affected by fame. Other villagers will talk about their journal entries, and the player will be more starstruck talking to these villagers. They will discuss their life in the spotlight, and appear in areas only accessible to famous villagers.
Funny: These villagers one goal in life is to make those around them laugh, and they can either be really good or really bad at it. Villagers with this trait will often tell the player jokes and comedic stories.
Genius: These villagers are the most knowledgable in town, and love to tell the player interesting facts about the village and life in general. They spend a lot of time at Leaflet Elementary reading up on books, and will often use complicated words around the player.
Jock: These villagers are stuck in a life of high-school, thinking they are the most popular and "coolest" villagers in town. However, they are quite unintelligent and dull-witted, which is very apparent when they are interacted with. They will also act very naive.
Lazy: These villagers can't think of anything better than to sit around and do nothing. They won't leave their house for long periods of time, and even when they are out and about they will either sit around or stand still for a long period of time. Many of their interactions revolve around how they cannot be bothered doing anything.
Leader: These villagers take matters into their own hands. Throughout town, they will often talk about a new idea they have to make the village even better and will talk about how they are making changes in their own life. These villagers also have the power to be the mayor of the village, and the player will have to go up against them in an election to become the mayor.
Loner: These villagers will attempt to avoid most social interactions, and do a good job at achieving this. They don't like to leave their home often and will try to avoid any contact with other villagers. When the player interacts with them, they will only have short conversations and are particularly hard to be good friends with.
Lucky: These villagers are greatly affected by the variable of luck in the game. They will often have lucky events happen to them, like catching a rare fish and winning the 'Fish of the Day' contest. Many of their interactions will revolve around the lucky events that happen to them.
Mooch: These villagers are seemingly great at convincing any villager to do anything for them. They will task the player with fixing their problems and running errands for them and continuously ask for any bell donations off the player.
Neurotic: These villagers are just a little bit over emotional, and can become easily stressed from simple things in life. On occasion, they will be mellow, but it is quite rare. They will love to share their worries with the player, or become completely freaked out when they have something stressful on their mind.
Night Owl: These villagers have a bit of an adjusted sleep schedule, and will stay awake way late into the night, but wake up in the afternoon. Many of their interactions are out of synch with the real world because of this, like eating breakfast at lunchtime.
Party Animal: These villagers can not help but have a good time doing anything. They love to host parties at their homes for no particular reason. Every activity they do, such as visit the Grocery Shop, they will somehow turn into a momentous ocassion fit for a dance.
Perfectionist: These villagers are very picky about everything that happens in their life. They cannot help but have everything in order in their home, and may even complain about things that are out of line in their life.
Peppy: These villagers are incessantly excitable and friendly, which can come off a bit strong. They are quick to apologise for anything that happens, and have a great memory. They will often recall events that have happened a very long time ago.
Smug: These villagers cannot help but be kind and polite to any other villager. They are well known throughout town for being a gentlemen or woman to other villagers, however they tend to come across as quite condescending, even if they don't mean it.
Snob: These villagers expect nothing but the best from every interaction they have. They have very high expectations from the player and other villagers, and will usually bring this up. They never seem to be satisfied by anything in life, which can be seen when they complain about things like their meal being not good enough.
Skeptic: These villagers have a total disbelief for anything that seems impossible and be against the belief of anything supernatural. They will often talk about how they hate fortune telling, UFOs, and can't believe that people dream of other towns when they sleep.
Sweet: These villagers could never have anything bad to say. They are easiest to become friends with, and can become friends with absolutely any villager. Even if they have a problem, they will never admit to it. Instead they talk about everything they love, which is just about everything.
Unlucky: These villagers are greatly affected by the variable of luck in the game, however they are always negatively affected. They often will never win games, injure themselves, or just have bad situations happen to them. The player is one of the first people they will tell when one of these things happen.
Uchi: These villagers are best described as an older brother or sister to the player. They will always have the player's back, and let their opinion be heard. They are not afraid to tell the player what they really think, and always want the best for other villagers even if it means they have to tell them something they don't want to hear.
Vain: These villagers describe their best qualities as being their looks. They are always talking about how they look, what they wear, and believe themselves to be the most beautiful villagers in town. Of course, they can never wear an outfit twice within a month.
Warm Blooded: These villagers are the happiest when they're in their element, the heat. They will hate the winter months, and complain about the cold weather. However during summer, they can't get enough of the sun. They spend a lot of their time at the beach.
Workaholic: These villagers are always diving head first into their work. Workaholic villagers will love to discuss their job with the player, and never stop to sit down and take a break. Literally, these villagers will sometimes go days without sleep so they can work.
Relationships
Relationships have also been expanded with the new Heart Meters, similar to those seen in Pocket Camp.
Unlike Pocket Camp, their are six different Heart Meters that represent key areas of the relationship between a player and a specific animal villager. Different interactions will affect different Heart Meters, and the meters will level up as a player builds a greater relationship with their villagers.
From levelling up specific meters, villagers will interact differently to the player. For example, a villager with a high level Friendship heart meter will be excited to talk to the player and hear about their day. Talking to villagers and having consistent friendly interactions will help raise the Friendship heart meter, creating a closer friendship between the two.
The Friendship Heart Meter will level up from having friendly interactions between villagers and being nice towards each other. Building friendship will allow players to better know their villagers. Villagers that are friends will be excited to talk to you and help you out around town.
The Trust Heart Meter will level up from talking to Villagers every day, helping them out with their chores or playing minigames with them. Having a high level Trust heart meter will mean the villager is more likely to tell the player their secrets, embarassing stories, as well as trust them to do their chores. Trusted villagers will often give the player gifts.
The Jealous Heart Meter will level up if a villager is annoyed from interacting with the player. Jealous villlagers will hold a grudge against the player, and will often talk to the player about how they can fix or change themselves to be better.
The Starstruck Heart Meter will level up if the player is famous, if the villager knows a lot about the player's life through reading their journal, or if the player has told the villager a lot about their life through interaction. Starstruck villagers will act amazed or bewildered at anything the player says, and will often try and talk to the player if they see them out and about.
The Eww Heart Meter will level up if a villager is grossed out or weirded out from the interactions they have with the player. A villager that has a high leveled Eww meter will try to avoid the player, and keep their interactions short.
The Enemy Heart Meter will level up from bad interactions with villagers that end in sour moods. When a villager has a high level Enemy heart meter, they will sometimes try to sabotage the player, and during interactions will be mean towards the player.
Fame
Fresh Air introduces the mechanic of Fame, in which the player can get famous through their interactions in game. Becoming a famous villager will open up new areas that are only accessible to famous villagers. This includes the VIP Area of ABC, a number of facilities on Lylee's Liner, Five Leaf Villas' penthouse rooms, inside the Tortimer Statue, and the second floor of GracieGrace. Once the player is famous, villagers are more likely to become starstruck from seeing the player. They will also comment on the player's journal entries when talking to the player.
There are a number of ways the player can become famous. The easiest way is to interact with over 150 villagers and other players within a month, which can be done by talking to the town villagers and using the facilities Downtown to interact with other players and outside villagers. Another easy way to become famous is consistently updating the player's journal with their own journal articles. Posting two updates every day for a month will make the player famous. Another way to become famous is to be in the same room with other famous villagers for 24 hours within the span of a month. Lastly, the player will also become famous if they make it into the "Most Popular" category in the Worldwide Happy Home Showcase or create a custom pattern/item that gets featured in the "Most Popular" category in GracieGrace.
After becoming famous, the player will maintain their fame for an entire month. However, if none of the tasks required to become famous are achieved once the month is over, they will go back to being a regular villager.
Game Features
Leaflet
The Leaflet is the player's phone and functions as the pause menu of the game. The Leaflet is accessed from pressing the pause button in the game.
The Leaflet has eleven different functions. The player can view what is in their pockets, moving around any items or dropping them. Letters are also stored in the pockets. The Fish and Bug database can be viewed, where any caught fish or bug can analysed to find what bait or bug spray they like, and when they are most likely to appear. The player can also view the best fish or bug they have caught of each kind. 
Current patterns can be viewed, shared, and worn or placed on the ground. The Town Map can also be viewed to see where everything is in the player's town. Relationships with each villager in town can be viewed, displaying the level of each Heart Meter. 
The Leaflet is also equipped with a camera, in which the player can take screenshots of gameplay. If the player has the job of Director, they can also use the camera to film their movies and edit them together.
Daily and weekly ambitions can be quickly viewed in the Leaflet instead of checking the Bulletin Board in town. The player can also access their journal, in which big life moments are recorded. Journal articles can also be written by the player, and an image can be placed alongside the journal entry. If the player has a high level of fame, villagers will reference journal entries when talked to.
The phone can be used to organise parties, call villagers to build their relationship, and keep in touch with any villagers or characters that aren't in the player's town. General settings for the game can also be accessed.
Ambitions
Another new feature was Ambitions in which the player's villager would have a set of tasks they would want to complete everyday or every week. Ambitions are unlocked alongside with the Campsite. Completing ambitions rewards the player with MEOW Coupons to use in the Campsite. There are three ambitions randomly generated everyday that range from "Mail a villlager a hat" to "Catch a Tarantula". Completing all daily ambitions will increase the player's luck for the day. A weekly ambition is also generated which is a goal that may take longer to complete, such as "Talk to every villager in town every day for a week".
Other Features
Rollerblades can bought from Kicks that allow the player to travel around town at a much quicker speed.
Each facility in the game has ten different designs which can be changed after becoming friends with the facility manager. This excludes the island facilities.
Every gyroid family has been expanded to include six family members. They now all have the ability to talk to the player as well.
Outdoor furniture returns from Happy Home Designer.
Walls can be placed within the player's home to build different rooms. Walls can be built, changed, and removed at any time whilst moving furniture.
A town can hold up to 20 villagers, and villagers houses can be moved by speaking to Tom Nook.
Hunger has been added to the game in which the player must feed their character before they get too hungry, or they will pass out and wake up in the Hospital.
Seasonal activities can be performed throughout town based on the season. For example, ice skating can be done in ponds during winter, and leaf piles can be jumped in during autumn.
A toolbox has been added, and the player can put all their tools in the toolbox instead of straight in their pockets, freeing up pocket space.
The player can create their own town events and add them to the calendar as they wish. This can be done at the Post Office.
Stickers can be bought from the Post Office and added to the player's letters.
Shooting Stars will fall from the sky which can be examined by Celeste to reveal a rare item.
List of Villagers
Villagers
Species
Amount
Name
Traits
Alfonso
Adventurer, Early Bird, Leader
Alligators
6
Alli
Snob, Childish, Perfectionist
Del
Cranky, Skeptic, Absent Minded
Drago
Funny, Lazy, Mooch
Gayle
Chef, Sweet, Perfectionist
Sly
Jock, Eco Friendly, Athletic
Anabelle
Adventurer, Leader, Exotic
Anteaters
6
Annalisa
Sweet, Exotic, Neurotic
Antonio
Jock, Adventurer, Charismatic
Cyrano
Dramatic, Bug Catcher, Charismatic
Olaf
Smug, Perfectionist, Childish
Pango
Vain, Genius, Warm Blooded
Beardo
Smug, Vain, Leader
Bears
12
Charlise
Athletic, Bug Catcher, Angler
Chow
Cranky, Unlucky, Exotic
Curt
Loner, Childish, Snob
Grizzly
Crazy, Skeptic, Night Owl
Groucho
Cranky, Leader, Neuortic
Klaus
Exotic, Party Animal, Cold Blooded
Nate
Lazy, Loner, Eco Friendly
Paula
Crazy, Lucky, Mooch
Pinky
Peppy, Charismatic, Childish
Teddy
Adventurer, Chef, Jock
Tutu
Cold Blooded, Crazy, Angler
Anchovy
Chef, Angler, Vain
Birds
10
Jacques
Exotic, Genius, Workaholic
Jay
Jock, Crazy, Lucky
Jitters
Exotic, Charismatic, Warm Blooded
Lucha
Athletic, Jock, Dramatic
Midge
Sweet, Cold Blooded, Vain
Peck
Athletic, Vain, Chef
Robin
Eco Friendly, Skeptic, Dramatic 
Sparro
Workaholic, Crazy, Bug Catcher
Twiggy
Peppy, Leader, Dramatic
Angus
Lazy, Cranky, Exotic
Bulls
5
Coach
Jock, Athletic, Leader
Rodeo
Warm Blooded, Loner, Skeptic
T-Bone
Mooch, Eco Friendly, Cranky
Vic
Adventurer, Crazy, Smug
Ankah
Exotic, Leader, Warm Blooded
Cats
22
Bob
Childish, Absent Minded, Loner
Felicity
Perfectionist, Peppy, Charismatic
Kabuki
Famous, Exotic, Crazy
Katt
Uchi, Mooch, Bug Catcher
Kid Cat
Childish, Athletic, Adventurer
Kiki
Neurotic, Childish, Lucky
Kitty
Chef, Dramatic, Funny
Lolly
Sweet, Chef, Lucky
Merry
Party Animal, Sweet, Leader
Mitzi
Famous, Funny, Lucky
Moe
Lazy, Coward, Early Bird
Monique
Evil, Dramatic, Famous
Olivia
Evil, Dramatic, Famous
Punchy
Athletic, Night Owl, Loner
Purrl
Lucky, Genius, Bug Catcher
Rosie
Famous, Charismatic, Peppy
Rudy
Party Animal, Childish, Cold Blooded
Stinky
Athletic, Jock, Childish
Tabby
Funny, Angler, Bug Catcher
Tangy
Chef, Charismatic, Vain
Tom
Cranky, Athletic, Dramatic
Ava
Chef, Absent Minded, Coward
Chickens
8
Becky
Snob, Vain, Cranky
Benedict
Eco Friendly, Early Bird, Charismatic
Broffina
Uchi, Adventurer, Mooch
Egbert
Adventurer, Unlucky, Lazy
Goose
Jock, Dramatic, Early Bird
Ken
Athletic, Bug Catcher, Genius
Knox
Leader, Exotic, Workaholic
Belle
Eco Friendly, Bug Catcher, Peppy
Cows
7
Carrot
Chef, Uchi, Vain
Naomi
Vain, Famous, Evil
Norma
Workaholic, Cranky, Lazy
Patty
Night Owl, Eco Friendly, Leader
Petunia
Lucky, Dramatic, Workaholic
Tipper
Childish, Athletic, Funny
Barold
Genius, Workaholic, Snob
Cubs
12
Bluebear
Famous, Peppy, Crazy
Cheri
Night Owl, Chef, Bug Catcher
Chester
Exotic, Lazy, Cold Blooded
Kody
Funny, Mooch, Party Animal
Maple
Warm Blooded, Unlucky, Sweet
Pekoe
Leader, Exotic, Jock
Poncho
Athletic, Uchi, Coward
Pudge
Dramatic, Charismatic, Absent-Minded
Stitches
Childish, Neurotic, Adventurer
Tammy
Uchi, Loner, Perfectionist
Vladimir
Cranky, Evil, Cold Blooded
Bam
Athletic, Adventurer, Skeptic
Deers
10
Beau
Lazy, Childish, Lucky
Bruce
Cranky, Funny, Dramatic
Dierdre
Eco Friendly, Party Animal, Cold Blooded
Diana
Mooch, Charismatic, Leader
Erik
Cold Blooded, Chef, Smug
Fauna
Sweet, Snob, Angler
Fuchsia
Vain, Workaholic, Uchi
Lopez
Smug, Bug Catcher, Genius
Zell
Neurotic, Childish, Smug 
Benjamin
Bug Catcher, Lazy, Coward
Dogs
14
Biskit
Warm Blooded, Perfectionist, Skeptic
Bones
Chef, Childish, Funny
Butch
Uchi, Jock, Leader
Cherry
Vain, Dramatic, Uchi
Cookie
Charismatic, Peppy, Chef
Daisy
Childish, Party Animal, Early Bird
Goldie
Sweet, Charismatic, Eco Friendly
Lucky
Lucky, Exotic, Evil
Mac
Jock, Athletic, Absent Minded
Marcel
Exotic, Funny, Crazy
Portia
Perfectionist, Party Animal, Vain
Shep
Smug, Unlucky, Leader
Walker
Eco Friendly, Lazy, Adventurer
Bill
Famous, Jock, Athletic
Ducks
15
Deena
Absent Minded, Bug Catcher, Athletic
Derwin
Crazy, Genius, Loner
Drake
Lazy, Chef, Coward
Freckles
Vain, Peppy, Angler
Gloria
Famous, Workaholic, Dramatic
Joey
Warm Blooded, Snob, Neurotic
Maelle
Absent Minded, Cranky, Evil
Mallary
Perfectionist, Charismatic, Mooch
Miranda
Vain, Night Owl, Leader
Molly
Lucky, Workaholic, Uchi
Pate
Peppy, Childish, Coward
Pompom
Athletic, Cold Blooded, Genius
Quillson
Smug, Loner, Leader
Scoot
Angler, Eco Friendly, Absent Minded
Amelia
Leader, Adventurer, Unlucky
Eagles
8
Apollo
Snob, Uchi, Party Animal
Avery
Crazy, Funny, Jock
Celia
Sweet, Skeptic, Lazy
Frank
Jock, Evil, Party Animal
Keaton
Smug, Warm Blooded, Mooch
Pierce
Night Owl, Perfectionist, Dramatic
Sterling
Adventurer, Absent Minded, Crazy
Axel
Neurotic, Childish, Coward
Elephants
8
Big Top
Childish, Lazy, Adventurer
Dizzy
Skeptic, Childish, Mooch
Eloise
Night Owl, Unlucky, Sweet
Margie
Eco Friendly, Vain, Absent Minded
Opal
Mooch, Perfectionist, Charismatic
Tia
Childish, Bug Catcher, Chef
Tucker
Exotic, Eco Friendly, Unlucky
Camofrog
Adventurer, Leader, Cranky
Frogs
15
Cousteau
Exotic, Chef, Smug
Croque
Eco Friendly, Snob, Exotic
Diva
Workaholic, Neurotic, Warm Blooded
Drift
Angler, Skeptic, Coward
Frobert
Jock, Unlucky, Perfectionist
Gigi
Leader, Cranky, Crazy
Henry
Absent Minded, Early Bird, Childish
Jambette
Chef, Vain, Night Owl
Jeremiah
Famous, Lazy, Funny
Lily
Sweet, Famous, Charismatic
Prince
Unlucky, Vain, Adventurer
Puddles
Peppy, Crazy, Party Animal
Ribbot
Genius, Jock, Leader
Wart Jr.
Cranky, Cold Blooded, Eco Friendly
Chevre
Cold Blooded, Absent Minded, Mooch
Goats
6
Gruff
Night Owl, Workaholic, Warm Blooded
Kidd
Smug, Bug Catcher, Genius
Nan
Sweet, Perfectionist, Coward
Pashmina
Uchi, Evil, Vain
Velma
Leader, Adventurer, Genius
Al
Childish, Angler, Athletic
Gorillas
7
Boone
Jock, Warm Blooded, Exotic
Cesar
Vain, Crazy, Party Animal
Hans
Cold Blooded, Adventurer, Loner
Peewee
Uchi, Vain, Angler
Rocket
Adventurer, Uchi, Athletic
Violet
Dramatic, Eco Friendly, Lucky
Apple
Bug Catcher, Eco Friendly, Childish
Hamsters
8
Clay
Unlucky, Evil, Exotic
Flurry
Evil, Cranky, Cold Blooded
Graham
Genius, Famous, Lucky
Hamlet
Dramatic, Crazy, Jock
Hamphrey
Chef, Cranky, Absent Minded
Rodney
Loner, Snob, Smug 
Soleil
Warm Blooded, Dramatic, Childish
Bertha
Lazy, Skeptic, Sweet
Hippos
6
Biff
Jock, Evil, Childish
Bubbles
Peppy, Funny, Skeptic
Harry
Vain, Eco Friendly, Warm Blooded
Hippeux
Leader, Exotic, Snob
Rocco
Famous, Cranky, Neurotic
Annalise
Leader, Smug, Dramatic
Horses
13
Buck
Evil, Workaholic, Uchi
Clyde
Famous, Chef, Sweet
Colton
Uchi, Childish, Adventurer
Ed
Smug, Snob, Vain
Elmer
Crazy, Peppy, Absent Minded
Julian
Famous, Leader, Lucky
Papi
Lazy, Eco Friendly, Mooch
Peaches
Skeptic, Childish, Night Owl
Roscoe
Cranky, Dramatic, Uchi
Savannah
Exotic, Sweet, Bug Catcher
Victoria
Funny, Lucky, Athletic
Winnie
Coward, Peppy, Cold Blooded
Astrid
Dramatic, Genius, Crazy
Kangaroos
7
Kitt
Charismatic, Neurotic, Perfectionist
Marcie
Angler, Unlucky, Sweet
Mathilda
Evil, Bug Catcher, Cranky
Roonie
Athletic, Jock, Skeptic
Sylvia
Uchi, Party Animal, Snob
Walt
Exotic, Loner, Workaholic
Alice
Famous, Childish, Warm Blooded
Koalas
9
Canberra
Uchi, Dramatic, Leader
Eugene
Smug, Jock, Party Animal
Huggy
Sweet, Charismatic, Workaholic
Lyman
Chef, Perfectionist, Mooch
Melba
Bug Catcher, Lucky, Peppy
Ozzie
Lazy, Absent Minded, Coward
Sydney
Early Bird, Angler, Neurotic
Yuka
Evil, Snob, Adventurer
Bud
Athletic, Crazy, Lazy
Lions
5
Elvis
Cranky, Famous, Coward
Lionel
Smug, Cold Blooded, Leader
Mott
Loner, Funny, Mooch
Rory
Warm Blooded, Angler, Vain
Anicotti
Peppy, Chef, Charismatic
Mice
14
Bella
Smug, Cranky, Evil 
Bettina
Chef, Sweet, Early Bird
Bree
Dramatic, Jock, Cold Blooded
Broccolo
Childish, Coward, Bug Catcher
Chadder
Evil, Workaholic, Chef
Dora
Angler, Mooch, Lucky
Greta
Famous, Exotic, Workaholic
Limberg
Vain, Evil, Loner
Moose
Absent Minded, Crazy, Jock
Penelope
Vain, Peppy, Skeptic
Rizzo
Crazy, Loner, Athletic
Rod
Angler, Warm Blooded, Jock
Samson
Unlucky, Childish, Coward
Deli
Exotic, Coward, Skeptic
Monkeys
8
Elise
Genius, Vain, Mooch
Flip
Party Animal, Athletic, Night Owl
Monty
Eco Friendly, Neurotic, Cranky
Nana
Famous, Adventurer, Cold Blooded
Shari
Uchi, Leader, Cranky
Simon
Lazy, Peppy, Bug Catcher
Tammi
Angler, Peppy, Lucky
Marina
Sweet, Dramatic, Charismatic
Octopi
3
Octavian
Evil, Eco Friendly, Early Bird
Zucker
Chef, Lazy, Childish
Blanche
Dramatic, Skeptic, Night Owl
Ostriches
7
Cranston
Workaholic, Loner, Lucky
Flora
Peppy, Vain, Funny
Gladys
Famous, Exotic, Sweet
Phil
Crazy, Absent Minded, Cranky
Phoebe
Uchi, Warm Blooded, Lucky
Queenie
Charismatic, Dramatic, Evil
Aurora
Cold Blooded, Crazy, Sweet
Penguins
12
Boomer
Adventurer, Workaholic, Warm Blooded
Cube
Eco Friendly, Neurotic, Angler
Flo
Uchi, Cold Blooded, Funny
Friga
Cold Blooded, Crazy, Childish
Gwen
Dramatic, Cold Blooded, Loner
Hopper
Cranky, Famous, Charismatic
Iggly
Childish, Early Bird, Leader
Puck
Smug, Funny, Peppy
Roald
Jock, Athletic, Mooch
Sprinkle
Chef, Lucky, Bug Catcher
Tex
Party Animal, Dramatic, Leader
Agnes
Eco Friendly, Warm Blooded, Uchi
Pigs
13
Chops
Crazy, Vain, Unlucky
Cobb
Neurotic, Genius, Workaholic
Curly
Chef, Bug Catcher, Mooch
Gala
Childish, Charismatic, Perfectionist
Hugh
Lazy, Childish, Night Owl
Kevin
Eco Friendly, Jock, Absent Minded
Lucy
Famous, Leader, Workaholic
Pancetti
Dramatic, Snob, Party Animal
Peggy
Skeptic, Coward, Loner
Rasher
Chef, Evil, Snob
Spork
Loner, Genius, Charismatic
Truffles
Funny, Evil, Famous
Bonbon
Peppy, Chef, Early Bird
Rabbits
18
Bunnie
Charismatic, Famous, Skeptic
Carmen
Evil, Funny, Adventurer
Chrissy
Vain, Warm Blooded, Cranky
Coco
Famous, Exotic, Uchi
Cole
Dramatic, Sweet, Bug Catcher
Doc
Funny, Lazy, Smug
Dotty
Eco Friendly, Party Animal, Workaholic
Francine
Vain, Warm Blooded, Cranky
Gabi
Sweet, Peppy, Workaholic
Gaston
Exotic, Skeptic, Loner
Genji
Perfectionist, Exotic, Adventurer
Mira
Uchi, Leader, Adventurer
O'Hare
Smug, Eco Friendly, Funny
Pippy
Snob, Unlucky, Perfectionist
Ruby
Coward, Evil, Night Owl
Snake
Adventurer, Dramatic, Jock
Tiffany
Famous, Dramatic, Crazy
Merengue
Chef, Famous, Sweet
Rhinos
4
Renée
Uchi, Adventurer, Crazy
Rhonda
Skeptic, Cold Blooded, Angler
Tank
Jock, Sweet, Party Animal
Baabara
Absent-Minded, Athletic, Childish
Sheep
10
Curlos
Smug, Loner, Unlucky
Eunice
Warm Blooded, Perfectionist, Coward
Frita
Chef, Night Owl, Neurotic
Muffy
Mooch, Uchi, Evil
Pietro
Childish, Funny, Crazy
Timbra
Eco Friendly, Mooch, Party Animal
Vesta
Sweet, Loner, Genius
Wendy
Angler, Lucky, Snob
Willow
Dramatic, Early Bird, Vain
Agent S
Adventurer, Childish, Genius
Squirrels
16
Blaire
Lazy, Loner, Smug
Cally
Sweet, Bug Catcher, Neurotic
Caroline
Athletic, Funny, Warm Blooded
Filbert
Funny, Crazy, Party Animal
Hazel
Exotic, Evil, Uchi
Marshal
Dramatic, Peppy, Smug
Mint
Chef, Night Owl, Warm Blooded
Nibbles
Loner, Mooch, Skeptic
Peanut
Famous, Peppy, Lucky
Pecan
Dramatic, Absent-Minded, Charismatic
Poppy
Cold Blooded, Childish, Coward
Ricky
Cranky, Early Bird, Evil
Sally
Eco Friendly, Jock, Leader
Sheldon
Party Animal, Perfectionist, Snob
Static
Adventurer, Loner, Vain
Bangle
Vain, Eco Friendly, Uchi
Tigers
6
Bianca
Exotic, Workaholic, Snob
Claudia
Workaholic, Famous, Charismatic
Leonardo
Jock, Skeptic, Unlucky
Rolf
Cranky, Leader, Neurotic
Rowan
Funny, Childish, Coward
Chief
Leader, Lucky, Uchi
Wolves
8
Fang
Cold Blooded, Crazy, Jock
Freya
Unlucky, Bug Catcher, Cranky
Kyle
Smug, Adventurer, Absent-Minded
Lobo
Lucky, Evil, Genius
Skye
Sweet, Skeptic, Jock
Whitnie
Vain, Angler, Lazy
Wolfgang
Famous, Workaholic, Loner
Calendar
Note: This is only the calendar for 2018.
Gallery
Trivia
The game's tagline, Fresh Air, refers to the developers wish of hoping to breathe new life into the series and bring something fresh. Oddly, the game was known as Animal Crossing: Hot Spot in Japan, referring to the three Hot Spots featured in the player's town.
This is the only Animal Crossing game to not introduce new villagers. This was due to the extensive development time dedicated to the new trait system.

New villagers were originally intended to appear in the game. As well as this, the game was going to introduce Turtle and Lizard villagers.

There originally were two more jobs available for the player, the Postman and Fire Fighter. The Postman would work at the Post Office and deliver mail, whilst the Fire Fighter would save the town from natural disasters. The Postman job was merged with the Police Officer whilst the Fire Fighter was scrapped all together as natural disasters was deemed to not fit the tone of the series.
A number of personality traits were removed during development. Gatherer, Diva, Frugal, Proper, Shy and Social Butterfly were all planned for the game but later scrapped.
Ambitions were originally planned to first appear in Fresh Air, however were implemented into the predecessor New Leaf for the Welcome amiibo update as Town Initiatives.
Boondox, the poor town the player could donate to in Wild World, appears as an island that Lylee's Liner may stop at on vacation.
In early beta footage, the Post Office was shown to have been removed from the game.
TLDR
Note: This section details the rest of the entire page in minimal detail for quick reading.
The player can set sail out on the ocean to fish and discover islands. On each island, a family of gyroids reside. Collecting all gyroids within a family rewards the player with a special facility.
Fishers Chippings is a new store for fishing needs. It hosts customisable tourneys, sells bait, and special fishing bobbers.
The player can purchase a scuba suit and swim underwater along the ocean floor. Deep-sea creatures can be caught and coral reefs can be swam through whilst underwater.
Snatch! is a new store for bug catching needs. It hosts customisable Bug-Offs, sells traps and bug spray.
Russ's Fusses is a new store for digging. The player can identify fossils, purchase town charts and a metal detector.
Gems are a new collectable which can be obtained through the Mine with a Pickaxe.
Every facility is placed into a subsection of town known as the Hot Spots. There is The Plaza, The Dock, and Downtown.
12 jobs are available to partake in around town. Each job has its own specific minigame and reward the player with Bells for working.
The player can go on a cruise ship vacation aboard Lylee's Liner.

The Campsite is now fully customisable for the player. Placing certain furniture and amenities can raise the chances of having specific villagers visiting.
The player's town location can fit five different biomes; Grassland, Urban, Tropical, Desert, Mountain
Instead of a single personality, each villager is given three different character traits that will affect the interactions they have with the player.
Friendships are signified through six different Heart Meters, being Friendship, Trust, Jealous, Starstruck, Eww and Enemy. Each can be levelled up through interaction.
It is possible to become a famous villager, which grants the player with special abilities, such as access to VIP sections available only for celebrities.
The journal returns from earlier instalments, in which big life moments will automatically have a journal entry written for them. The player can also write their own journal entry.
Every day the player is given Ambitions, small tasks that can be performed that increase the player's luck.
---
---
Community content is available under
CC-BY-SA
unless otherwise noted.