Angela Kravitz

⚥

Intersex


⚢

Lesbian
6'00
106 lbs
34 years old
Human

Angela Kravitz, with her Standing Ripple The Black Queen

INFO

FULL NAME
Angela Kravitz
POWERS
Freezing body parts


Secretly calling help

BIRTHDAY
November 9th
ALIGNMENT
Family
OCCUPATION(S)
Raising family
FAMILY

Gabriel Kravitz (son)
Ariel Kravitz (daughter)

BIRTH LOCATION
Seattle, Washington
CURRENT LOCATION

PREFERENCES

LIKES

| | |
| --- | --- |
| Her family, attractive women, windy weather | |

DISLIKES

| | |
| --- | --- |
| Ocean 11, those who threaten her family, being hurt | |

APPEARANCES

Angela Kravitz is a hermaphrodite mother that lives in Seattle, Washington, aided by her Standing Ripple known as The Black Queen. While not intentionally wanting super powers, she ended up accidentally getting them when struck by a beam reflected off by Ripplite. The character was created by Helena Harper (t∣b∣c) for a motherly character that could act as a helpful ally for her Standing Ripple user characters as well as to explore the idea of a mother character in the Fantendoverse.
Angela Kravitz is a hermaphrodite who has two children under her care- one of which she gave birth to and the other was given to her from the other mother who didn't want to raise the child. She has been living a quiet life as a single mother, mostly unaware of the grander details of events occurring around her until they literally visit her doorstep one day.
Description
Angela Kravtiz Description
Angela Kravitz is a blonde haired white woman with blue eyes. She does wear some make up, giving her eyes a very attractive look. She wears a white jacket with no sleeves and is made of light cloth. Underneath that, she wears a dark blue skirt and a blue crop trop with a wavy cut. Around her waist is a belt and she wears heeled sandals with a orange-gold color. Additionally, she wears gold cuff around her wrists.
The Black Queen Description
The Black Queen is a insectoid Standing Ripple that resembles mostly a woman. She appears to have a mask-like face with black irises and white pupils. She has black tentacle-like hair. Her mouth is a series of holes. Her torso is very skeletal and mechanical in appearance, and has jointed limbs that are connected by ball bearings. She has four thin insect-like legs that stick out from her waist, allowing her to sit in mid air with her thicker black legs that have bone-like knees.
Personality
Angela Kravitz is an fairly average suburban mom, taking watch of her kids as she works as a freelancer for various mother blogs. She has a history of strained relationships and with her current predicament, isn't looking for anything really serious. She prefers a quiet life and doesn't really get much time to leave the house beyond taking her kids to school. While she never intended to be a mother, she doesn't resent the role as she figured she had no future to begin with. Due to alimony payments from two separate mothers, she actually lives pretty well off the money she receives.
Her life became a tad more complicated when she met the Standing Ripple users Sabrine Lee, Trent Corona, and Penny Loafer. Offering to use her home as a safehouse entangled her in their situation, which she doesn't seem to be too fond of but still allows Sabrine and her friends to use her home as a safe place due to her liking of them. Following an incident that gave her a Standing Ripple of her own, she acts mostly of a support role to the three.
Angela tends to be mostly uninvolved in anything not concerning her life unless it comes to her directly in a sense. Already busy being a mother, Angela is nice enough to help others when the opportunity arrives but otherwise remains uninvolved when possible. This is somewhat ironic considering her connections to Ocean 11, which is not made known to her until much later on.
The Black Queen as a Standing Ripple is mostly stationary and Angela hides it as much as she can. It is always seen sitting down when it is out, often sitting in the air with the aid of it's four extra insect-like legs. It's presence originally unnerved Angela but she later sees it as a helpful tool and even beautiful on it's own terms.
Appearances
Powers and Abilities
Angela Kravitz's powers and abilities come mostly from her Standing Ripple, The Black Queen. The Black Queen's primary ability, Ice to Never, allows it to "freeze" pain in body parts and can later unfreeze it so it can be properly treated. This freezing lasts up to 24 hours before it needs to reapplied and can even "freeze" emotional pain. There are multiple setbacks to this ability beyond it's time limit- the more pain that is frozen, the stiffer the limb will become before it becomes almost entirely useless. Additionally, the wounds still need to be treated. Emotional pain, if frozen, will cause the person to become more distant and lack emotional empathy to some extent, which becomes increased the more emotional trauma is frozen. When wounds and emotions are frozen, the person slowly takes on an icy appearance and their body temperature can drop. If Angela freezes a potentially life-threatening injury, they will be completely frozen.
The Black Queen's secondary ability is Secret Scream. Angela can open her mouth and whisper a scream to anyone she wants to help of and The Black Queen will dislocate her voice and amplify it to the location of who she wants the help of. While this can be seen visibly on her lips, it can't really be heard as the audio is dislocated. The audio needs to be able to travel a foot away from Angela's mouth, so covering her mouth is a quick way to disable this ability.
Angela Kravitz is also a talented singer.
Specific Abilities
Ice to Never - The Black Queen's primary ability. This allows Angela to freeze both physical and emotional pain in a person. This ability requires Angela to be touching the person in the effected limbs to successfully execute. While this "freezes" pain, it does not heal it and needs to reapplied every 24 hours. Additionally, the more pain frozen, the more stiff the person becomes, limiting their mobility. Emotionally frozen people act distant and lack emotional empathy on a spectrum depending on how intense the frozen emotions are. This is able to save peoples' lives by freezing problems on them until they can be dealt with in a safer environment.

Impossible Condition - By "freezing" a life threatening injury, Angela is able to freeze an entire person. This lasts like her normal ability but has the unique property of giving the frozen person the properties of ice. This includes the weakness of being able to crack or melt.

Secret Scream - The Black Queen's secondary ability. Angela can call for help from anyone she shouts the name of, but requires a minimum of a foot of space to travel the sound through. She can whisper the name secretly to not alert her attackers, although it comes with the weakness of being able to be easily disabled by covering her mouth. The sound leads the person in question that is being called out to when repeated multiple times.
Relationships
TBA
Trivia
The Black Queen is named after the band. Their abilities are named after the songs "Ice to Never", "Impossible Condition", and "Secret Scream". Interestingly, The Black Queen has a male singer while their band name is obviously feminine with the use of "queen".
Angela Kravitz's design was partially inspired by Mercy from Overwatch. Additionally, the idea to make them a hermaphrodite was inspired by Pierce Hazel and Silver Zin, two creations of Athena Hawkins (t∣b∣c). The character was based off a dream of Helena Harper (t∣b∣c), her creator.
Gallery

Overview
Standing Ripple is a concept in the New Fantendoverse used to refer to projections of fighting spirits created by contact with the metal Ripplite. These fighting spirits are created from the hosts' Aura and general will to fight and host incredible but bizarre abilities. These Standing Ripples name themselves, usually off musical artists, and often do not speak or act on their own, but do follow their host everywhere. They have an arguable consciousness; while they can act on their own when not in combat, they do not seem to be consciously aware of their own actions.
Ripplite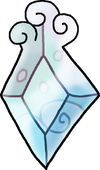 Ripplite is a mineral/metal alloy that can phase light through it to alter it's properties. It is key to being able to produce Standing Ripples. It comes from Vokkskar-created Catalyst Comets that crash into planets. Ripplite can also inversely be used to cut through Standing Ripples. Given it's weak resistance to force, crushing similar to quartzine mineral, it is not good for weapons.
Ocean 11's leader Hammerhead, who has the largest fragment recovered, has used it for monetary gain and on every member of his mob gang.
CHELPRO as corporation has a smaller fragment that they are experimenting with.
Trent Corona has a very small fragment that he uses in the blade of a laser sword known as the Ripple Ripper.
Standing Ripple Users

Sabrine Lee

Juliani Crimsoze

Penny Loafer

Trent Corona

Skimp the Shrimp

Wayne Goldrein

Arthur Magus

Sarah Auvic

Circe Lotte

Angela Kravitz



Robert Tuvillo


Hammerhead

Turbo Crafter



Bienna


Mary Azkaban
TBA
Sarah Needlenam
TBA
Primus



Eddie Warmann




Anubi Arlon


Sabrine Lee
(Hyper Mode)

Phoebe
TBA
Kest Velaxation



Wobbegang

TBA
Britt "Hit" Cormeum
TBA
Norfleet

Turbo Crafter
(Hyper Mode)

Veniz

Gettysburger
TBA
Sarah Needlenam
(Hyper Mode)

Juliani Crimsoze
(Hyper Mode)
TBA
Tucker Elliot
TBA
???
TBA
Hal Jeskin
TBA
Type: Baal
TBA


Bleach Manhattan

TBA


Callum Jackson

TBA
Ana La Ladrón
TBA
Fuega Nitro
Standing Ripples

Alien Ant Farm

65daysofstatic

Gorillaz

Night Drive

Yung Bae

Lemon Demon

Rone

James Bond

BABYMETAL

The Black Queen



Black Caviar


Blackway

Xavier Bluzen



Broken Bells


Digitalism
TBA
Comfortably Numb
TBA
Dead Man's Party



Puddle of Mudd




Children of Bodom


Alien Ant Farm
(Always and Forever)
GHOST DATA
TBA
Smash Mouth
?
TBA
REO Speedwagon
TBA
Logic
Bobby Tarantino//Young Sinatra
TBA
Xavier Bluzen
(Divine Fur)

Carpenter Brut

Silver Scepter
TBA
Comfortably Numb
(Hey You)

65daysofstatic
(Decomposition Theory)
TBA
Flatbush Zombies



Synthetica

TBA
Weezer
TBA
Yeezus
TBA


Ancient Hunters

TBA


Rolling Stone

TBA
Avril Lavigne
TBA
HELLYEAH
Trivia
Standing Ripples are inspired by the concept of Stands from JoJo's Bizarre Adventure. The name of the concept is even a reference to both the shorthand (Stand) and it's meaning (Ghostly Ripple).

One key difference is that if Standing Ripples interact with the environment, they can be hurt and attacked like a normal character. Additionally, they can be seen by anyone.

Standing Ripples could possibly be seen as a new extension of the music numbers that have been present in both the original Fantendoverse and the new Fantendoverse- where as music punctuated pivotal moments in past stories, now they are literally powering characters.
Coincidentally, Standing Ripples and Stands were both introduced in the third "part" of their respective series' on going narratives- Standing Ripples in Phase 3 of the New Fantendoverse and Stands in Part 3 of JoJo's Bizarre Adventure.
---