Andross is not from Fantendo. However, this article may include related fan ideas.

These external sources may have official, more accurate information:

This character's article is free to edit. Please follow the article standards and respect good-faith contributions.
Andross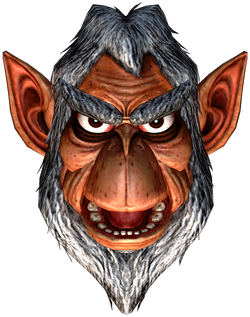 PERSONAL INFO

CLASS
Villian
Andross is the main antagonist of the Star Fox series and the arch-nemesis of Fox McCloud. He is a sworn enemy of the Lylat system and has returned from seeming death several times. He has a grandson, Dash Bowman, implying he had a unseen child, and a nephew, Andrew Oikonny, implying a unseen sibling.
Description
Andross is undoubtedly an ape or primate, although his species has never been confirmed. Simians are intelligent, so it certainly makes sense for a mastermind like Andross to be a primate. Andross does not typically have a defined form but usually takes one the form of a disembodied entity with robotic appendages in the games. In the Nintendo Power comics, he has a physical state and a entity state.
In Star Fox Zero, this is actually one of the few times that Andross has been shown with a physical humanoid form, wearing segmented gauntlets and elaborate purple robes with high red collars, which are taken from the Game Over screen from Star Fox. He also has golden honeycomb plating, ruby crystal epaulets and a ruby sceptre with a gold build to designate his rank of emperor.
Star Fox Command also shows Andross having a physical humanoid form. Star Fox 2 depicts Andross as having surivived his defeat in the original Star Fox, replacing body parts with cybernetics to survive, such as his cybernetic eye.
Biography
Beginnings
Andross was one of Corneria's brightest scientists, but he always wanted to push his research to the limits. He slowly descended into madness and began conducting more dangerous experiments, despite receiving several warnings from General Pepper. As a result of one of Andross's failed experiments, a devastating explosion leveled a portion of Corneria City and claimed many innocent lives. Andross was arrested and banished to the toxic planet Venom. He was expected to die quickly due to Venom's harsh conditions, but instead, he managed to raise an army from Venom's inhabitants and continued to conduct experiments. With his vast newfound Venomian Army and his advanced research, he plots and executes a large-scale attack on the Lylat System.
Pigma's Betrayal
Andross contacted the greedy Pigma Dengar prior to the original Star Fox's scouting mission of Venom, promising riches to Pigma if he betrayed his team. Pigma agrees, and leaves James McCloud and Peppy Hare open to an ambush from the Venomian Army. Peppy escapes, but James and his Arwing are enveloped by a poisonous gas bomb, leaving his true fate unknown.
Games
Andross is the main antagonist of Star Fox Legacy, attempting to kill James and his team in the opening mission by setting them up against the Aquasian people during what was supposed to be a pick up mission. It is later discovered that his scientific experiments are exploding across the Lylat system and is taken in by Jame and his team. General Pepper then proceeds to beat Andross to near death, which spurs Andross' revenge nearly a year later that is supposed to unfold across the next couple chapters.
Andross returns in Star Fox: Andross's Invasion. He sent a invasion to control the Lylat System and is the final boss. Additionally, a false version of Andross called Fake Andross is a boss midway through the game, which seems to be built by him.
Gallery
Trivia
Andross is actually the killer of both of Fox's parents according to the Nintendo Power comics. Vixy Reinard, Fox's mother, was killed accidentally by an explosive originally set up for James. Andross was madly in love with Vixy and wanted to kill her family to get them out of the way. James was supposedly killed by Andross, which would make him responsible for the death of both of his parents.