This character has been named under Eastern Slavic Naming Customs The patronym is Andreyevich and the family name is Andrikov
Andrey Andreyevich Andrikov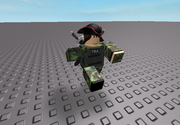 Andrey, the mature man
GENERAL INFO

GENDER
♂ Male
SPECIES
Human
CURRENT STATUS
Alive
BIRTHDAY
March 24th, 1982
BIRTHPLACE
Vladivostok, Russian Federation
NATIONALITY
Russian
PERSONAL INFO

RELATIONSHIPS

Andrey Vladimirovich Andrikov (father, deceased) unnamed deceased mother
Andrey Andrikov is a self-taught Russian companion to ProxyCyanide, born to Russian parents in Vladivostok, he enlisted when he was just a teenager, although law states that you can't enlist until you're 18 years old, he excelled pretty well in warfare, and befriended ProxyCyanide, As it turns out, his friendship remains absolutely strong, as he has a great relationship with him, he had also lacked education when he was young, but became self taught as the years came by, he rose through the ranks quickly, so when he got promoted, he was pretty impressed about it.
Personality
His personality seems to be pretty nice, he is quite calm and brave, often having to deal with things that were quite hazardous, he was known for dealing with gunpowder and possibly extremely dangerous substances that could kill another person instantly. Being resilient, managed to be an incredibly brave man as well.
Community content is available under
CC-BY-SA
unless otherwise noted.