This article is part of the Medieverse. Surely you're not looking for the original Amy Jackson?
Amy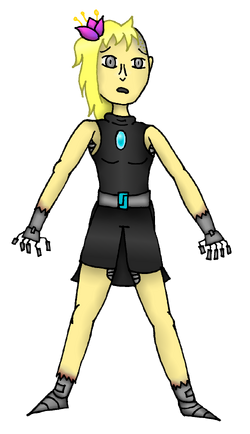 GENERAL INFO

GENDER

♀

Female
SPECIES
Human (formerly)
Cyborg
CURRENT STATUS
Alive
AGE
20
BIRTHPLACE
Orientis
PERSONAL INFO

OCCUPATION(S)
Unknown
MISCELLANEOUS INFO

SERIES
Medieverse
CANON APPEARANCES

TBA
Amy is a character in the Medieverse who takes a major role in the story.
History
Nobody really knows who Amy actually is. She herself says that she comes from the future and knows of some things that are going to happen, but doesn't know any details because she is so far back in time. She however also suffers from not remembering what she is doing here, and without any electricity she can't even return to the present. Eric takes interest in the sphere of power inside of her. Amy eventually gets infected by the plague which hits her really bad, causing her body to be deconstructed and replaced with the steampunk technology.
Physical description
Personality
To most of the people in Regno, Amy is viewed as a bit of a lunatic. Her talk about the future quickly classified her as a crazy person, and nobody even would consider her a witch for this kind of talk. Aside from her paranoia of being trapped in this time, she is a very upbeat girl, usually being happy and being very social. When her body was replaced for a big part with steampunk she became more worried what her fate would be if she should ever be able to return to her time.
Abilities
Amy was trained as a soldier in the time she comes from, at least that is what she says. This however does hold up as she can stand her ground in a fight. When infected with the plague, she manages to hold on for quite some time, displaying her durability as well. With the steampunk inside of her she gained a lot more strength and even speed. However she still has trouble controlling all of it.
Relationships
Eric
Colette
Trivia