Amber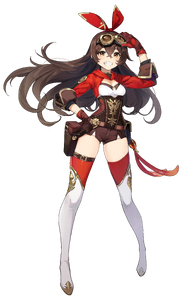 Amber is a playable Pyro character in Genshin Impact.
Amber is the only remaining Outrider of the Knights of Favonius. She is always ready to help the citizens of Mondstadt—whether it be something simple or perhaps a more challenging task.
She can be obtained for free in the Prologue Act I: The Outlander Who Caught the Wind during the quest Winds of the Past.

Profile
Introduction
Personality
Amber is described as an "exemplary of justice" by Kaeya. A righteous and accomplished Knight, she fulfills her duties and does things by the rules. She is as charismatic as she is kind, being able to see others' efforts to turn over a new leaf.
Cheerful and friendly, Amber has no problem talking to strangers as if she's already acquainted with them. She is passionate in all things she does, be it when it comes to helping others as an Outrider or taking out hilichurl camps, as she wishes to be just as good as her grandfather, who was a loyal defender of Mondstadt. Even after his mysterious disappearance, she continues to defend the land in his stead.
Although she gets along well with her fellow members, she fails to see Kaeya in such a way, considering him to be very suspicious, but for the completely opposite reasons, such as not helping his fellow members out in times of need. She is also a bit of a troublemaker, as she has had her gliding license revoked numerous times. She is not good at cooking, as she is known to cause accidents in the kitchen and the food she makes is subpar.
Appearance
Amber has long, dark brown hair, gold eyes, and fair skin. She wears a jumper-like outfit composed of dark brown leather shorts, a red hoodie-like top, red stockings, and white thigh-high boots embellished with gold linings and symbols.
Amber's accessories include a leather belt with two small bags, and her Pyro Vision attached, gloves, a small belt on her right thigh, and gold-framed goggles. Her most distinguishing feature is the headband with the large red bow that rests on her head, resembling the shape of bunny ears. Additionally, her Vision has two red feathers attached below it. Her outfit, 5-Star Outrider, is described to be an outrider's uniform made for maximum mobility.
Game Appearences
She appears as a background cameo in the Teyvat Stage.
Amber appears as a Master Spirit.
Amber appears as a DLC Pair Unit, teaming up with Kaeya.
Gallery
Trivia