Amaia Azarola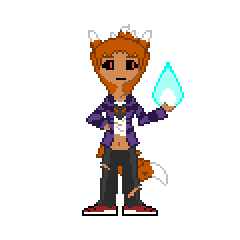 GENERAL INFO

GENDER

♀

Female
SPECIES
Kitsune-Human
CURRENT STATUS
Alive
PERSONAL INFO

CLASS
Vagrant

Heroine
The original Amaia can be found here.
"Ah... Thanks. It's been so long since I've had anything that I didn't catch and kill myself..."
—
Amaia, to Unten
Amaia Azarola, also referred to Ammy, is one of the inhabitants of Igniverse Earth and a member of the "Planetary Defense Guild", working under Unten and acting as one of his closest friends. She is extremely inexperienced with many of the properties of modern society, having lived most of her life in the woods since the death of her grandfather. Unlike her prime counterpart, she is extremely skilled in defensive Magia.
Physical Description
For the most part Amaia greatly resembles her prime counterpart, wearing largely the same clothes as well. However, these clothes have been shredded by years of abuse and mangling, and are rather torn in places. She has also lost her headphones, her jacket is a purple coloration as opposed to a light blue, and her shirt is infinitely darker in coloration.
Amaia is dirty on a consistent basis, combining with her tanned skin to make her skin appear much darker than her prime counterpart. Her eyes, similarly to her cousin and surrogate mother Cordula, have black sclera and glowing properties. In addition, she has also sprouted fox ears and a tail, and her hair has turned white at the tips akin to these.
Personality
Relationships
Abilities
Gallery
Trivia