Alph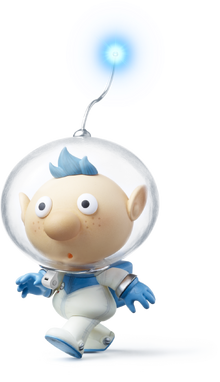 GENERAL INFO

GENDER
♂ Male
BIRTH LOCATION
Koppai
MISCELLANEOUS INFO

CANON APPEARANCES

Pikmin 3 (2013)

Super Smash Bros Wii U (2014)
Alph
is a character from the
Pikmin
series, first appearing in
Pikmin 3
. He was one of the three explorers sent to PNF-404 to collect food for Koppai. Alph serves as the engineer for the S.S Drake, which he, Brittany and Charlie use to get to PNF-404. His grandfather, named Drake, designed the ship. Alph is a positive and very bright character.
Physical Description
Alph is a small male Koppaite, approx. 1.6cm tall. He wears a spacesuit sporting lots of blue including his light, gloves, shoes and backpack as well as his hair. He has an average sized nose and freckles under his eyes.
Appearances
Canon
Pikmin 3
In Pikmin 3, Alph was one of the three explorers looking for food to bring back to his home planet of Koppai. He and his companions Brittany and Charlie ended up getting in a complication when their ship the S.S. Drake crashed and all three captains were separated.
After reuniting, the captains learned they weren't alone on the planet and began searching for Olimar and Louie who also seemed to have been on the planet.
Alph appears as an alternate costume for Olimar in Super Smash Bros. for Nintendo 3DS / Wii U and Super Smash Bros. Ultimate. Much like the Koopalings, who are alternate costumes for Bowser Jr., Alph plays identically to Olimar. The announcer does, however, recognize Alph as a separate character, as does the crowd that can chant his name.
Fanon
Alph appears as a starting character in Super Smash Bros.: Going for Gold, and is a semi-clone of Olimar.
Gallery
Trivia
Alph was the only character playable in the E3 2012 Pikmin 3 demo.
According to Brittany's fruit notes, Alph is allergic to the Heroine's Tear (a mango), and the Scaly Custard (an avocado).
Alph has 12 older brothers, a big sister and a little brother.
Navigation Templates
Playable Characters
Assist Characters
Obstacles
Other Characters
Alolan Grimer · Amul · Ann Takamaki · Big Urchin · Blizzy · Bravoman · Buzz-Buzz · Cutiefly · Don-chan · Dragoneel · Fierce Deity · Gil · Happy Mask Salesman · Judge · King · Kissy · K.K. Slider · Litwick · Lloyd · Mappy · Mareanie · Mii · Missile · Morgana · Perry · Pidgit · Pooka · Rabbid Luigi · Rabbid Yoshi · Red Baron · Ribbon · Rowlet · Runner · Ryuji Sakamoto · Sandy · Smasher · Rusty Slugger · Servbot · Sima Zhao · Swanna · Tarosuke · Timmy Nook · Toadsworth · Tommy Nook · Tron Bonne · Valkyrie · Wonder Momo · Ziggy
Collectibles

Trophies

Stickers

Boolossus · Boo Mario · Bowser · Captain Toad · Cat Peach · Chain Chomp · Cloud Mario · Fire Mario · F.L.U.D.D. · Koopa Clown Car · Mega Mushroom · Mario · Penguin Mario · Peach · Propeller Mario · Rock Mario · Toad · Toadette · Waluigi
Birdo · Boo Buddies · Blooper · E. Gadd · Fuzzy · Metal Form · Waluigi · Whomp

Candy Kong · Lord Fredrik

9-Volt · Fauster

Ball and Chain · Deku Leaf · Majora's Mask · Mipha

Abra · Drifloon · Spinarak

Katrina · Mr. Resetti

Adam Malkovich · Arachnus

Nightmare · Noddy · Prank

Mr. Chicken

Back Shield · Centurion · Eggplant Wizard

Disco Kid · Doc Louis · Donkey Kong · Giga Mac · Glass Joe · King Hippo · Little Mac · Von Kaiser

Blue Falcon · Captain Falcon · Pico · Rick Wheeler · Wild Goose

Louie

Pyra

Franklin Badge · Negative Man

Apollo Justice · Franziska von Karma · Miles Edgeworth · Larry Butz · Judge · Phoenix Wright

Dr. Wright · Hammer Slam Bowser
Devil · Dr. Wright · F-Type · Rusty Slugger · Zethia
Community content is available under
CC-BY-SA
unless otherwise noted.