Allen Jereni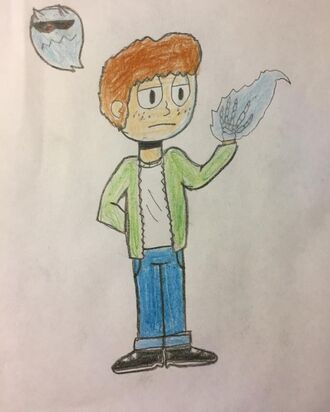 Allen's official artwork.
GENERAL INFO

GENDER
♂ Male
SEXUALITY
⚥ Bisexual
SPECIES
Human/ghost
CURRENT STATUS
Alive
AGE
17
BIRTHDAY
August 18th, 1999
ZODIAC
♌ Leo
HEIGHT
6,4
WEIGHT
174 lbs
BIRTHPLACE
New York City
NATIONALITY
Canadian-American
ALIGNMENT
Good
PERSONAL INFO

RELATIONSHIPS

Alex Jereni (good)

Paul Jereni (good)

Abra Jereni (???)

The Allseer (bad)

OCCUPATION(S)
Pizza delivery boy
LIKES

Pizza, buffets, taekwondo, hunting demons, dogs, ghouls

DISLIKES

The Allseer, demons, pomegranate, driving, harm brought to innocent people

WEAPONS
Ghost fire
MISCELLANEOUS INFO

SERIES
Shadow Lands
CANON APPEARANCES

Shadow LandsShadow Lands
Allen Jereni is the older of the Jereni twins and one of the main heroes in the
Shadow Lands
franchise. Allen, along with his twin sister,
Alex
, are both ghost/human hybrids, with their mother being the one who gave them their ghost powers. The twins have made a pact to deal with the evil demon menace that plagues their world and usually travel around the world to deal with said demons, lead by the evil being known as
The Allseer
.
Personality
Allen is described as a no-nonsense "get it all done" kind of person by people who vaguely know him. His friends and family tell a different story, however. While Allen is somewhat of a shut-in, he's very easily excitable and nice. While cautious, Allen is always up for a fun time with people, whether it be going to a trampoline park, practicing taekwondo, or just going out around town. However, when it comes to fighting demons, Allen is just like how to people who don't know him describe him: no-nonsense and to the point. Allen takes the demons that plague the world very seriously, due to them being the reason his mom was taken away from him and his sister after they were born, along with the fact that he doesn't want anyone else to suffer the same fate.
Powers
Allen doesn't have superpowers in his normal human form.
Taekwondo: Allen is a natural in taekwondo and won't hesitate to use advanced techniques to take out bad people, including stances, hand attacks, blocks, chagi, and more.
Allen, when in his ghost form, has a varied amount of supernatural powers.
Ghost Fire: Allen's skin and muscles are replaced with a blue ghastly fire that damages mortals, but also ghosts and demons alike.
Flight: Allen's ghost fire gives him the ability to float and fly in the air, along with the ability to jet off at blazing speeds.
Ghoul Summoning: Allen can summon Ghouls, the ghost equivalents of animals, to come and aid him.
Increased Speed: Allen is able to run at higher speeds than a normal human, allowing him to outsmart most demons he faces.
Ghostly Taekwondo: Allen fuses his taekwondo skills, combined with his floatiness and ghostly fire to make his moves even more brutal.
Trivia
Allen works at a pizza parlor.
Allen has a phobia of driving, preferring to take public transportation rather than getting behind the wheel himself.
He's been known to not tolerate animal abusers, even turning into his ghost form to get the abuser to stop. The same thing has occurred with Nazis.
As a child, Allen tried to learn how to use a scooter. Needless to say, he doesn't use on anymore.
Allen has a large appetite, with most of his favorite restaruants being buffets of some kind.
Community content is available under
CC-BY-SA
unless otherwise noted.